Meet Eboni Hudson, our Senior Digital Marketing Manager! Eboni handles all of our digital platforms from e-commerce to social media and even our beloved blog. That means she's the woman who oversees every pretty new page on our website, that blog email you starred, and that Instagram post you double tapped. But she's so much more! She wants to have the most epic brunch of all time with her heroes Oprah, Michelle Obama, Terry Gross, and Beyoncé. You can also regularly find her rocking out to No Doubt on karaoke night. She was once crowned Little Miss Black Los Angeles. She's an integral part of our team, and we're grateful for the daily insights she brings to the company. For this edition of the cabi Q&A, we're bringing you to her office to get to know her more personally. Check out the exclusive interview below!
Juniper: Hi, cabi fans. We're back today with another exciting installment of cabi Q&A. And today, we're talking with our digital marketing maven.
Eboni: Hello.
Juniper: Thanks for letting us hang out today. Tell us a little bit about what you do here at cabi.
Eboni: Sure. I oversee all things all things online. The cabi website, social media, the cabi blog, anything that's on the internet falls under my umbrella.
Juniper: You used to be a fashion blogger yourself.
Eboni: I did.
Juniper: You really have a ton of knowledge in this area. Plus, you've been at cabi for a long time.
Eboni: 12 years.
Juniper: You care about the brand and you know so much about us.
Eboni: Yes, I started as a CAM, and I've actually done quite a few jobs at cabi. But this is the perfect fit for me because it really combines my background with fashion blogging and my kind of love for all things digital and all of my knowledge of the brand.
Juniper: We are going to ask you a few questions.
Eboni: I'm excited.
Juniper: Let's start with some easy ones.
Eboni: Okay.
Juniper: Coffee or tea.
Eboni: It's depends on the day. I go through phases. Right now, I'm in a phase of drinking bulletproof coffee. If you don't know what that is, it's basically you drink your coffee blended with coconut oil and butter. Most people do grass-fed butter. I do vegan butter. It's supposed to be really good for your energy levels and keeping you kind of satiated and good for you brain. I've only been drinking it for a couple weeks, but I love it. I love how it tastes more than anything, and it does leave me feeling full and energized in the morning. It's really cool. Read about it. Google it.
Juniper: We are all about brain power and energy here at cabi. What ice cream flavor do you always order?
Eboni: Oh, mint chip for sure. Or sherbet. But mostly mint chip.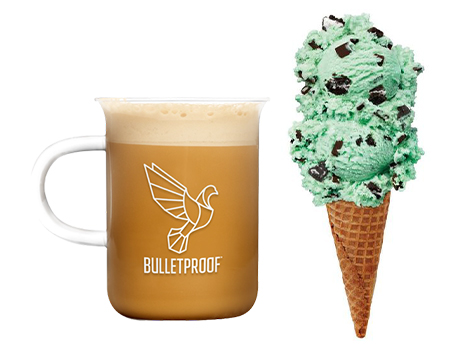 Juniper: If you could have a superpower, what would it be?
Eboni: Flying. I just want to be able to go places. I feel like being able to fly would enable me to just go places, wherever you want to go. Just go.
Juniper: Yes. This is going to be a good one for you. What is your go-to karaoke song?
Eboni: Gwen Stefani, well at the time, it was No Doubt. But I identify with No Doubt as Gwen Stefani. 'Don't Speak'. I love that song. I really get down to it. I will not sing for you right now.
Juniper: Your family is big on karaoke.
Eboni: We are big on karaoke.
Juniper: It is no joke.
Eboni: It's a whole thing. We do karaoke for money. We compete. There is a point structure. It's a thing.
Juniper: What movie makes you laugh or makes you cry every time you watch it?
Eboni: Mean Girls makes me laugh every single time as if I'm seeing it for the first time. It's so funny. It never gets old. The jokes are so relevant at any stage of life,  not just high school, but it's just funny. Then, The Notebook makes me literally bawl. I know we're talking about movies, but as for TV shows, This Is Us makes me laugh and cry every episode, multiple times throughout. It's such a good show.
Juniper: This is a good one for you. What is your must-have beauty product?
Eboni: Lipstick. If you ever go into my bag at any given time, you will probably find about ten tubes of lipstick and lip gloss floating around the bottom. I collect them. I have multiple colors or multiple brands of the same color. I have way too many oranges for whatever reason.
Juniper: Do you have a favorite brand?
Eboni: I have two that I really like: I love YSL glossy stains. That's what I'm wearing right now. It's glossy like a lip gloss, but it's a stain. It really stays put. I can go eat, have coffee, and this will stay on all day. Then, I like Tom Ford's liquid matte. I don't know what it's called, but it's a matte lipstick that goes on like a liquid and then dries matte. They're really pretty. Matte lipsticks tend to be very drying, but the liquid ones are not so bad.
Juniper: I don't think I've ever seen you without a bold lip.
Eboni: I love a bold lip and big hoop earrings.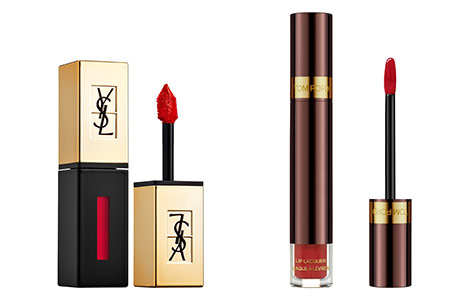 Juniper: That's good stuff. I'm sort of inspired. What do you to do relieve stress?
Eboni: This may be kind of weird, but I like to clean. I'll put on some music and start cleaning. I think it feels like mindless work to me, and it helps relieve stress. And then I think when you're done cleaning, it's like you get that moment of like whoosh because everything is really tidy, and you go sit down in the corner with a glass of wine, and you feel accomplished. It takes your mind off of whatever was stressing you out.
Juniper: Yes, I can relate to that. It's the one time I like cleaning. What book are you currently reading?
Eboni: I'm reading Michelle Obama's book, Becoming. I started reading it before The Scoop, so to be fair I kind of stopped. I have to get back into it. I love, love, love reading biographies. I love hearing people's stories and what inspires them, what moves them, how they got to where they are. I'm very intrigued by that.
Juniper: You've been here a long time, but what was your first job?
Eboni: My first job was working at after school programs at my local recreation center in Redwood City, Bay Area. I started working there doing the after school programs, when I was in the tenth grade. I actually worked for the recreation center until I graduated doing various jobs. I was a camp counselor. I did teen center. I did all different levels of after school programs for elementary school, middle school. And then when I went to college, I ended up being a preschool teacher for a few years. I've worked with kids a lot. Love kids. Don't have any, but love, love, love hanging out with kids.
Juniper: You are clearly very stylish. I wore this shirt in honor of you because I know you love it. But what is your favorite piece from the Spring 2019 Collection?
Eboni: It's kind of a tie. I'm obsessed with the Dream Dress. It wasn't the very first thing that I fell in love with. When we were on set at the photoshoot in New York, I fell in love with the Bronco Blouse. It's totally me. First of all, green is my favorite color. Then it's natural print mixing. Its button-up shirt style is very flattering for me. I love just about everything about the shirt. However, this dress has definitely become my favorite. I feel like it looks so good on everyone. So many people wore it at The Scoop, and I saw people wearing it as a dress. Someone wore it on stage with the scarf as a belt. Another team member was wearing it with navy blue leggings under and a cami, so you could see the sheer over the leggings. And then of course I'm wearing it with jeans now, and I wore it with jeans at The Scoop. So, I think it's surprisingly versatile and looks really great on everyone. It's very flattering.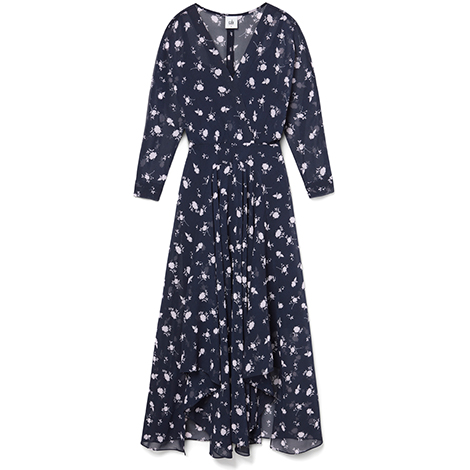 Juniper: Very cute. Speaking of style, what is your favorite decade of style?
Eboni: The '70s. I just love everything about the drama. It's bell bottoms, it's fur, it's huge hats, it's platforms, it's big earrings, it's afros, it's long bone, straight Cher hair. I just love how glamorous and dramatic everything was in the '70s, and I love a good pair of bell bottoms.
Juniper: If you could have brunch with anyone, who would it be?
Eboni: First of all, I listen to NPR, and I love Terry Gross. I think that she is the best interviewer of all time. She is able to get into peoples' minds and pull things out of them. I also want Oprah and Michelle Obama, who young black women tend to call Auntie Michelle and Auntie Oprah. I'd love to have those two there with Terry Gross facilitating the conversation, because I'd probably just be sitting there with my mouth open the whole time in awe.
Juniper: I might need to come to that brunch, too.
Eboni: It's going to be fun.
Juniper: Then maybe we can all go on vacation together.
Eboni: I love it!
Juniper: Speaking of, if you could travel anywhere, where would you travel?
Eboni: I would definitely go to Kenya. I want to go to the David Sheldrick Wildlife Trust. Elephants are my favorite animal. I love them. I'm very intrigued by how they live in families and just everything about them. They're majestic creatures. I follow DSWT on Instagram. I'm keeping up with all the elephants, and I would love to go meet them in person.
Juniper: What's one thing you wouldn't want to live without?
Eboni: I would not want to live without music. It speaks to your mood. It communicates your mood. But then also helps your mood if you need to be relaxed, or if you're feeling a little wild and crazy. I don't know. Music is good for the soul.
Juniper: Do you have a favorite kind of music or a favorite artist?
Eboni: I like all kinds of music. If I had to pick a favorite artist, it would probably be Beyoncé.
Juniper: Can't go wrong with Beyoncé.
Eboni: Yes, I love her. And it's more. It's her as a person. She's just a very intriguing public figure to me. If you think about the era in which she became famous, she's maintained complete control of her brand image, and she's been very, very private. Everything we know about her has been very intentional. I think that's fascinating in the era of tell-all. She's also very young, and she's accomplished a lot in her short career. She started very young. For their first album, Destiny's Child, I think they were 14 years old.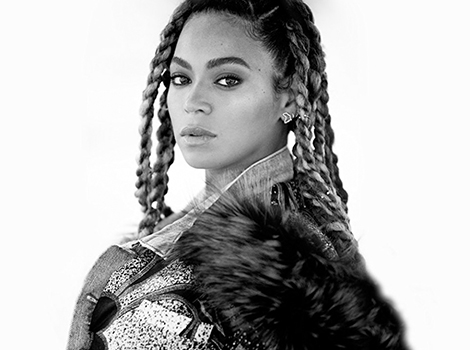 Juniper: What?
Eboni: I'm also just fascinated by people who have their purpose very young. Because I definitely, when I was 14, did not know, "This is definitely what I want to do." I'm always intrigued by people like that. I think this is the case with all of them, but her in particular. If you listen to her speak about her life in her interviews and everything like that, she was very, very intentional about everything. What was I doing at 14? Basically, just going to school. I was not thinking that far ahead. But you don't get to her level of success without that.
Juniper: I think we should invite her to brunch.
Eboni: She should totally come to brunch.
Juniper: I know you have a lot of skills. Do you have any special skills?
Eboni: This is kind of a weird skill, but I am really, really good at packing things into small spaces. If you ever need to move, you need to pack up a truck, call me over, and I will get all kinds of little things into your truck or into the trunk of your car.
Juniper: That is a real skill.
Eboni: It's really bizarre. I live in a two-bedroom apartment, and I have very good storage space, but I also own at least 200 pairs of shoes.
Juniper: Truth.
Eboni: They all have a home.
Juniper: Yeah, and you know where they all are.
Eboni: I know where they are. It's a skill. I could live in New York easily. Just saying.
Juniper: She would need a big apartment for all her shoes. What's the best advice you've ever been given?
Eboni: I don't know if it's advice or more just words of wisdom from my dad. Ever since I was young, he was very big on choices. He would always say, "Eboni, everything is a choice. You make a choice, and you either reap the rewards or suffer the consequences of those choices. But at the end of the day, life doesn't just happen. You make choices." That always sticks with me, especially when I'm going through hard times, and I think we all tend to want to blame outside things on why things are not going the way you want. I always come back to, "Okay, Eboni, what are some of the choices that you made that kind of got you where you are today? And what choices are you going to make next to move yourself out of this negative space?" I always hear him in the back of my mind when I start getting in my negative mode.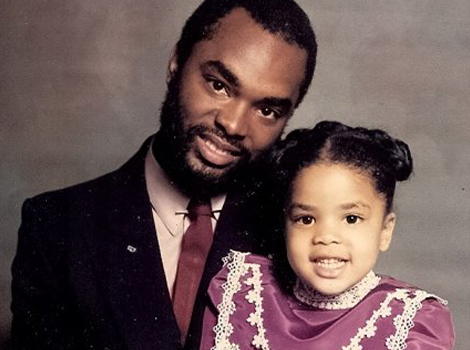 Juniper: How would your friends describe you?
Eboni: Probably they would describe me as bubbly and fun, and very loyal. I'm fiercely loyal and protective of my friends and my loved ones.
Juniper: What's a cherished memory that you have or an unforgettable experience?
Eboni: It's definitely going to Nashville last year to be with my sister when she was giving birth to her first child. I never thought that experience would be so impactful and beautiful. I talked to my cousin while I was there, and I was like, "I'm going to leave. I'm not going to stay in the room." she said, "Stay in the room. It will change your life." In retrospect, I am so glad that she convinced me to stay in the room. It was a beautiful experience, and my sister and I bonded in a very special way.  I loved it, and I love my nephew. I have two nephews that were actually born within seven days of each other last year, so they both just turned one.
Juniper: Isn't she the coolest aunt?
Eboni: Thanks.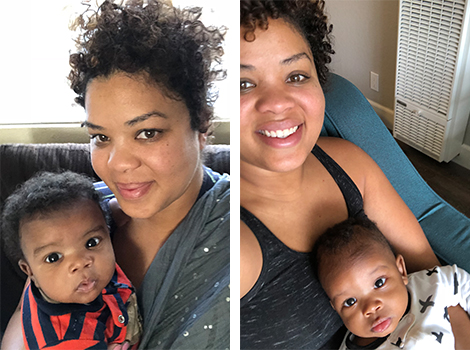 Juniper: What's a quote that inspires you?
Eboni: I'm probably the only person that doesn't do quotes. I think anybody who has ever worked with me at cabi would agree with this. I am a big picture thinker, and I really like to understand the who, the what, the where, the how, the when about everything. The same applies to quotes. I'm more inspired by the person who said it, and their story, and how they came upon that wisdom than just the quote by itself. I need context. I need to understand everything about where that quote came from.
There's no particular quote that inspires me. It's more kind of someone's full story that will inspire me.
Juniper: That's why this brunch is really important.
Eboni: Exactly. See, it all comes full circle.
Juniper: We need this brunch to happen.
Eboni: It needs to happen. Maya Angelou wrote a cookbook, and it was a collection of recipes and short stories for every recipe. I think it's called Hallelujah! The Welcome Table. It's such a good book. I got this book years ago about Oprah's story because Oprah interviewed Maya Angelou, and they talk about their interaction. She talks about her interaction with Oprah in that story. She knew that Oprah was going to become Oprah after that interview because she said that Oprah was like, "I promise it will be 15 minutes exactly. I promise I won't ask you these kinds of questions." Maya said Oprah came in, she did exactly what she said she was going to do. She asked the questions that she said she was going to ask, and she cut the interview off right at 15 minutes. She was like, "Okay, that's 15 minutes. I got to go." After their interaction, Maya Angelou knew, "Oh, Oprah is going to be somebody." Those are the kinds of things that inspire me, but you can't boil that down to a quote. That's why quotes don't resonate as much as knowing a full story.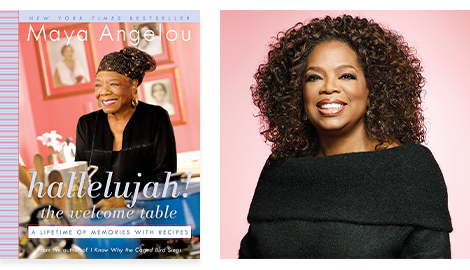 Juniper: What advice would you give to your younger self?
Eboni: I mentioned that I started working when I was a sophomore. And for whatever reason, I always had good paying jobs in high school. Like to the tune of 13 plus dollars an hour, which was a lot. This was in the '90s, and I had no bills. I made a lot of money, and I am a shopper. You probably could have guessed that.
Juniper: What?
Eboni: I spent a lot of that money on clothes, and shoes, and stuff. Which I don't necessarily regret because I love all my clothes and shoes. However, I probably would tell my younger self to save and to travel. I did not start traveling until I was much, much older. I regret that. When I talk to other people, and they are sharing their experiences about how they studied abroad or how they went on these trips with their friends in their 20s and stuff, and I feel a little jealous, I had all that money that I spent on shoes and clothes, and I probably could have gone on some amazing journeys. That would be my advice, but I would still keep some of the shoes and clothes because I really love shoes and clothes.
Juniper: If your life was a movie, what would the title be?
Eboni: It would probably be…
Juniper: Confessions of a Shopaholic?
Eboni: That's a good one! It could be Confessions of a Shopaholic. It could also just be Chill Out. I am very ambitious, so I take on a lot. I never relax. I never give myself time to just kind of chill. And some of that's just my personality. As I'm getting a little older, I would probably want the name of my movie to be, Girl, Sit Down Somewhere and Chill.
Juniper: I would watch that movie. We've learned a lot about you today. But what is something people don't know about you?
Eboni: When I was in the second grade, I did pageants for a while. But when I was in the second grade in particular, I won the pageant for Little Miss Black Los Angeles, and it was a big deal. I got to go meet the mayor, and I had a sash and a tiara. It was amazing.
Juniper: What have you loved about working at cabi over the years?
Eboni: The people. When I came to cabi, I had been laid off from my first job out of college. I was working for actually a digital marketing firm. It was email marketing. That was when email was THE digital marketing platform, and I got laid off. I interviewed with two companies. I interviewed with this company called Cheetah Mail, which is a subsidiary of Experian.
And as with all very large companies, they had amazing perks and packages of all these things that they were offering. They made the offer the day that I came to interview for cabi. I told them that I was going on another interview, and I just needed some time. I instantly fell in love with cabi. There is something about when you walk into a company, and it's all women, and everyone just has it together, first of all. It's so beautiful. I'm very much into fashion, clearly. Everyone looks amazing. Everyone is smiling. Everyone was so welcoming. When you interview at cabi, you interview with like ten people. I was just impressed with all of the women, and I didn't know anything about the brand at the time. The listing for the CAM job was on Monster, so I didn't know anything about this company.
I just felt something when I walked in the door. I called my mom, and she honestly, this was also in 2006, so she was kind of like, "Are you sure? You're going to turn down that job with Experian?" And I was like, "Yes, mom. I'm telling you—this company is amazing." And here I am, 12 years later.
Juniper: It's such a big part of who we are. We're so glad you're here. It's been so fun getting to know you myself, and I've known you for 12 years. I feel like I learned some new stuff today. Thank you for taking this time.
Eboni: My pleasure.
Juniper: And we will let you get back to it.
Eboni: Alrighty, bye.
Shout out to Eboni for indulging all of our questions. We love getting to know our team members, as there's always something unexpected we can learn about their lives. Do you have another burning question we didn't get to? Ask it in the comments below, and we'll be sure to include it in the next cabi Q&A!