We've all been there: clicking through the endless slideshows and drooling over the season's hottest looks from Paris, Milan, and London. Some of the runway styles are strictly over the top, but with each passing season, the looks are growing ever more approachable and trends are established. Unfortunately, the price tags aren't getting any more realistic…and the cost of those runway looks are far from affordable for the average woman. Not to worry, the cabi Design Team is here to save the day! After all, a woman should never have to sacrifice style for budget, so they took six of our favorite looks from the runways and recreated them for a fraction of the price.
Salvatore Ferragamo showcased soft yellow and blue blooms grounded on a neutral background. Get the look in our 50/50 shirt paired with The Hutton in sand dune.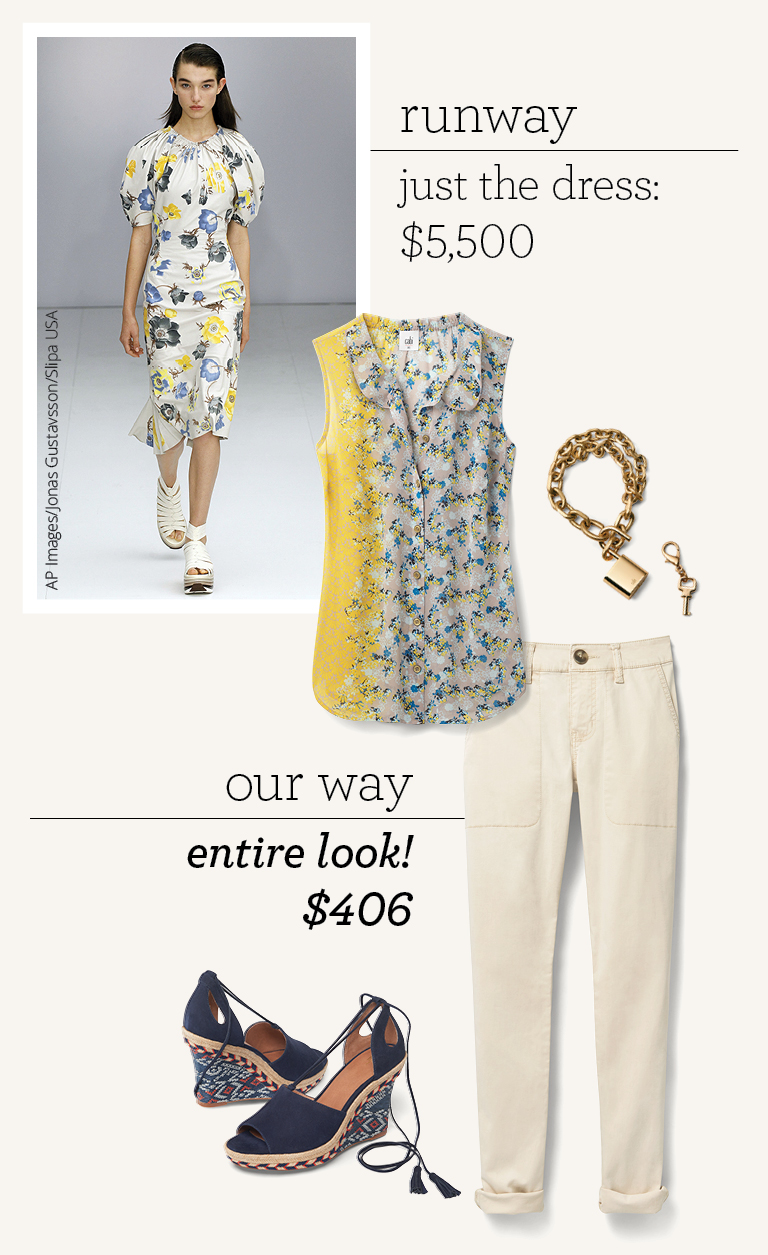 Romantic, matchy-matchy florals were all the rage on the runway at Chloé. Pair our Flirt Cami and Flirt Skirt for a totally wearable head-to-toe floral look.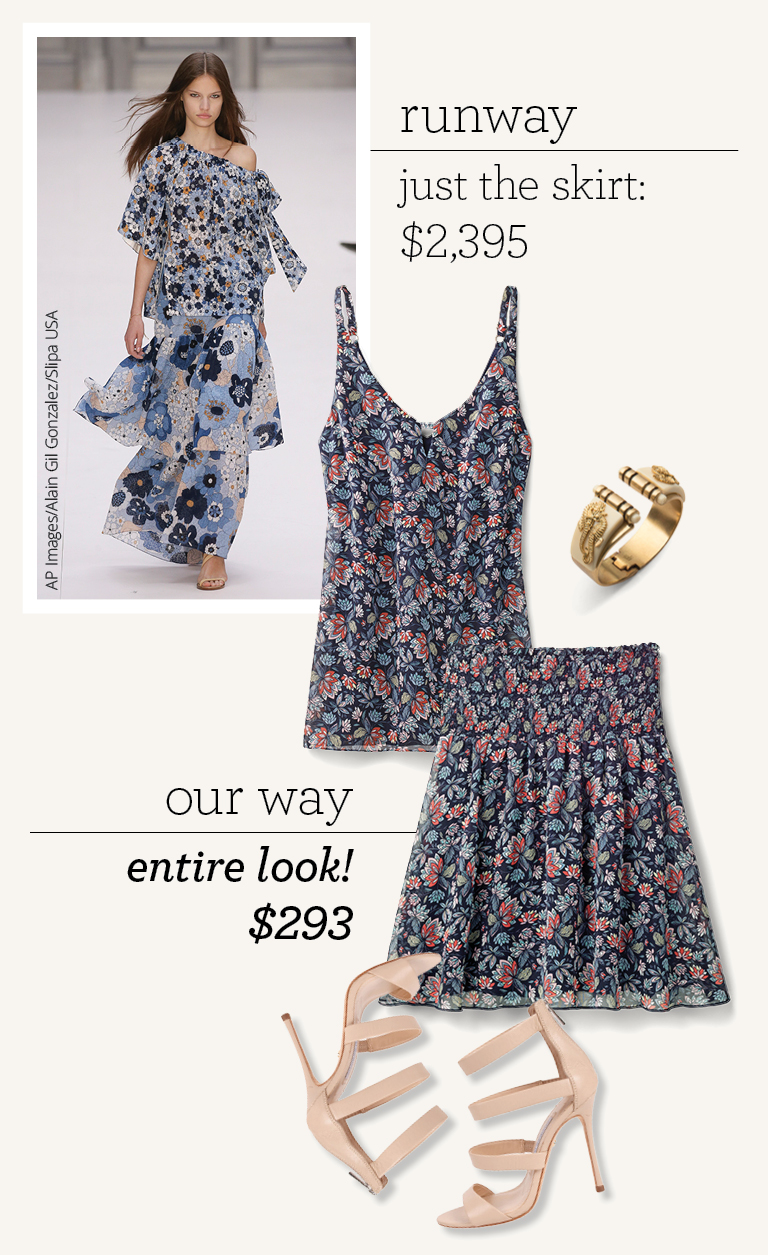 We also saw a plethora of sporty stripes on the Chloé runway at Paris Fashion Week, and couldn't wait to recreate this look with our Bistro Tee and Easy Crop.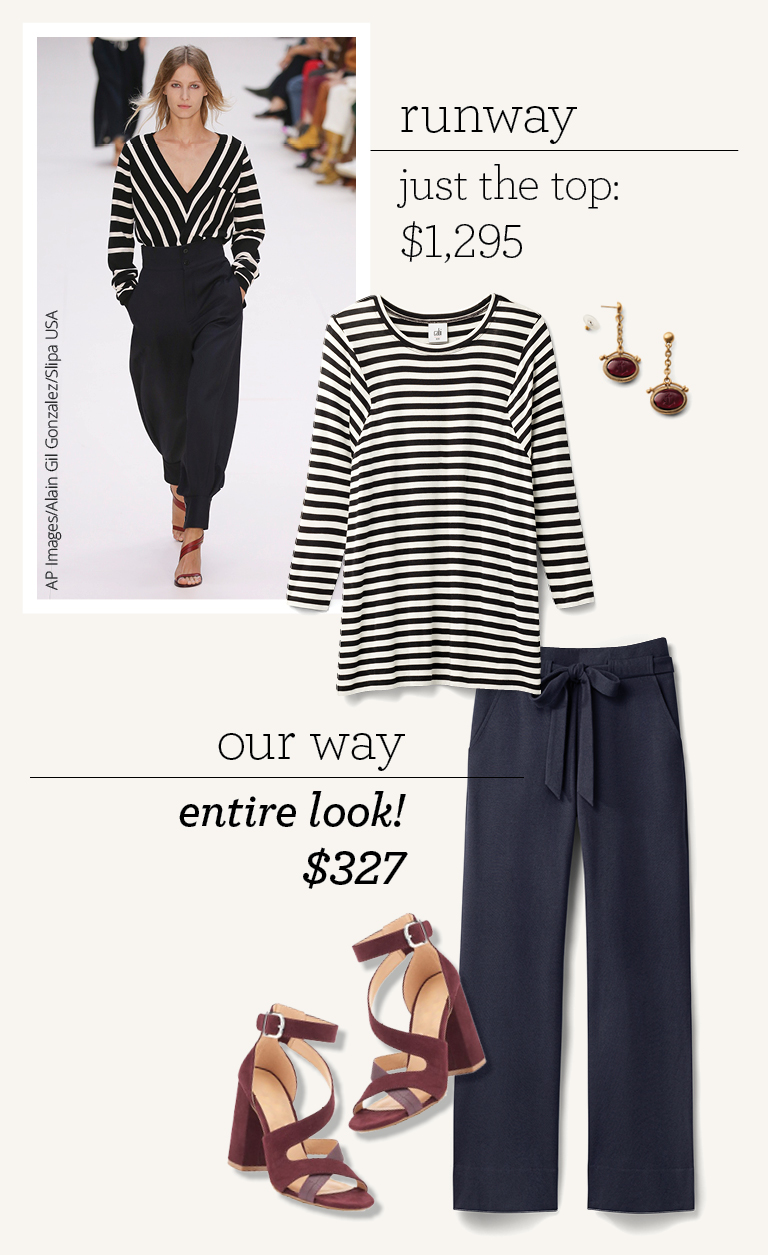 We're loving this sporty-meets-girly combo seen on the Versace runway during Milan Fashion Week. Get the look in our Hampton Shell and Twirl Skirt.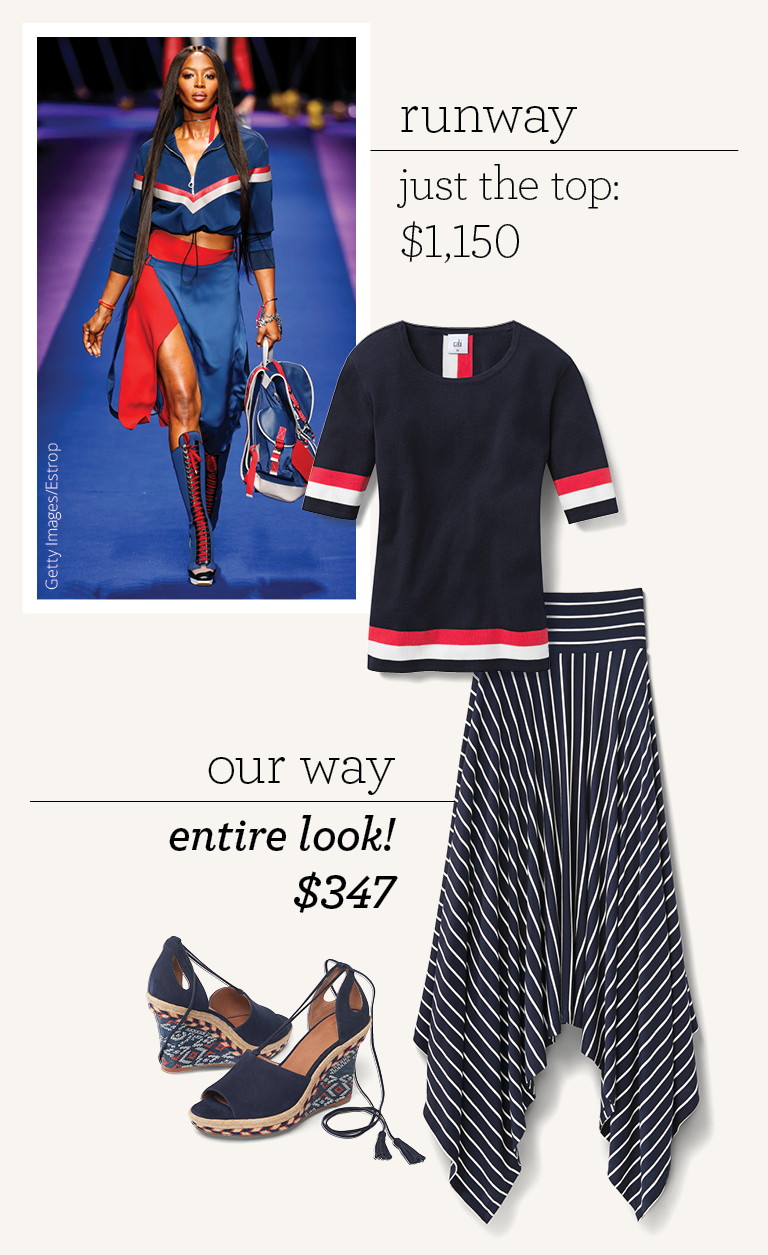 Also seen at Versace, we love the simplicity of this combination. The beauty is in the details and the silhouette—a slim high-waisted black pant paired with a cropped soft blue topper—yes, please! Get the look in our Cut-out Cardigan and Pencil Trouser.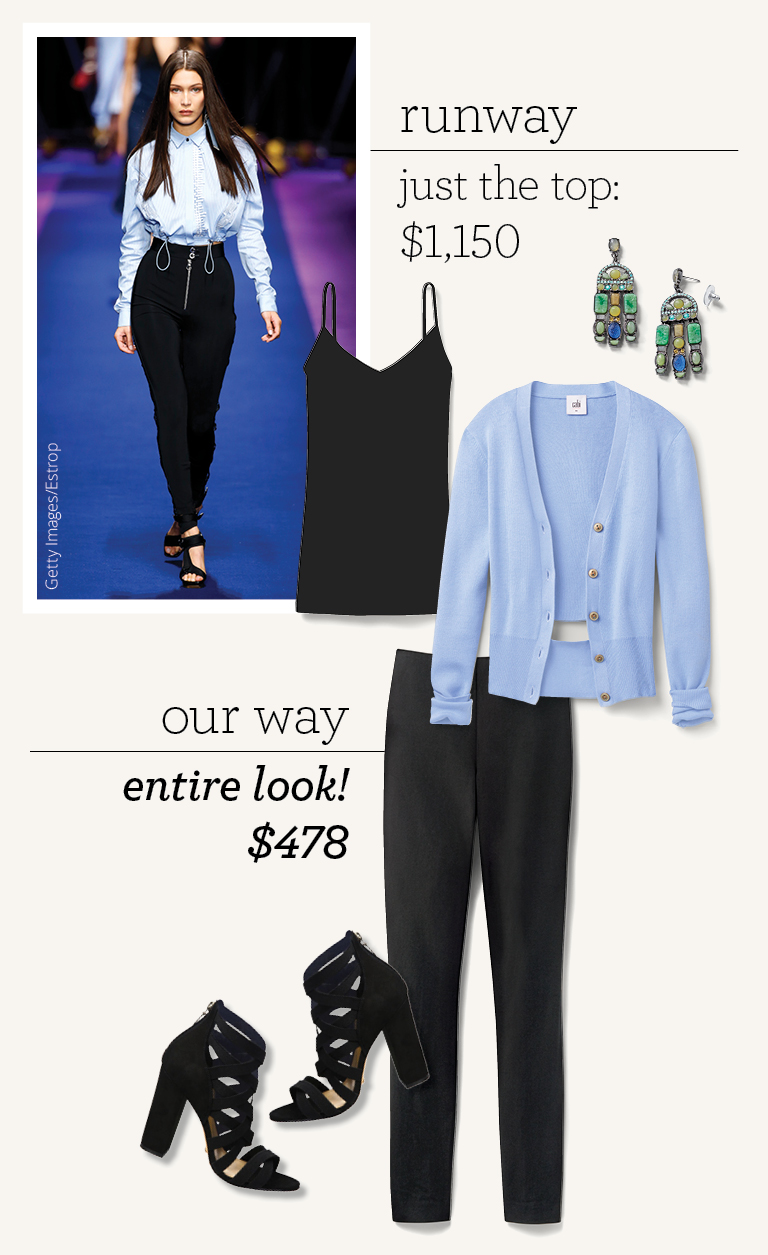 As seen on the runway at Chloé, the modern khaki pant is must-have for spring, and we love them paired with a breezy top and cropped topper. Recreate this look in our Easy Topper, Prudence Top and The Hutton.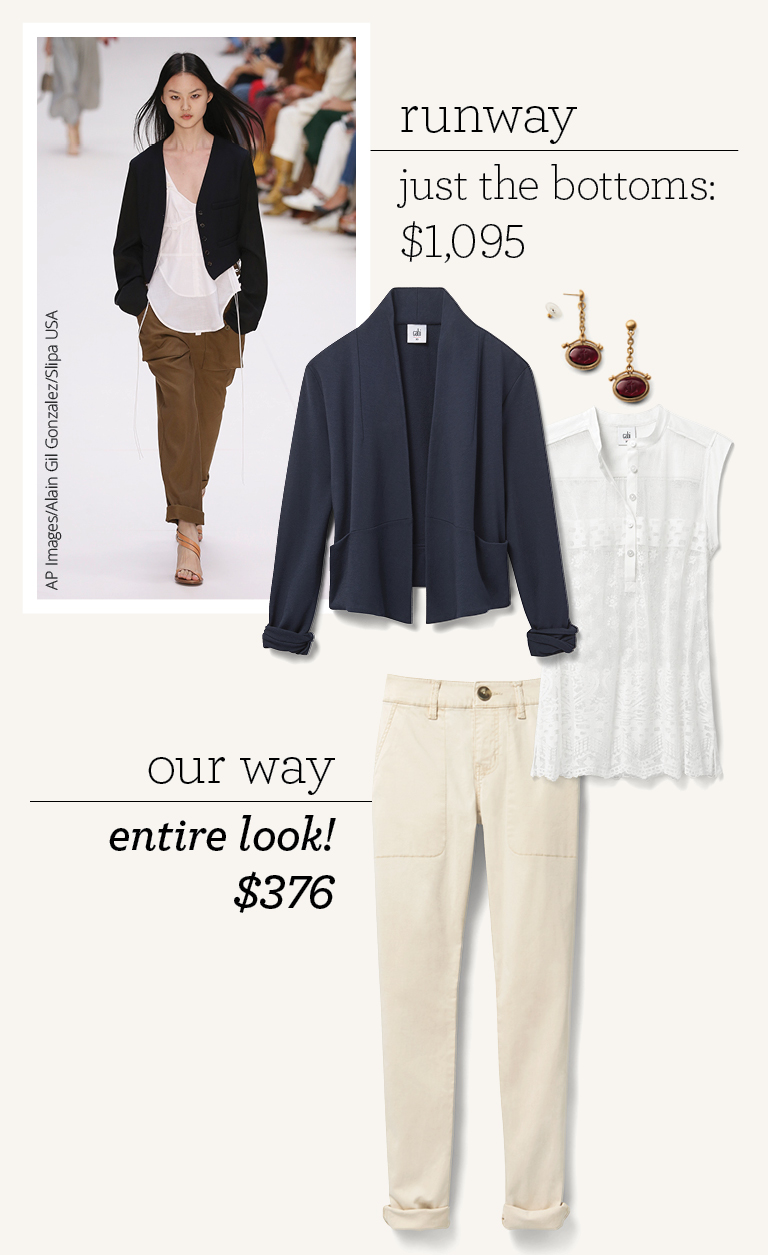 Bonus challenge! Raid your closet, grab your favorite pieces, and put together a little fashion show of your own. Snap a selfie and post it on Instagram using the hashtag #cabiclothing. (You might just see yourself featured on our Instagram story!)