Red, leopard, plaid, and blue—this season, we're all about bold outerwear elevated to the status of statement dresses: stand-alone pieces designed to grab attention and anchor an entire outfit. "Hold on," you might be thinking, "I'm looking for something that'll go great with everything." We hear you—and while it's anything but effortless to pull off statement coat style, we can assure you these pieces have a much broader range than appears at first blush. Oh, and it's totally worth the challenge! But in case you're still daunted, we've brought in a couple of our absolute favorite bloggers, Kaitlyn and Lisa from Sisters Marie, to help provide a little guidance on how to wear this outerwear trend by styling each jacket two different ways.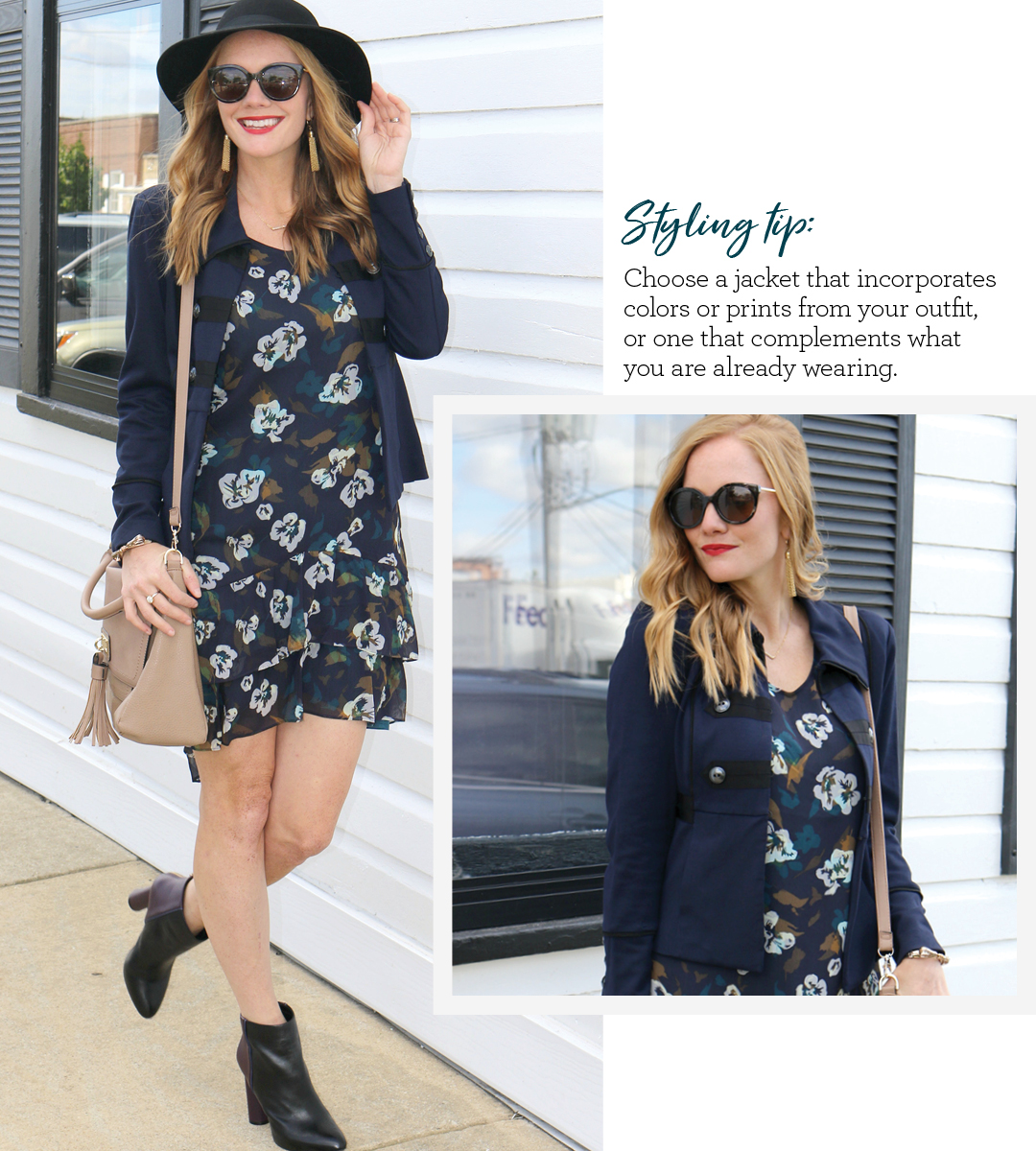 Featured Items: In the Band Jacket, Pirouette Dress, Flapper Earrings, Bisset Bootie
I love when a fresh wardrobe piece inspires me to step outside of my comfort zone and mix up my personal style. I'm typically more classic with a twist than boho chic, but when I tried on the "In the Band Jacket," it felt like the two styles had come together in sweet harmony. The juxtaposition of the feminine floral dress with a menswear-inspired coat seemed like the perfect storm. The military-inspired jacket is a fresh alternative to one of my regular Fall uniforms—jeans, tee, and moto jacket combo—so it's a welcomed change. This structured jacket adds a bit of edge to any look, yet seems effortless at the same time.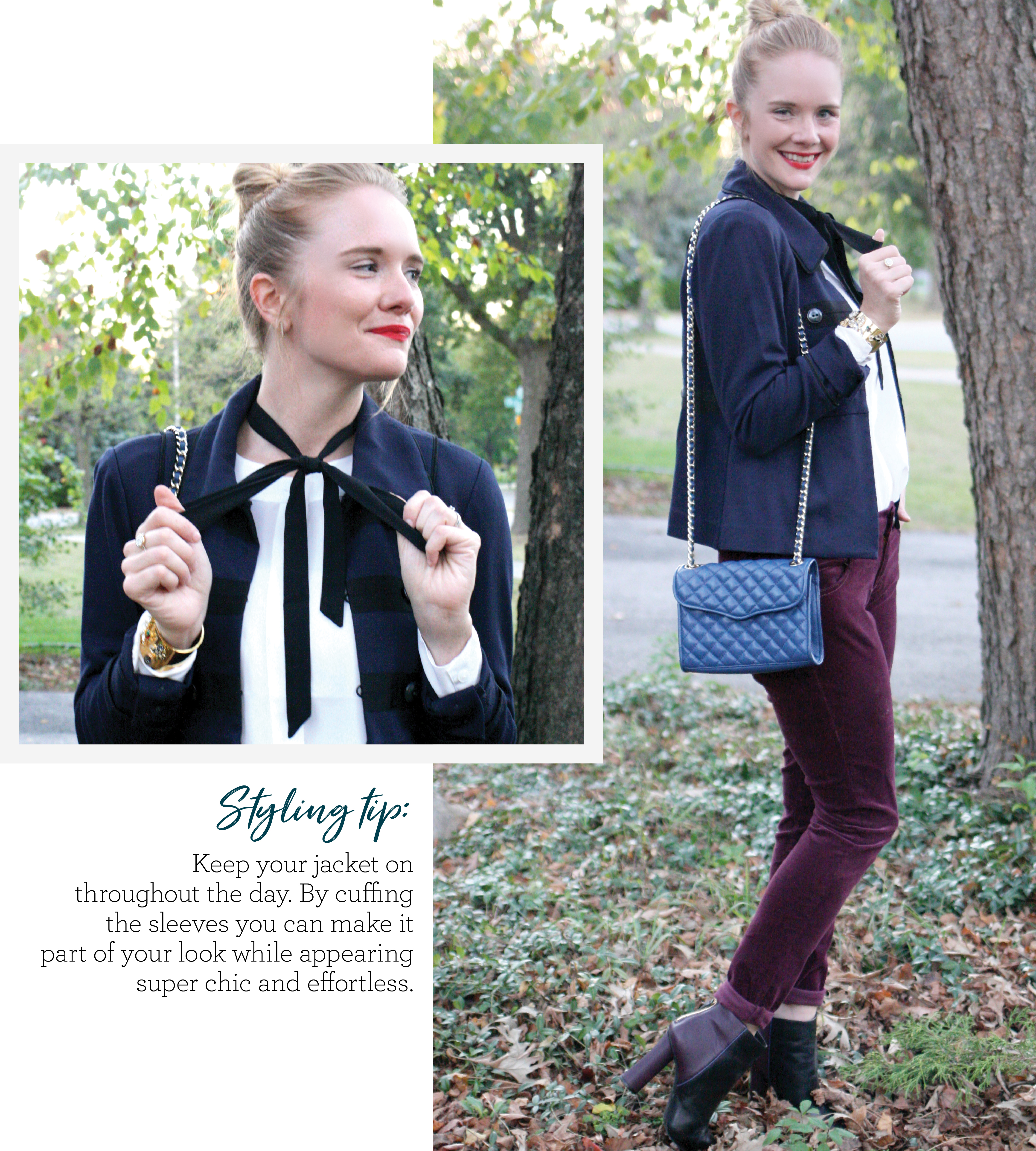 Featured Items: In the Band Jacket, Tuxedo Blouse, Skinny Cord, Secret Garden Cuff, Bisset Bootie
I call this look Gossip Girl meets Girl Boss. I am a sucker for anything with a bow, so I jumped at the chance to channel my inner Blair Waldorf with this blouse. To keep it modern, I paired it with jewel-tone corduroys (very of the moment!) and a military jacket, which makes the look a little less precious and a little more powerful. A topknot and minimal makeup other than a red lip made this seem office-appropriate, yet easily transitional for happy hour by untying the bow and letting my hair down for a little more relaxed feel…piece of cake. Xoxo!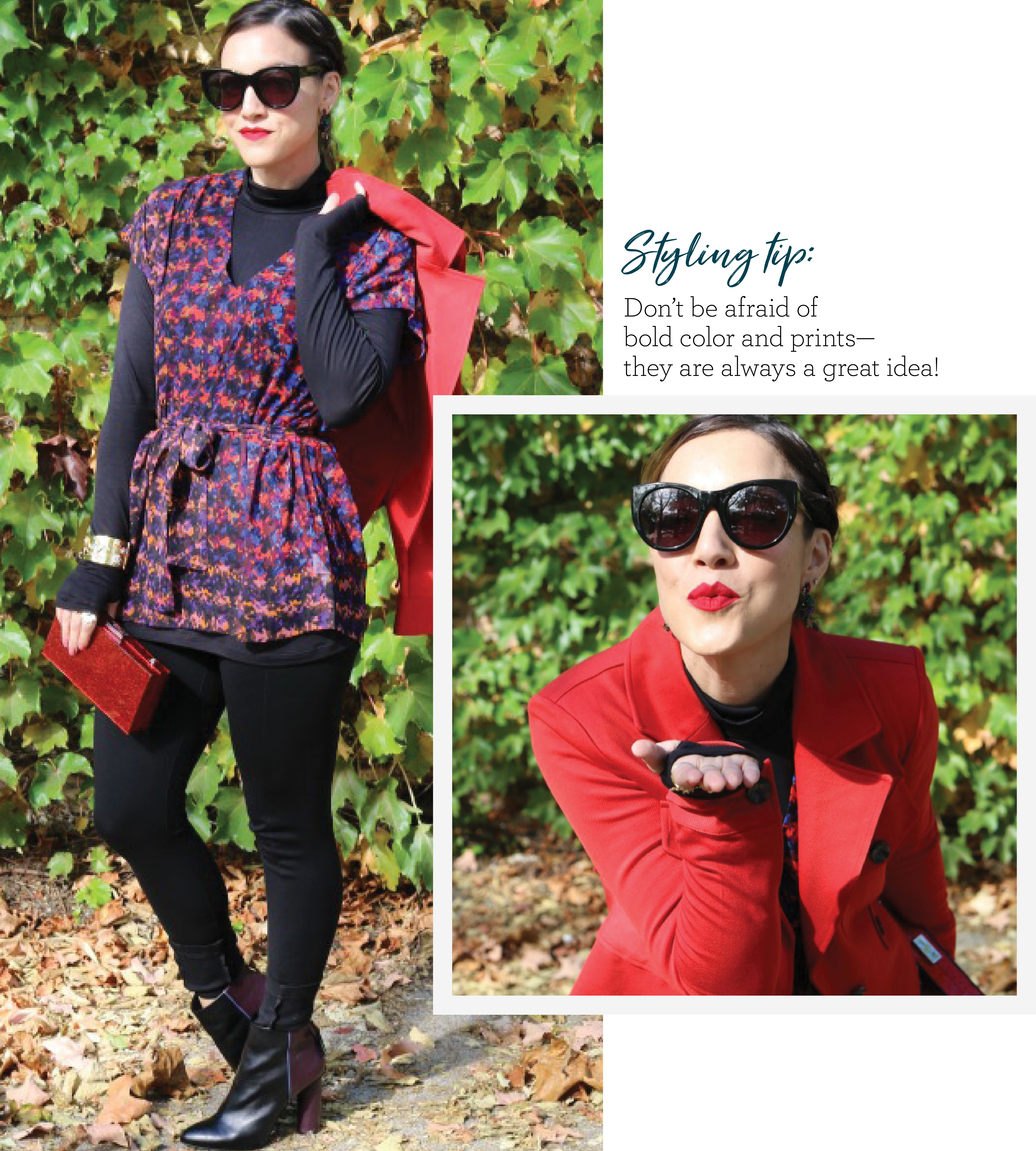 Featured Items: The LRJ, Layer Turtleneck, Bonus Blouse, Lineup Legging, Secret Garden Cuff, Rhapsody Earrings, Bisset Bootie
Some days I like wearing all black. Some days my outfit starts as all black, and then color just happens! That's exactly what happened when I took two great layering basics, like this beautiful turtleneck and these great-fitting leggings, and layered the Bonus Blouse over them. I tied in the red from the top with this gorgeous LRJ and also in my earrings and lip color.
Featured Items: The LRJ, Fringe Blouse, Standout Skirt, Trois Necklace, Bisset Bootie
Every outfit I style centers around pieces that I truly love and have great details. This look is full of beautiful details! The fringe on the neck scarf, the print on the skirt, the two-toned boots, and the amazing tailored red jacket all make me so happy!
Which of these jackets are you the most excited about this season, and which of those two ways will you be styling it? Got a third? See, we promised these pieces would have a lot more range than you first imagined. Share your styling tips below!