SEEN ON
CAbi is making headlines! Scroll down and see how influential fashion, career, and lifestyle bloggers are styling fashionable CAbi outfits, exploring our Career Opportunity and helping spread the word about our brand.
Snakeprint Skinny Jeans for Fall
October 23, 2014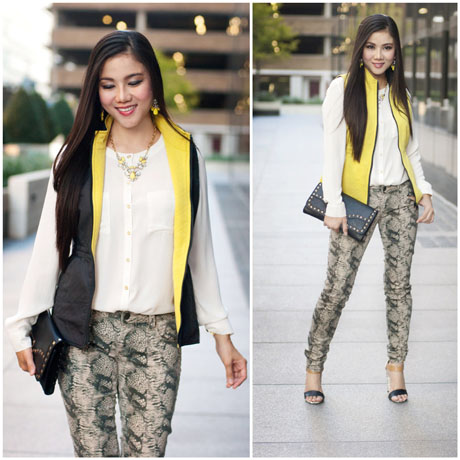 There's no secret that animal prints are a huge trend this fall. The not only add a fierce touch to your look, they are also considered fall's neutral! Luckily, our Fall Collection has many pieces with bold prints to help you achieve your desired look.
This fall, one of our best-seller items is our Diamond Super Skinny Jean! Not only was it featured in the September issue of Family Circle Magazine, it is also a favorite among our CAbi Girls and bloggers we partner with.
See how Houston-based blogger, Lynne Gabriel, of Whatever is Lovely, is out on the town flaunting her CAbi Style. Here she adds a zest to her look with our Travel Reversible Vest.
Visit her blog and see more outfit details.