Whether you are traveling from coast to coast or heading out on a weekend road trip, we help you pack the perfect outfits  for your summer travel destination and give you the must-see spots in some of the dreamiest cities in the nation.
From the best restaurants in NY, to outdoor activities in Chicago, the beach in Miami, and more, these bloggers reveal their hometown picks and tell you why you should visit them. Sit back, read, and start planning your summer getaway!
Miami
Rachelle Porsenna, Pink Sole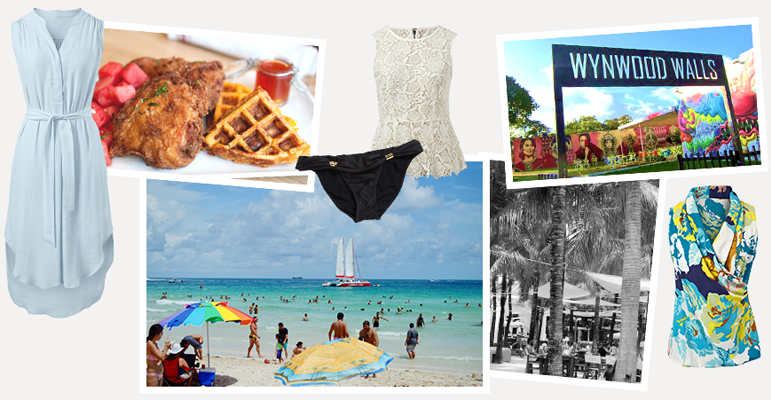 Nikki Beach hosts the best buffet-style brunch, so if you are looking to have a lazy Sunday this is the place to go. Endless food and drinks with the beach only a few steps away. I highly recommend getting a cabana, it is the best place to unwind on a Sunday. Wear something comfortable and cute, of course, like the Needle Lace Shell with your bathing suit and shorts. (photo credit: Rachelle Porsenna)
Yardbird Southern Table and Bar, This is THE spot if you are in the mood for some good and sinful comfort food. The Mac and Cheese is seriously life changing. I recommend wearing roomy clothes, like the Breeze Dress Set, and forget about your diet. (Photo Credit: Tracey-Ann Jarrett)
Art Walk in Wynwood – This occurs on the second Saturday of every month. During the art walk, you get to gallery hop and enjoy free wine. On your way out make sure to stop by Gigi's for some sticky buns and soba noodles, I know you will be full but make sure to finish it off with their ice cream. Since there's a lot of walking involved I recommend sensible heels or flat shoes, and cute top like the Blossom Wrap Top paired with jeans or a mini skirt. (Photo Credit: Menin Hospitality)
Chicago
Renita Domek, My Life While Shopping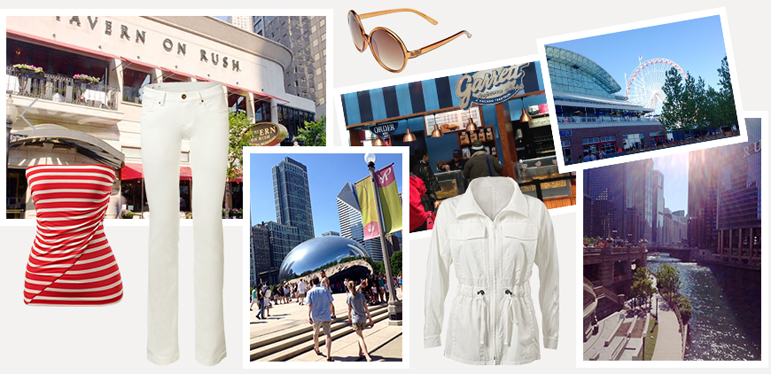 I love Navy Pier on a beautiful summer day. Navy Pier offers a little bit of everything that is "Chicago." Begin with a walk along the pier and take in the skyline. Then, if you're not afraid of heights, head straight to the ferris wheel for bird's eye view of Chicago. From the pier you can also grab a boat tour. The Architectural Boat Tour is my favorite.
Chicago Architectural Boat Tour – I never get tired of this tour. It's a favorite among tourists and locals alike. Leaving from Navy Pier, this tour tells of the history of Chicago through its architecture. You can learn about the famous architects who contributed to Chicago's sky-line while relaxing and chatting with your friends. A great activity for a weekend with the girlfriends! CAbi Pick: Blaine Tube, Indie Jean, Fairway Jacket and sunglasses
Tavern on Rush is my favorite spot for al-fresco dining on a gorgeous summer day. It's definitely a place to see and be seen, plus the food is fabulous. I love to kick back and watch the people go by, while enjoying a refreshing drink and a light lunch. The fried lobster skewers are to die for! (Photo Credit: Tavern on Rush)
The Magnificent Mile – My blog's name is My Life While Shopping, so you know any trip I take to Chicago isn't complete without a little time on the Mag Mile. I mean we're talking Tiffany, Burberry, Gucci, Louis Vuitton, Cartier, Saks, Neiman Marcus, Nordstrom, and more all on one mile of shopping heaven. Now that's what I call magnificent!
Garrett's Popcorn – I know you're thinking deep dish pizza is the must-have in Chicago, but for many, the real Chicago treat is Garrett's Popcorn. You simply can't leave without your own personal stash of this addicting popcorn. I recommend the combo with cheese and caramel corn. It's the perfect mix of sweet and salty. Make sure you have lots of napkins!
Millenium Park – If there's time, I love to stroll through Millennium Park. I'm a huge flower lover, and the Lurie Garden is amazing. It's also fun to people watch while walking around the Cloud Gate sculpture, better known as "The Bean."
Boston
Kristen Uekermann, The Boston Fashionista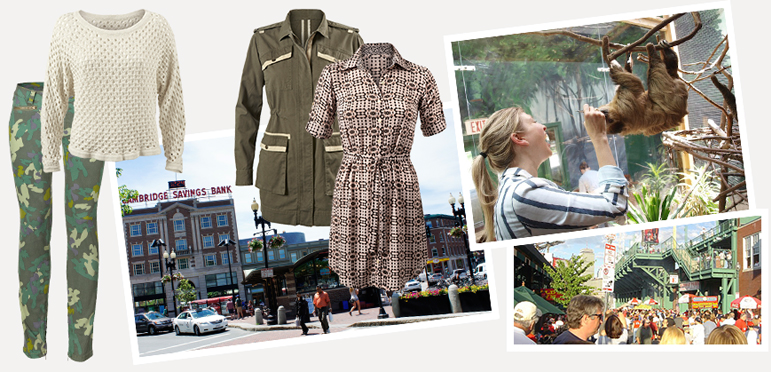 Boston is a city that always surprises me. Both bustling and Brahmin, laid-back and literary, it is a city where contrasts somehow work in concert. It's brainy (there are over 60 colleges in the Boston metro area), historical (you've heard of Paul Revere?), cultural (from the Boston Symphony Orchestra to Aerosmith, we've got it all), and yes, more than a little sports-crazy (well, why not?). It's also friendly and accessible—you can get almost anywhere on foot or via the subway system (we call it "the T"). Planning your visit? You probably know to visit The Freedom Trail (it seriously, it is pretty cool), but here are three quintessential Boston locations you also don't want to miss:
Lansdowne Street – Thought I was going to say Fenway Park, didn't you? Sure, Fenway is the oldest ballpark in America, and home of the current World Series champions, the Boston Red Sox, but the ballpark can't contain the enthusiasm Bostonians feel for baseball. Fans spill out onto Lansdowne Street and Yawkey Way, and into the neighboring restaurants and pubs. Locals Say: Come for a hotdog and people-watching, stay for live music at the House of Blues. CAbi Pick: Seaside Pullover and Clover Camo Jegging
Franklin Park Zoo – If you're a kid, the Franklin Park Zoo is one of the coolest places in town. If you're not a kid? You're still going to love it. Perfectly walkable, with an amazing collection of animals and a friendly staff, the zoo is one of my favorite places for a Sunday afternoon. Looking for a close encounter with one of the animals? Schedule a behind-the-scenes tour for a seriously wild experience. Locals Say: Enjoy "hanging out" with the two-toed sloths, Lunesta and Nero. CAbi Pick: Colony Club Dress and Anorak
Harvard Square – Technically not in Boston, but Harvard Square is totally worth the short red line train to Cambridge. Explore Harvard Yard and learn the "three lies of the John Harvard statue", pop into one of the local watering holes and try out your best Good Will Hunting accent, and definitely wander through some of the area boutiques. Locals Say: Shop at Mint Julep on Church Street for pretty party frocks, and visit Cambridge 1 just a little further down for unique, mouth-watering thin crust pizza. CAbi Pick: Breeze Dress Set
Seattle
Morgann Crook, Glitter in the Grey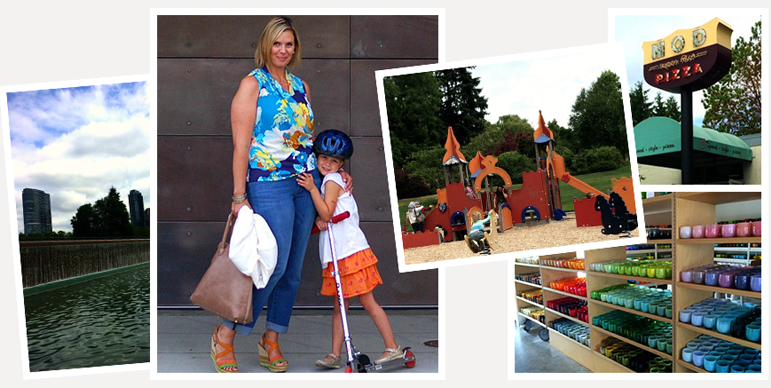 One of the best things about downtown Bellevue is how walkable it is. Everything you want to do is within a five-block radius, and here are some of my recommended spots if you are planning on visiting the city.
Downtown Belleveu Park – It has a fantastic playground, perfectly suited for younger kids. This is one of those simple and serene parks, with amazing water features, and huge grassy areas. The playground is the perfect place to park, and after the kids get 20 minutes of play there, I can easily get them to go on a walk with me to look at the ducks, the waterfall, and to walk the path.
MOD Pizza – On the perimeter of the park you'll find this amazing pizza place. Super affordable, delicious, and fast! We like the Sienna or Dillon James, but you can add as many toppings as you want and the price stays the same. LOVE.
Glassybaby – The Bellevue location is most easily accessed from the alley and this most unassuming entrance. Ask any woman from the Pacific Northwest if they have a Glassybaby, and they won't all say yes, but pretty much everyone will tell you how awesome they are.
Seattle's best gift ever to give or receive (they ship anywhere too!). Started by a cancer-stricken mom, these little handblown glass votives in every color under the rainbow benefit more charities than I can count. 10% of EVERY sale (over 2 million dollars to date!) has been donated. Glassybaby is a small, industrial space with concrete floors and rolling shelves. So simple, so beautiful, and so hard to choose colors. We ended up buying "skinny dip" for my mom.
New York
Hitha Palepu, Hitha on the Go
Gotham West Market – Whether I need a coffee pick-me-up, a piping bowl of ramen, or a crisp glass of cava, this is my go-to spot. Gotham West is a one-of-a-kind dining destination in the city with six restaurants under one roof, great outdoor space, and just a block from the Hudson River. Did I mention that happy hour starts at 3:00 p.m. and can snag you a glass of bubbly and six oysters for just $11? I love to wear my Mosaic Wrap Dress when dining at Gotham West Market—it's perfect for warm days at an outdoor table, eating the best that each restaurant has to offer. CAbi Pick: Sweetheart Topper (Photo credit: Sprudge.com)
Neuehouse – NYC's newest private member's club is where you can find me twice a week, working and meeting with potential partners. Neuehouse offers a complimentary happy hour every evening and amazing speakers and events. While there's no official dress code, casual dress-to-impress is implied. The Origami Top, paired with skinny jeans, and a statement pair of shoes, is my preferred uniform when hosting meetings and working at Neuehouse. (Photo Credit: Rockwellgroup.com)
Where are you heading this summer? Let us know which of the CAbi pieces mentioned above is traveling with you!