A beautiful wardrobe deserves equally beautiful hair and makeup. But with hectic schedules, who has time to primp all morning? That's why we sat down with CAbi's celebrity hair stylist, Song Hee, and makeup guru, Andie Markoe-Byrne, to learn about the hottest fall beauty trends that are sure to make your beauty routine efficient and effective. Watch the video below and get their top three beauty tips to follow this season! Want more fall beauty advice? Scroll down to find out their product picks and favorite fall beauty trends that will have you looking and feeling your best in no time at all.
Here are our favorite fall beauty trends, plus tips from the pros that will have you looking and feeling your best in no time at all.
Song Hee talks fall hair trends and the products you should try now!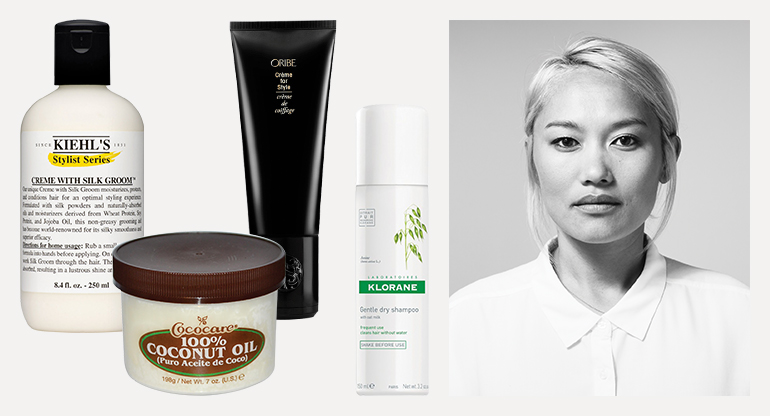 Go blonde – Blonde isn't just for summer. Try lightening your look with a few golden highlights around your face. If you are feeling bold, you might want to add a fun bright color on the ends. Going blonde in the fall also means less upkeep since the color won't oxidize and turn brassy from the summer sun.
Messy buns – They are here to stay, and we couldn't be happier! Whether pulled up in a top bun or wrapped loosely at the nape of the neck, pull out a few loose pieces around the hairline to frame the face. The simplicity of the style makes this a huge time saver.
Coconut oil – I love this natural hair conditioner! I always recommend it to women who have textured, dry, or color treated hair. After towel drying wet hair, put a pea-sized amount (for short length hair) in your hands and emulsify it by rubbing your hands together. Then, run it through the mid-shaft portion all the way to the ends. Remember, a little goes a long way.
Oribe Crème for Style – I am obsessed with this line of hair products, which is crafted by Tom Ford. Run it through wet hair and blow dry for a smooth finish with body. I am sure you will love the smell too—it is so luxurious!
Dry shampoo – Klorane dry shampoo is an absolute must. Hair doesn't need to be washed and shampooed every day, so if you have a little oiliness at the scalp, this product is a great hair refresher. I prefer the powder form and not the aerosol spray. You shake the bottle gently and squeeze the bottle to let out a puff of powder. You repeat this process all over the head. The fine powder is absorbed quickly into the hair and will help you look fresh and fabulous.
Kiehl's Creme with Silk Groom – Apply it to the unruly tresses of curly or frizzy hair. Just dab a little in your palms, emulsify, and smooth it over those pesky little fly-aways.
Andie Markoe-Byrne gives you the colors of the season, which will help you achieve a flawless face for fall!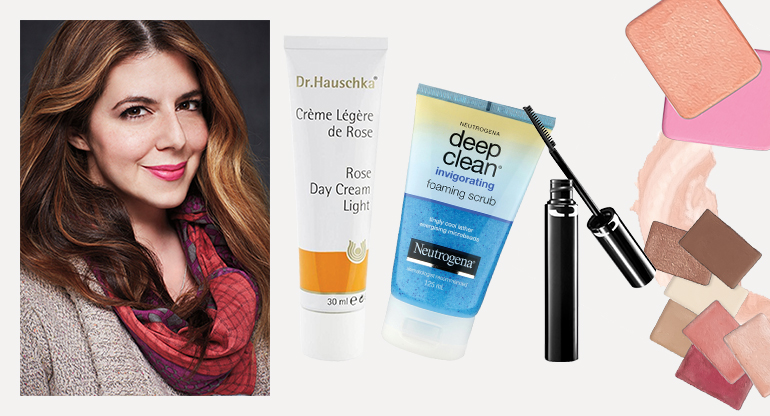 Lips – The three big trends are nudes, dusty roses, and berry shades, which all happen to translate well on just about every skin tone. The key is balance: if you go richer on the lips, go lighter on the eyes … if you go for a nude shade on the lips, go for dramatic hues on the eyes.
Eyes – Start with a clean bone-colored base shadow on the lid, then gently sweep a taupe shadow into the crease to give your eye depth.   Next, pencil in a deep chocolate liner, curl your lashes and finish with two coats of black mascara. For a more dramatic smoky eye in the evening, simply add a darker cocoa shade in the crease, and blend a rich chocolate liner into your lower lash line.
Cheeks – Use a bright pink shade and very lightly apply just a pop to the apples of your cheeks. Then, add a shimmering, peachy pink over the top to softly blend along your cheekbones.
Do you have a mascara that gives you knock-out lashes? Is there a conditioner you can't live without? Share with us your favorite hair and beauty finds. We'd love to hear what products you think work best!