Denim. It's simple, timeless and classic. Denim is such a part of our culture, that artists such as Keith Urban, Elton John and Lana Del Rey have all written songs about it.
The difference between regular jeans and premium denim is anything but simple. Dozens of little details add up to perfection, resulting in a style you'll live in and love. Who knew jeans could look so luxe? We've got all those little details outlined for you below, so you can feel confident that you'll be in a pair of jeans that is a true reflection of your personality and style. You can also view our video, where our Style Director Becky walks us through this year's hottest denim looks.

Super Skinny – This is our skinniest jean and hugs your body in all the right places. There is a bit of stretch to ensure comfort. Available in dark grey or a smoking hot diamond back print, this sexy style will hug your body tight.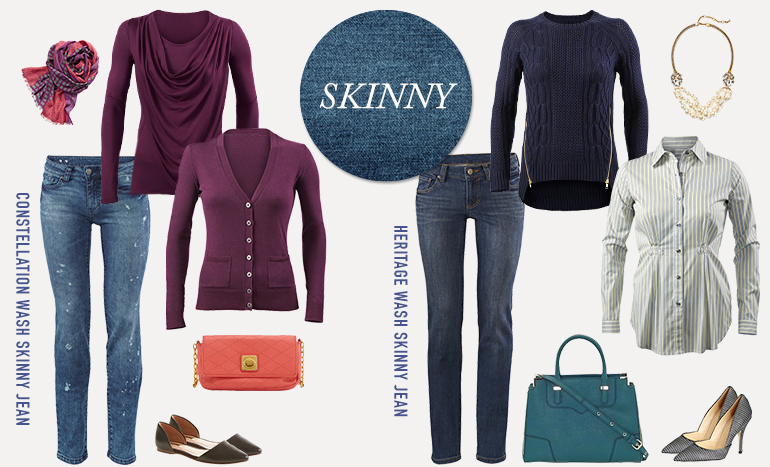 Skinny – Our traditional skinny jean has stretch for all-day comfort, with a touch more give. It's form-flattering with five-pockets for a look that is sexy and practical too. Classic, true-blue is a staple for any wardrobe and our gorgeous, rich Bordeaux Wash is the perfect complement to fall's darker hues.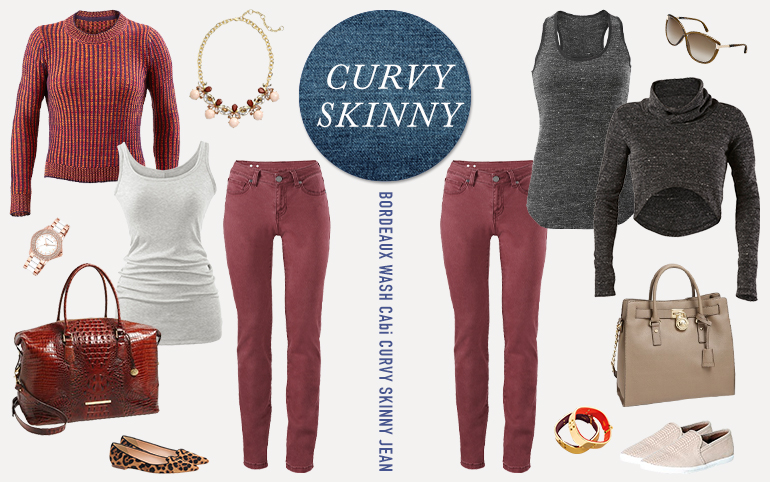 Curvy Skinny – At last! The moment has arrived! A skinny jean for women of all sizes. This Bordeaux Wash has an adjusted fit for a smaller waist and curvy hips. Sexy, stylish and colorful.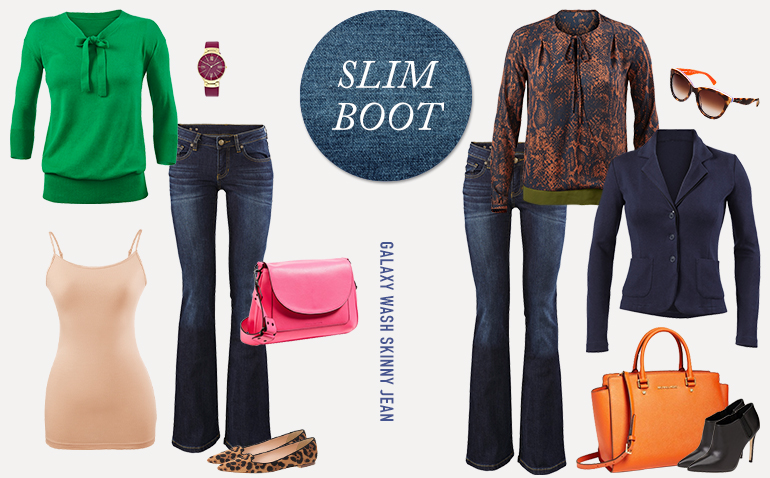 Slim Boot– This leg-lengthening look is fitted and sexy throughout the hips and thighs. It then opens up to a beautiful bootcut flare. The darker Galaxy Wash is out of this world. Rich and stylish comfort sums up this beautiful jean.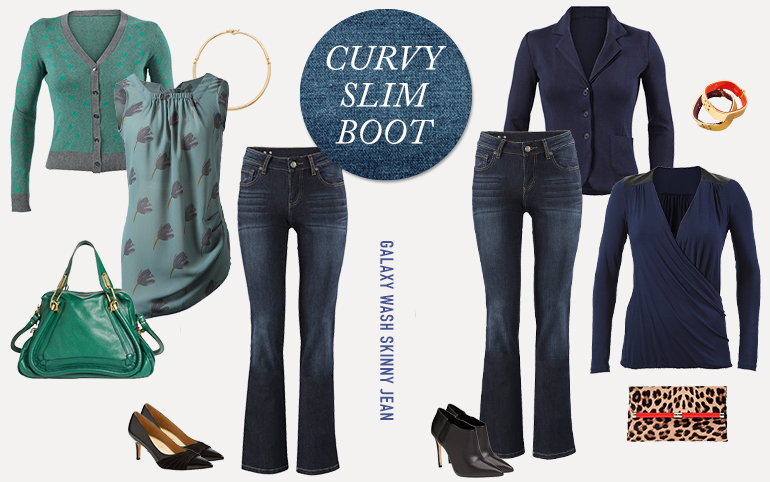 Curvy Slim Boot – Ta-da! We've done it again and added a Curvy Cut to one of our most popular styles. For women who have a smaller waist and curvy hips, this Galaxy Wash slim boot is the perfect fit in the waist, hips, thighs with a perfect flared bootcut at the bottom.

Tapered Boyfriend – We can't get enough of this look. It's the jean that looks like a million bucks, but is so effortless and chic. It's perfectly slouched, laid back and broken-in. It's comfortable, fun and fashion forward. Roll it up or down, you can't go wrong. The Comet Wash works with your entire wardrobe.

Super Skinny Cargo – This classic cargo style is softened with a flirty, feminine cut. Slim through the hip and thigh with a tapered leg opening, cargo side pockets and flap pockets on the back, this style looks fantastic on all body types. It comes in a neutral chocolate hue goes with just about everything.
YOU CAN ALSO REFERENCE OUR ONLINE DENIM GUIDE TO GIVE YOU DETAILS ON FIT AND STYLES.
Do have a pair of jeans you can't live without? Share with us your "go-to" cut and what you like to wear it with. Don't forget to tag us on Instagram and Twitter using #cabiclothing so we can all be a part of the conversation.