Life is hectic.  Choosing your wardrobe shouldn't be.  With a closet full of clothes, it's funny how we tend to feel like we have nothing to wear.  Today we'll show you what to wear no matter where you're headed.  Get inspired by these 8 looks that will give your wardrobe a pop of personality for any occasion. 
 
Turn heads while shopping for the day.  Go bold with mixing and matching patterns like our Best In Show Jacket and Snakeskin Blouse.  Opaque tights complete the look.

A modern twist on plaid gives the Festival Blouse an artsy vibe that's perfect for an outing to an art exhibit. Layer a pop of color with the Melange Pullover to keep you warm if the temperature is chilly.

Who knew hiking could be so fashionable?  Take in the great outdoors with the Poseidon Puffer.  The jewel-toned blue gives a cloud-like look and textured feel for interest.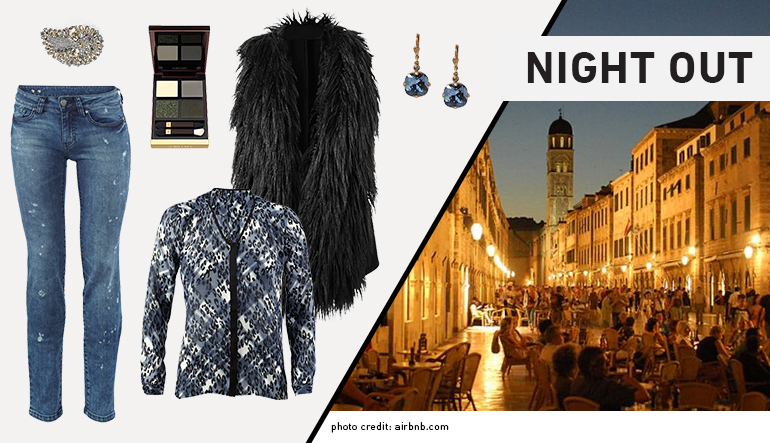 A night on the town calls for an outfit that's fun, fresh, and funky. Master the mix of patterns and textures using leopard, plaid, faux fur, and the perfect skinny jean.

A+ for effort with these polished pieces. The Pinstripe Shirt and Femme Skirt are perfect for Back to School night or a teacher meeting! Use the Zipper Pullover to give the look a preppy edge.
Featured Pieces: CAbi Vintage Stud Earrings, Tory Burch Bangle, Zipper Pullover, Pinstripe Shirt, Femme Skirt, Ellen Tracy Pump

Lunch with the ladies is always a special treat. You'll be the topic of conversation when your friends see this fabulous, feminine look with the elegant Ladylike Tunic.
Featured Pieces: Audrey Pant, Ladylike Tunic, Ryder Jacket, Diane Von Furstenberg Pump, Smashbox Lipstick, CAbi Contessa Necklace

Family time is precious. As you take photographs to help you to cherish these moments, make sure you look as fabulous as you feel in the fall color palette of our Plaid Vest.

Knock his socks off with this unique and modern twist on the classic button down.  Pair the asymmetrical hemline of the Chic Shirt under our Cece Shell for added visual interest.
Featured Pieces: Heritage Wash Skinny Jean, Steve Madden Pump, Chic Shirt, KNOMO London Wristlet, Cece Shell, CAbi Hardware Bangle in Lava
What's on your calendar this week? We'd love to see your looks. Comment below and don't forget to tag us in your pictures! Use #CAbiClothing so we can find you and see how you translate CAbi pieces into your everyday life.