Maternity clothes have come a long way, baby! Your body goes through so many changes during pregnancy, but one thing that doesn't have to change is your fabulous style. CAbi makes fashion fun. Even your favorite "regular" clothes can give you the perfect maternity style and take you all the way through those nine (technically ten!) months. And the great news is you can continue to wear these incredible pieces even after you bring your precious bundle of joy home!
Our model is our very own Caralyn from CAbi's Events Team. She's a few months away from welcoming her baby into the world and has enjoyed being able to transition her current CAbi wardrobe into pseudo-maternity wear. No need to break the bank on an entirely new wardrobe, just modify what you already have and you'll maintain your killer fashion sense.
Are you pregnant or know someone who is? Read on for great style inspiration on how to wear your favorite CAbi pieces and show off fabulous maternity style during these months. Scroll down and discover how some of our fall pieces can transition into your pregnancy wardrobe, whether it's a casual day of errands or a much deserved night out with your hubby.
The four outfits below are ideal for a couple's night out. Caralyn is wearing the Date Night Top, which has an adjustable satin tie that's perfect for an expanding waistline. Wear it with your maternity jeans or you can wear any CAbi denim with a belly band. If you want to add some color to your look and highlight your belly, the Lucky Pullover is a great color to enhance your gorgeous glow. A sharp look for a special dinner!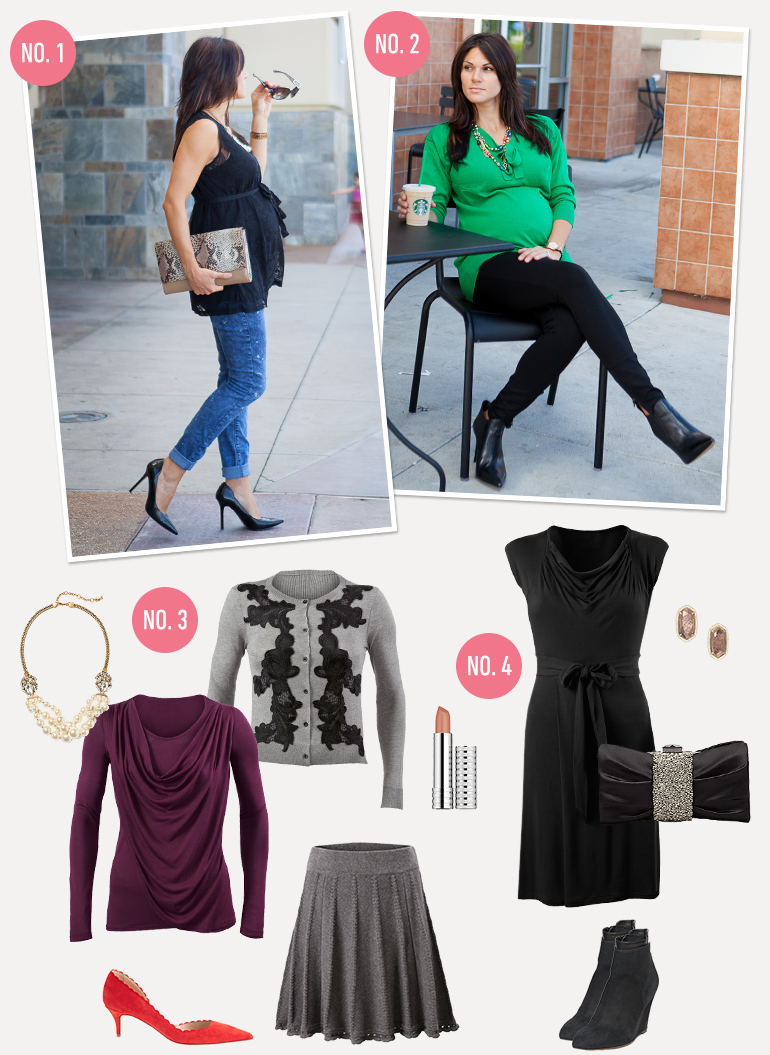 Feeling adventurous? Swap the pants or the maxi dress with our Femme Skirt paired with our stylish Appliqué Cardigan. Add a statement necklace for an elegant finishing touch. And the CAbi LBD is a great staple that can be glammed up for a wedding or even your baby shower!
1. Date Night Top (you may have to go up a size but this top is cute and accommodating), Constellation Wash Skinny Jean (with a belly band)
3. CAbi Contessa Necklace, Overlay Tee, J.Crew Pump, Appliqué Cardigan, Femme Skirt (worn over belly), Clinique Lipstick
4. CAbi LBD, Kendra Scott Earrings, Sondra Roberts Clutch, Vince Bootie
Ready to unwind in style? Caralyn shows us how to do the farmer's market in the Striped Tee. It hugs her bump and has people giving her compliments all day long. Her Infinite Vest is perfect for a day of shopping with some jeans rolled at the cuff (with a belly band) and makes her look (and feel!) like a million bucks. You can mix and match patterns with the Business Tee and Estate Jacket for a look that is mommy chic and makes you feel fresh and vibrant for a girls-only lunch. And for a sporty weekend look, you'll be feeling upbeat in Tech Gear. Give it a modern twist with the Dash Jacket and some funky slip-ons.

For more pregnancy looks featuring some of our Spring 2014 pieces read this post. What makes you feel great during pregnancy? Any advice or tips you can share with our readers who are first-time moms? Please comment below.  We love to hear from you. Also, don't forget to use the hashtag #CAbiClothing in social media so we can follow along with you.