Every season is full of surprises and if you are wowed by our gorgeous BeautiFall Me 2014 Collection, you'll be blown away by our New Arrivals with gorgeous statement pieces to give your fall closet a chic fall update. Fall in love with these 10 pieces that will instantly give any outfit a fresh, fancy look.
Our gorgeous tapestry-inspired, swing silhouette topper features a stunning teal color accented with rich shades of platinum, adding a spirit of celebration to the holiday

Our Design Team saw a piece of artwork from the 1800s, and found the colors and detail to be so beautiful we absolutely had to make it into a print. We love how it looks as if the pattern is made of intricate needlework.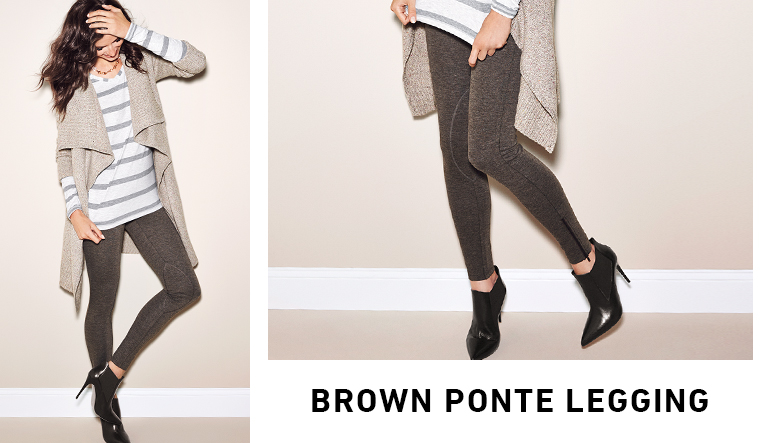 We can't say enough about the magical properties of ponte. Easily washable, super comfortable, retains its shape wear after wear… what's not to love! We've reinvented the Ponte Legging with a super chic heathered brown—a must for fall.
Introducing our favorite layering piece in that gorgeous Midnight in Paris color you already know and love. Wear it as a stand-alone piece with a skinny pant or jeans for a sleek silhouette.

Wear this as a gorgeous throw draped over your shoulders or wear it wrapped as a super chic scarf. The neutral color blocking and the 100% cotton yarn give it a clean presentation with a cozy fall feel.
 The super-soft feel and stretchy fit of this fabulous new silhouette makes it our favorite skinny option for matching back to any cozy topper… and the rich neutral shade goes with just about everything.
Think poncho … with super chic sleeves for comfort and versatility. We love the cool, striated yarn pattern and the bold contrast of rich navy with white. Pair it with skinny jeans or cords to play with proportion, while still flattering your silhouette.
This season, bombers are the bomb… and our version of the must-wear fall silhouette, with its cute cropped waist and wide bomber collar, has a crazy soft chinchilla-like faux fur fabric you'll want to cozy up to forever.
You loved it for spring, now wear it in black for fall. Our favorite shell, and best-seller, is perfect for a sleek look under suits, or worn back to soft summer skirts as a great transition piece
A stunning centerpiece for your jewelry collection, the glass-crystal Princesa was inspired by a vintage estate find and designed to transform with your wardrobe. Remove the three pendants to create a set of brooches and a bracelet or a brooch, two earrings and a bracelet when paired with our Mix & Mingle Vintage Stud Earrings.
Ready to rock these pieces with your beautifall items? Now is the time to contact your CAbi Consultant to buy these pieces before the autumn winds blow in.