One of the best things about CAbi is the ability to mix, match, and flip things around to make your favorite pieces feel brand new each time you wear them. By now, you've probably seen incredible fall outfit inspiration here on our blog and many more from your fellow CAbi fashionistas. If you are looking for more ways to give your fall wardrobe a breath of fresh air, you've come to the right place. Today, we give you ten new ways to mix up your look with some of this season's favorites so you'll enjoy them for seasons to come.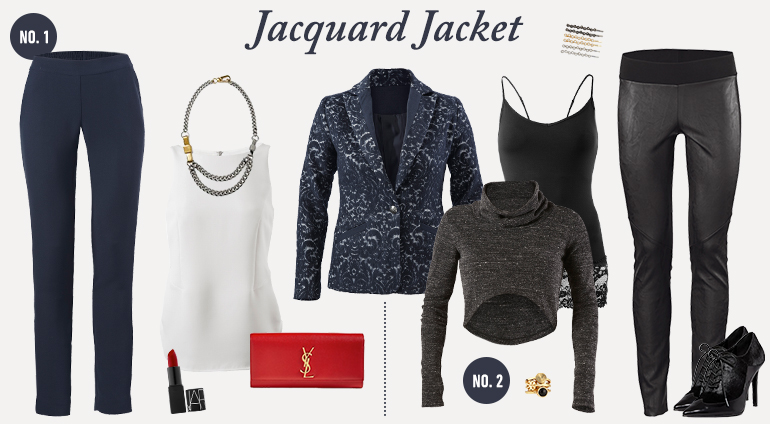 The classic tuxedo jacket can go from traditional to glam in an instant and it's perfect for a tailored look. Wear it with classic red lips and a structured clutch for a look that never goes out of style. Take your look to the next level by adding a unique on-trend bootie.
 
The leg-lengthening Galaxy Wash Slim Boot will be your favorite pair of jeans for years to come. This denim staple is the perfect match for daytime whimsy with the Ladylike Tunic and a crossbody bag in rich pecan hues. Step out at night with a color-popping statement heel and dramatic smoky eye.
 
The sky's the limit with the versatile Coupe Bomber. Run wild with the pattern and play it up with matching houndstooth pumps … the perfect complement to a rolled-up boyfriend jean. Feminine flair is the name of the game when the Bomber is worn with a flirty skirt, delicate kitten heels, and the Paisley Stone Buckle for added sparkle.
 
With reversible color options, this tunic is double the fun. Make a monochromatic statement in head-to-toe black for a sleek modern look. For a completely different and edgy style, flip it around to showcase the grey and pair it with our Diamondback Super Skinny Jean.
 
Style at its finest with the epitome of casual comfort. Every closet needs a pair of slip-on sneakers and the Skinny Tech Pant can be mixed and matched with any color or pattern. Become the queen of the slopes this season in gorgeous jewel tones.
How are you adding your personal style to the pieces above? Tell us how you wear them to create your favorite one-of-a-kind look. And don't forget to share your #CAbiClothing style for a chance to be featured on our social profiles.