A new season calls for some fresh closet updates! Whether clothes or accessories, there are some key items that you'll want to add to your spring wardrobe. So, what are these fashion staples that are on trend and on our shopping list this season? Read on to discover the 5 fashion must-haves you should be adding to your spring closet.
Printed Dresses
Here, there, everywhere … the printed dress has arrived! Flattering, feminine, and fun, it's so easy to showcase your personal style when wearing this must-have. Make sure you select a pattern that reflects your sparkling personality.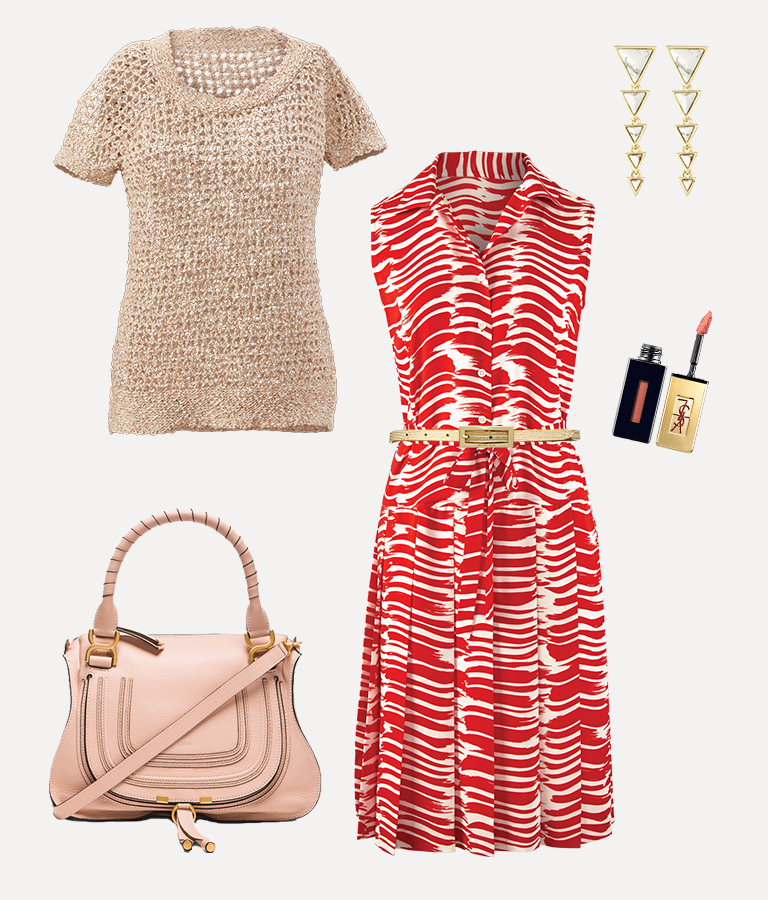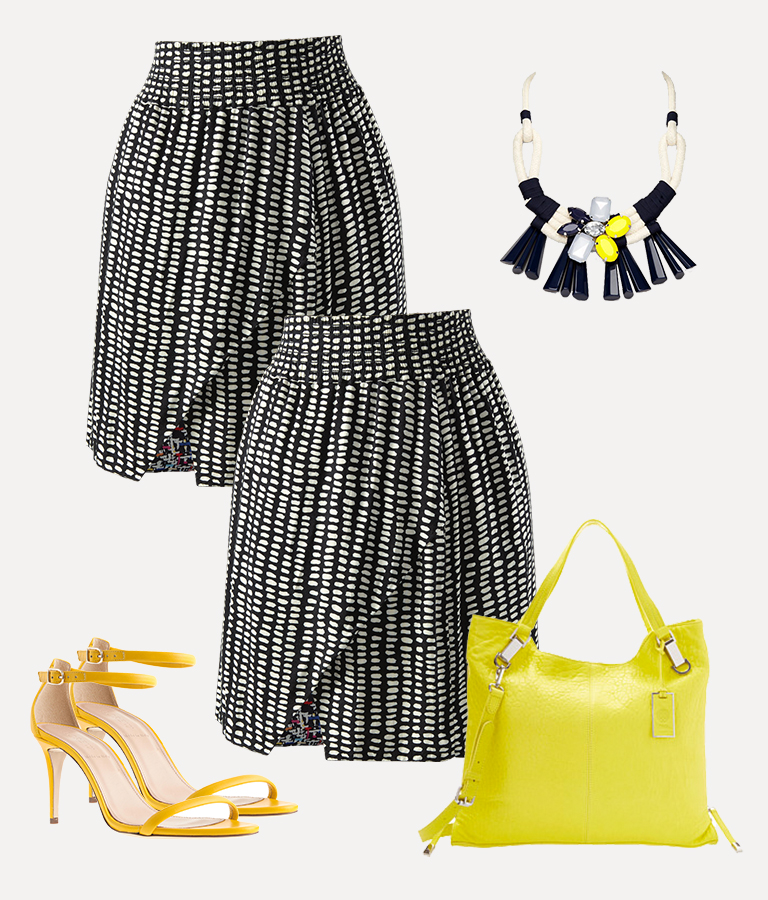 Reversible Wrap Skirt (wear as a top and bottom on the black-and-white polka dot side), Vince Camuto Tote, Weekend Max Mara Necklace, JCrew Sandals
Style Tip:
Add a contrast belt to your printed dress- either in a skin or pop color! Nips in the waist and shows your flair!
Shoes
Some would say that shoes are the most important must-have accessory for any wardrobe, and who are we to disagree? For spring, we're seeing sneakers (even couture designers are getting in on this action), nude shoes (perfect for giving you the look of an elongated leg), and the strappy sandal (adds just the right touch of sophistication).
Style Tip:
Pick a shade that closely matches your skin tone to create the illusion of having "legs for days."
Flare Jeans
Expect to see a variety of flare and wide leg jeans hit the scene this spring … they are definitely making a resurgence! An easy way to keep your look fresh and modern is to do a full front tuck of your top. The higher rise waistline and bottom flare create the perfect balance for a fuller hip, creating a figure-flattering shape.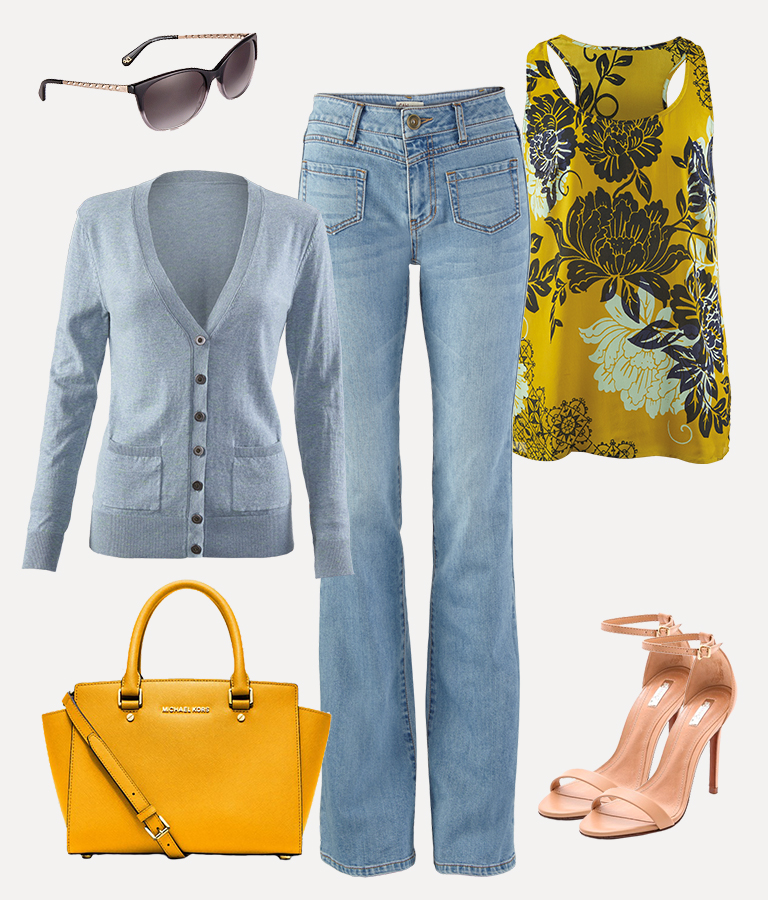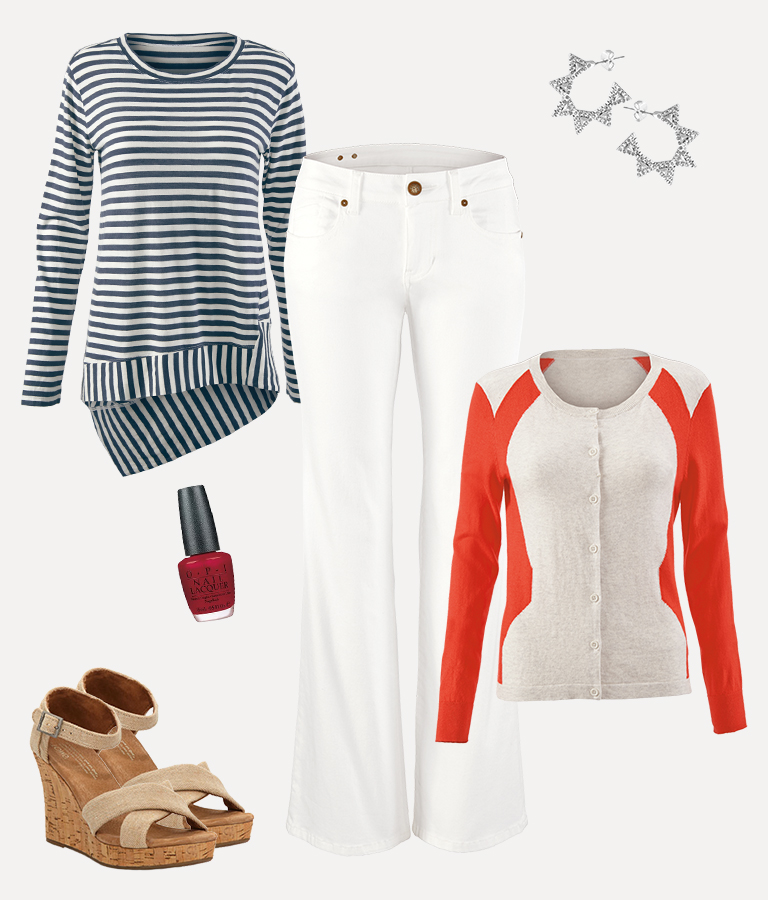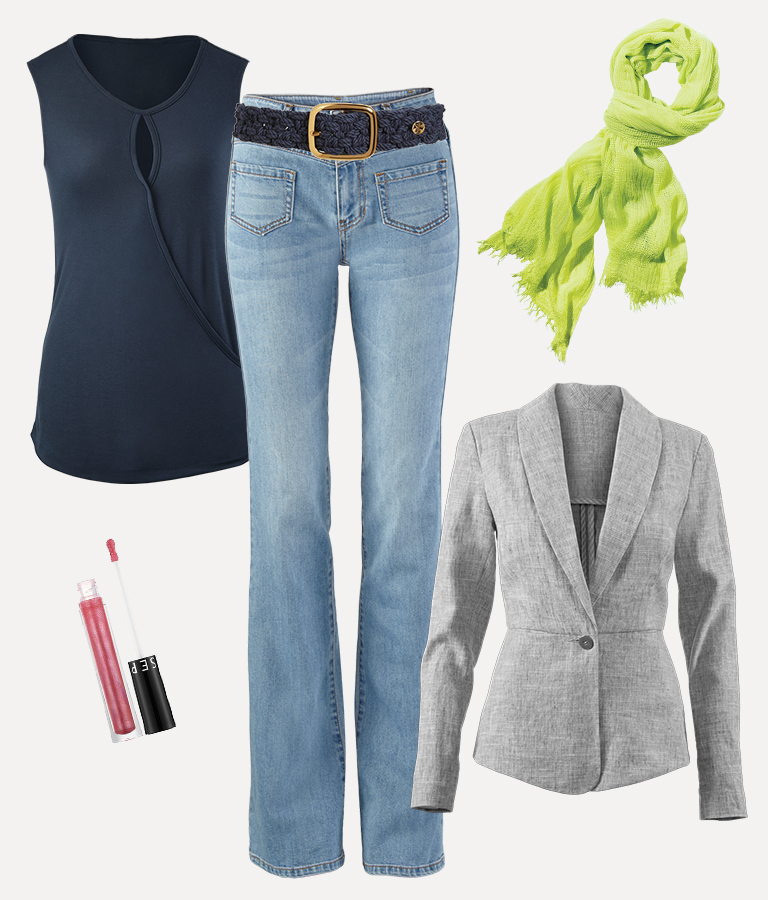 Style Tip:
Dressing head to toe in the same color palette creates a column of color, which helps elongate your frame. Be sure to use accessories to add color and interest!
Handbags
Top-handled handbags are high on our list this season! They have a ladylike appeal and are so easy to carry. Our favorites are bright bags in spring colors, such as mango or lemon lime.
Style Tip:
This polished accent piece is perfect in any color. And, you don't need to try to match your shoes to your handbag. Have fun with your accessories.
Knit Toppers
This classic piece keeps you comfortable and covered. The true style comes with the fit … you'll want your topper to have a chic, tailored look to fit and flatter your curves. The knit topper is a fresh way to cover up in comfort and style, as these cozy pieces allow movement while still being perfectly tailored. The result is a look that's super structured, but feels like a sweatshirt!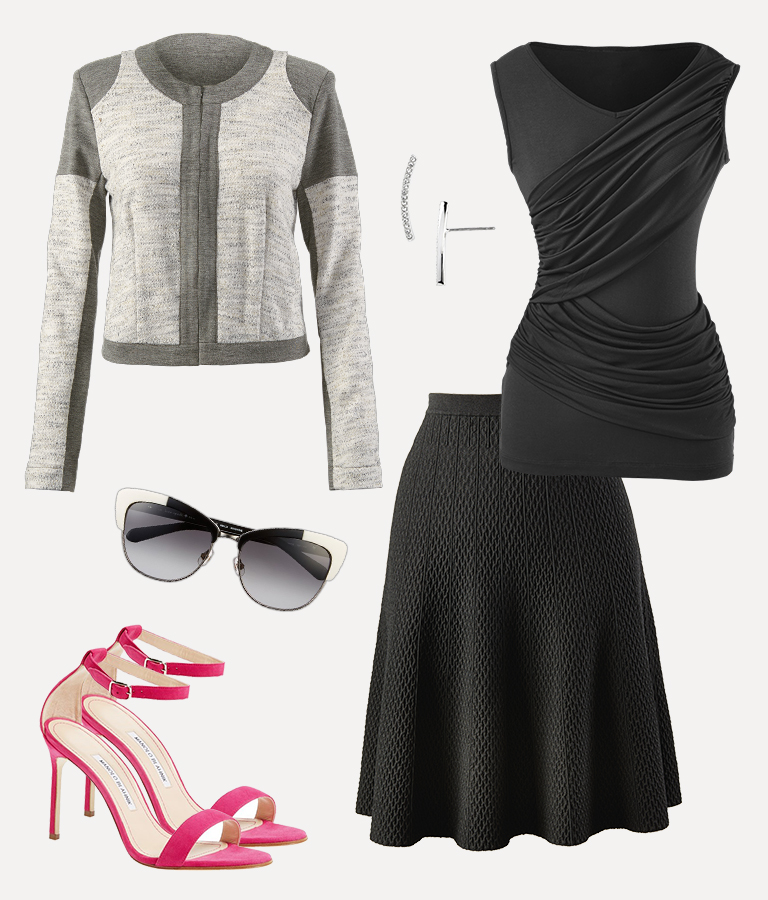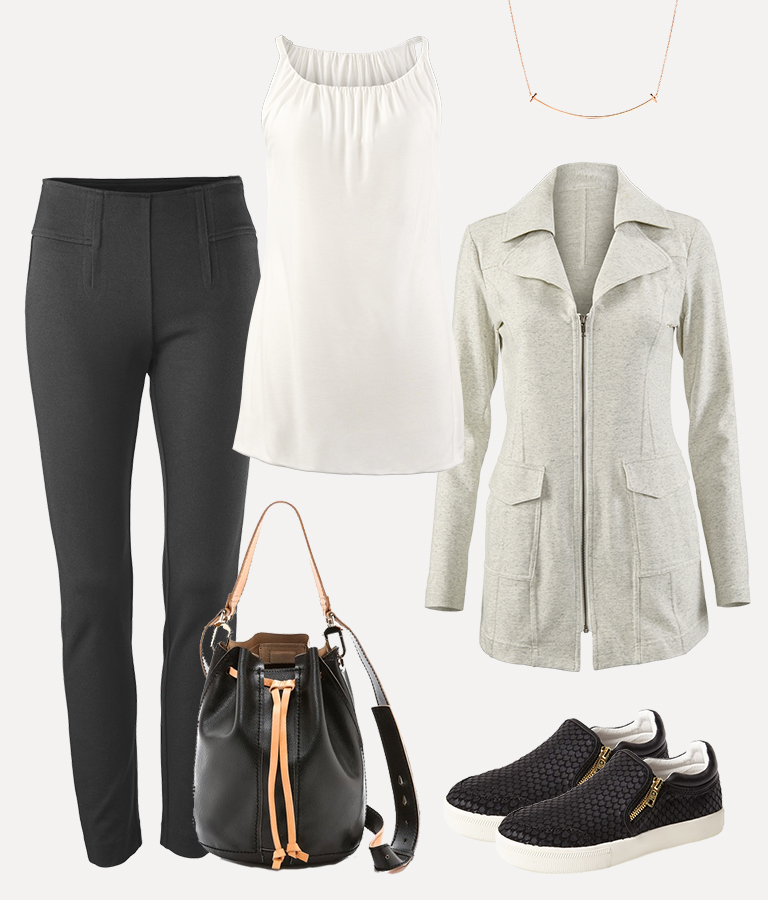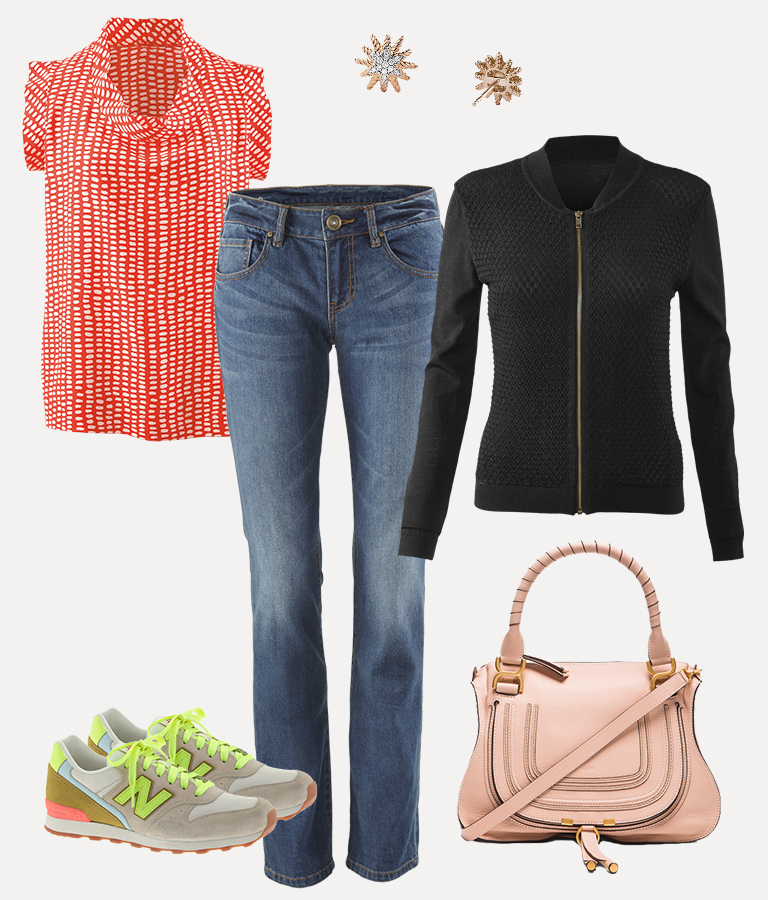 Style Tip:
Pair opposites for interest! You can use a piece that feels "dressy" and pair it back to casual separates OR take a seemingly casual piece and dress it up with heels and a bright coral lip!
Treat yourself to an update with these spring must-haves and take a look at more items we are coveting this in our must-have section. Which of these fashion must-haves are you adding to your spring closet? Let us know in the comment section below and share your spring look with us on Instagram by using #CAbiClothing.