As if the beautiful Fall Collection could get any better, this season's Jewelry Collection is more than icing on the cake! As with every accessory, jewelry allows you to cap off your wardrobe with a dash of elegance. Fall jewelry trends include bold simplicity and intricate details, and you can find these in each cabi Jewelry piece this season. Because every piece is so versatile, you will never run out of creative options for completing your look. Read on to explore some of this season's favorite jewels and tips on how to style them to take your cabi outfits up a notch!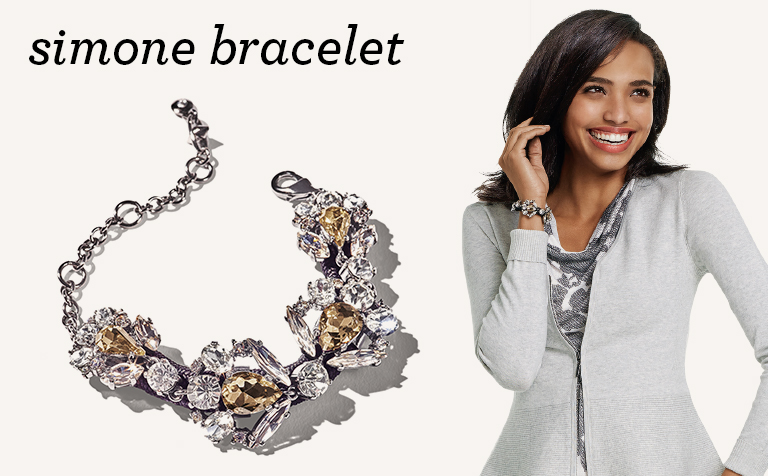 Arm candy, anyone? Try the Simone Bracelet! The eye-catching detail of bright crystals with shadowy cording gives it a sophisticated look. Make a statement anywhere you go with this easy, wear-with-everything bracelet!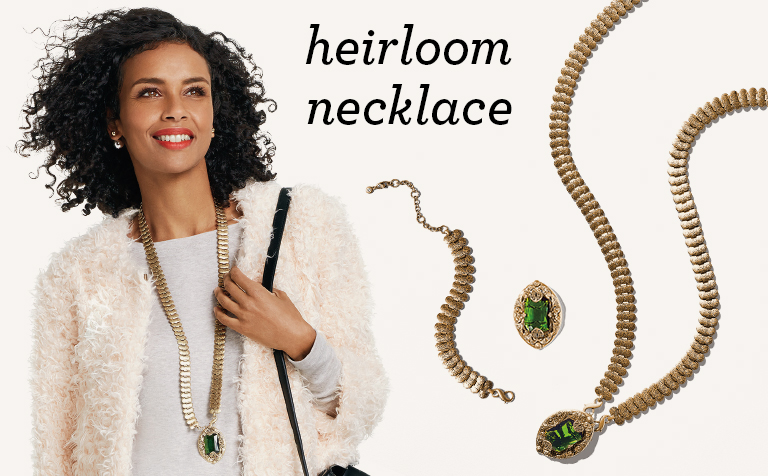 There is almost too much to say about the Heirloom Necklace! "Versatile" is an understatement; this wearable work of art can be worn five different ways! The detailed chain can make both long and short necklaces – with or without the emerald pendant. It can also be looped into a bracelet, and don't forget the pendant can double as an elegant, Rococo-inspired brooch!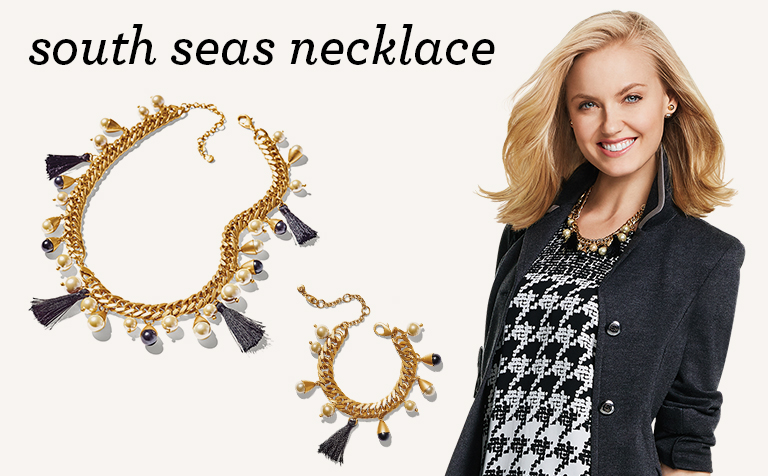 Part nautical and part rock-and-roll, yet still a classic, this unique piece is a fresh take on your traditional pearl necklace. Wear it with a basic tee for an edgy, casual look, or with something dressier for a chic evening event!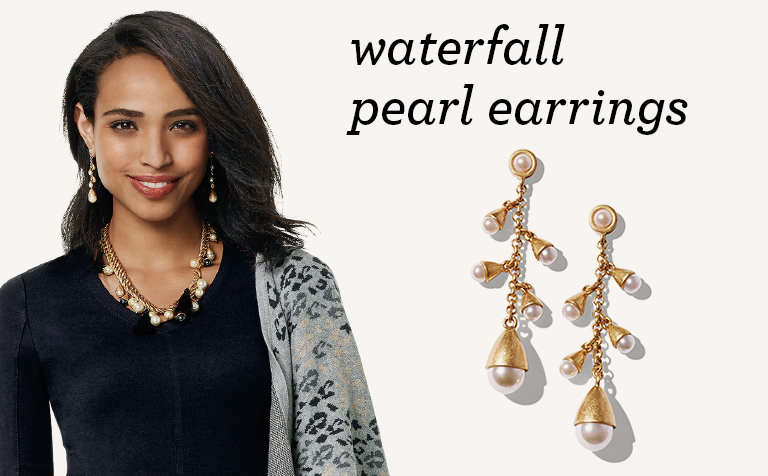 What's not to love about these fanciful earrings? They're lightweight and bring whimsical charm while celebrating the traditional pearly styles of the past! We love them paired with the South Seas necklace for a bold, feminine look.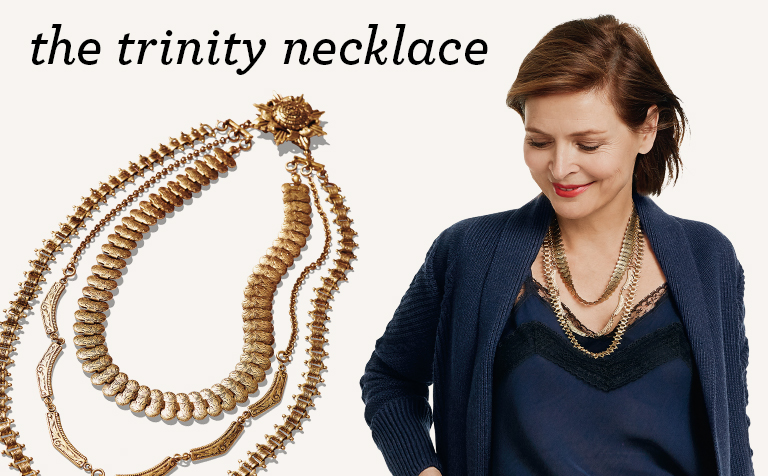 With lavish detail, each link of the three unique chains of this piece is engraved with Baroque-inspired designs, giving this necklace timeless style. Any number of the chains can be combined or removed to create bold or subtle looks, and one chain can even be worn as a bracelet! With every detail, this piece will always bring the perfect finishing touch to your look.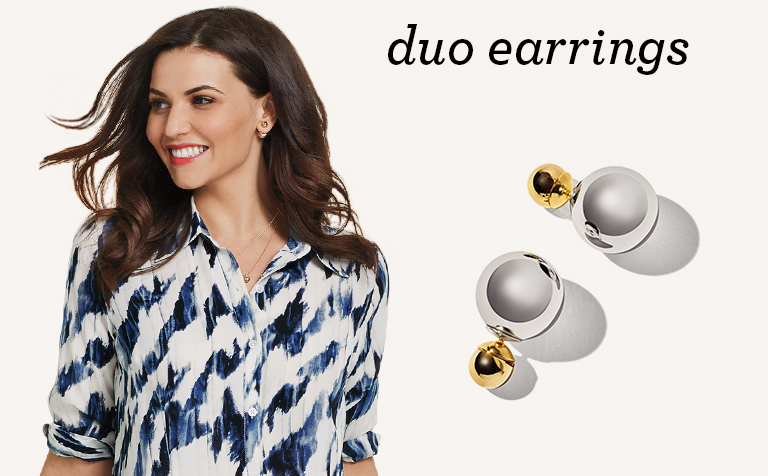 These bold and modern earrings are sure to catch the light – and the attention – of all who see them! The spherical stud and mixed metal concept came straight from the runways of Paris Fashion Week, and these earrings are reversible, just adding to the fun! Back to front silver and gold styles give you so many options.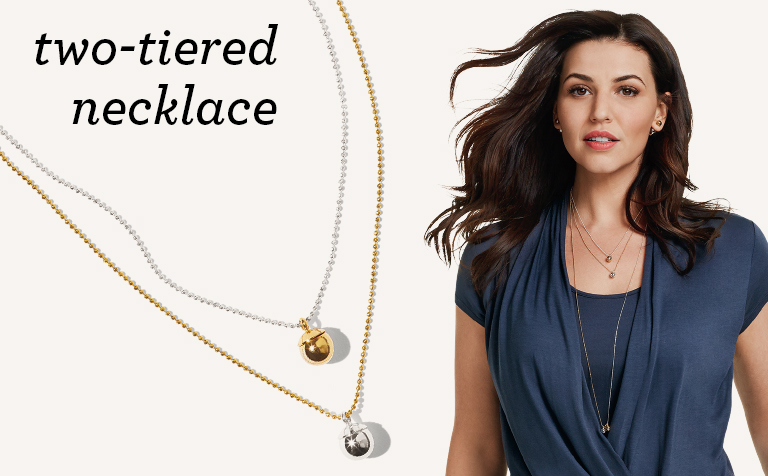 Perfectly matched with the Duo Earrings, this silver and gold necklace is an easy and fabulous go-to! The vogueish, tiered chains can be worn in the hot trend of mixed metals, or singularly, in simple, elegant style. Consider this simple yet sophisticated necklace one of your fall staples!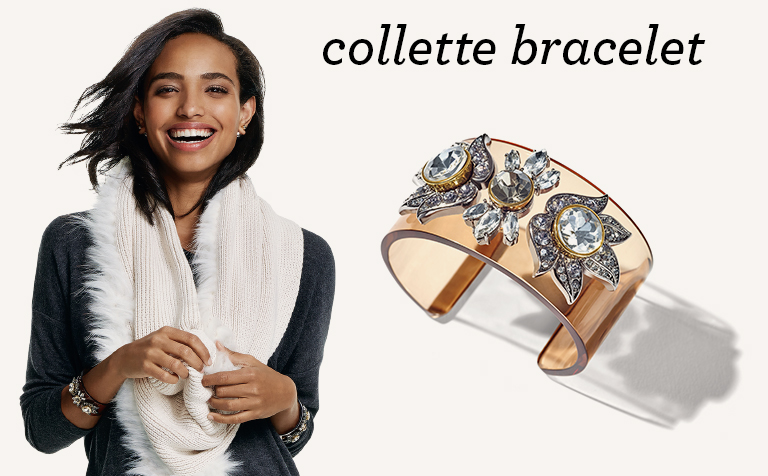 The sharp, look of the Collette Bracelet's transparent cuff lends the gorgeous vintage-inspired gems a mod polish. This dazzling and foxy piece can be worn easily with a casual top and jeans, or doubled up for extra flashes of bold, trendy sophistication!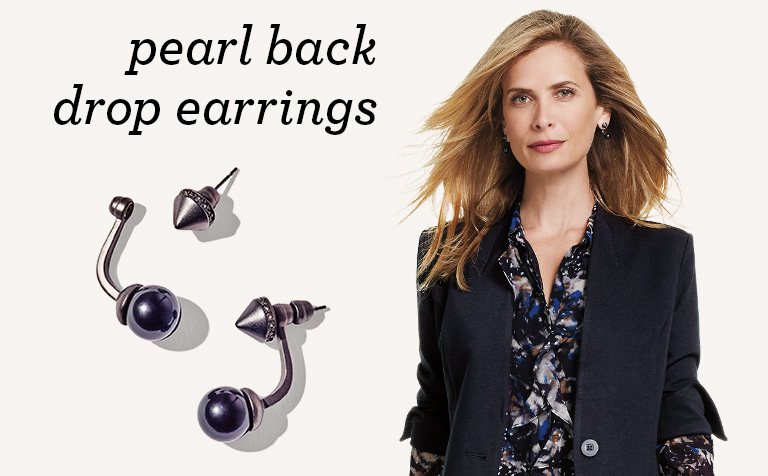 There is so much to love about the deceptively simple look and modern style of these earrings. Their sleek back-drop shape allows the edgy, jeweled studs and classic black pearls to share the spotlight.
Pearl Back Drop Earrings
These gems are so gorgeous; we simply can't pick a favorite! Contact your cabi Stylist and ask her about our FREE shipping promotion on any cabi jewelry piece. Interested in hosting a cabi Fashion Experience? Then fill out this form (add link) to get in touch with a cabi Stylist and discover what makes a cabi Fashion Experience unique!