You're rushing from one appointment to another, from power breakfasts to lunch dates, carpool pickups to dinner parties, and dessert back home with your loved ones—too often, we're so busy, we don't spend time worrying about what will keep us stylish from day to night. But with just a little strategy and a spark of inspiration, it can be done! We've chosen five pieces from our Fall Collection to keep you looking fabulous from your morning commute to that long-awaited date night! Each look can be dressed up or down, keeping your style fresh and ready for any event on your agenda. Watch the video below for some style tips from our Design Team, and read on to get more day-to-night outfit ideas.
We're kicking daytime style up a notch! Pair the Willow Cardigan with the gorgeous Evermore Blouse and Dark Destruction Slim Boyfriend. For this look, shoe choice is key – we love it with a classic, men's style lace-up oxford to add that on-trend twist. When it comes time for a dinner date, tuck the Tango Top into the Overlay Pencil Skirt in turmeric, and utilize the two-way zippers of the Willow Cardigan to nip in your waist! Add a pair of pumps and a flashy clutch, and you're date night-ready!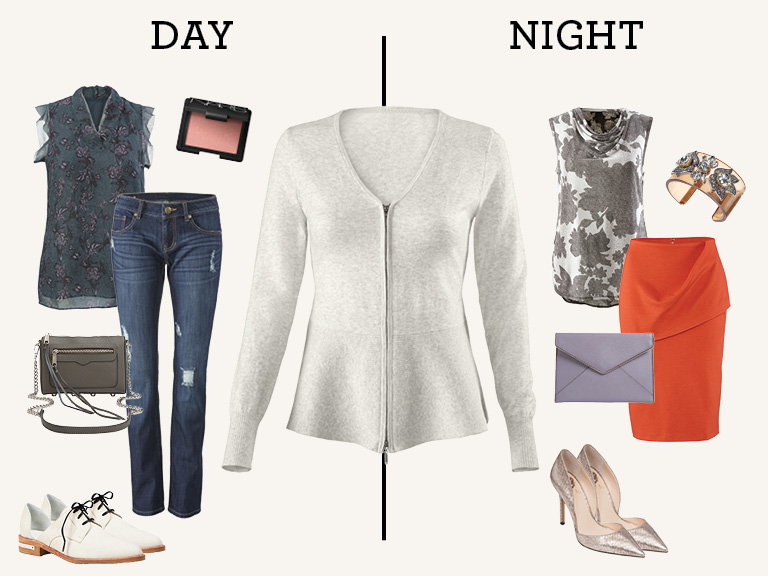 One of the most versatile prints to ever sashay off the runway, the Ginger Top is the perfect day-to-night piece. Tuck it into the classic Keaton Trouser and top it with the Casablanca Trench and you've got a polished daytime look. Come sunset, bring some fresh feminine fun to the table by swapping your trouser for the Skater Skirt and a pair of rocking booties. Don't forget to add a little sparkle with some bright jewelry and a colorful lip!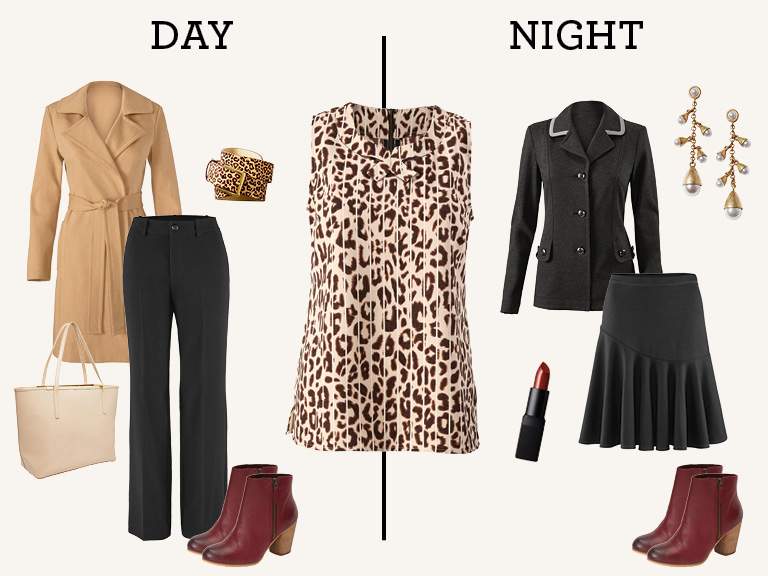 Think a bustier top should be reserved for a sexy night on the town?  Think again.  We've added shirred, gathered poly chiffon for coverage with a peek-a-boo effect making this bustier suitable for day and night.  Sport it in an off-site meeting with dark jeans, and accessorize with a printed belt and pumps.  Then relax to the beautiful sounds of music at a concert hall in a classic ensemble by pairing it with the Manor Coat and Overlay Pencil Skirt.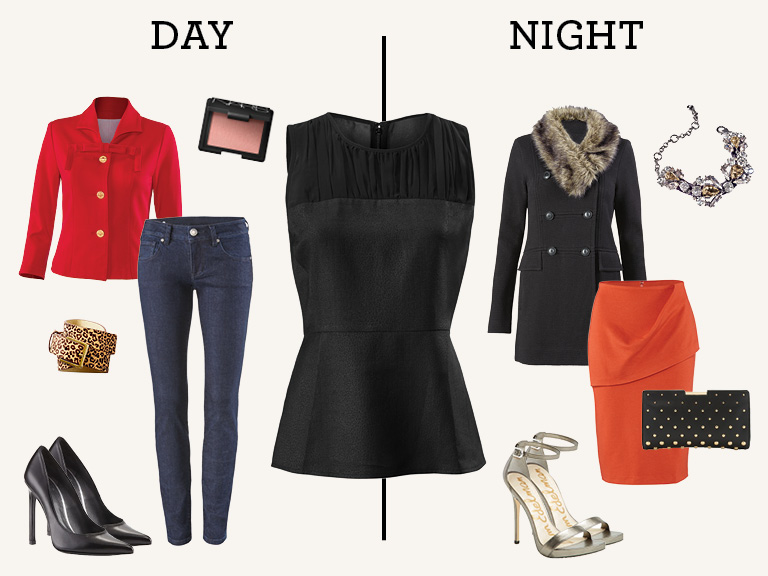 The Domino Blouse is one of our favorite pieces! It's classy, creative, and hot off the runway! For your daytime dash, tuck it into the At Ease Track Pant and top it off with the bright Meg Cardigan for a casual-cool silhouette. When night falls, up the ante with the electric Grid Skinny, a high bootie, and the gorgeous Manor Coat for a dash of fashionable drama.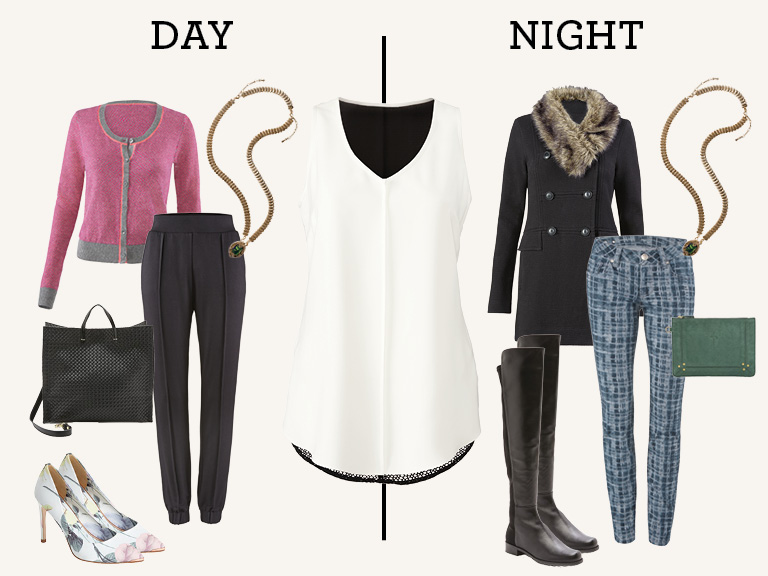 For a comfy, stylish vibe during the day, warm up with the Countryside Sweater over a bold print like the Jot Top. Pair with the distressed boyfriend jeans and a tough-girl bootie for an edgy chic look. After the sun goes down, exchange your jeans for the Pitch Super Skinny Jean and your top for the multi-hued Shatter Blouse for a vivid, polished look. Switch your booties for a high pump and strut your way into one elegant evening!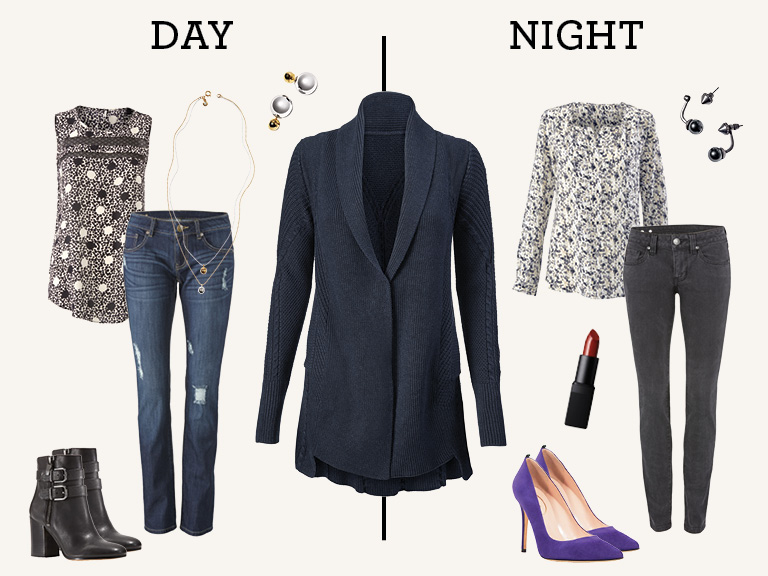 All it takes to stay stylish from morning till night is a little creativity and a spark of fun! We'd love to see your favorite day-to-night styles—share your looks with us using #cabiclothing in your social media posts. If you want to find more of inspired, versatile pieces that keep your style strong everywhere you go, check our Style and Ideas section.