We all love filling our closets with those spectacular wear-them-once occasion pieces. But it's really our wardrobe basics that we rely on, day in, day out. It can be pretty tough to find creative ways to mix and match these closet staples, so we asked two of the hottest bloggers to share their favorite cabi Basics. Keep scrolling to check out their tips and tricks on how to rock them!
Belle de Couture, www.belledecouture.com
There's nothing more versatile than cozy t-shirts and I'm loving these perfect tees from cabi! The Serenity Tee, Wrap Tee, and Double-V Tee are perfect for day-to-day activities and weekend fun.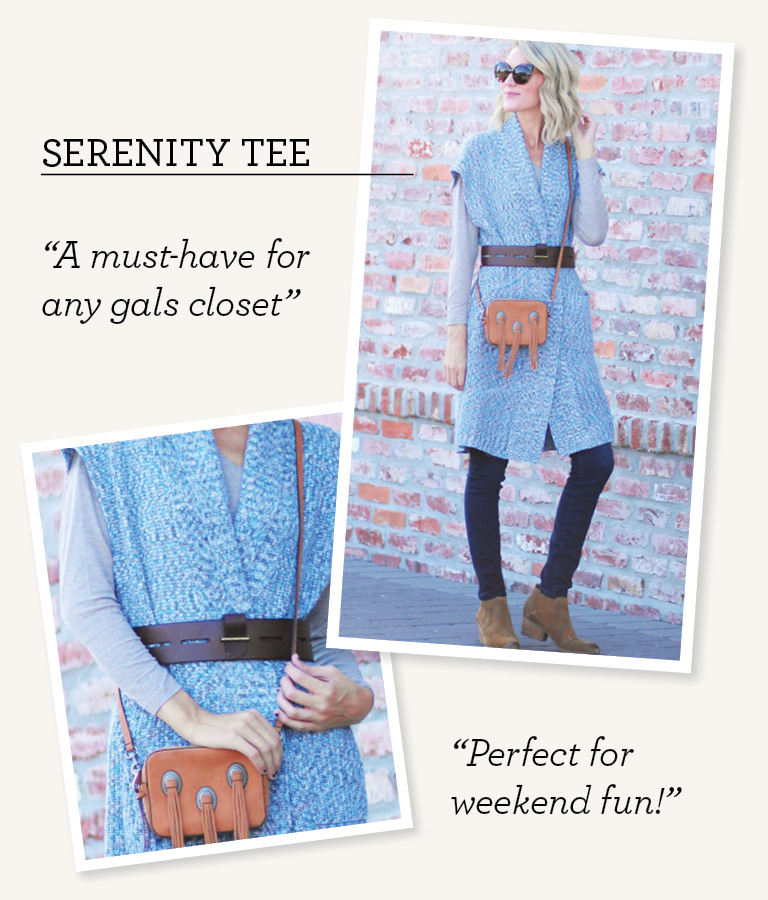 The Serenity Tee is a must-have for any gal's closet. Its soft material and oversized shape make it the perfect base for layering into the cool months. I topped off my look with cabi's Napa Vest and cinched my waist with the Here or There Belt for a bit of a boho vibe to my overall classic look.
GET JENN'S LOOK: Napa Vest, Serenity Tee (heather taupe), Here or There Belt, Dusk Destructed Skinny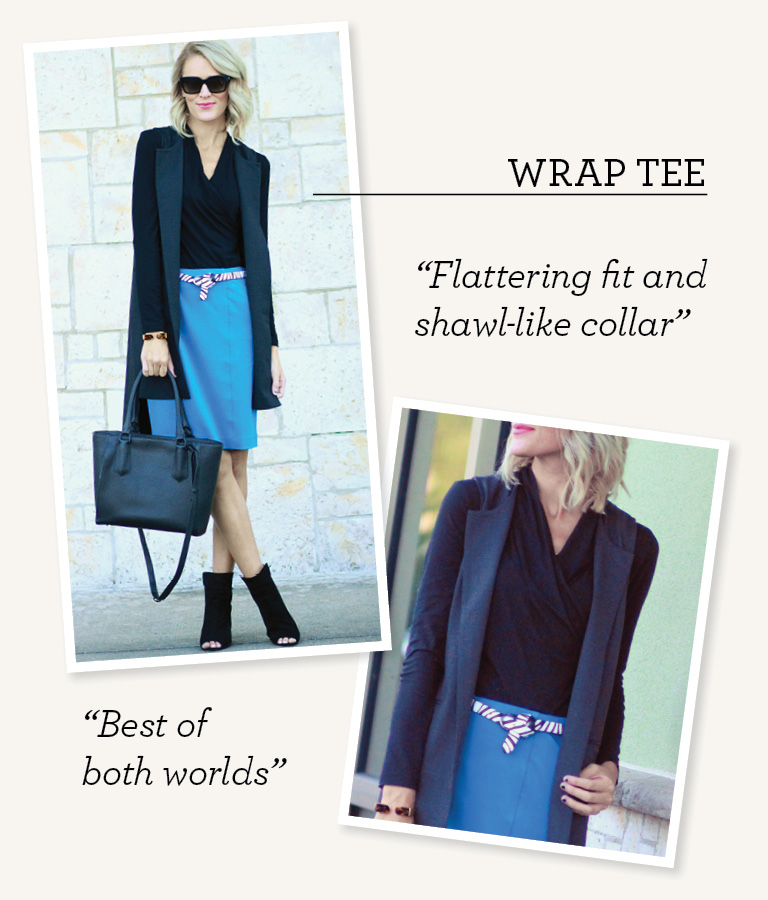 The cabi Wrap Tee is the best of both worlds when it comes to a great basic. Its jersey fabric makes it comfortable enough for every day, and its flattering fit and shawl-like collar offers a sleek touch that's perfect for those dressier looks. Tuck the Wrap Tee into the Sigourney Skirt for an extra pop of color!
GET JENN'S LOOK: Drafting Vest, Wrap Tee (Black) Zebra Belt, Sigourney Skirt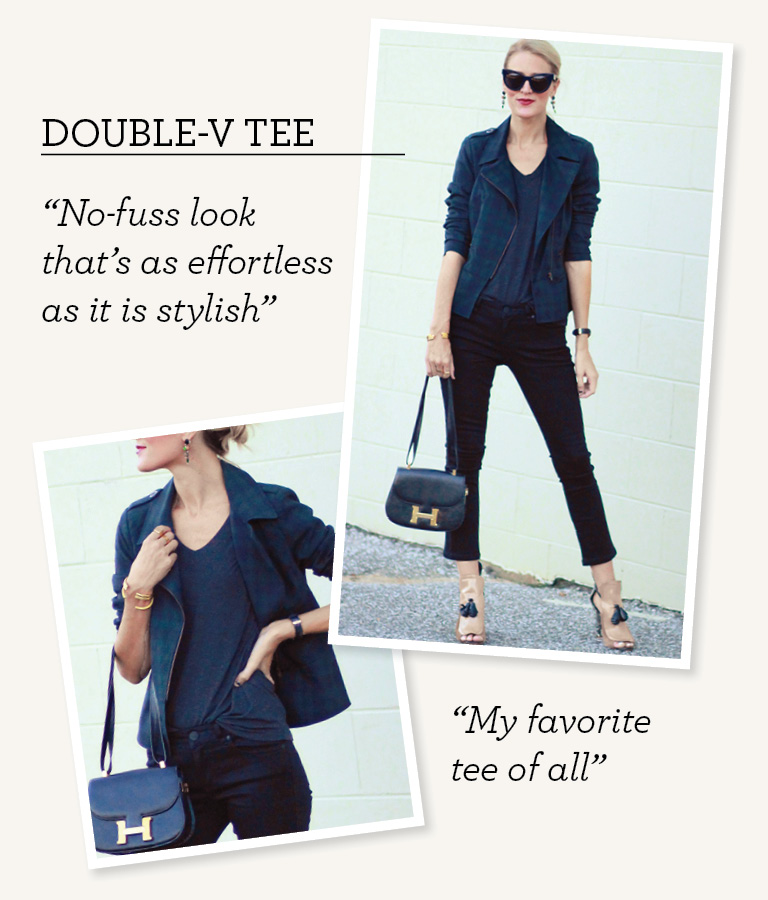 There is nothing more classic than a short-sleeve V-Neck tee and cabi's Double-V Tee is my favorite tee of all. One of my favorite "no-fuss" looks that's as effortless as it is stylish is pairing a V-Neck tee with a great jacket and some jeans. The Tartan Jacket is the perfect statement topper for my tomboy chic ensemble.
GET JENN'S LOOK: Tartan Jacket, Double-V Tee (Heather Black), New Crop, Rock Star Earrings
Style of Sam, http://styleofsam.com
Cozy t-shirts are a wardrobe staple and act as a foundation for amazing outfits. I wear them for everything from hanging out with the kids to heading out for girls' night.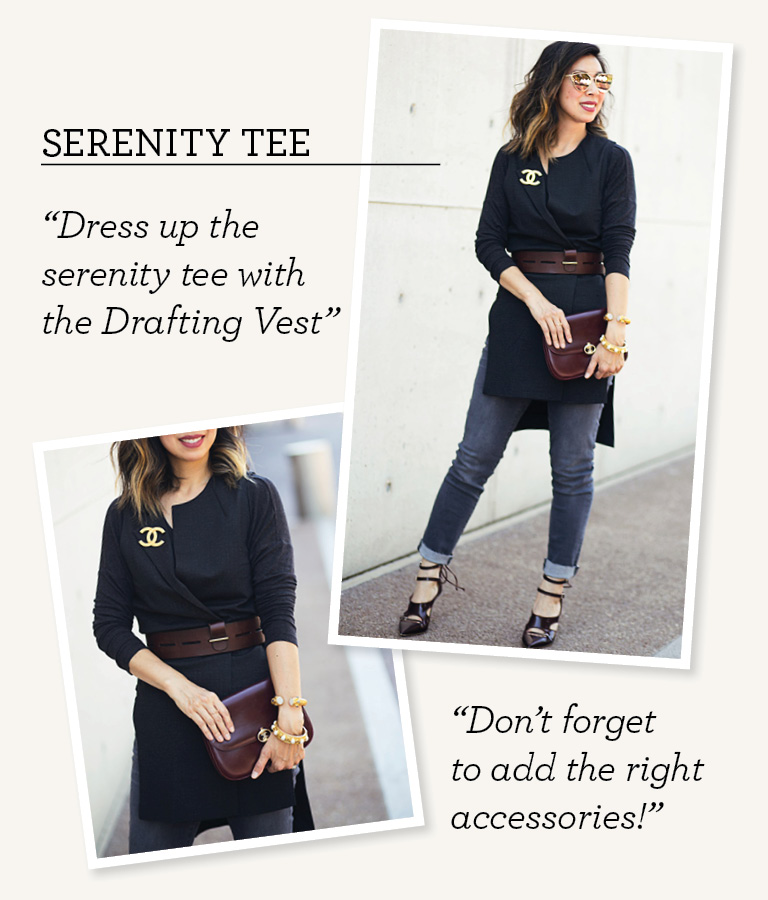 The Drafting Vest is EVERYTHING! It dresses up the Serenity Tee and Slim Boyfriend jeans so I'm ready for an evening out with the gals and still comfy. Just add the right accessories! (Chanel is always a good idea!)
GET SAM'S LOOK: Drafting Vest, Serenity Tee(Heather Black), Here Or There Belt, Slim Boyfriend (trimmed and left the raw hem), Chanel brooch, Celine clutch, Tabitha Simmons heels, T+J Designs sunglasses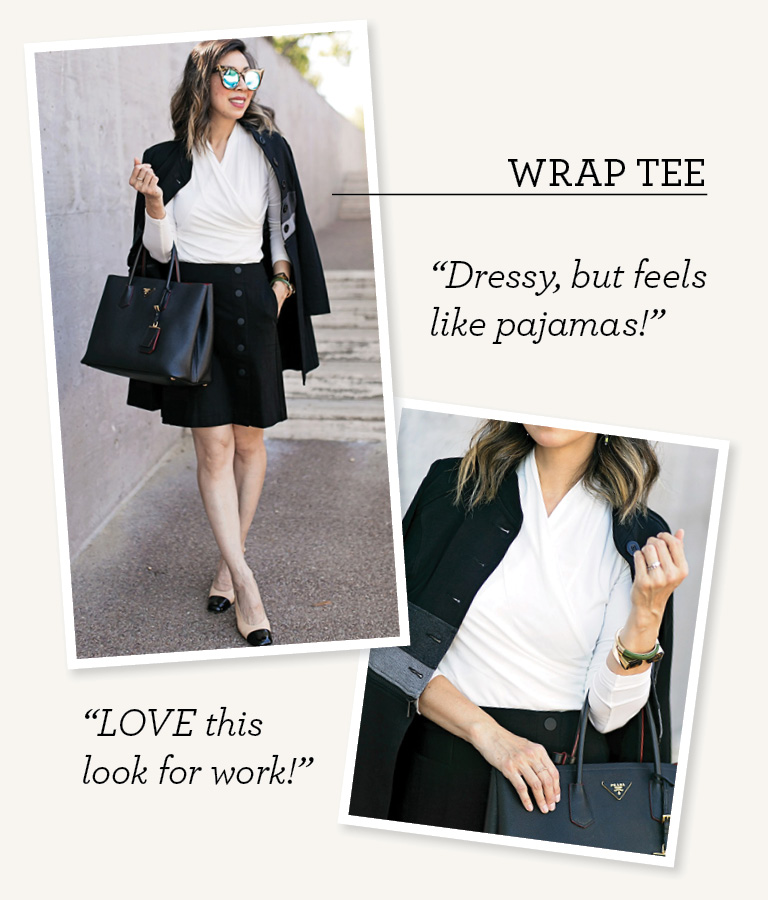 The Wrap Tee is absolutely amazing because it's dressy but feels like you're wearing pajamas. I paired it with the Utility Skirt and the Convertible Jacket. I LOVE that the skirt has a pocket, and I would unzip the jacket to head to happy hour after work!
GET SAM'S LOOK: Convertible Jacket, Wrap Tee (White), Utility Skirt, Rock Star Earrings, Jasper Bangle, Zelda Cuff, Le Specs sunglasses, Prada bag, Chanel sling backs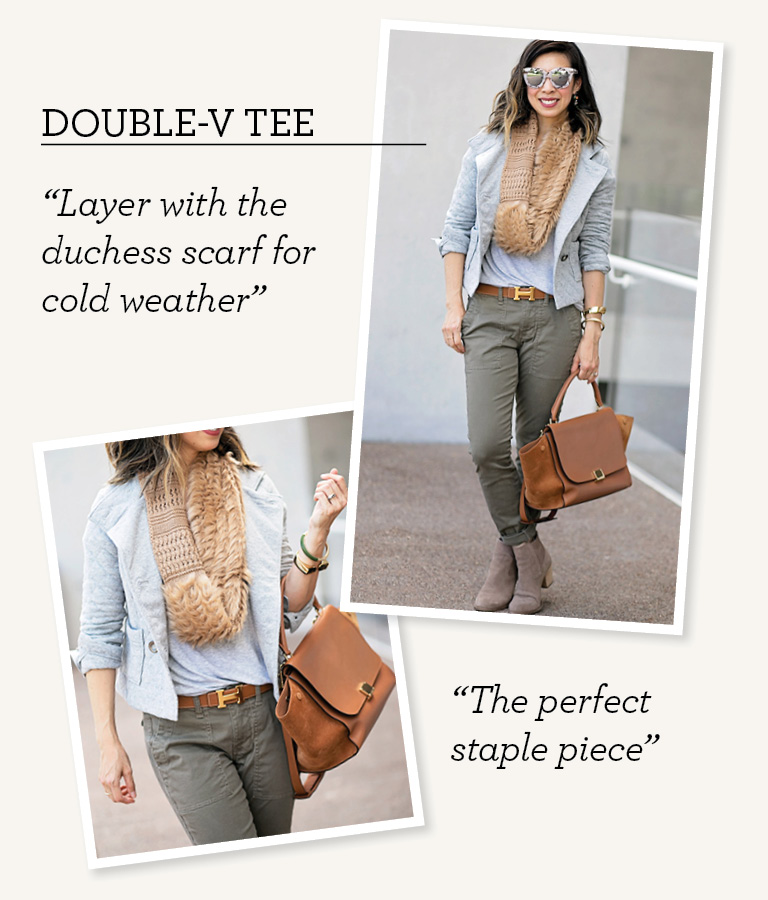 The heather gray Double-V Tee matches perfectly with the Quilted Jacket and is a great staple piece. I love that you can layer with the Duchess Scarf for cold weather, but take off each piece (if you get too hot playing with the kiddos).
GET SAM'S LOOK: Quilted Jacket, Double-V Tee(heather gray), The Scout, Duchess Scarf (Caramel), Hermes belt, Jasper Bangle, Zelda Cuff, Celine bag, Quay sunglasses, Dolce Vita booties.
So which cabi pieces are your go-to basics? What are some of your favorite ways to wear them? Leave your comments below!