From annual family gatherings to New Year's celebrations, some of the biggest events of the year are clustered around one magical, wondrous (stressful!) time of the year we've come to call the holiday season. There are some aspects we love taking on by ourselves, from gift shopping, to party planning, and everything in between. But others are best left to the pros. This year, go ahead and breathe a sigh of relief: we've tapped four bloggers for the inside scoop on what they're wearing for every occasion this holiday season.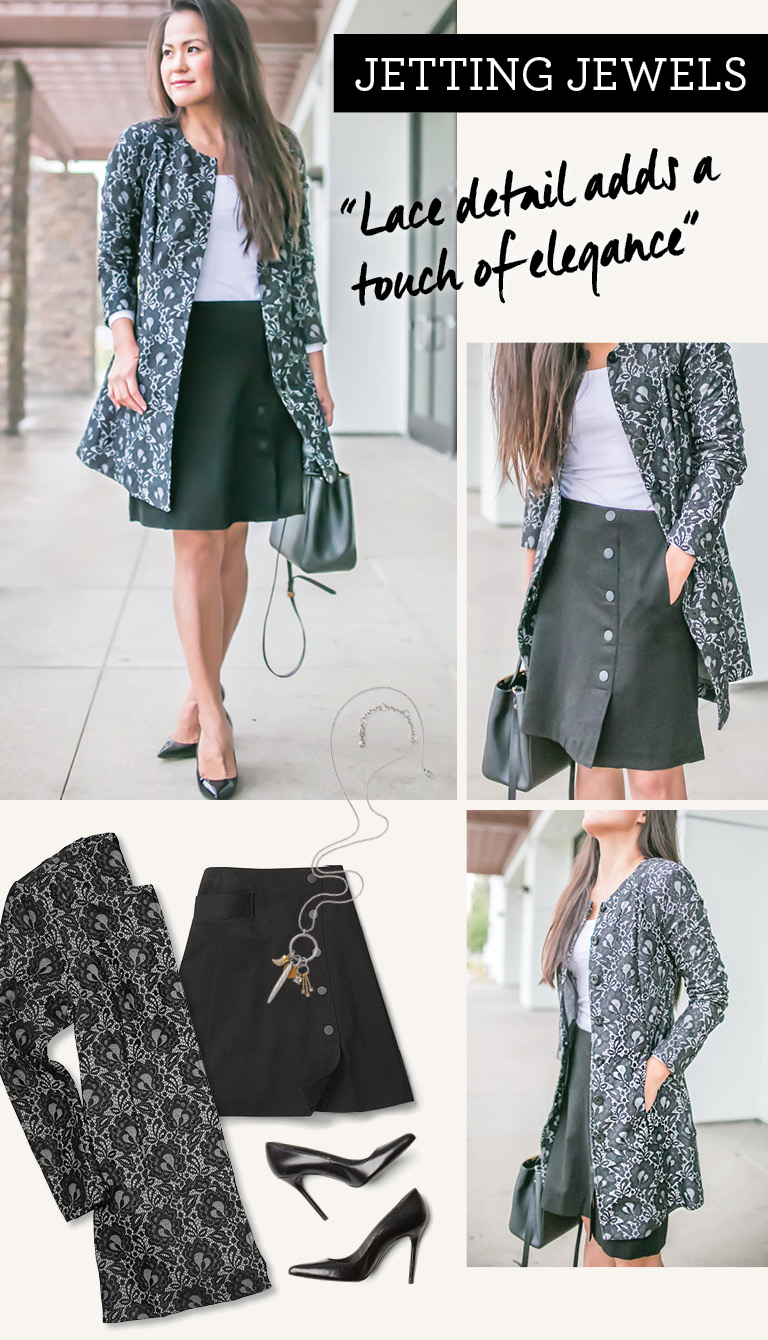 Dressing for my office holiday party can be a bit tricky as I have to find an outfit that strikes the right balance between formal yet festive. With cabi's New Arrivals Collection, Holiday Charms, holiday dressing has never been so easy. The classic black Utility Skirt with chic button detailing is one of my favorites as it pairs effortlessly with the Lacy Coat. It's perfectly tailored so it fits well, and the lace detail adds a touch of elegance. And the best part of this look—the coat would also be perfect with dark denim or leather pants for the after party.
GET THE LOOK: Utility Skirt, Lacy Coat, Chelsea Charm Necklace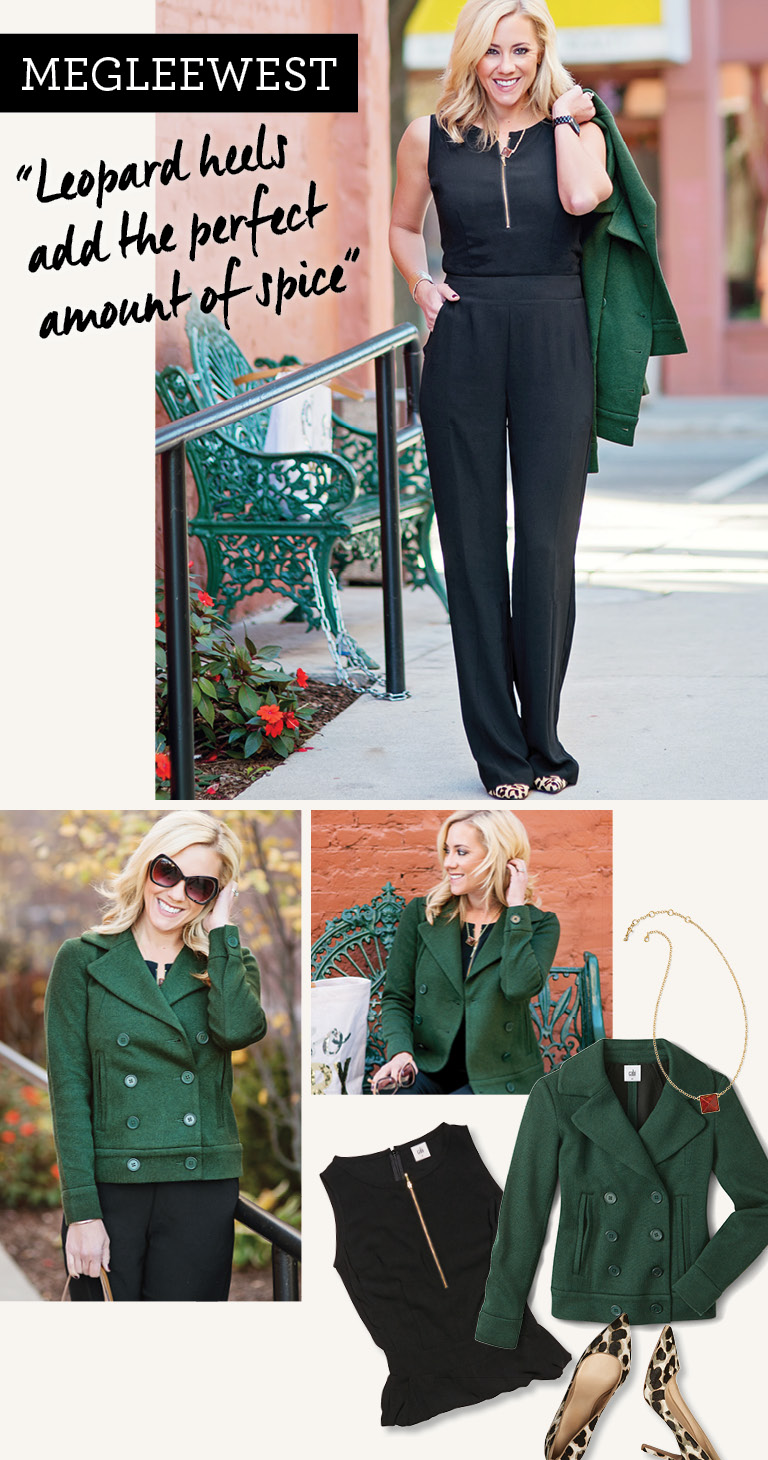 The Grace Jumpsuit is nothing short of perfection. It is chic and sleek from head-to-toe, yet extremely comfortable and flattering. Swapping out cardigans and jackets will help present numerous looks over the season. The green Sweater Pea Coat complements the jumpsuit in its entirety. It's cozy, feminine, and adds the right pop of traditional holiday color. The gold and dark amber tones of the Pyramid Necklace tops off and gives my holiday look, the perfect balance. In my opinion, a great pair of leopard heels add the perfect amount of spice.
GET THE LOOK: Grace Jumpsuit, Sweater Pea Coat, Pyramid Necklace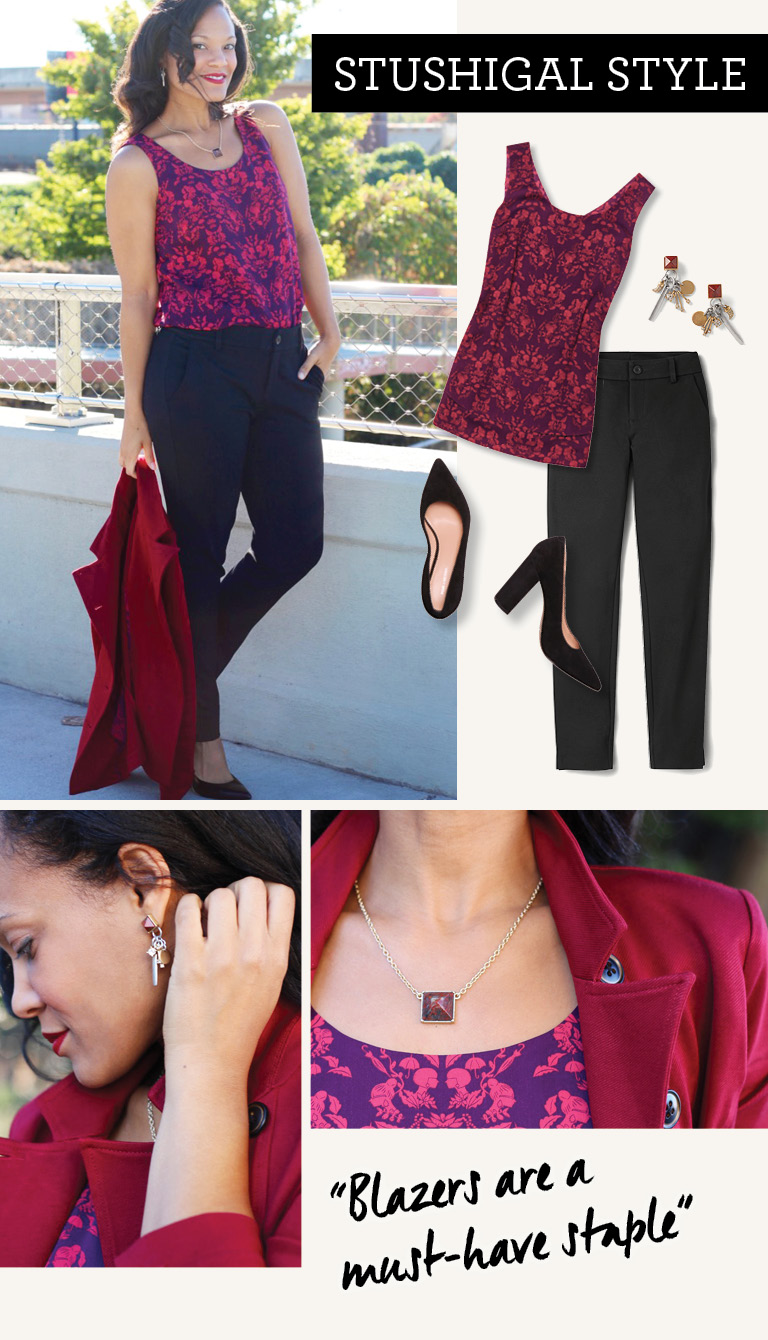 Cabi has mastered festive holiday dressing for the office. Their Fall 2016 Collection consists of bold prints with the rich colors of the season! Not only that, they have a variety of key pieces that are essential for the office. We all need the perfect pair of trousers, right? You know, the kind you can wear with anything. The Ava Trousers provide a comfortable slim silhouette. They're available in rhubarb and black too, both which work well for the holidays. To dress them up, I paired them with cabi's Cameo Top. What I love the most about this top is the baroque pattern. It also provides a great contrast to the rich red color of the Outing Blazer I topped off the outfit with. There's no question that blazers are a must have for the office. What makes this blazer so awesome for a holiday office party is the color! Rich color, bold patterns, and a sleek professional silhouette definitely make this outfit a hit for any holiday office party!
GET THE LOOK: Outing Blazer, Cameo Top, Ava Trouser (black), Pyramid Charm Earrings, Pyramid Necklace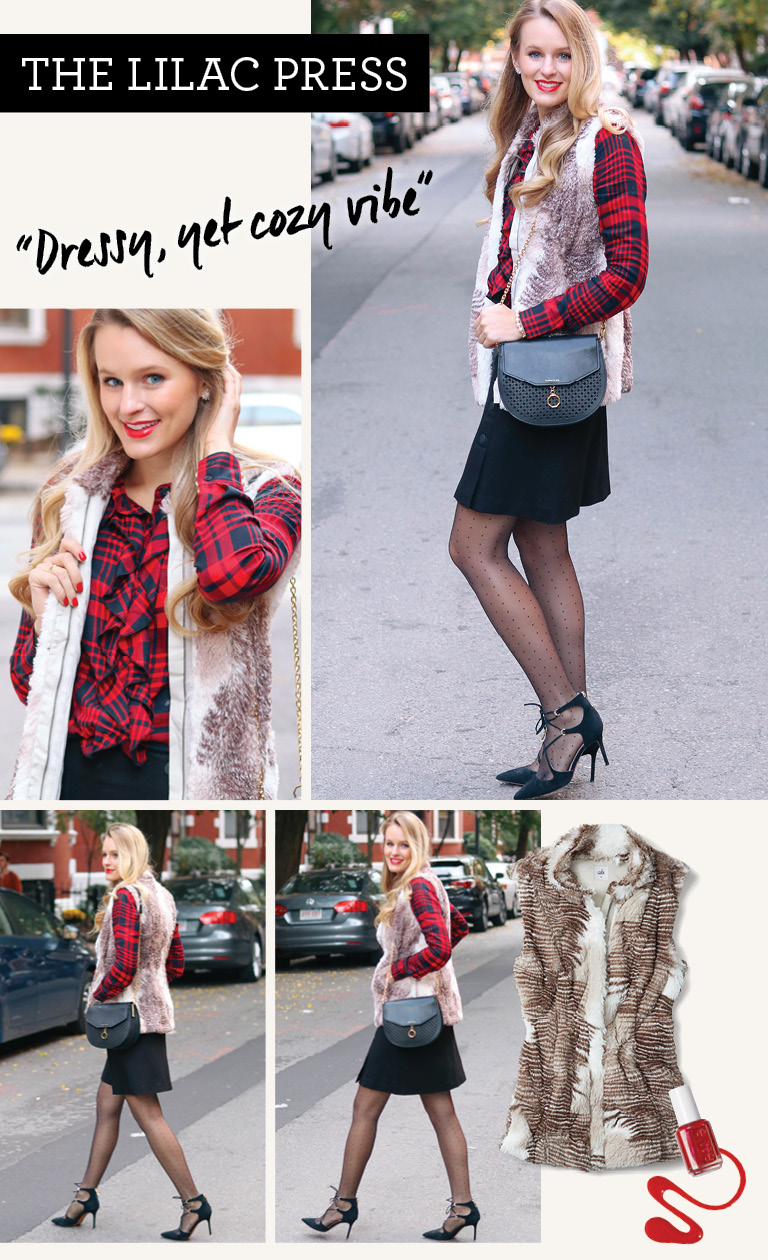 I put together a festive, yet warm and cozy look for the party season. Here in Boston, temperatures drop, and boy do they drop fast! We've already dipped below 30 degrees around here, and as a girl who does not like to be cold, I always make sure to bundle up. I chose the Lodge Shirt, a red and black flannel button down with ruffles for its dressy, yet cozy vibe, which I paired with the simple black Utility Skirt. What I love about this combo is that it can be dressed up or dressed down with different accessories for almost any winter occasion. For a more casual vibe, wear it with opaque tights or leggings and leather boots. For a dressier look, I chose sheer patterned tights and pointed lace up pumps. Also, because you can never have too many layers this time of year, I opted for the chic Aspen Vest. This not only ups the ante of this holiday look, but it also helps ensure I stay cozy warm wherever the season takes me!
GET THE LOOK: Aspen Vest, Lodge Shirt, Utility Skirt
We're absolutely head-over-heels for these outfits…from head-to-toe! But that doesn't mean we can't mix things up. How would you mix and match these pieces to create a truly fabulous fifth outfit? We'd love to know your secrets!