Sometimes we do things a certain way for so long that we lose sight of what might otherwise be possible. In other words, we accept the way things have been. We become less conscious of how certain aspects frustrate us. It's all we've known. One could say we become immune to its effects on us. But then one day, an alternative emerges that challenges our assumptions, that allows us to rethink what we are willing to tolerate, that changes our view on how we are willing to be treated. In other words, an alternative that allows us to take back control…to liberate ourselves through it.
For example, up until five years ago, who would have thought taking a ride in a stranger's car was a smart alternative to a taxi? Or that spending the night in a stranger's home was a great alternative to a hotel? Yet the convenience and the experience of both Uber and Airbnb were so compelling an alternative that people were willing to change their point of view, and through doing so, have come to remind themselves how frustrating a traditional taxi ride can be.
Both of those businesses shattered the conventional way of doing things, ways that for years seemed unbreakable. They are now among the most successful startups in history. What Uber has done for the taxi customer and Airbnb for the traveler, cabi is doing for the shopper, because if there's one industry above all others that needs reinvention, it's retail. It has been broken for decades. From not being able to find what fits to putting up with dismissive salespeople, many women don't find much that is enjoyable about the shopping experience today, both on and offline. They feel judged or ignored and they're tired of the time it takes, the stress, the overwhelming choices, the uninspired looks, and the lack of confidence to choose.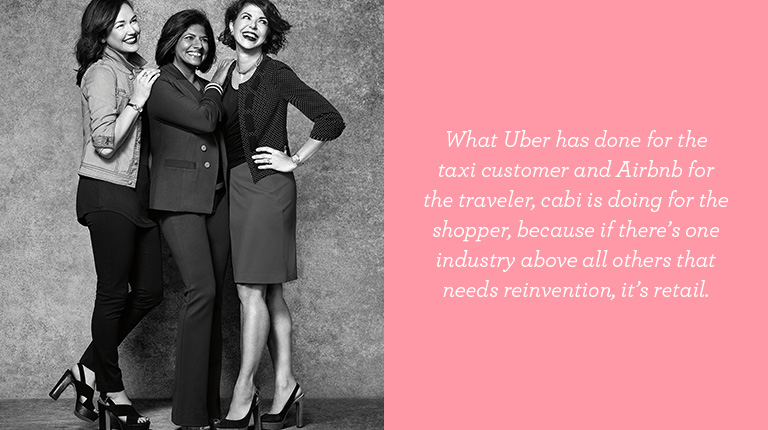 Cabi has been flipping the script on the retail status quo for 15 years, reinventing the way women shop and experience fashion by making it joyful and connected again. By bringing this innovation to an alternative space, the home, and creating an opportunity for women to have an alternative career, their own business, cabi is building way more than just a brand: they're building a movement. With over 3,500 Stylists leading the way forward, they have created a culture that is defying industry conventions and innovating at every level. By reinventing the way women shop, with an alternative experience full of style, ideas, and personal service, they are offering something new—something that can't be found anywhere else.
Cabi Stylist Hannah Tomlin studied fashion briefly in college, but was turned off by a retail culture she felt made women self-conscious. When she first learned about cabi, she knew she had found something different. "We are bringing more positive thinking to the way women dress every day. When you have a client who comes out and looks at herself in an outfit and is just beaming and says 'I've never felt so good,' "that's contagious," said Hannah. "It's so much more rewarding for her than the traditional shopping experience. And when you have her friends in the room, and her family is there, you as her Stylist feel special being a part of that."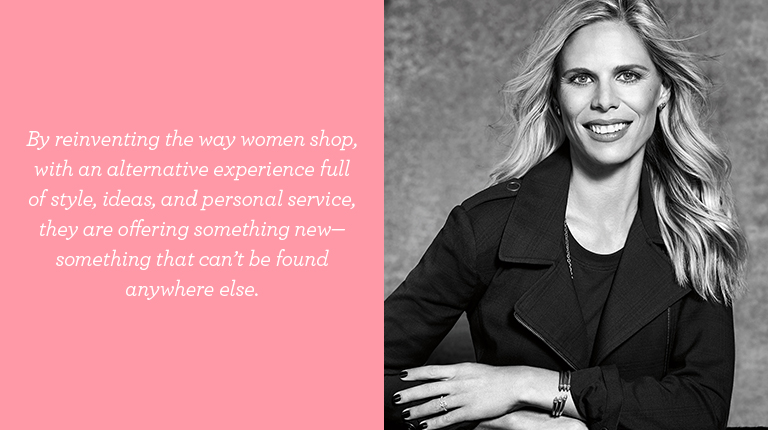 This is not just a return to a time when shopping meant actually enjoying yourself; this is a movement of women coming together, opening and sharing their homes with others by turning them into alternative stores. Cabi is reinventing the way women shop. And as a result, it has created thousands of opportunities for women to have an alternative career. Just like Uber has drivers and Airbnb has homeowners, cabi provides an opportunity for entrepreneurs to choose a different professional path. And for the women who choose cabi's alternative to the traditional workplace, the rewards are tremendous.
Yes, setting their own hours, calling their own shots, and contributing to their household income in a meaningful way are just a few of those perks. But at the heart of it all, these women are defying the rules by giving women a solution to the frustrations of a traditional shopping experience in a way that truly transforms how women see and feel about themselves.
"When I moved to this country a year ago, I didn't know anybody. Now I have a network, and consider more than 500 women not only my clients, but also my friends," said Sabelle Millimono, a Stylist in her fourth season. "I defy convention every day by choosing to pursue my cabi career rather than returning to work as a marketing manager. That life wasn't fulfilling for me; I love what I do now and the fact that I know that I am making a difference in the lives of other women motivates me to do even more!"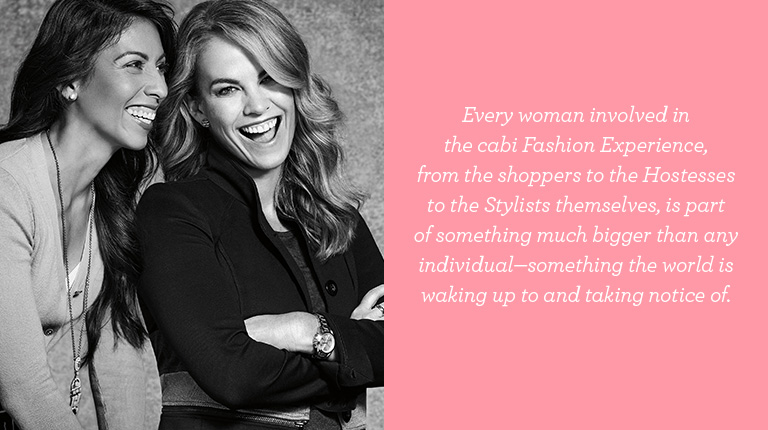 "Fifteen years ago we were ahead of the curve and we continue to be ahead because we get it. We know what women want, what makes them happy, and that's what makes us tick—that's what makes us such an incredible company," said Amanda Dana, a Stylist in her 14th season. Every woman involved in the cabi Fashion Experience, from the shoppers to the Hostesses to the Stylists themselves, is part of something much bigger than any individual—something the world is waking up to and taking notice of.
Within every Stylist is the soul of a leader who desires to defy the rules. What sparked the cabi revolution all those years ago is the same passion that motivates every member of the cabi community today: to defy the retail experience, change the way women shop, and in so doing, change the way they work.
The innovation that drives these complementary goals relies on a "people first" approach, one that transcends the narrow lens of the status quo and recognizes that shopping online is hardly an improvement upon the thing it promises to change. Instead, by creating a new way for women to shop, cabi leverages the natural strengths of the women it champions: the givers, the creatives, the thinkers, the doers; mothers, wives, sisters, and daughters. Every one of these women is a part of something bigger than any individual. By choosing to pursue an alternative career, you can change the way women shop, transforming how women see and feel about themselves and participating in one of the biggest innovations the retail industry has ever seen.