Handbags are definitely a closet staple accessory that we can't live without. From carrying our most prized possessions to our daily essentials, a handbag is a classic piece that can instantly upgrade our ensemble. We can't even count the times our bag has provided a little lifesaver when we needed it most: a stick of gum on a first date, a good book for the train, or jewelry for a quick-change. There's so much you can tell about a person by what's in their handbag, so we decided to go on a little adventure around the cabi Home Office to find out what some of our favorite ladies never leave home without.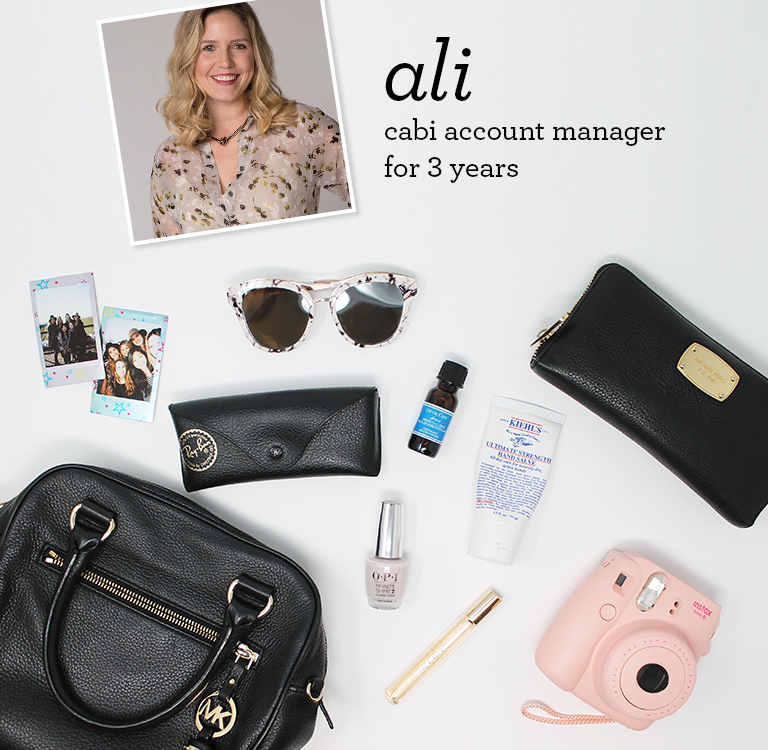 Ali's Bag: Michael Kors
Ali's Must-Haves: I always keep a bottle of peppermint essential oil in my bag–this little magical bottle cures EVERYTHING. Whether it's a drop in my water for an afternoon pick-me-up, a drop on my neck for quick headache relief, or a little sniff to improve my focus…I just can't get enough of this stuff! I'm also obsessed with my Instax camera.  It was a Christmas gift and I haven't been able to put it down! It's so fun to snap photos in the moment and have tangible little memories that don't live on my phone.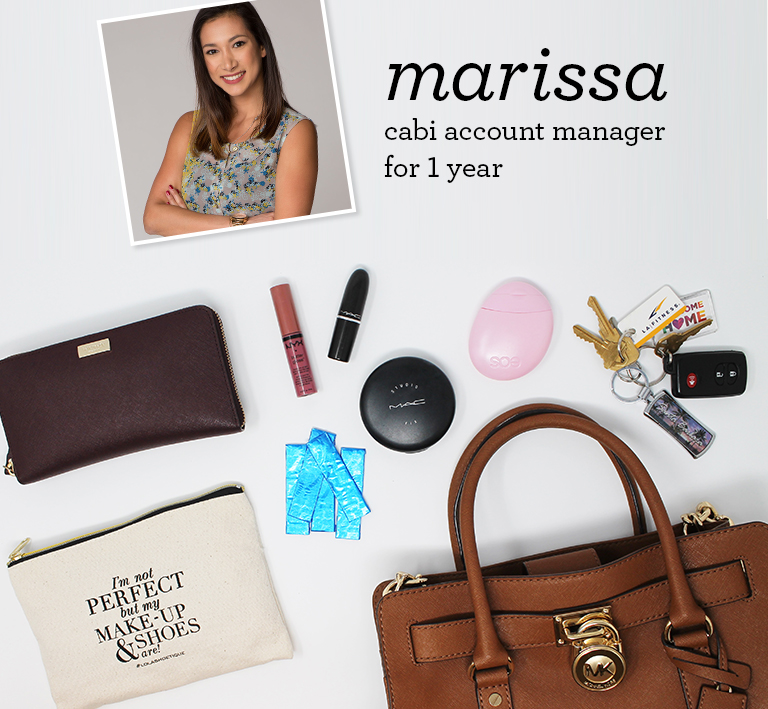 Marissa's Bag: Michael Kors
Marissa's Must-Haves: I love to have products with me at all times so my make-up bag is a must! I can touch up my make-up throughout the day, plus the quote is super cute!  I also keep my LA Fitness gym pass on hand because It helps me to stay motivated to to get my sweat on and it reminds me to go.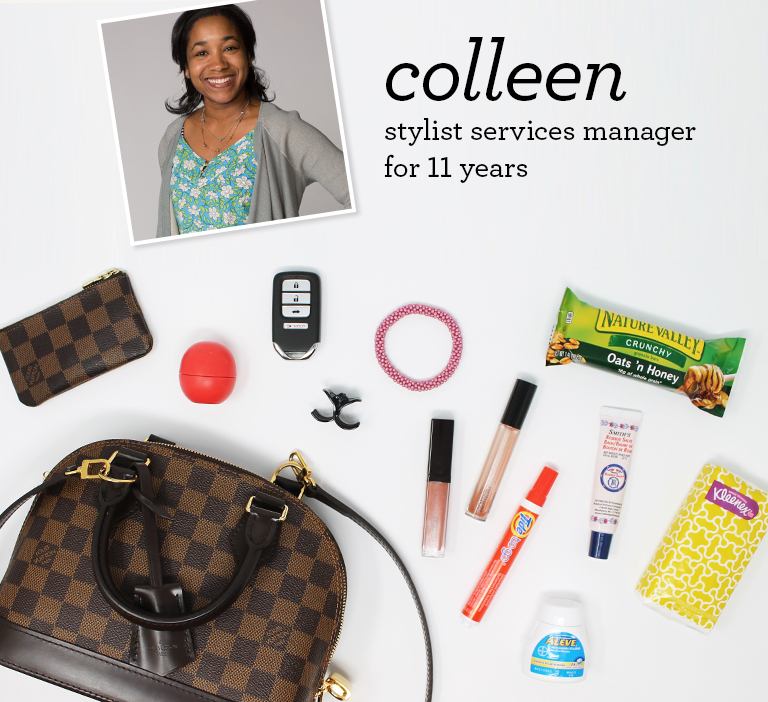 Colleen's Bag: Louis Vuitton
Colleen's Must-Haves: When the occasional spill happens, I can treat it in a jiffy with my Tide to Go Instant Stain Remover. Also, as someone who has environmental allergies, a travel size Kleenex tissue pack is something I'm never without.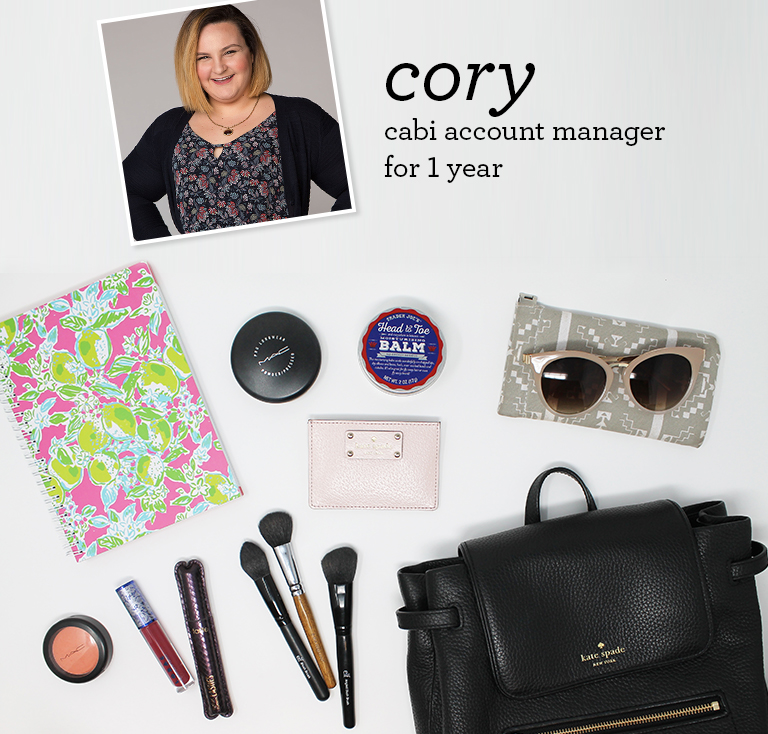 Cory's Bag: Kate Spade
Cory's Must-Haves: The Lilly Pulitzer notebook is a new addition to my bag. I recently started tracking my meals and water intake. Journaling has been very helpful in my journey to a healthy lifestyle!  My Kate Spade card holder holds just the essentials: credit card, ID, and a little bit of cash. It perfectly transfers from a backpack to smaller bag. If I am just grabbing a quick lunch or running an errand, I stick it in my back pocket with my phone.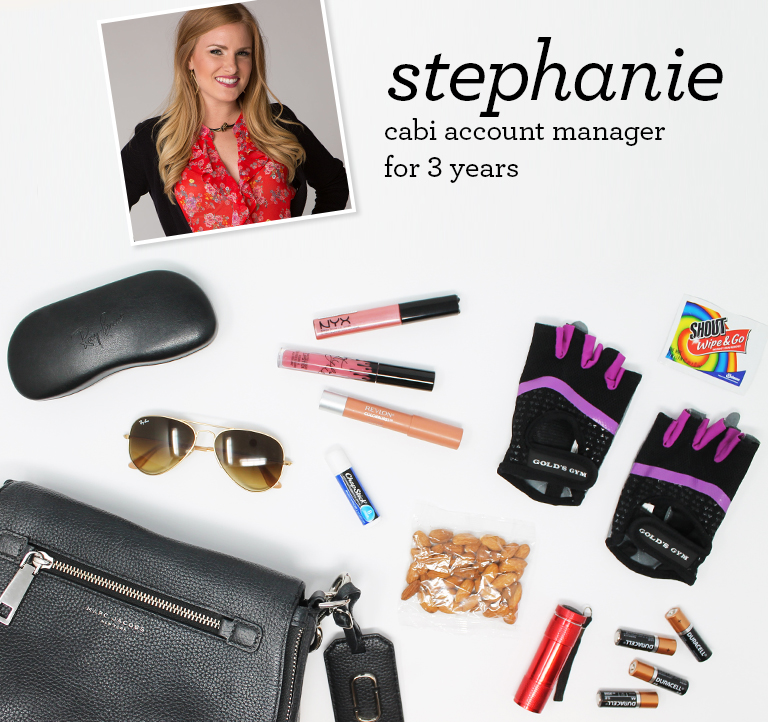 Stephanie's Bag: Marc Jacobs
Stephanie's Must-Haves:  I love enjoying the California sun—having my Ray-Ban sunglasses is a must!  Also, having a snack (in this case Almonds) on hand is a must, because you never know when you will be on the go and need a little pick-me-up.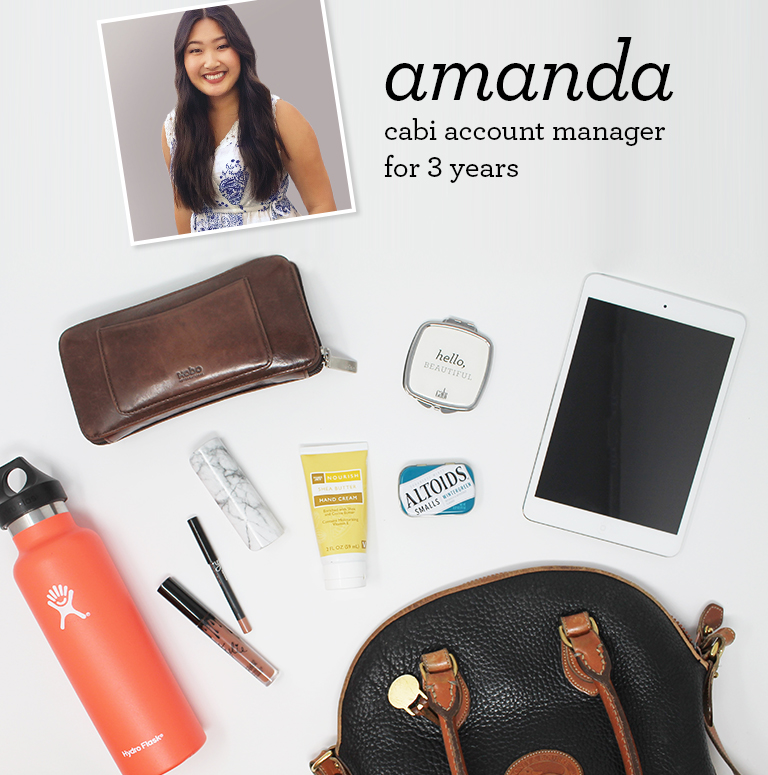 Amanda's Bag: Vintage Dooney & Bourke
Amanda's Must-Haves: The Hydro Flask is the BEST water bottle I've ever had. It still amazes me how my water stays cold for so long!  Also, I never leave the house without my Ginger Kylie Lip Kit. A good lipstick can change your whole mood!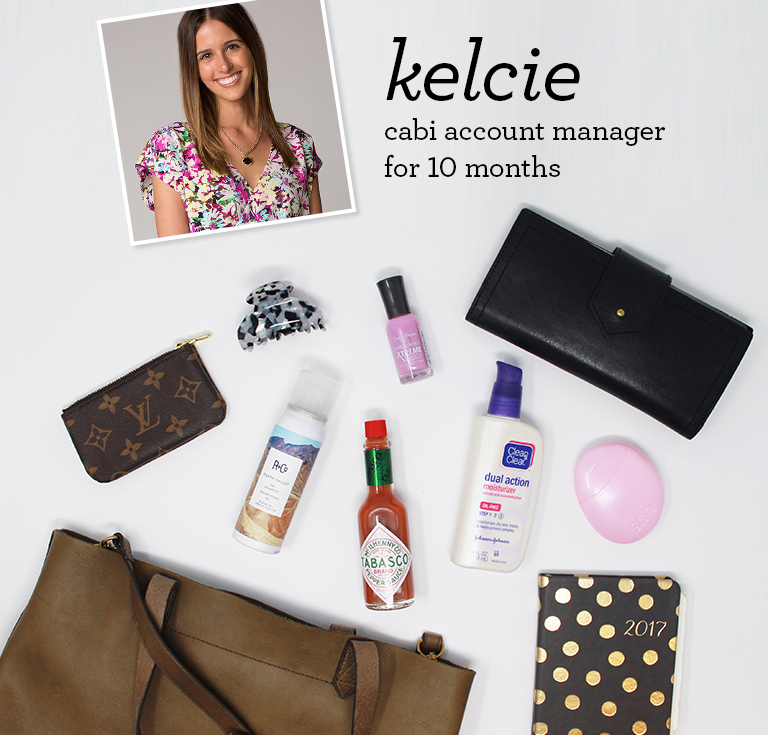 Kelcie's Bag: Madewell
Kelcie's Must-Haves: I always keep my bottle of Tabasco Sauce in my bag. I love anything and everything spicy. The spicier/hotter the better!  I'm the Maid of Honor for my best friend's wedding in November, so having my mini planner with me at all times keeps me on top of important dates and events.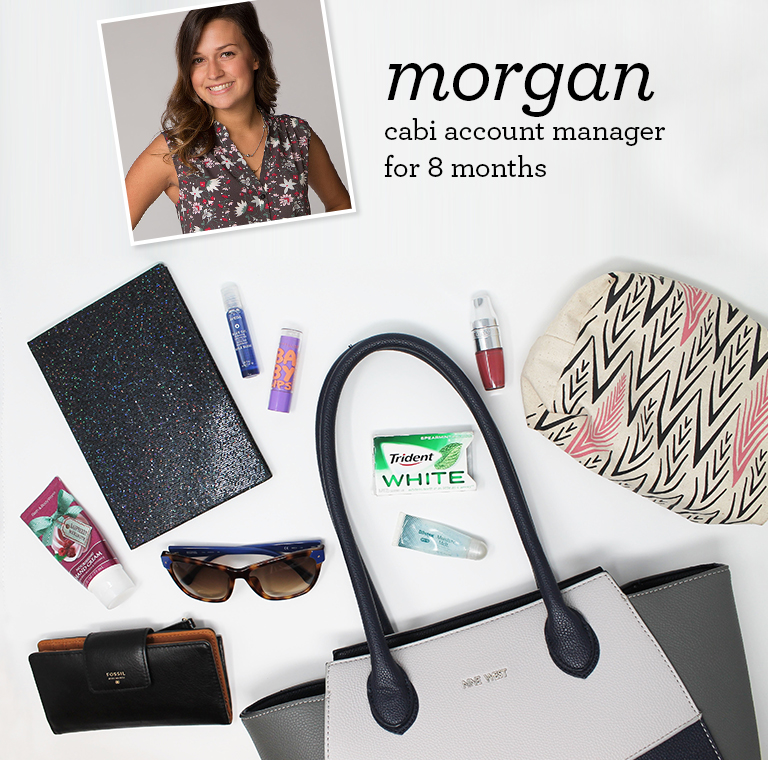 Morgan's Bag: Nine West
Morgan's Must-Haves: I can't live without my Blue Oil by Aveda.  I apply this to my temples whenever I feel a headache coming on…it's amazing.  Also, i'm obsessed with my Lancôme Juicy Shaker because it has a super soft sponge applicator.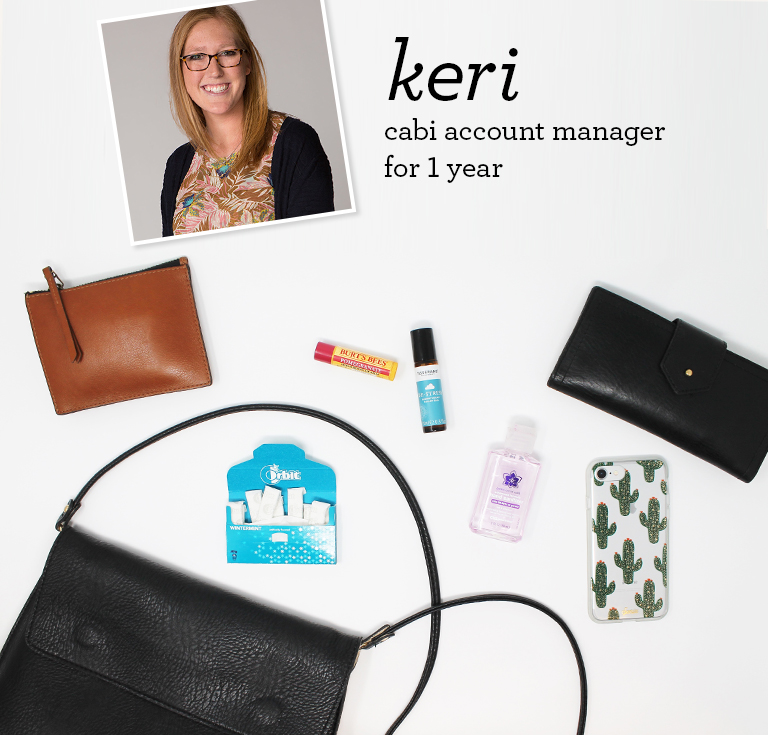 Keri's Bag: Urban Outfitters
Keri's Must-Haves: I can't live without a stick of my Orbit Wintermint gum to get through the day and the flavor actually lasts…it's the best!  I can't get enough of my Tisserand De-Stress Body Oil. You can easily roll it on your wrist or temples—it helps with headaches and the calming combo of oils smell so good!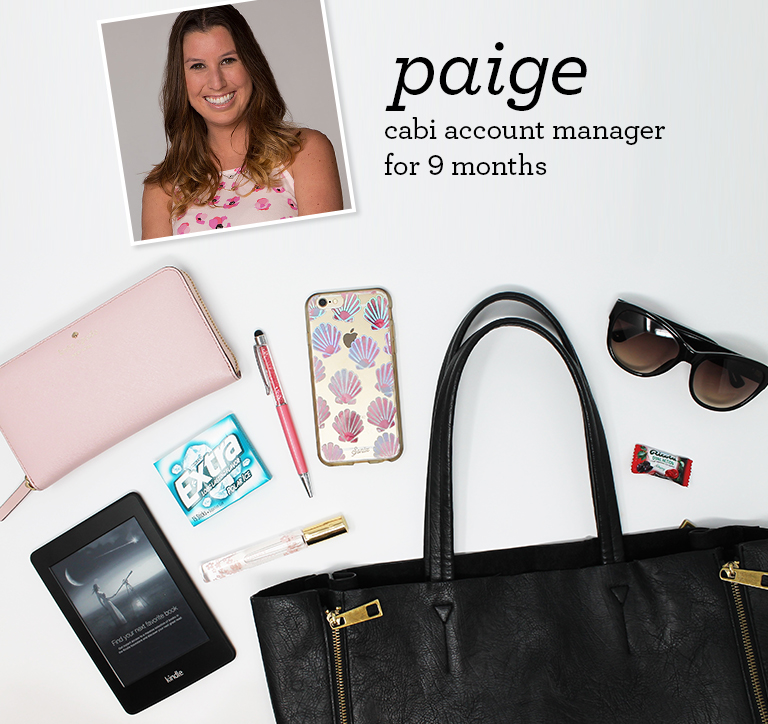 Paige's Bag: Free People
Paige's Handbag: First, I love the color of my wallet. More importantly, it holds all my money, my gift cards, and my receipts that I need when I'm out. If I have my wallet, then I am good to go!  I have the most sensitive eyes, so I almost always wear sunglasses. They save me!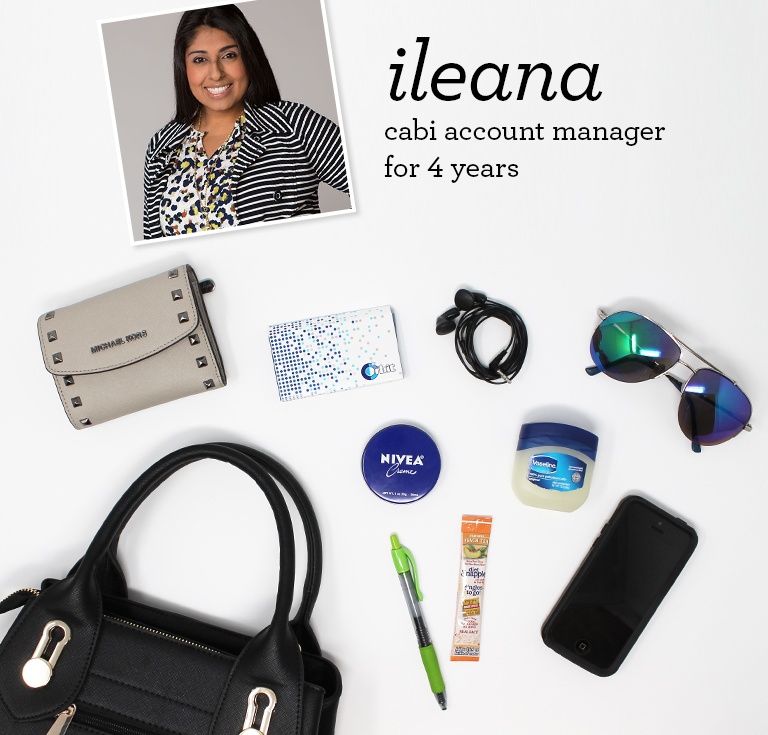 Ileana's Bag: Diophy
Ileana's Must-Haves: On my lunch break I love listening to music or my favorite podcast so I always keep headphones in my bag.  I love my vaseline because I can't have chapped lips—they need to stay hydrated at all times!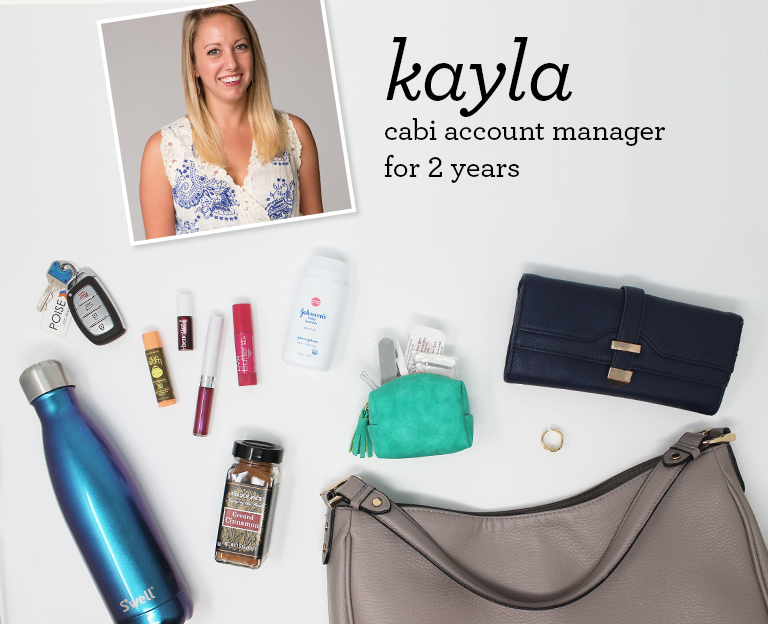 Kayla's Bag: Merona (Target)
Kayla's Must-Haves: The rose tint of my Benetint by Benefit Makeup is the perfect everyday lip color. It gives my lips and cheeks a natural looking rosy glow.  Also, my little blue everyday kit has every essential I could need, whether it's breath drops, bobby pins, or even a mini sewing kit.
We had a feeling we'd discover an array of items in all these handbags, but we were still blown away. What's one thing you always throw in your bag that might surprise us? Leave it in the comments below!