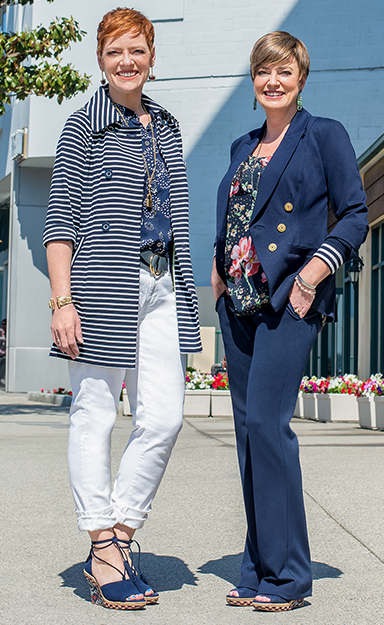 Mother's Day is a time to celebrate those special women in our lives who perform those very hard (often thankless!), but most fulfilling roles. To be part of the cabi community is to honor these women every day: their strength, determination, warmth, and uniqueness. But still, we felt today called for a little something extra, so we wanted to give two lucky ladies a spectacular Mother's Day Makeover they'd never forget.
Last month we held a sweepstakes on the cabi Facebook page to win a complete Mother's Day Makeover (for two!) in Los Angeles, including a personal styling session with our Fashion Director Becky Janzten, a complete outfit from our Spring 2017 Collection, a full makeover with cabi's hair and makeup glam squad, and a professional photoshoot. To enter the sweepstakes, we asked you to tell us who you wanted to share this special makeover with and why, and we were blown away by your responses!
Without further ado, meet the winners––Gretchen from Montana and her sister Christy from Denver!  Gretchen is an amazing mother of 10, a teacher, and an avid cabi shopper who hosts a Fashion Experience every season. (We hear her parties are the talk of the town!) When Gretchen entered the sweepstakes on Facebook, she commented that she'd like to share this special day with her sister Christy, a mother of three and nurse who had recently lost 100 pounds and was very much in need of a new wardrobe.
To kick off the makeover, we sent a chauffeur to pick Gretchen and Christy up from the airport and sweep them off to Hotel Maya in Long Beach. At the hotel, they were greeted with champagne and chocolate-covered strawberries, which they enjoyed while watching the sunset from their balcony overlooking the Pacific Ocean. After a long day of traveling, they were treated to a Latin-style dinner at Fuego restaurant on the rooftop of the hotel.
The next morning, they arrived at the cabi Home Office, where our Fashion Director Becky styled them head-to-toe. We had one hour to find the perfect looks, and Becky was up for the challenge! The ladies tried on one look after the other as the Design Team made recommendations from our Spring 2017 Collection. Choosing was hard—you know how it is at a cabi Fashion Experience when everything you try on just looks amazing! (Tough problem to have, right?) But, we managed to narrow it down.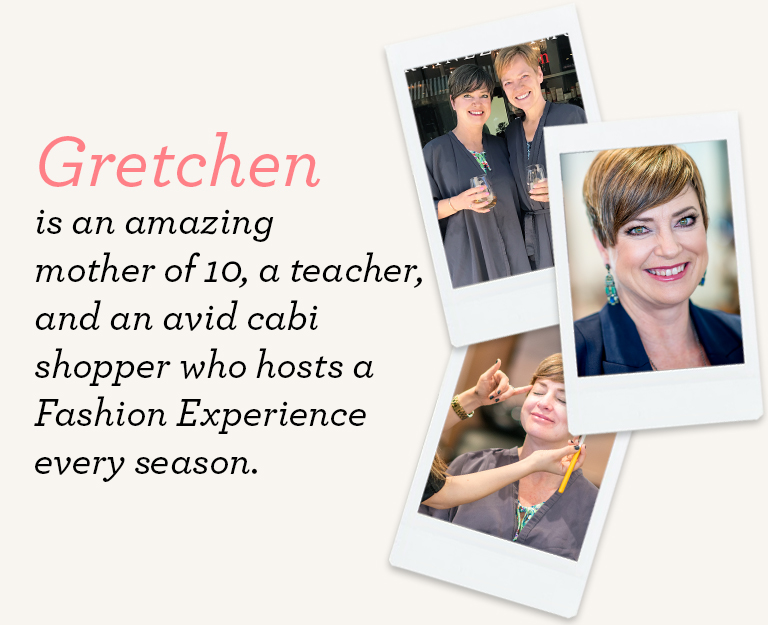 With their final looks selected, we packed up the garment bags and headed to Martinez Samuel Salon in West Hollywood. Amidst the hustle and bustle of the swanky LA salon, they were greeted by cabi's go-to hairstylist, Joseph Chase, who spent a few minutes getting to know the ladies and their style. They decided on warm highlights for Gretchen, to make her gorgeous eyes pop, and a fiery red pixie for Christy. Next, donning gorgeous new cuts and color, it was time to hit the makeup chair. We kept the makeup totally wearable for day or night, but upped the glam factor with feathery false lashes.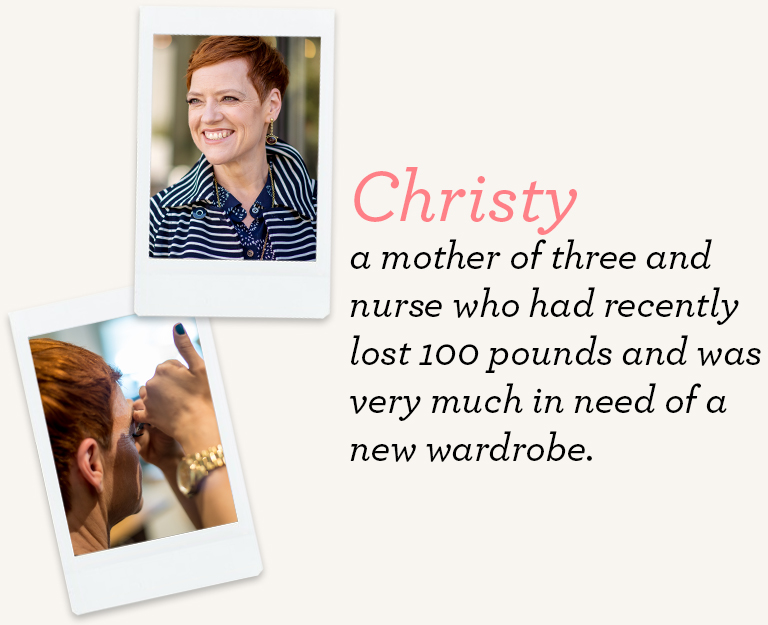 Hair and makeup complete, it was time for the ladies to slip into their cabi cutest, though we have to say that "cute" is an understatement. They were stunning! Ready for their close-ups, hairstylist Joseph Chase, and cabi Team Members Eboni and Bree joined the ladies on Sunset Boulevard where our photographer captured them living it up on the LA scene. Don't they look fabulous?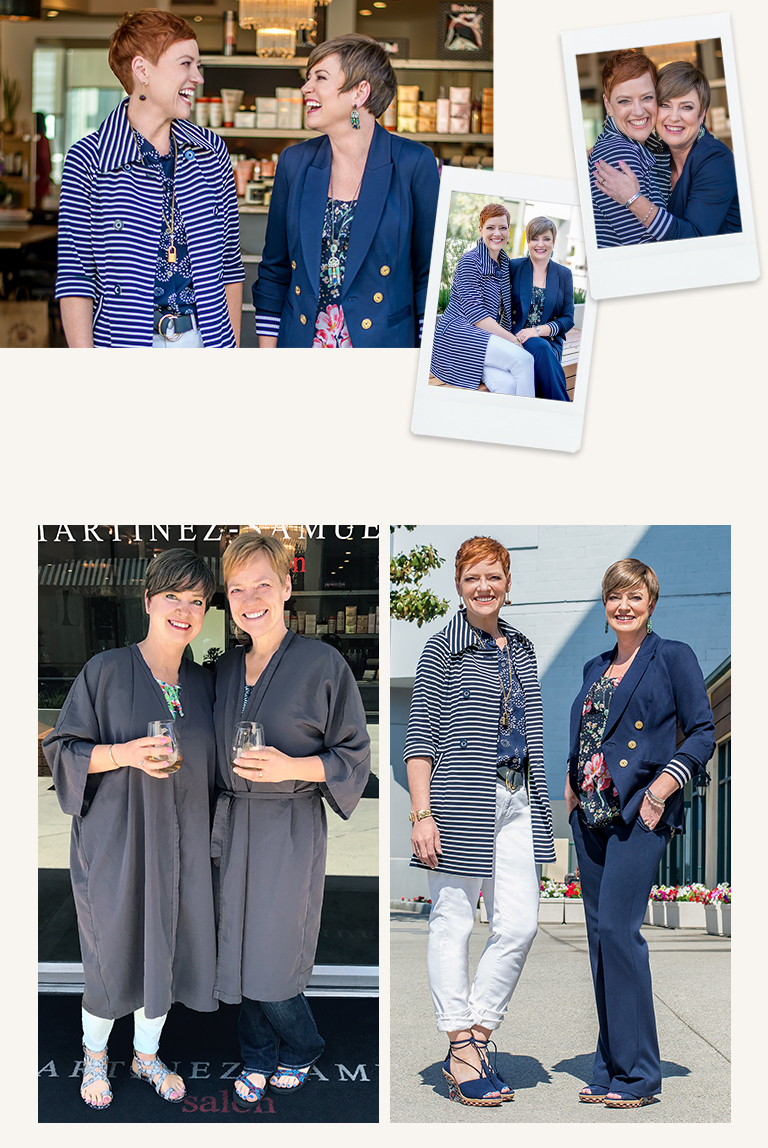 Get Gretchen's Look: Grand Slam Blazer, Top-Notch Trouser, Cold Shoulder Cami, St. Tropez Earrings, Isla Wedge
Get Christy's Look: Maritime Trench, Slim Boyfriend, Wish Top, Cinch Belt, Lock & Key Necklace, Seahorse Cuff, Anchor Earrings, Isla Wedge
Reconnecting Gretchen and Christy after more than a year, and watching them experience their transformations first-hand was truly an unforgettable experience. What are some ways you are going to treat your mother on Mother's Day? Let us know in the comments below!