We're going to let you in on a little secret: just because you're pregnant doesn't mean you're obligated to wear maternity clothes. Yes, your body is going to change—beautifully, dramatically—but your style doesn't have to. With so many new shapes and cuts in our Spring Collection, all it takes is a touch of creativity and a willingness to size up to craft a maternity wardrobe that goes above and beyond. But in case you're struggling a bit to envision this new look, we've called in a favor from blogger extraordinaire Kaitlyn from Sisters Marie! She's one half of the dynamic sisters duo and she's sharing three of her favorite maternity outfit ideas and a few tips for how to craft a maternity wardrobe from our new Collection.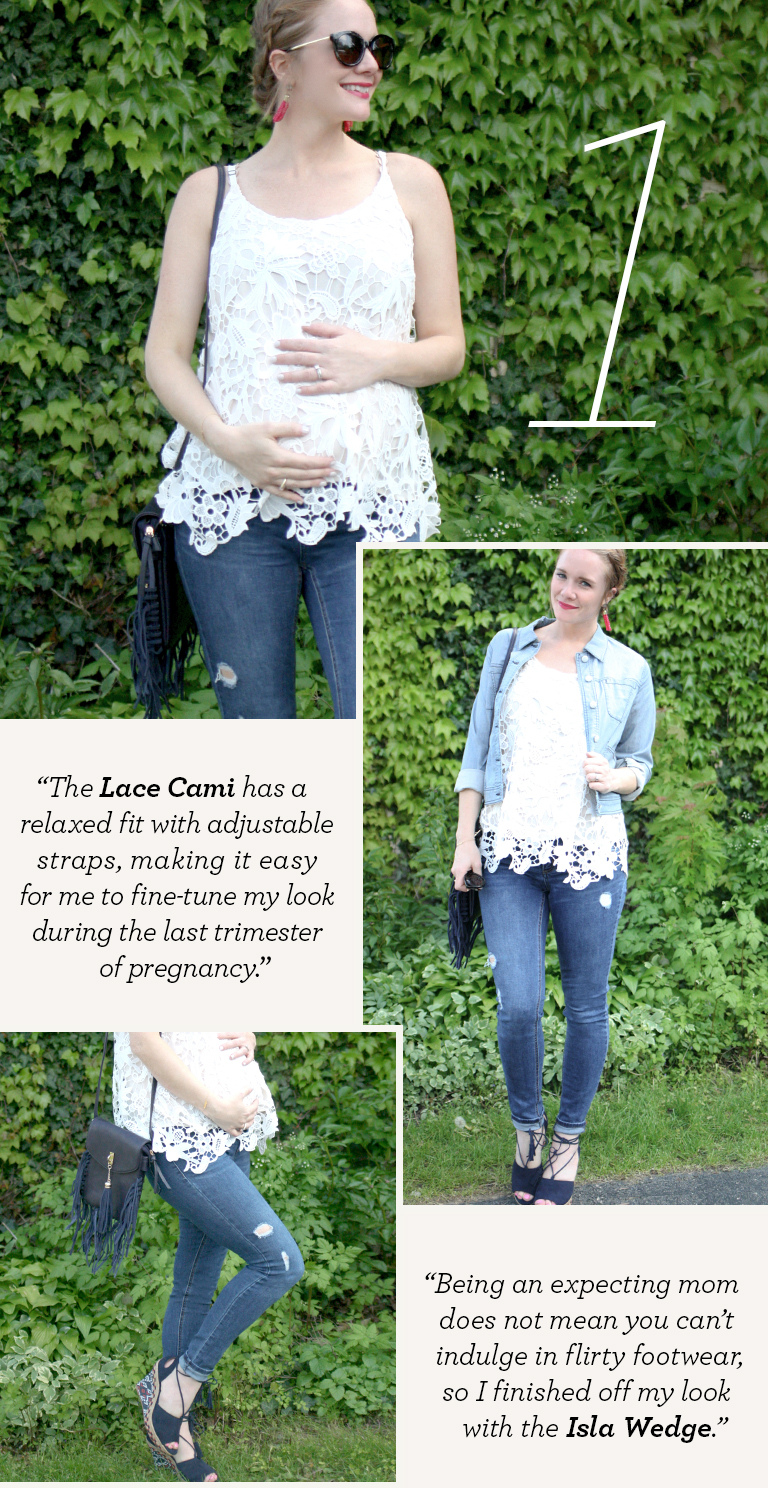 GET THE LOOK: Lace Cami, Isla Wedge
It seems that every summer, one of my first "new season" wardrobe purchases ends up being something white lace. To me, it signifies the simple things I love about a traditional American summer…lemonade on the porch, being barefoot in freshly cut grass, and fresh produce from local Farmer's Markets. The Lace Cami has a relaxed fit with adjustable straps, making it easy for me to fine-tune my look during the last trimester of pregnancy. Typically, I would pair white lace with my well-worn jean jacket but this time around, I switched it out for the Locomotive Jacket, a cropped look complete with dark blue indigo stripes which was a fun twist on my normal style.  By the way, being an expecting mom does not mean you can't indulge in flirty footwear (as long as you have a willing husband to help you put them on—the going gets tough, ladies!), so I finished off my look with the Isla Wedge, complete with a tribal print and wraparound tassel straps. P.S. Tassels are having a moment…we must indulge!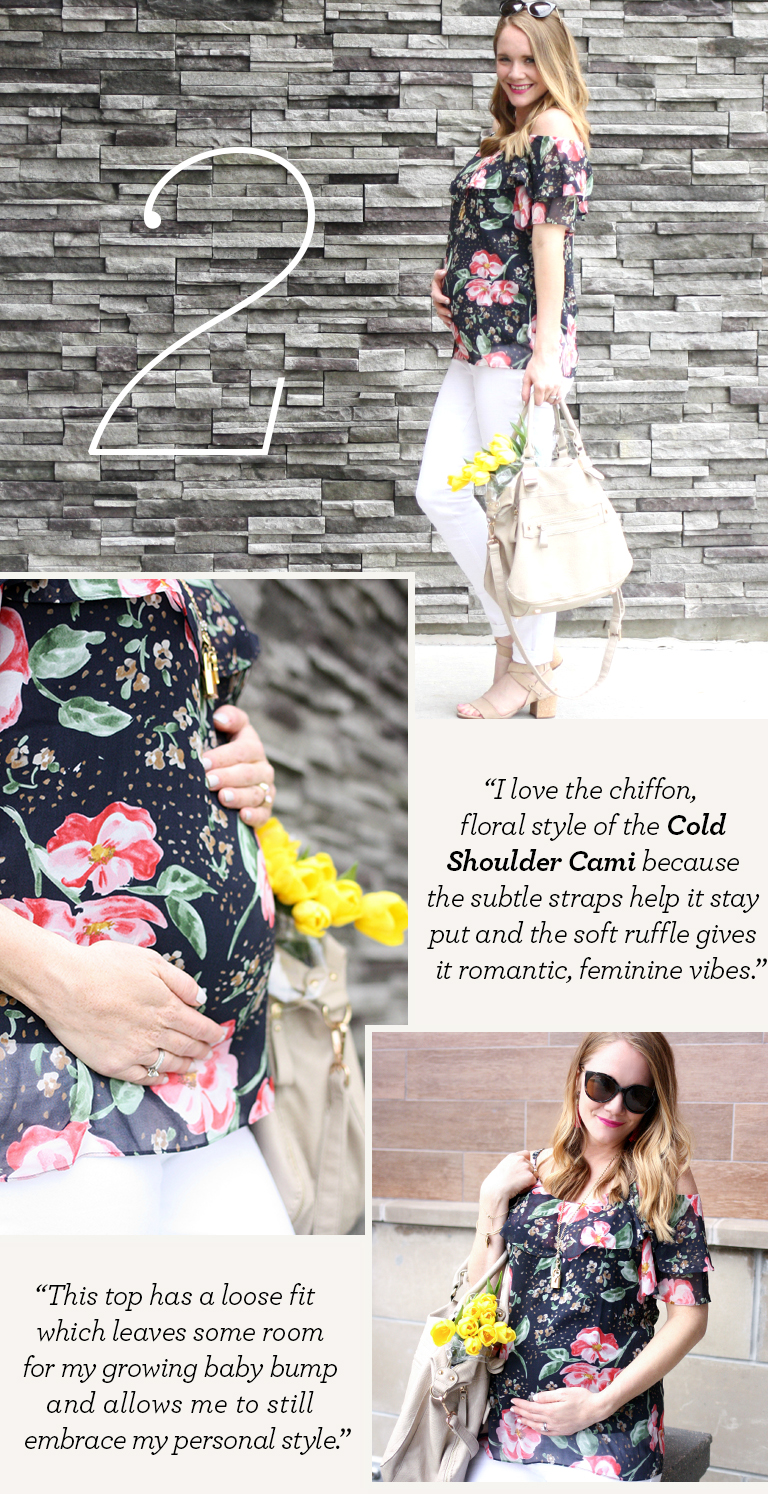 GET THE LOOK: Cold Shoulder Cami
You don't have to look far for this summer's best accessory—all you need is a little shoulder pop and thanks to all the different off-the-shoulder tops currently trending, there is a style for everyone. I love the chiffon, floral style of the Cold Shoulder Cami because the subtle straps help it stay put (no annoying adjustments during the day!) and the soft ruffle across the chest and sleeves gives it romantic, feminine vibes. I stumbled upon this top at the perfect time because it has a loose fit which leaves some room for my growing baby bump and allows me to still embrace my personal style. I would be disappointed missing out on some of the cute, current trends, but by selecting the right kind of top and sizing up a bit, I too can give off the cold shoulder.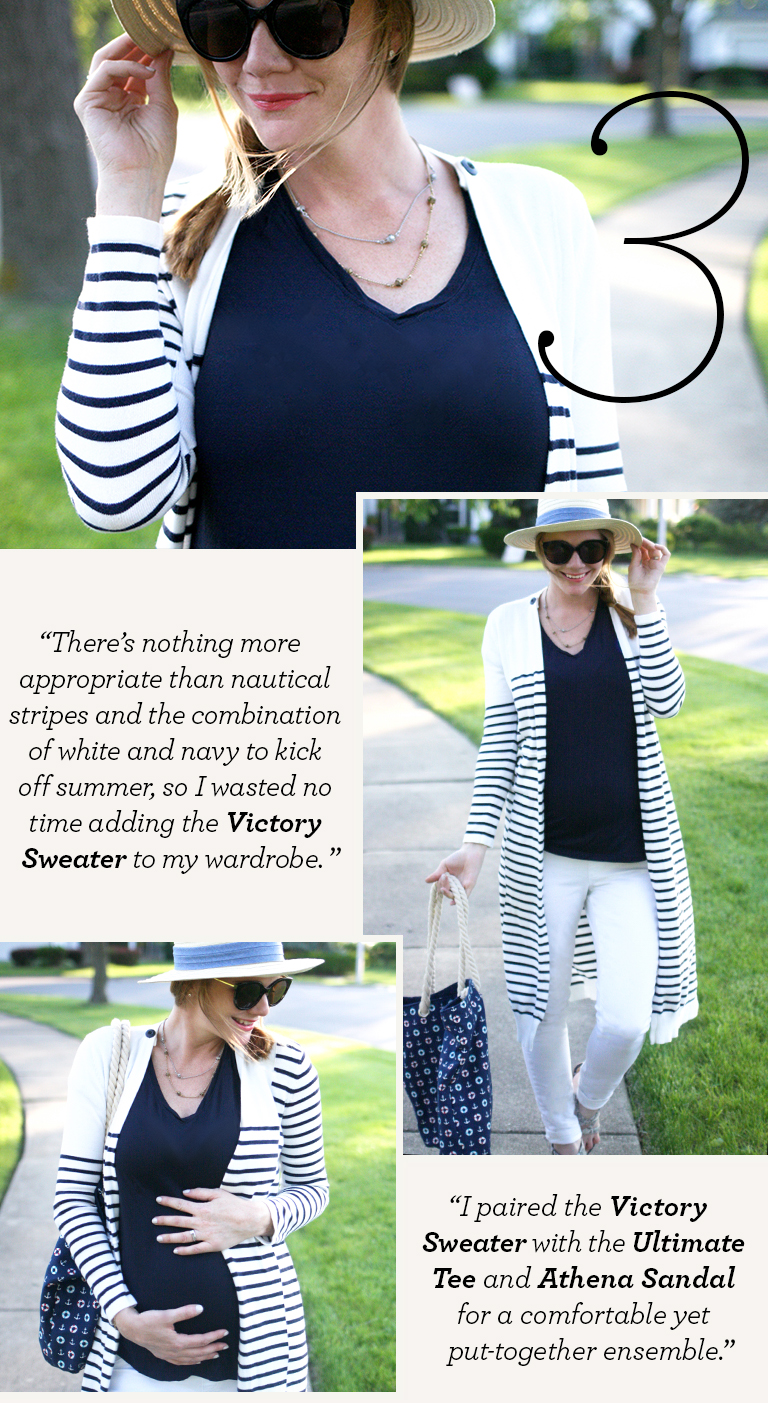 GET THE LOOK: Victory Sweater, Ultimate Tee, Athena Sandal
There's nothing more appropriate than nautical stripes and the combination of white and navy to kick off summer, so I wasted no time adding the Victory Sweater to my wardrobe. I adore the long length, especially for warm days turned into cold nights. I paired it with the Ultimate Tee (which is pretty much the softest T-shirt ever!) and the Athena Sandal for a comfortable yet put-together ensemble. Cheers to new adventures, both in style and life!
All you moms out there: we're tapping into you for some help. Share your own tips on how to look cute and on-trend while rocking a baby bump. Let us know what worked for you and how you'd wear cabi during a pregnancy if you were to do it all over again. Bonus points if you did wear cabi during your pregnancy—tell us all about how you pulled it off in the comments below!