Does anything sound more blissful and stress-free than a day at the beach? If the answer was anything but an emphatic YES, you may be in serious need of a go-to list of beach day products. Let's be real—nothing deflates the day quite like pulling out your beach towel on that perfect stretch of sand with a bunch of friends, not another soul in sight, only to discover you left some essentials back home. Do yourself a huge favor: study this list of nine beach day must-haves from the obvious (sunscreen, duh!) to the ingenious (Bluetooth speaker = all-day party!). To top it all off, we've included some tips from the sun-kissed beach babes of the cabi Home Office. So sit back, relax, and go have the beach day you deserve this summer.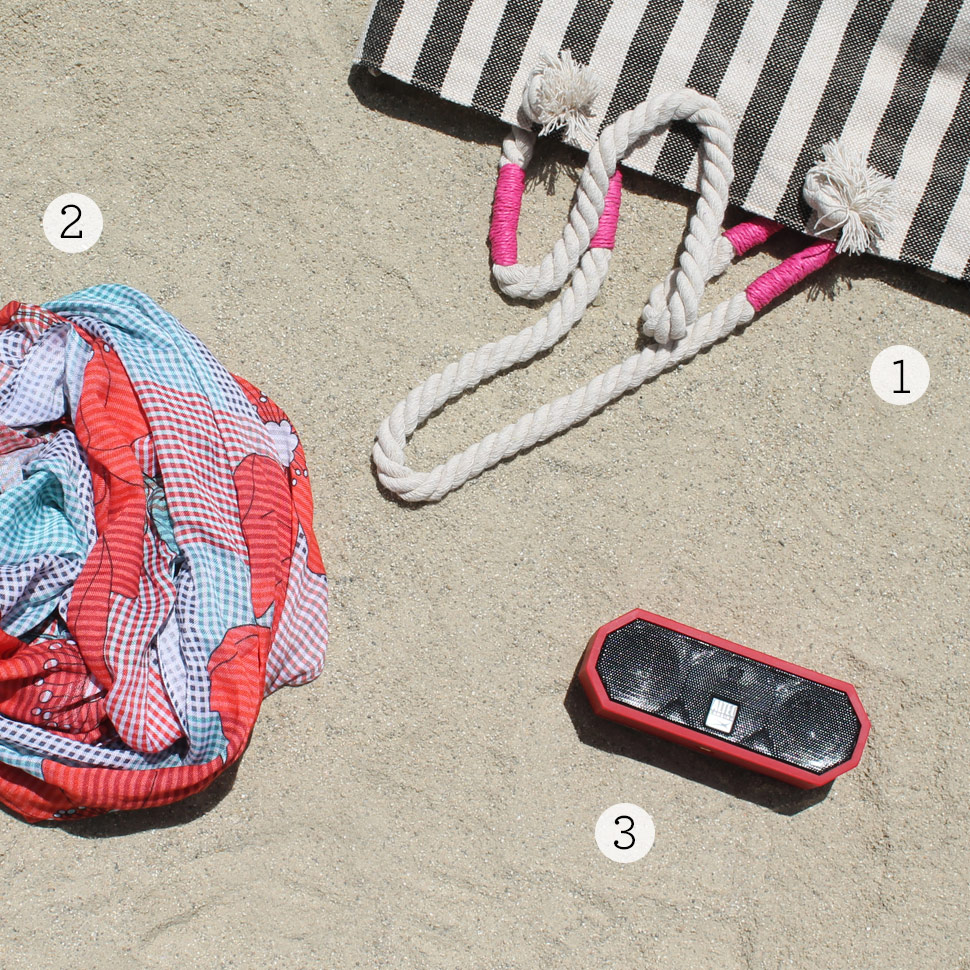 1. Totes Amaze – A tote is the quintessential beach bag for one simple reason: when you wake up and realize the weather is absolutely perfect for soaking in some rays, you'll want to toss everything in your bag as quickly as possible without thinking about how to squeeze it all in.
2. Check Please – A scarf? In the summer? Yes! Everyone knows beaches tend to get a little chilly, especially during our favorite time of the day: sunset. Beat the breeze with the long length and lightweight hand of this perfect spring scarf.
3. Beach Party – Waterproof, dustproof, shockproof—oh, and it floats! Take the party with you from your sandy alcove all the way out to sea. To add a little element of fun, our Home Office Team even created a summery Spotify playlist just for you!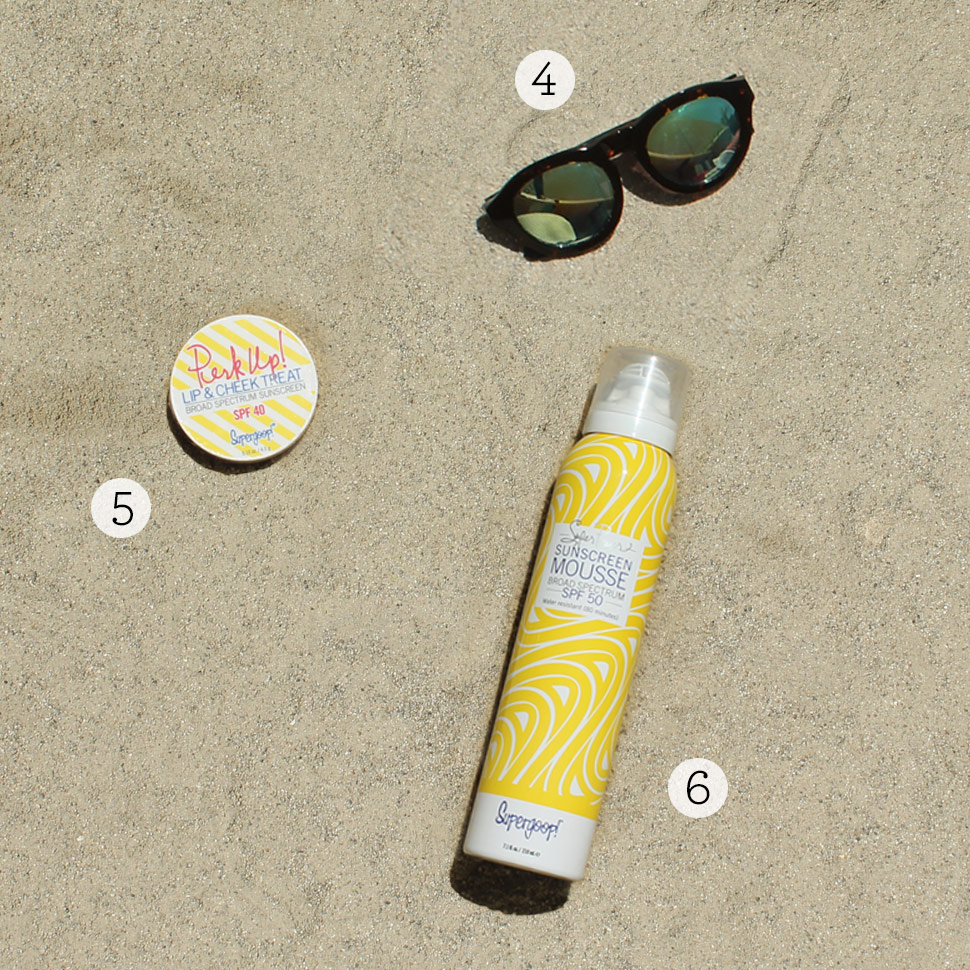 4. Made in the Shade – When all you're rocking is a bathing suit, accessorizing is the key to adding some extra style to your look. We're loving the ultra-chic look of these reflective lenses.
5. Sun-Kissed – We're typically not into makeup at the beach, but a little extra pop of lip is never out of place. And this lip treatment from Supergoop! has SPF to keep your lips free from sun damage.
6. Save Your Skin – Just as beautiful as a nice bronze tan? Protecting your skin! This sunblock keeps your skin hydrated and soft and provides your skin with additional antioxidants!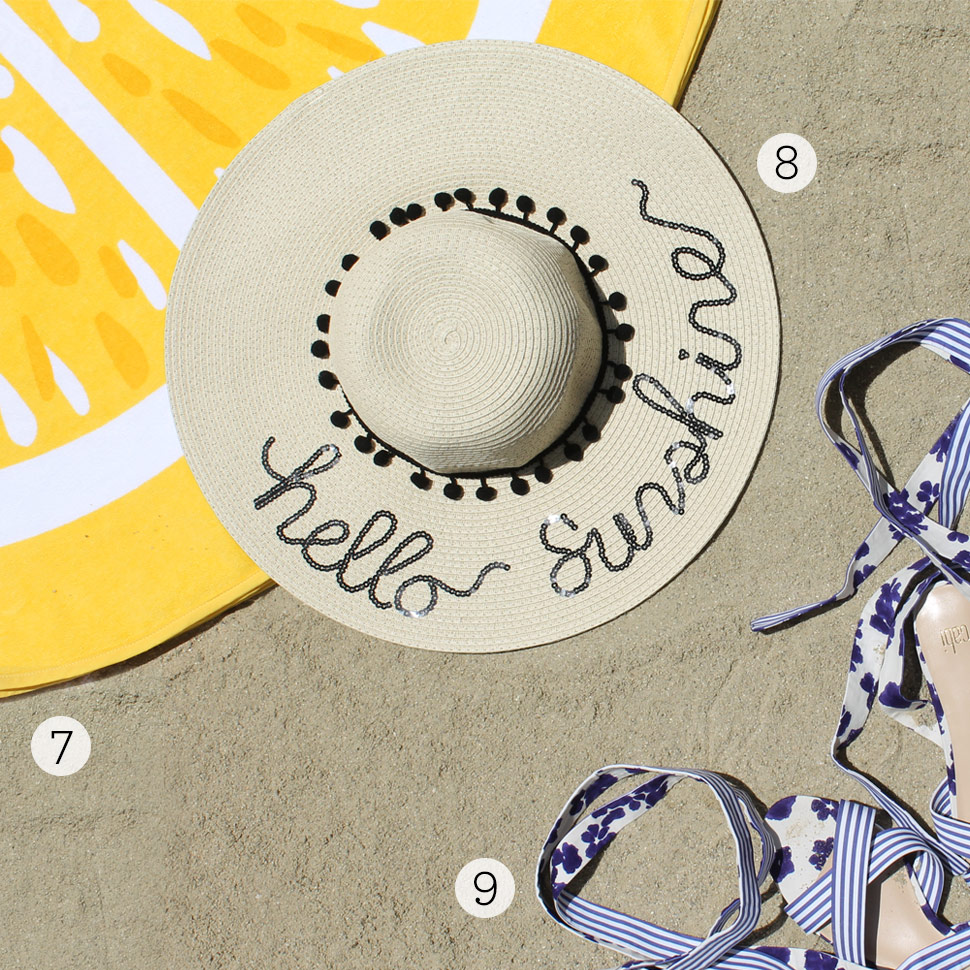 7. When Life Gives You Lemons – Don't bother making lemonade—instead, reach for this eye-catchingly unconventional round beach towel, perfect for adding a perky jolt to your encampment.
8. Sunny Disposition – Spread sunshine wherever you go with this fun, floppy hat. Not only does it keep the sun off your face, but we love its positive message!
9. High Tied – Sandy sneakers? Boring flip flops? No thanks. The right shoes are key to completing your beach look, so opt for something that's as comfortable and versatile as it is stylish and grab a pair of our Tied Up Sandals: vintage, floral, throw on and go—love it!
As California girls, we here at the Home Office are spoiled for choice when it comes to beaches. Venice, Malibu—we're just a car ride away! But there's a whole wide world of spectacular beaches we've never explored. Fortunately, our cabi girls are spread out across the U.S., Canada, and the U.K., so we want to know: what's your favorite beach and why? And…if you could squeeze a 10thitem into that fabulous ASOS tote, what would they be? Leave your thoughts in the comments below!