Belts are like the secret weapons of fashion, turning an outfit into a completely different look with a simple flourish. A belt can help you maximize the many different ways to wear all your favorite pieces in your closet. Take an outfit from day to night, from professional to flirty, from drapey to structured—all with the hook of a belt. This accent accessory can stand purely as a waist cincher, thin and inconspicuous, or as a statement piece with a bold pattern or a funky buckle. To prove just how transformative a belt is in a woman's wardrobe, we turned to our Chief Design Officer (and cabi style icon), Kat Woodside, for some exclusive belted outfit advice. Take a look below at how she styled three different outfits, each with and without a belt, to see how this accessory can be incorporated into your wardrobe. Fasten your belts, ladies—you're in for a ride!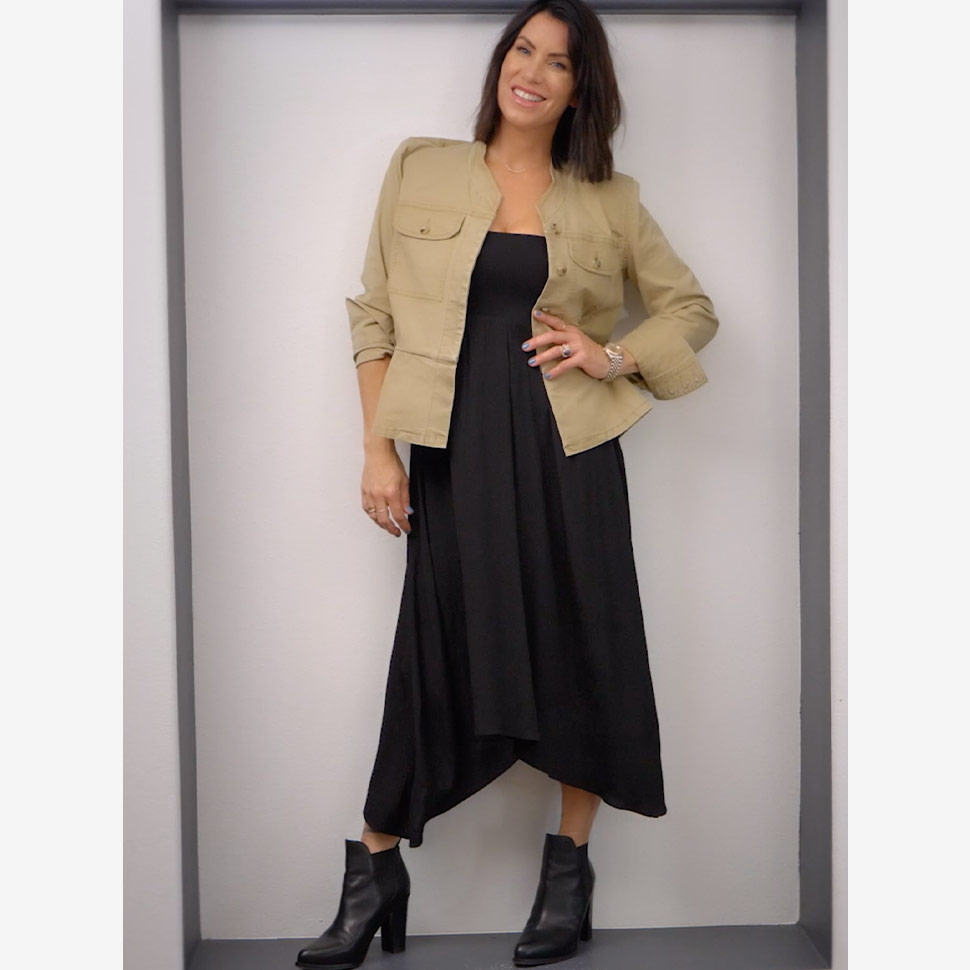 We love our flowy black Cruise Skirt because it can be worn a few different ways. For this look, Kat styled it as a strapless dress with our beige Camp Jacket for shoulder coverage. This clean look is simple yet stylish, effortless, and sophisticated.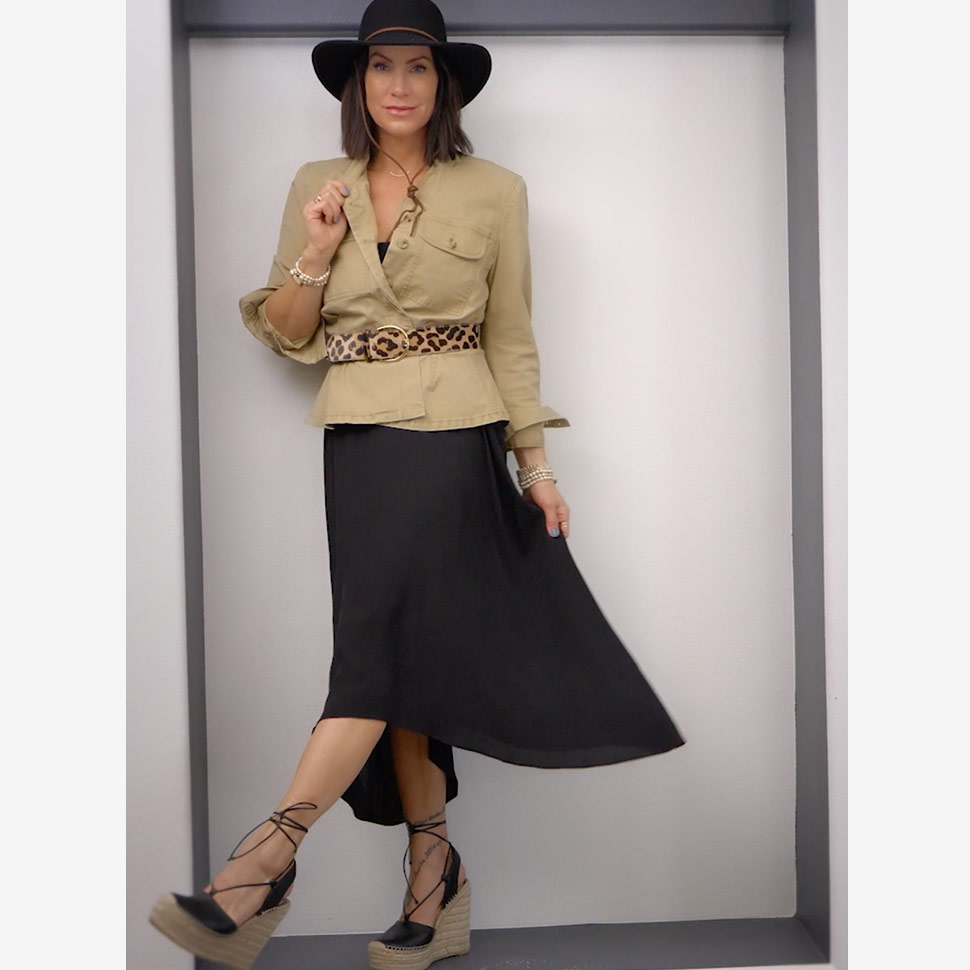 Not into repurposing a skirt that way? Wear it as a maxi skirt, sport the jacket as a top, and use a leopard print belt to cinch your waist. You can even add a suede hat for a Safari Chic look.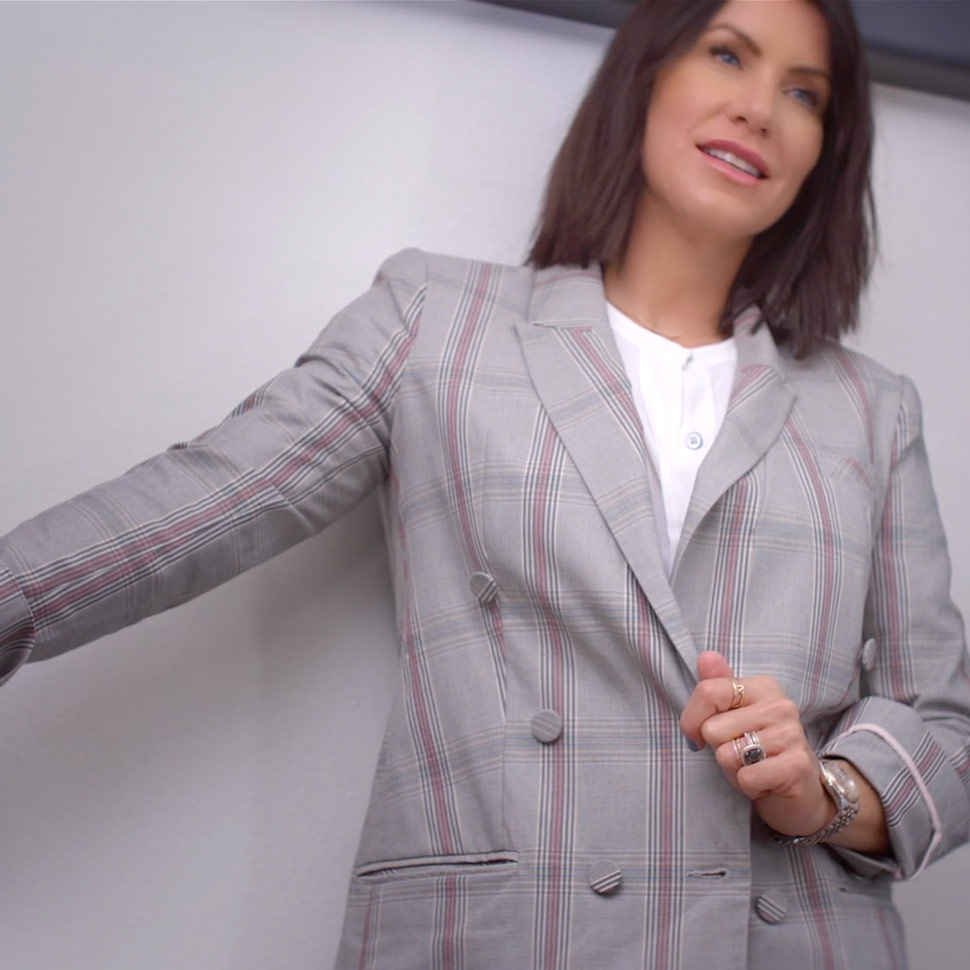 For Kat's first look, she paired our bright red Valentine Trouser back to our drapey white Float Blouse, worn tucked in. The structured Sleuth Blazer is added as a topper, and the stitching pops when cast against the trousers.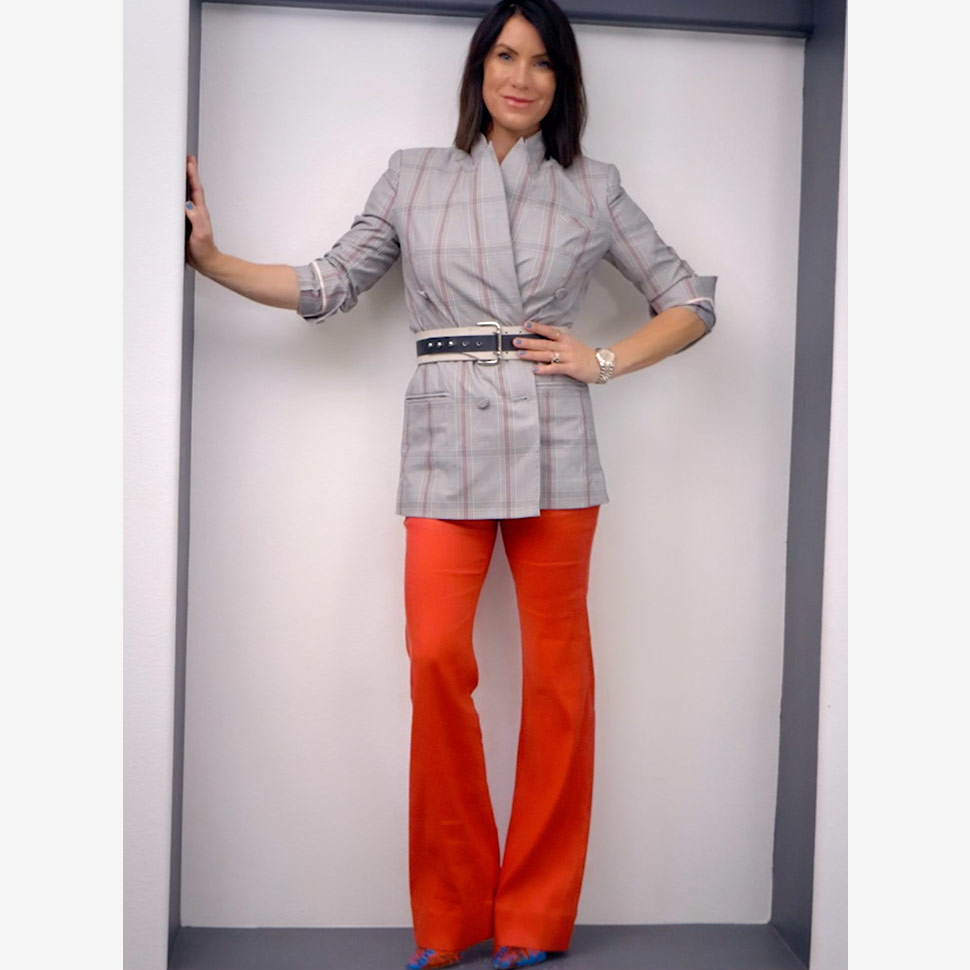 Now, to add a belt, close the blazer and pop the collar for a sleek, finished look. The blazer acts as a top here, and the popped collar will frame your face beautifully (psst—this is the perfect opportunity for a bold red lip!).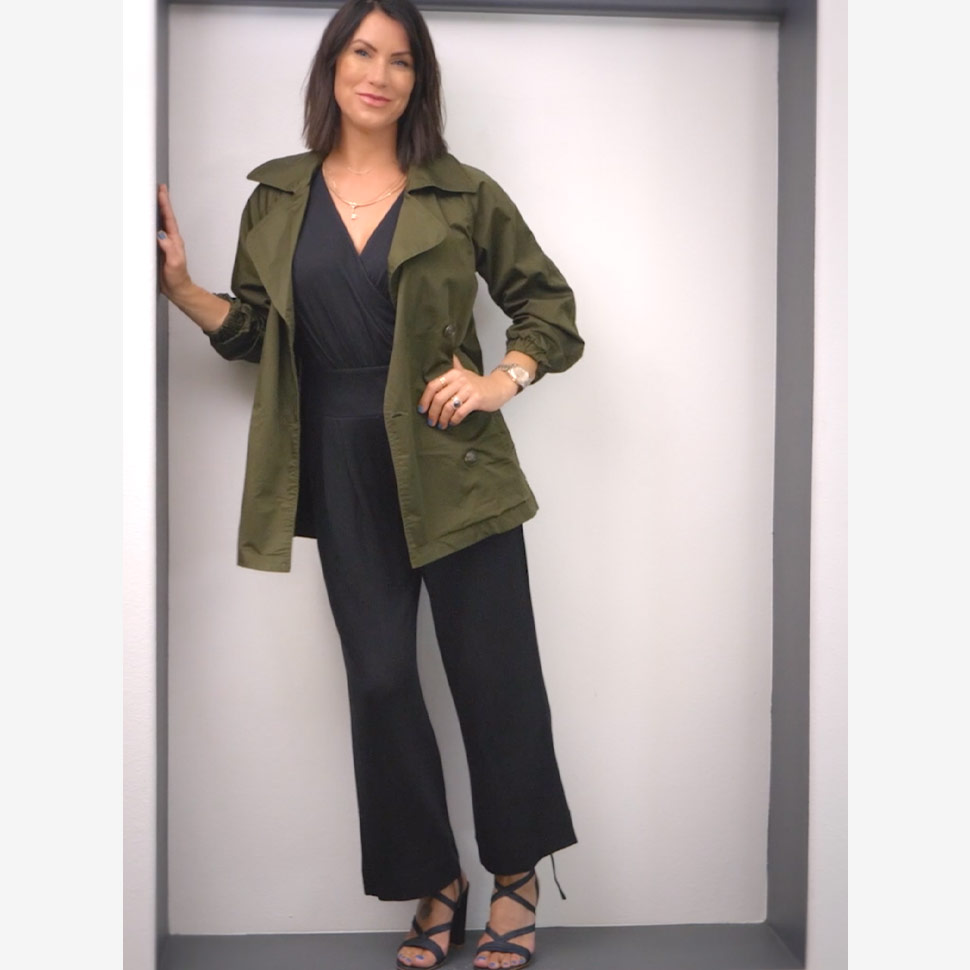 Thank goodnessthe weekend is near. For your next casual Friday look, try our black Downtown Jumpsuit featuring a wide flaired hem paired with our Expedition Jacket. This topper can be worn open with a long necklace, like our Lock & Key Necklace which will really stand out against the black ground.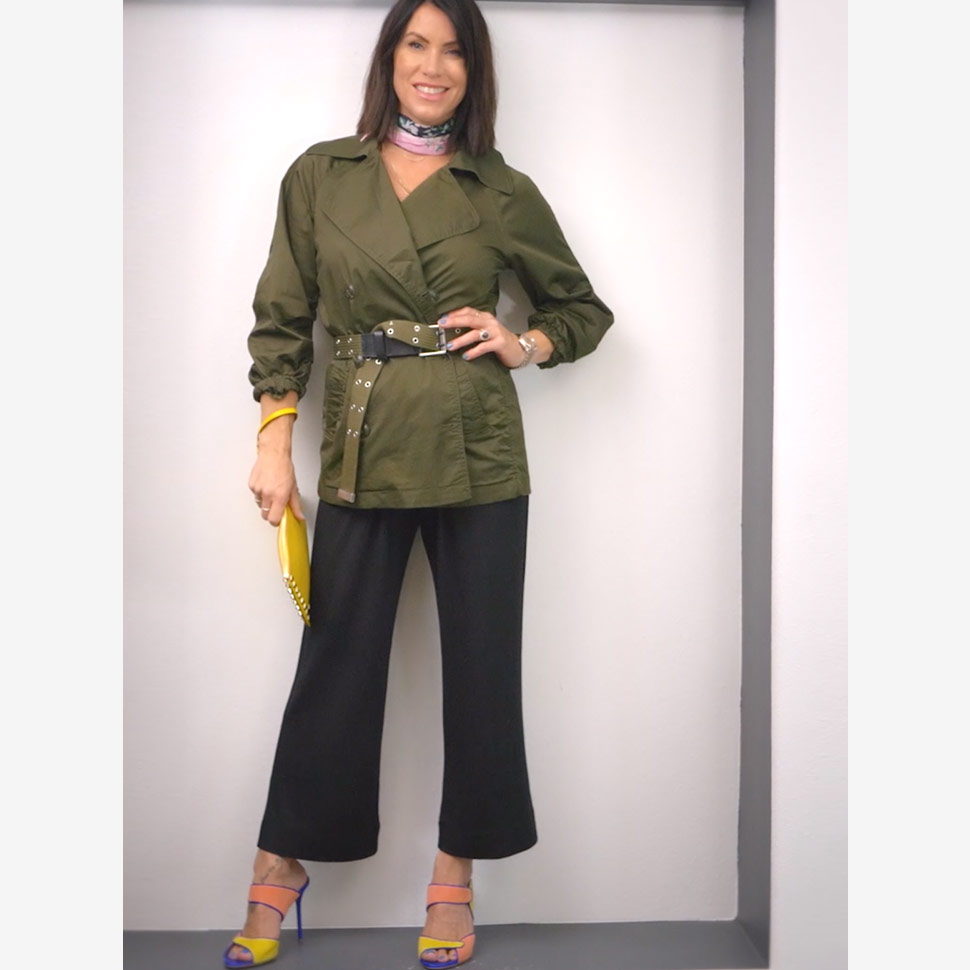 Belt time! Kat picked a matching army green belt to be worn around your true waist over the closed jacket. Nix the necklace, and trade it for our Flaunt Scarf tied around your neck. Pack the belt in your bag, and start your day at the office with look one. Transition to look two for happy hour!
With the clasp of a belt, Kat was able to show us the transformative powers of belts. Now that we've learned from the best of the best, we want to hear from you. Take two photos of the same outfit—with and without a belt—and post it on Instagram @cabiclothing #buckleup to share your styling ideas with the entire cabi community!