Summer is here  and we can't get through the heat alone. From oppressive humidity to the burning sunshine, our skin goes through a lot during this season, which is why it needs a little extra love and attention. So we tapped Kat Woodside and Becky Jantzen to put together a list of a few summer beauty items they absolutely cannot live without. We always trust their advice when it comes to style, but they know a thing or two about beauty as well. Check out their beauty tips below, plus accessory recommendations because, well, they couldn't resist!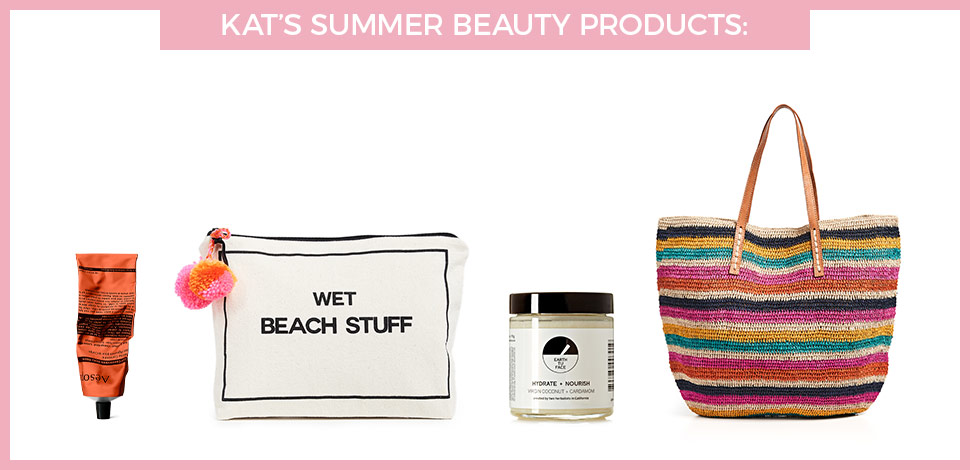 This Balm is the Bomb!
After a long day in the sun, you'll want this aloe-enriched body balm handy. With an irresistible citrus scent, it'll revive your senses just in time for happy hour cocktails.
Vacation Organization
Don't be caught scrambling for a plastic bag to chuck your wet swimwear into after a day at the beach. Instead, pack this cute, sleek, little bag to separate all the stuff in your big beach bag. (Bonus: It's also perfect to throw your jewelry and phone into while you're in the water!)
Créme de la Créme
Created by two California herbalists, this emollient crème will help even the driest of skin. This nourishing product is all natural and will give you a healthy glow.
The Quintessential Summer Tote
My motto for summer totes is  "the bigger the better." I need my towel, lotions, extra bathing suit, book, and whatever her kids want to throw in. Tie the Flaunt Scarf at the handle to personalize!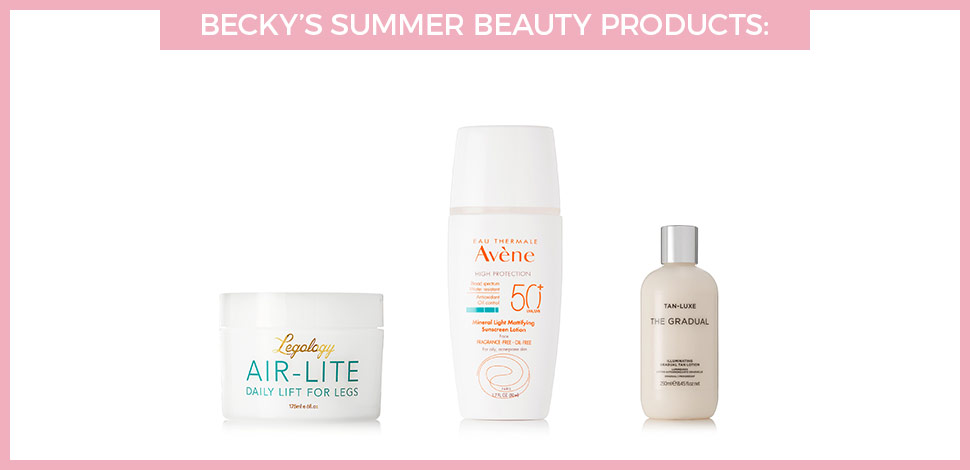 A Leg Up
We put all sorts of serums and lotions on our face and often neglect the rest of our body. If your legs could use a little extra help in the summer, then this toning cream is just what the doctor ordered. It combats cellulite and promotes circulation for visibly smoother and firmer skin.
You'll Sun-Scream over This
A sunscreen that won't clog your pores? Sign us up! This product is designed for acne-prone skin, so you'll get the protection and the glow without the breakouts. In the height of summer, you'll want a mineral sunscreen for optimal protection against wrinkles, so don't skip out on this step before you leave the house.
Self-Tanner, Minus the Mess!
Nothing beats a tan leg in white shorts. This product works slowly, (hence the name, The Gradual) so it won't get all over your clothes, plus it smells great! Keep your tan streak going post-vacation, minus the streaks.
Thank goodness for Kat and Becky! What would we do without them? They've got us covered for summer…literally! #SPF. What are your summer must-haves? Share in the comments below so we can build our tool belts for the upcoming season!