Allow us to make a bold statement: not all trousers are created equal. That's right—if you've spent your whole life standing in front of an open closet deliberating over what top goes with which shoes and reach for the same pair of skinny jeans over and over again, we've got news for you…you've been doing it wrong. Sure, we love denim as much as the next girl and we're not here to throw shade on those jeans, but this fall, trousers are having a moment.
Simply put, the perfect pair of trousers plus a stand-out pair of shoes equals a fabulous pair of legs. The Fall 2019 Collection offers a dazzling selection of silhouettes, ranging from dressy to casual and everything in between. If you're sitting there thinking, "I only wear jeans—help!" fear not. Learn how to pair your fall trousers with the right shoes by following our detailed Trouser Style Guide below. We've looped in our Fashion Director, Becky Jantzen, to give some personalized styling tips of her own. Check out what she has to say in the video below, and find the right dynamic duo for you!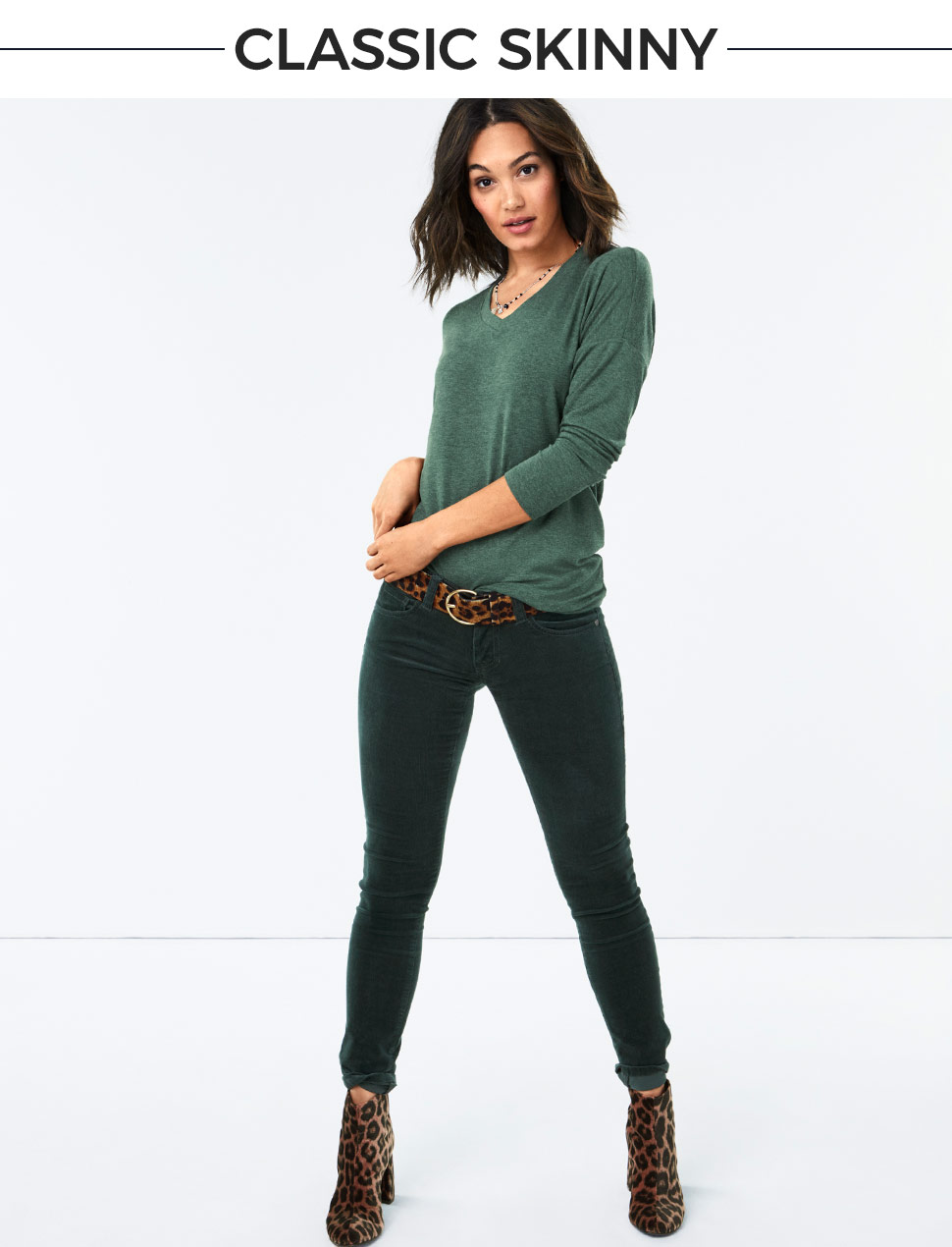 A classic skinny trouser is a staple in every woman's closet. This fall, reach for our beloved Skinny Cord, now available in a stunning hunter green. We love a tapered leg because it's slimming and makes pairing simple. You can rock an over-the-knee boot since the trousers can easily be tucked in, or go with a classic pump since the taper of your bottoms takes the eye right there! Plus, this plaid pattern will match the all-new hunter green hue beautifully. Lastly, if you're not feeling the height, try a slip-on flat and roll your bottoms a smidge at the ankle. (If you're feeling really adventurous, Becky suggests taking a seam ripper and creating a little slit at the ankle for added flare!)

Featured Items: Skinny Cord, Luca Valentini Pumps, Stuart Weitzman Boots, Malone Souliers Flats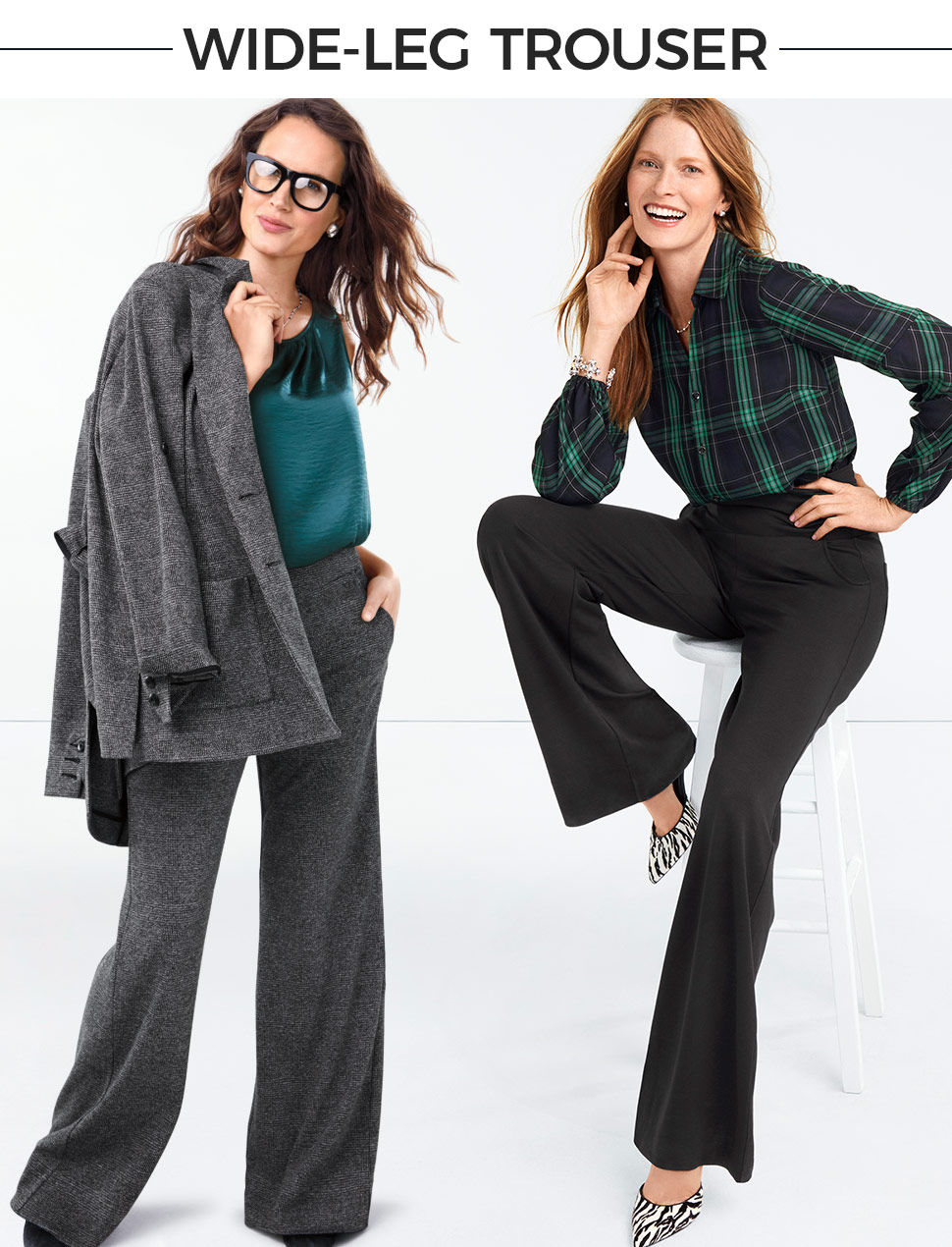 Believe it or not, a wide-leg trouser is incredibly slimming and can offer both professional and elegant styling options. In our Fall 2019 Collection, we're bringing you the plaid Bond Trouser as well as our black Chance Wide Leg. Do a full tuck of your blouse for a cinched-waist look, or swing a bell sleeve to mirror the wide silhouette of the trousers. A printed pump is great if you're going for an all-black look and will elongate your legs. Try a kitten heel for a slight height boost, or go for a bright red flat for a pop of color.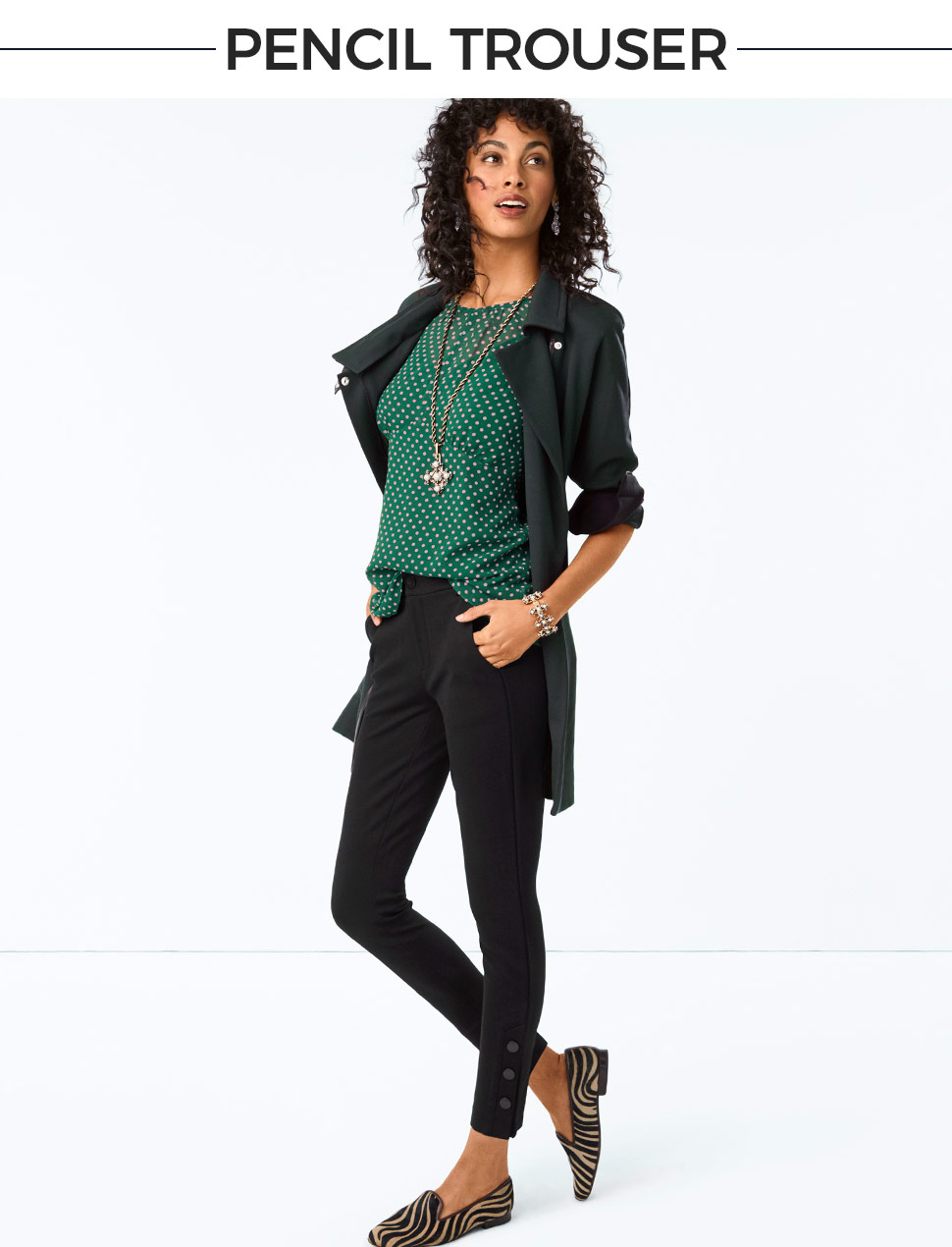 An ankle-length pencil trouser is very in this season. Max out on wearing our flirty Evening Trouser this fall before it gets too cold. With the button detailing at the ankle, these are the most alluring bottoms of the Collection. We love the idea of pairing these slim-fitting trousers with a dress. When it comes to an exposed ankle, you've got to wear some heels! Try a slip-on kitten heel, a snakeskin block heel, or go all-out with a pump. (These pumps are our fave because they've got a plaid bow at the back—how cute and perfect for fall!)

Featured Items: Evening Trouser, Alexandre Vauthier Pumps, Marc Fisher Block Heels, Loeffler Randall Kitten Heels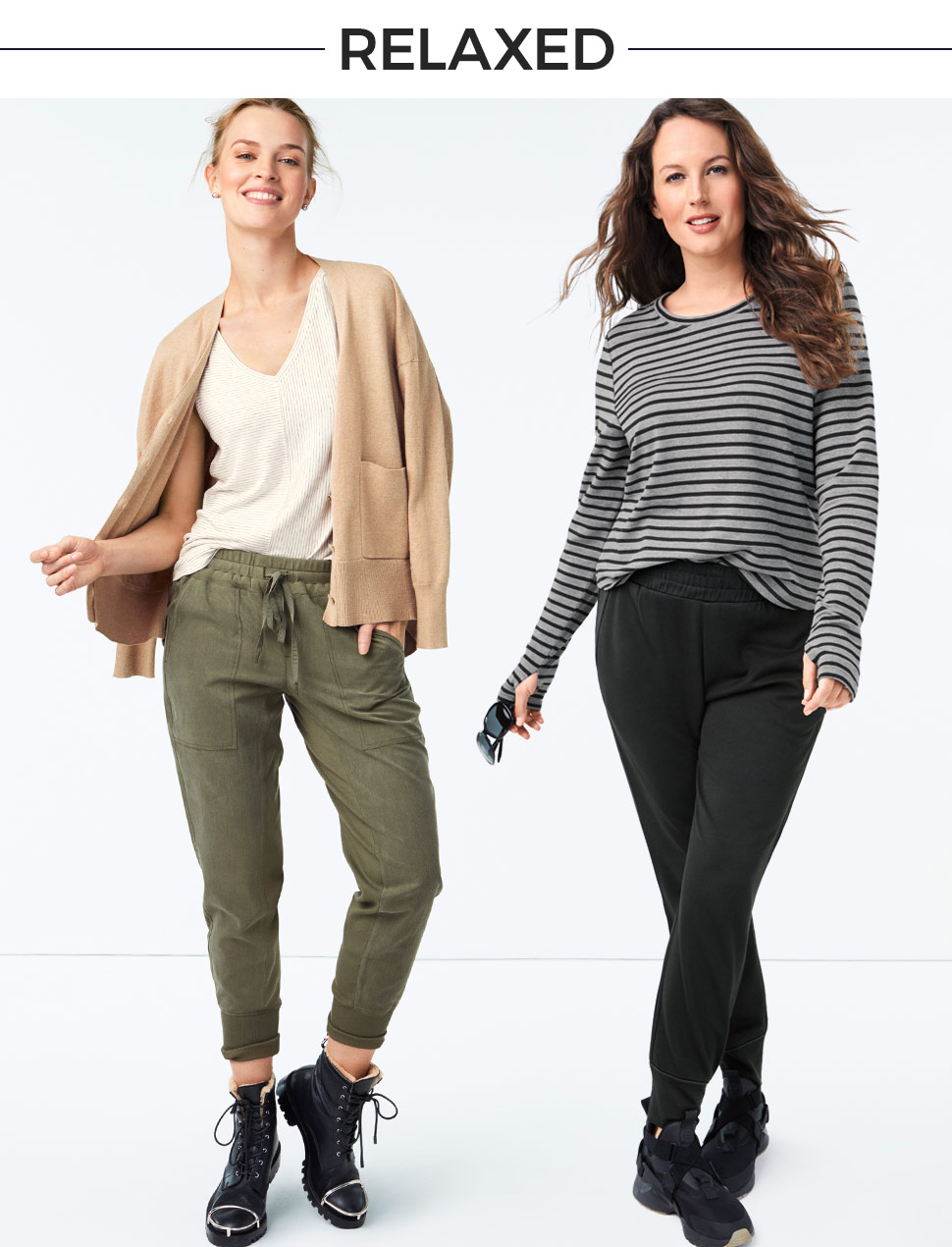 We all need a reminder to chill out sometimes, and what better way to initiate that than with a relaxed trouser? This season, we're bringing you not one, but two joggers: The Marathon Jogger and the Pivot Jogger. Both are perfect for an underplayed look that can still be dressed up. Our Marathon Jogger comes in a neutral tone that pairs well with rich colors and neutrals alike. And, our Pivot Jogger comes in a sleek, black structured knit for all-day (and night) comfort. Go for a full runner's vibe with a cute pair of sneakers, slip into some darling loafers, or try a slip-on mule. We're liking joggers with flats this season, but don't let us stop you from rocking a vibrant pump if that's what you're feeling! We definitely approve that choice.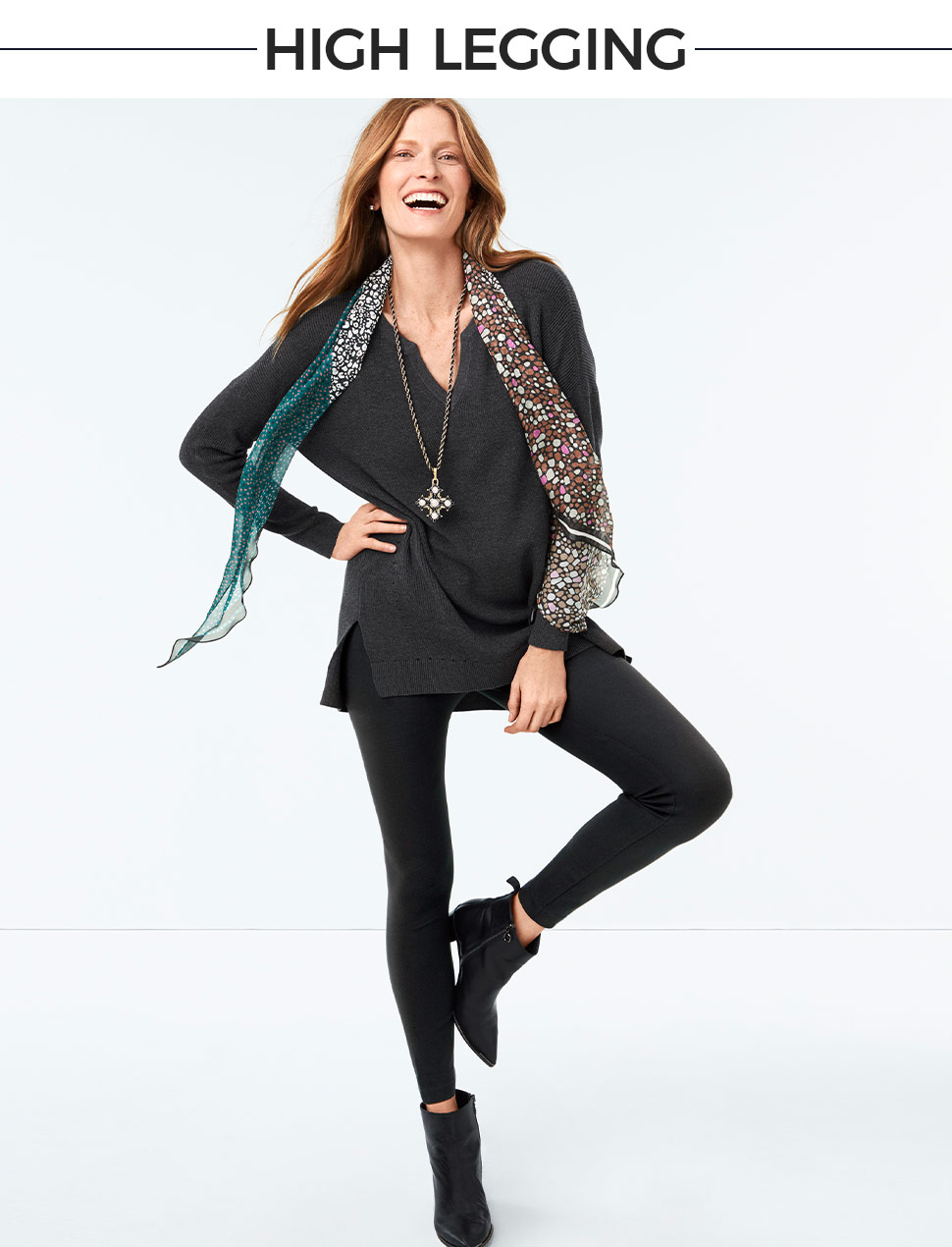 Last, but certainly not least, is our black High Legging. Let's be real, we'd wear leggings everyday if we could, and with this pair, you have our permission! Depending how you style these sleek, high-waisted leggings, they can work for just about any occasion. We love the idea of pairing these with some thigh-high boots. No one will know you're even wearing leggings, yet you'll be so comfortable underneath! Try a vintage style ankle bootie to really show off your legs. This look is great with a long cardigan or a dress. For a more casual look, you can always go for classic lace-up sneakers.

Featured Items: High Legging, Gucci Ankle Boots, Marc Fisher Boots, Comme Des Garçons Sneakers
What's your favorite trouser and shoe combo? Get a friend to snap a photo of you strutting your stuff in your very own stylish pairing, and post it to Instagram @cabiclothing. From kitten heels and skinny jeans to ballet flats and wide-leg trousers, the different combinations are endless. We can't wait to see what you come up with!