There's a crisp chill in the air. Pumpkin spice latte season is in full swing. Leaves are beginning to fall and crunch beneath your feet with each step. This all means it's finally time to break out your favorite fall items: corduroy pants, leather jackets, and last but certainly not least…sweaters! Oh yes, ladies—it's soon-to-be sweater weather. The Fall 2019 Collection is chock-full of knits that are to die for: lightweight cardis, chunky ribbed knits, blanket-like capes, and so much more!
Sweaters offer some of the coziest and most flattering styling options in your closet. Between bell sleeve detailing and tunic length silhouettes, there's a sweater out there that'll strike a chord with you. Now, it's just a matter of choosing the right one. To help you out, we've created five fall outfit ideas, each featuring a different sweater from the Fall 2019 Collection. Take a look at our styling suggestions below to find the sweater that's right for you. (Bonus: we've even included some tips on how to care for your knits at the end of the post!)
A cropped cardigan looks great with a high-waisted trouser and will elongate your figure. Pair the Turn Back Cardigan with the Bond Trouser and a printed blouse for a touch of color. Add a pretty D'Orsay kitten heel to accentuate your height for even more length.
Featured Items: Turn Back Cardigan, Shadow Leaf Blouse, Bond Trouser, Kitten Heels
Try a color-block look this fall to fit right into the Gem Tones trend. The violet Peek Pullover pairs beautifully with the hunter green Renaissance Coat and a leather skirt for a super-sleek outfit. Style this look with black tights to keep you warm.
Featured Items: Peek Pullover, Miranda Skirt, Renaissance Coat, Booties
Pick a printed top and match one of the hues to your cardigan. The emerald Lucky Cardigan paired with the blue and green Paradox Top makes for a striking duo. Try this look with some loafer slides (the closest you can get to wearing slippers in the real world!).
Featured Items: Lucky Cardigan, Paradox Top, Pivot Jogger, Slides
Let a statement sweater be the focal point of your outfit. Pair the bell sleeve Eden Pullover with some classic black skinny jeans. Style with accent pieces like the Beast Belt and Tudor Necklace and Cuff.
Featured Items: Eden Pullover, Cinch Skinny, Beast Belt, Tudor Necklace, Tudor Cuff, Oxfords
Incorporate print mixing into your winter looks by pairing the Shetland Sweater with the Big Sur Shirt. Try an alternative style by belting over the sweater for a uniquely cinched silhouette.
Featured Items: Shetland Sweater, Big Sur Shirt, Slim Boyfriend, Beast Belt, Ankle Boots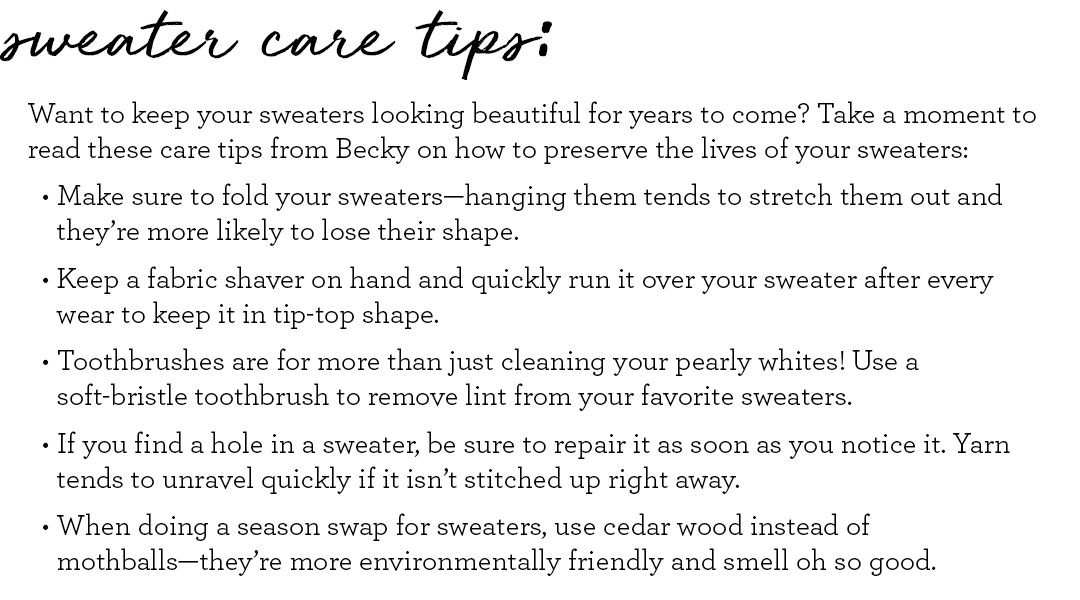 Are you an oversized sweater gal or a form-fitting cashmere lady…a cable knit cutie or a wide knit wonder? Good news—there's no wrong answer! Snap a photo wearing your favorite sweater, post it to Instagram #SweaterWeather, and tag us @cabiclothing to show off your favorite knits!