What's the one staple item all women need to have in their closet? A classic button-up shirt. But finding the right fit is always such a hassle, right? Too boxy, too straight, sleeves are too short or too long…well ladies, the struggle is over! Finally, a white button-up shirt with a blouse-like feel, perfect for any occasion—let's get to know The Ideal Button-Up a little better. Wear it any time with trousers or as a layer under your favorite sweater. The styling options are practically infinite.
We've upped the ante on this button-up design, offering the perfect mix of professionalism and originality. The crisp, white Ideal Button-Up comes in an oversized, swing shape for a contemporary flourish, while still checking all the boxes you look for in a classic button-up blouse.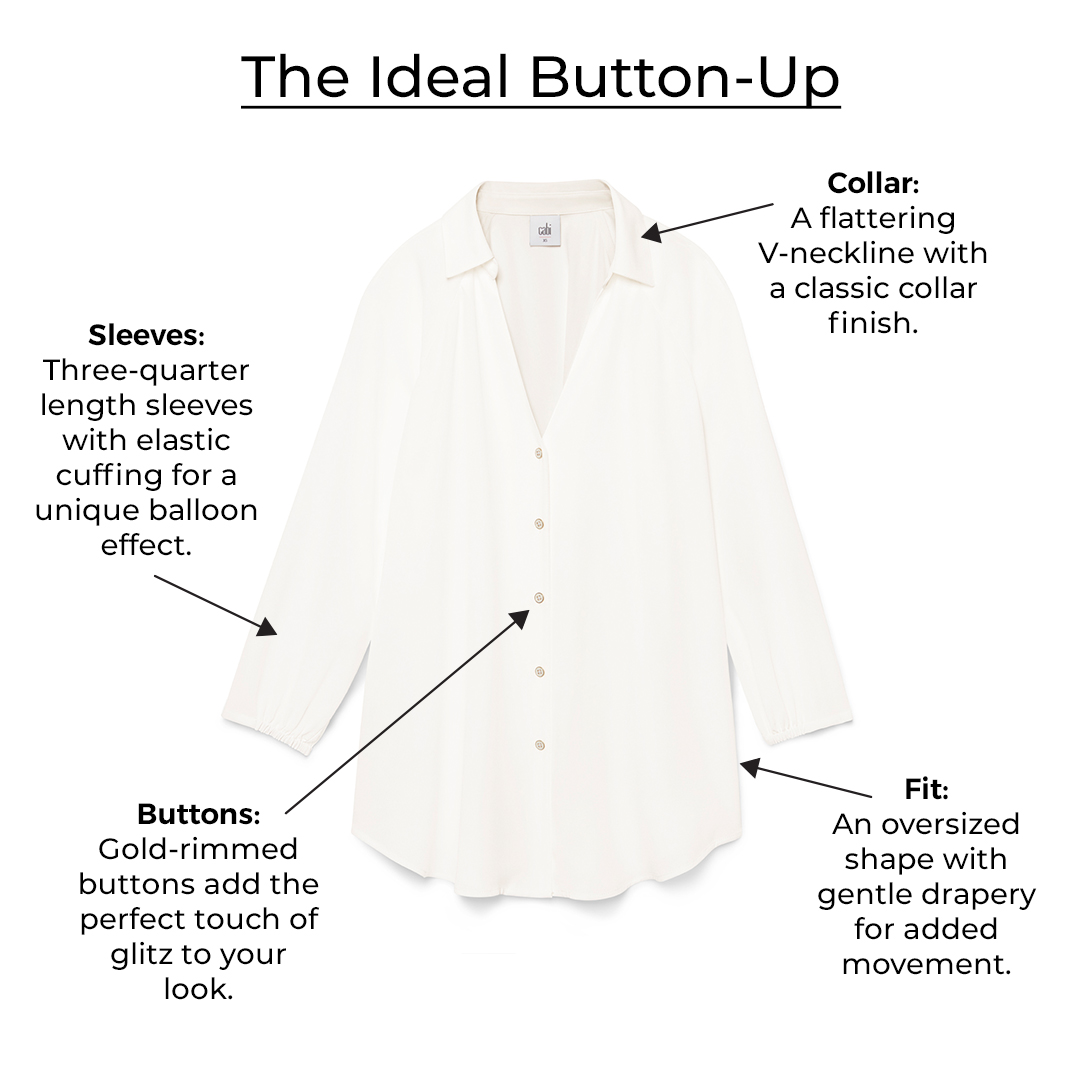 We put together five white shirt outfit ideas to help you get the styling ball rolling. Check out our exclusive video to see the different looks in action. There are so many fun ways to wear this piece, so take a look at our suggestions below, then see what outfits you can create in your closet!
The best trifecta of colors there ever was! Pair the white Ideal Button-Up back to the red High-Low Crop jeans and style the navy-and-white-striped Harbor Jacket on top. Use your accessories to tie back to this patriotic palette.
Featured Items: The Ideal Button-Up, Harbor Jacket, High-Low Crop, La Bohéme Necklace, Strappy Sandals, Sunglasses, Purse
The Ideal Button-Up makes a great layer underneath a wider neckline so the collar can peek through. Try it under the Cropped Cable Pullover and the patterned Kelly Wide-Leg Crop for an Agent Americana vibe. We love this look with a front tuck to show off a cute belt.
Featured Items: The Ideal Button-Up, Cropped Cable Pullover, Kelly Wide-Leg Crop, Curio Earrings, S18 Chain Belt, Purse, Sandals
Try styling the black Comfort Cardigan over The Ideal Button-Up with a wide belt on top. The white piping will tie back to the blouse for a touch of coordination. Pair with your favorite denim and cute sandals.
Featured Items: The Ideal Button-Up, Comfort Cardigan, Button Fly Skinny, Sandals, Belt
Nothing says "weekend" like leggings and sneakers. Add some flair to an athleisure look by styling with a denim topper and a contrasting purse. The longer-length Ideal Button-Up will peek out beneath the Dylan Jacket for some expert level layering.
Featured Items:The Ideal Button-Up, Dylan Jacket, Relax Cropped Legging, Sunglasses, Purse, Sneakers
Now we want to hear your ideas about The Ideal Button-Up. How are you styling this essential piece? Do a mini version of this experiment at home, and try putting together three different outfits. Snap a picture of your creations, then post them to Instagram #OnTheButton and tag us @cabiclothing. We can't wait to see what you come up with!