You're never fully dressed without…accessories! This is our mantra and something we wholeheartedly believe. Accessories are an essential piece to the puzzle of every ensemble. Accessorizing correctly is the most guaranteed way to take your look from drab to fab and to show you thought of every last detail when getting dressed. There's basically no such thing as "overdoing it", especially during the holidays. So just relax, lean into a maximalist aesthetic, turn to faux fur, and indulge in sparkly accents! It's a lavish time of year that calls for statement necklaces and eye-catching scarves. Whether you're going to a socially distant gathering or showing off on a Zoom call, you'll want to know all about the holiday accessories we deemed as must-haves.
The Fall 2020 Collection offers a plethora of wintery accessories to choose from. We're talking chunky jewelry, studded belts, animal print scarves, and fuzzy purses. Your outfit simply isn't complete without one or two of these final touches. Not only are we giving you the low down on some of our favorite fall accessories, but we're also highlighting a few of our top non-cabi picks to throw into the mix. To help us style these pieces, we're collaborating with New York-based blogger Greivy. Some of you may recognize her from past collaborations—she's such an expert when it comes to all things fashion and beauty. For today's post, she's showing us her favorite holiday outfit and how she was able to incorporate these holiday accessories into her look. We're so grateful for her input on this topic. Don't miss out on this opportunity to learn some accessorizing tips from one of the best!
It's almost that time of year and one thing is for certain, I will be dressing up! I am obsessed with the Fall 2020 Collection, especially the Sinatra Blouse and Skirt that looks like the most beautiful midi dress when worn together.

To add a little fun and flair, I styled it two ways. For the first, inspired by the Heart of Gold Earrings and Necklace, I accessorized my hair with gold clips and a matching chain cocktail purse.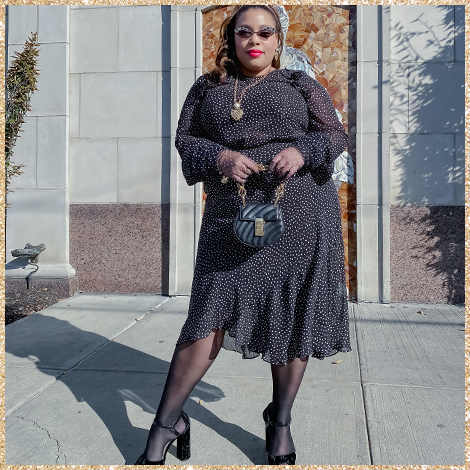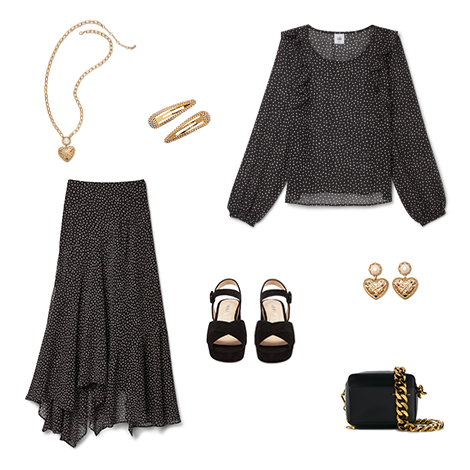 The second look is layered with Maestro Jacket and Bundle Up Scarf, which has the most beautiful leopard print! I played with colors and added silk, zest-colored pumps and a cocktail bag.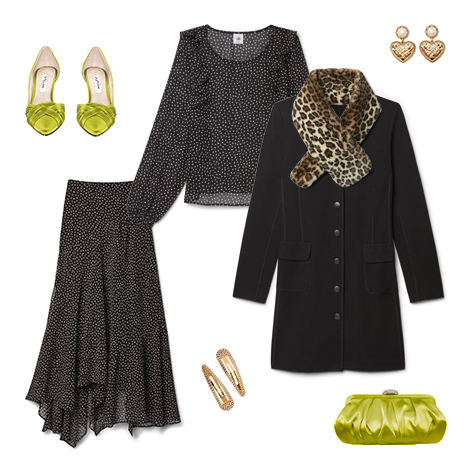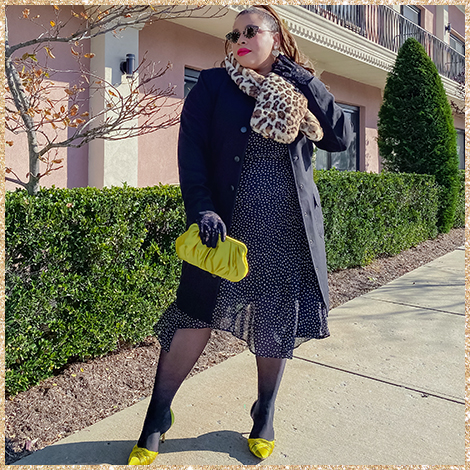 I am so excited to keep styling these pieces because the possibilities are endless! Polka dots are so much fun and effortless. I can't wait to see how you style these pieces! 
Shout out to Greivy for taking the time to share her wisdom with us all. Accessorizing has never looked better! Now we want to hear from you. How are you accessorizing this holiday season? Are you a glitzy gal, or a leather lady? Do you like dainty or chunky jewelry? A clutch or a carry-all tote? Share your ideas in the comments section below, and let us know which accessory is your all-time favorite!