Spring is a time of rebirth and renewal—a celebration of life. No color celebrates the joy of springtime better than yellow. Not only is this sunny hue so cosmetic, pairing easily back to all skin tones and other colors in the Collection, but it's got so much energy, adding a pep to your step the moment you slip into it.
The Spring 2021 Collection is full of yellow hues, from soft pastel to vibrant sulfur, florals and stripes to beautiful solids, we just had to take a moment to appreciate it all! That's why we created this yellow color guide, an easy how-to on incorporating this zesty hue into your spring wardrobe. First, start with the different styles in the Collection, then layer on your accessories and pair back to complimentary colors, and you're in for one heck of a bright and happy spring! Keep reading to discover our tips then try it out for yourselves. We promise, you'll be walking on sunshine in no time.

There are so many fun, yellow pieces in the Spring 2021 Collection. The Fold Pocket Tee comes in a bright, highlighter yellow, perfect for styling back to denim or a printed skirt. Reach for the floral Sunrise Top when you're in need of a feminine print or the Standard Sweatshirt if you want a striped moment. As for bottoms, our Utility Trouser comes in a beautiful sulfur hue that will reinvigorate your spring wardrobe.

Remember, trendy colors don't have to only come from your clothing—they can also be incorporated into your look via your accessories. A pair of yellow sunnies will help give your face the glow-up it craves, while yellow nail polish will tie your look together and draw attention to your rings and bracelets. Try yellow sandals or a yellow purse for that finishing touch.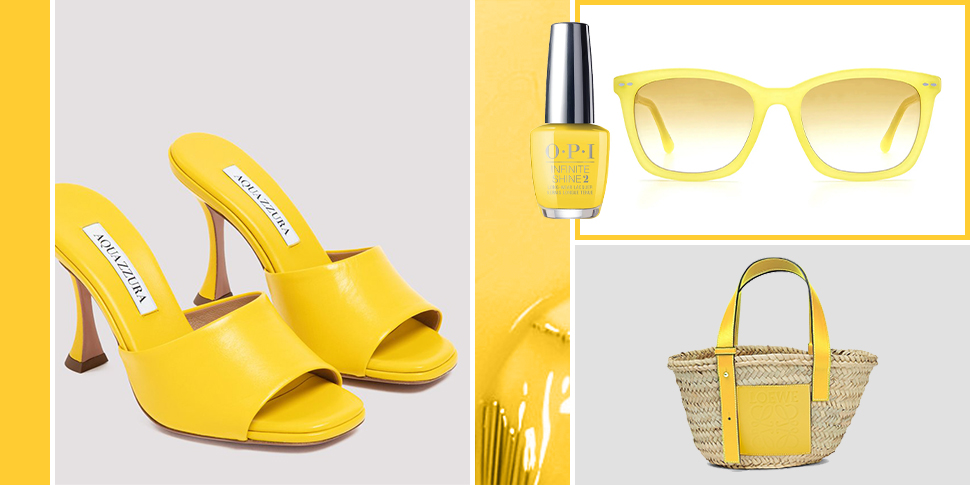 Yellow is such an easy-pairing color, which is why we're all about it. Reach for other pastels like periwinkle or even light blues and purples to compliment your yellow hues. Or go bold with brighter, louder colors like geranium and other reds. For a downplayed moment, try pairing your yellows back to muted greens, like olive or army green.
Are you reaching for your yellows as we speak? We want to hear all about the different ways you're incorporating this cosmetic, happy hue into your spring wardrobe. Leave your thoughts in the comments section below, then snap a picture wearing your favorite sunny pieces and post it to Instagram #HelloYellow, tagging us @cabiclothing so we can see your bright, not-so-mellow-yellow creations!