TREND REPORT
Our Design Team has scoured the runways and leading fashion magazines to bring you the five top trends for this season, including a not-to-miss video.
Whether you like to be trendy or bold, here are the five top trends you need to know about this season: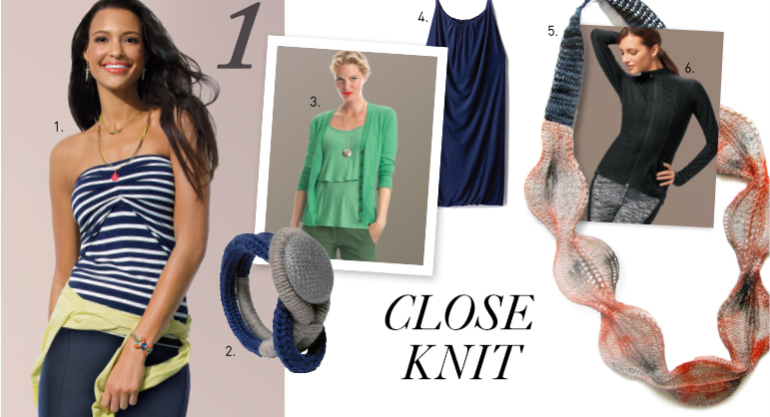 Knits are a comfy, cozy, and super flattering must. They can be worn with solids or prints and go well with, well, just about anything! We suggest popping them into your everyday mix and playing around with different ways to wear them.
1.BLAINE TUBE #789; DAFFODIL CARDI #706; NEWPORT SKIRT #875 2.KNIT BRACELET 3.KNIT TIERED CAMI #827; BILLI CARDIGAN #697; COAST CROP #820 4.FIFTH AVENUE TEE #786 5.KNIT NECKLACE 6.TECH JACKET #635; SPACEDYE CROP #758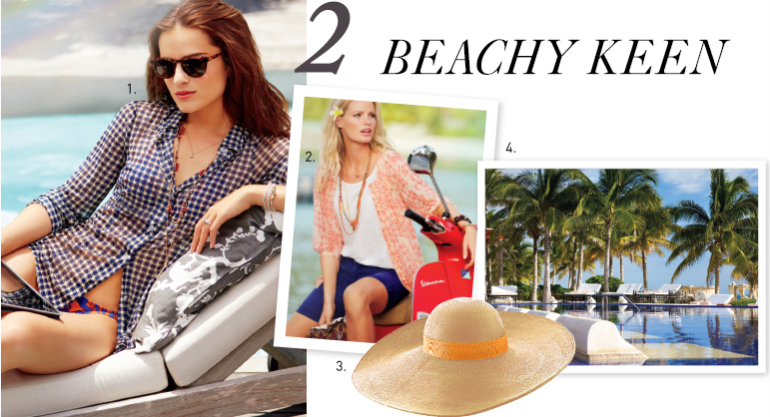 Imagine that peaceful state of mind you get on vacation when you cast away your cares and have an unexplained smile on your face – simply because you choose to let it all go! Well, that's exactly how we want you to feel all season long! That's why this collection was purposefully designed to give you a "vacation state of mind" and help you get there just by visiting your closet.
1.MESH SHIRT #736; 2.EMERSON BLOUSE #756; RESORT TEE #826; LOU SHORT #830 3.SENSI STUDIO LADY IBIZA TOQUILLA STRAW HAT 4.CARUBBEAN RESORT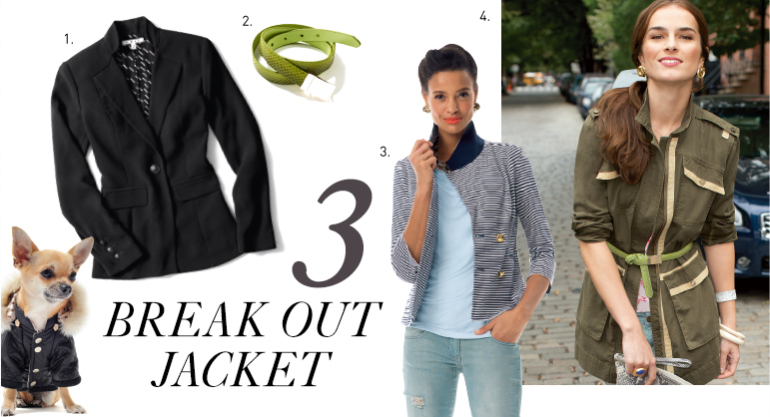 Editors are in love with occasion jackets. They make suit pants special, make jeans sing, and work like a charm with jeggings. And, they're a perfect gift for a pup that has it all! An occasion jacket is an quick and easy way to go from very casual to chic and really make your outfit pop. Be bold and daring with strips, florals or colors, or stick to a classy look with neutrals or black.
1.CITY BLAZER #717 2.BOA BELT #698 3.LIFE JACKET #823; LANA TOP #825; DECONSTRUCTED BRETT JEAN #748 4.ANORAK #722; COQUETTE TEE #732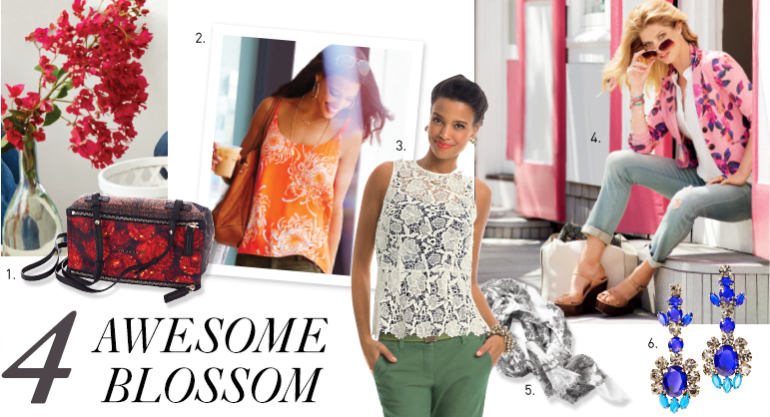 The Mum Cami is one of those go-to pieces that you live in this season. You'll be dresed up without even trying. Florals were a part of all major designers' collections this spring and we have pieces to fit any occasion. Florals add that feminine touch to any outfit and depending on your mood, you can go with a colorful pattern, like the Rose Garden Jacket or something more subtle like the Needle Lace Shell.
1.GIVENCHY MINI PANDORA BAG IN PRINTED LEATHER 2.MUM CAMI #777; IVY LEAGUE SHORTS #816 3.NEEDLE LACE SHELL #80; SIMPLE CAMI #295; COAST CROP #820 4.ROSE GARDEN JACKET #804; PLACKET BLOUSE #738; DECONSTRUCTED BRETT JEAN #748 5.FLOWER GRAPH SCARF #782 6.J.CREW FLOWER DROP EARRINGS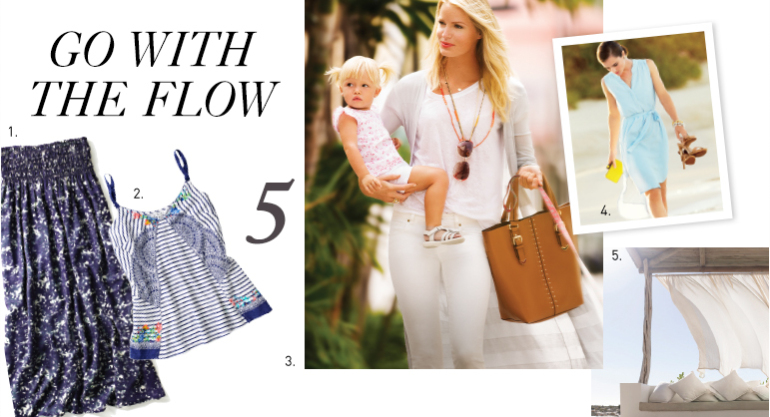 Knock on Wedgwood: dark navy and light blue are the big color trend this season, especially when expressed in modern florals and nautical stripes. These flowing pieces go hand-in-hand with an effortless and carefree vibe and are très chic with a sexy heel or Grecian sandal. However you like to mix and match these pieces, we suggest you feel at your best so you can have that "go with the flow" mindset that makes anyone look – and feel- beautiful.
1.LONG REVERSIBLE SKIRT #764 2.HARLOW CAMI #796 3.NANTUCKET SWEATER #709; RESORT TEE #826; BABY BOOT #753 4.BREEZE DRESS SET #837 5.ST.BARTHS
Welcome to a new collection that's as fresh and charming as the season to come.