Denim! It's the staple of modern fashion and our go-to piece for almost any occasion. Dress it up or dress it down, a good pair of jeans is something most of us can't do without!
Our favorite pair of jeans can make us feel instantly skinnier, sexier, and more confident … and we Americans love our denim. In fact, did you know that more than 450 million pairs of jeans are sold each and every year in the U.S. alone?  Denim styles may change from season to season, but we have five tips for you to keep in mind when shopping for denim no matter what season:
Color me Denim
Colored denim is a recently new phenomena, and we love how fun and cheery it can be, especially in bright and bold spring colors (think Pigment Jegging!).  You want to have at least one pair of colored denim in your closet perfect for when the sun is not shining and you can use something to add a little cheer to your day.
Fit it Up

The fit type is about the style of the jean – is it a skinny, boot cut, straight, or tapered leg, or maybe your jeans fit on the slouchy side? Often times we get locked down to one fit type and think "I only look good in skinny jeans" and this is usually not the case! Try on different fits for your body and mix up your denim collection. It's really more about how you style your jeans. If you don't like the way you look in a skinny jean, wear a loose tunic over them and mix it up. Often times, a skinny can be more flattering!  Be open to trying a boyfriend cut and try it with a more fitted top. No matter what fit you go with, always remember that denim stretches and you should buy a pair of jeans that's super tight. As long as you can get the zipper up and can do a squat or two in them, go with it as it will stretch!
Can't Get Enough Wash 
Our Design Team is crazy about the different wash options out there and get so excited to introduce new washes every season. Right now, washes are super trendy and it's all about a faded, washed-down, had-for-years look (ala Deconstructed Brett Jean). You can go with something like the Brett that looks lovingly-worn, or opt for a tailored, more dressed up wash like the Ruby or Zoe.
OWN IT!
No matter what fit or style you choose to go with, make the jeans your own! Roll them, cut them or fray the bottoms (make sure you are following us on our social sites because we will show you how later this week!). You can even bedazzle them and add studs to the pocket stitching or down the sides. If you are feeling really creative and artistic, paint splatter your jeans with real paint! You can see that this is very trendy right now in the fashion world. Make your jeans one-of-a-kind by adding a little personality to them.
Love it!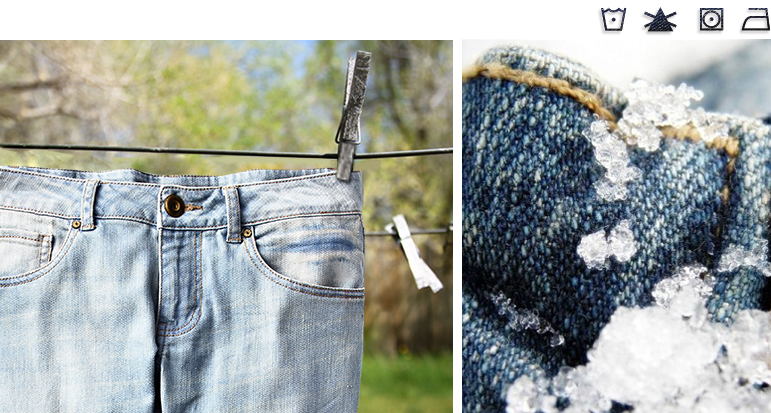 Take care of your denim and your denim will take care of you! With a few simple steps, you can preserve your favorite jeans to look worn in but good, wash after wash. It's best to wait as long as you can to wash your denim, but when you do, turn them inside out so they don't fade. We also recommend skipping the dryer and air out your jeans instead, with some dryer sheets in the pocket. If you have a pair of jeans with holes that you don't want to expand, you can always ditch the wash and throw them in the freezer overnight to kill any bacteria.

The beauty of denim is that it really goes with everything but if you want some more ideas for how to style your jeans, we will have another post all about denim, on March 18. What's your favorite style and why? Or, do you have some styling tips when it comes to denim? Share them with us below.