To most of us, summer means it's party time! There seem to be endless invitations to barbecues, pool parties, graduations, weddings, and plenty of opportunities to get out and enjoy the warm weather. Choosing what to wear does not need to be stressful.  You can look classy and dress appropriately for the occasion, but still be comfortable, and let's be honest–you want to look fabulous too! Here's our simple guide to dressing for any occasion this summer.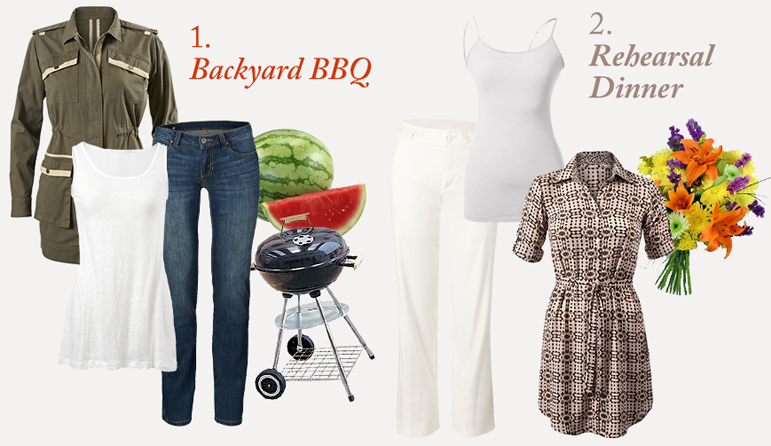 1.Backyard BBQ: Anorak, Linen Tank, Ruby Jean. Roll your jeans and front tuck your tank for a casual, but stylish look. When you're getting together with friends and family in the great outdoors–even if outdoors means the roof top deck or back patio–don't leave your fashionista fortitude behind just because you're chilling with Chardonnay.
2.Rehearsal Dinner: Practice posh-ness wherever you may go! The Colony Club Dress is a head-turner as a dress, but if you're very tall or want to dress it down, try it as a tunic over your chic Everly Pant with a Simple Cami in White.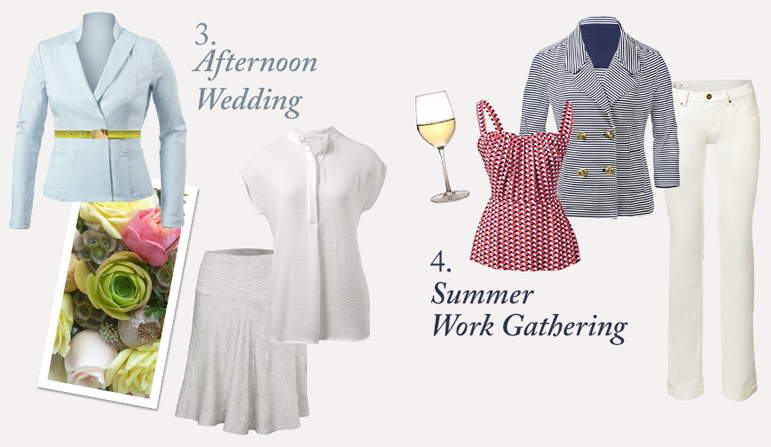 3.Afternoon Not-Too-Dressy Wedding: There's no rule that says you have to wear a dress to a wedding, especially if it's a more casual, afternoon affair. Try this: Luna Skirt, Placket Blouse tucked in, and Wedgewood Jacket with the Boa Belt on top of the blazer. (or if we still have stock, the batik maxi- billi cardigan)
4.Summer Work Gathering: The Indie Jean, Geo Cami, and Lifeboat Jacket are a casual, chic ensemble, while still commanding respect, for a day in the sun with your co-workers.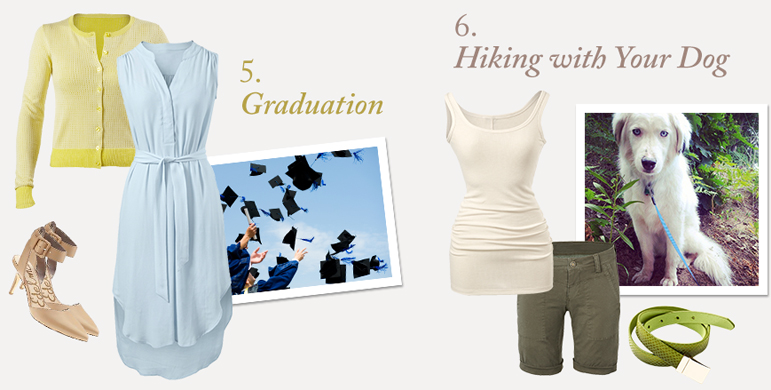 5.Graduation: Breeze Dress with the Daffodil Cardigan allows you to channel your inner prepster by wrapping the brightly colored cardigan around your shoulders. Don't forget your bright lipstick to take it up a notch!  (or if we still have stock- the mosaic wrap dress)
6.Hiking With Your Dog: Los Angeles' Runyon Canyon is the celebrity dog walking hotspot. To fit in, be sure to don Hollywood style with the Ivy League Shorts, the Essential Tank in Latte, and Boa Belt.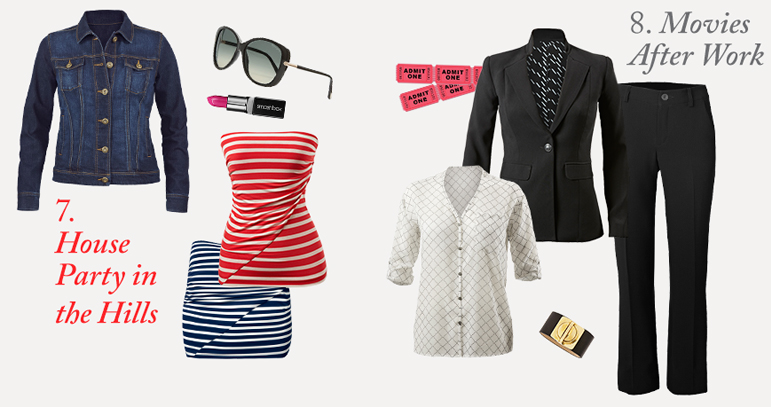 7.House Party in the Hills: Norma Jean Jacket, Blaine Tube (as a skirt), and Blaine Tube in Lobster as a top. For an added Marilyn-esque flair, try twisting the tube top so the seam splits in front.
8.Movies After Work: Start with the City Pant and City Blazer with the Chessboard Top. To go from work to play, simply swap out your pants for the Indie Jean, add some strappy sandals, and you're good to go! Enjoy the show!
Found the perfect CAbi outfit for a summer party or event? Let us know! We'd love to share your tips and creativity with other CAbi fans.