While we cling to the last days of summer, enjoying the sunshine and BBQs full of friends and family, we know fall is just around the corner! Though we love sundresses and sandals, these fall fashion must-haves are getting us excited about shopping for autumn a little early. These essential pieces can be worn now and will no doubt transition easily into the winter season. Plus, we have included must-have shoes and accessories that will give you a complete, head-to-toe look that is perfectly on trend! What's not to love about that?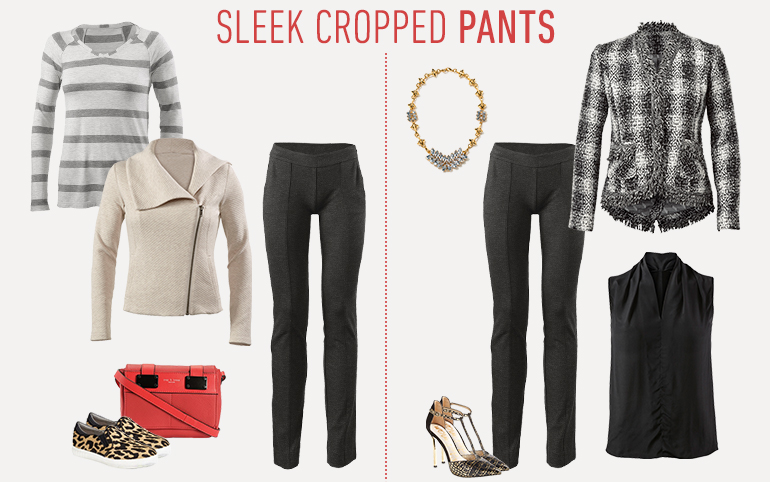 These skinny cropped pants are your go-to bottoms for fall, and with the right accessories they can take you from day to night. Go for a casual outfit with a simple t-shirt and a statement sneaker. For a polished look, perfect for date night, pair them with a killer heel and a dressy blouse.
STYLE TIP: Pair these with a cross-body bag in a fun color to brighten the look!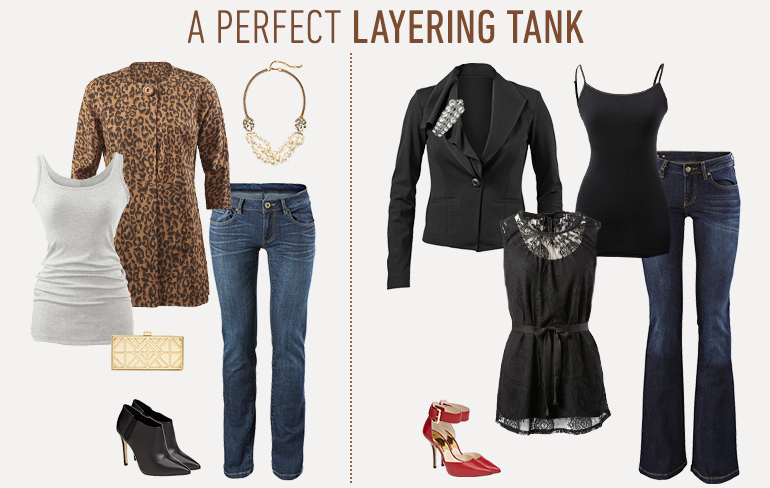 Tank tops aren't just for summer. Think of them as an essential building block for any outfit. The beauty is you can wear them alone or paired with a sweater, jacket, or vest when the weather turns chilly. Play with layering and accessories to dress them up.
STYLE TIP: If you are keeping your outfit simple, give it a little lift with some statement jewelry.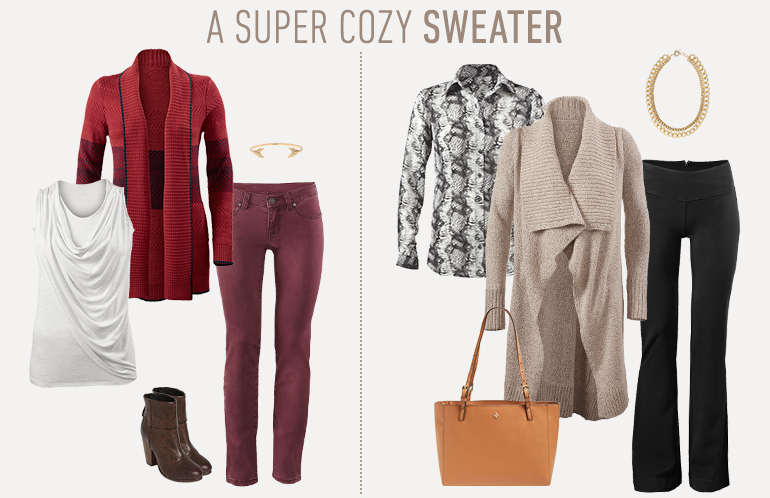 Navajo-inspired sweaters are still on trend in a big way this fall season. Our Joy Sweater is a standout piece that can be worn in many ways. Wear it to keep warm on those chilly, grey days, and add a pointy heel for an edgy look as you make your way around town. Or throw it on with a sheepskin slipper as you stay inside, cuddled by the fire with a good book.
STYLE TIP: Simple accessories complement this look beautifully.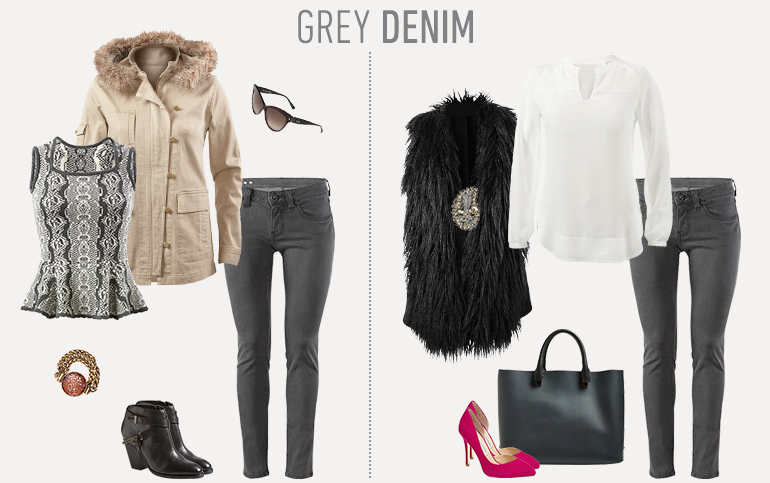 Who needs 50 Shades of Grey when you've got one shade that knocks his socks off? The Stormy Wash Super Skinny Jean is the perfect grey hue that's made for easy pairing. It's got a touch of stretch that shows off your curves and is sure to be comfortable and sexy at the same time.
STYLE TIP: Amp-up the wow factor with some unexpected colorful pumps.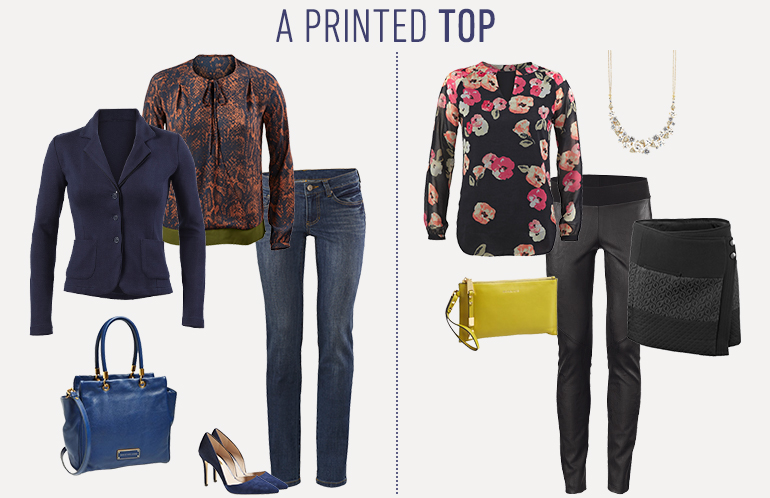 The end of summer doesn't have to mean the end of color. Don't be afraid to mix and match prints, it shows creativity and breathes new life into basic pieces. A good rule of thumb is if the colors look good together, most likely the prints will also look good together.
STYLE TIP: Don't forget to grab a purse that pops!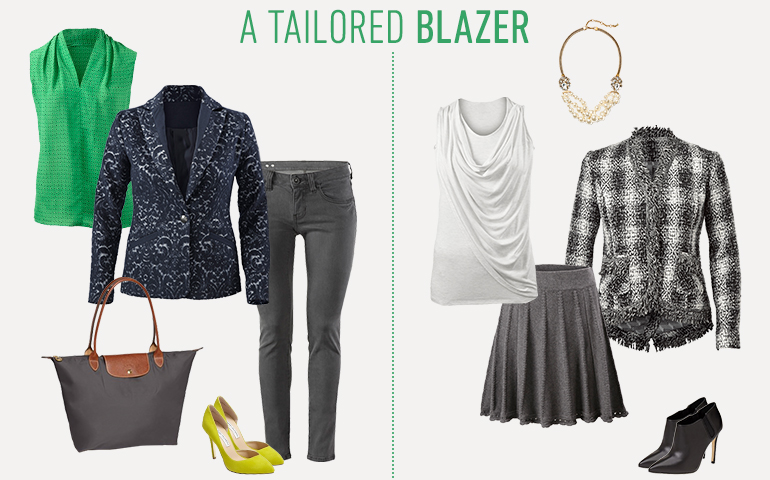 The classic tuxedo jacket gets an updated look with our Jacquard Jacket. Prepare yourself for compliments when wearing this jacket! It is a gorgeous print that will never go out of style. Wear it with jeans, slacks, or a skirt—no matter what you pair this with, you'll feel confident that you've knocked your look out of the park.
STYLE TIP: Put a belt on top of jacket at true waist.
Electrify your workout with our Skinny Tech Pant. This geo-print gives your look an extra boost of excitement and will inspire you to take your workout routine to a whole new level. But ladies, this pant is meant for more than the gym—wear it to yoga, to the market, or to travel in an ultra-comfy look that's oh so stylish.
STYLE TIP: Pair these with a pair of animal print slip-on sneakers for an on-trend mix and match look.
Which of these fall must-have pieces will be part of your wardrobe update? Let us know in the comment section below and share your unique look with us by using #CAbiClothing.