Clothes should make you feel strong, confident, and effortlessly put together. And, with our Fall 2014 tech gear, there's no need to sacrifice comfort and style. Our tech gear feels like activewear and looks like ready-to-wear—giving you the best of both worlds.
Here are some fantastic ways to mix and match our tech gear for looks that can take you from Pilates to a day out around town. Add some killer accessories and these looks can be translated to the office, or even date night!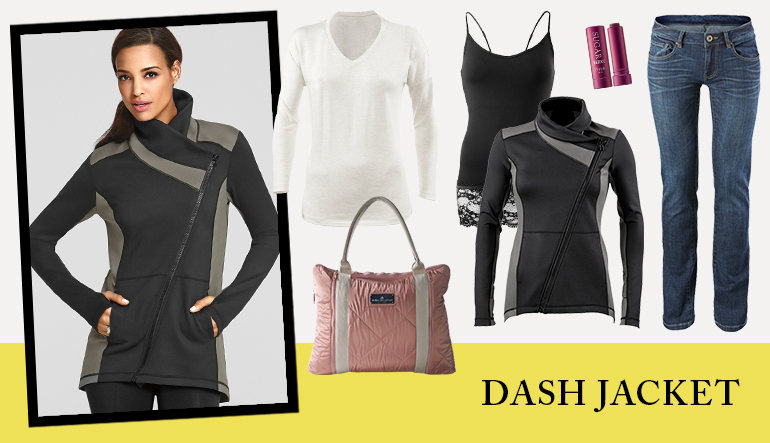 Run around town (literally) in the Dash Jacket. The color block design gives this jacket an amazing contemporary style. Go for a layered look with the Serene Tee tied around your waist.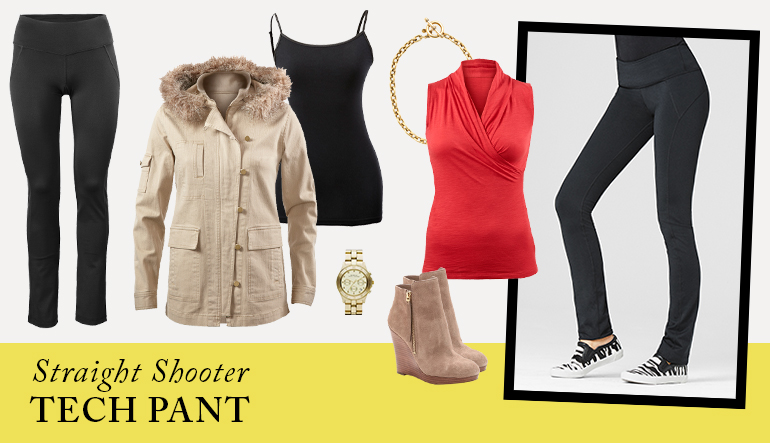 Fall colors are in full bloom with this Firecracker Red Crossover Tee matched with the warm beige hues of the Nanook Jacket. Play it up with brown accessories and gold toned jewels.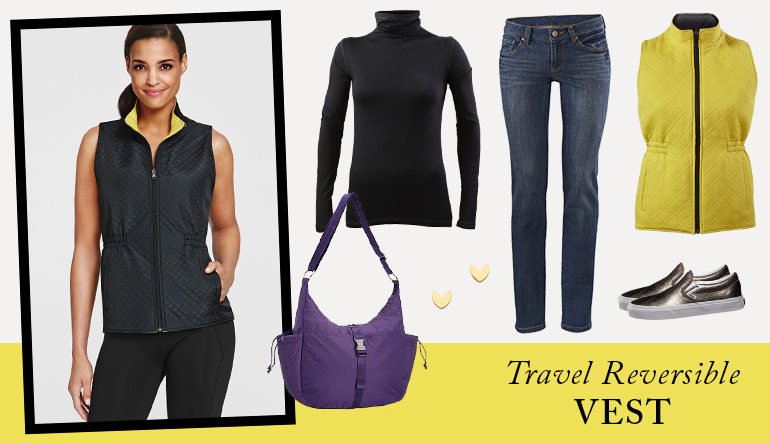 Master the casual comfy look with the Travel Reversible Vest. This is sure to be your go-to piece. Should you wear Lemon Lime or Jet Black? All decisions in life should be this fun!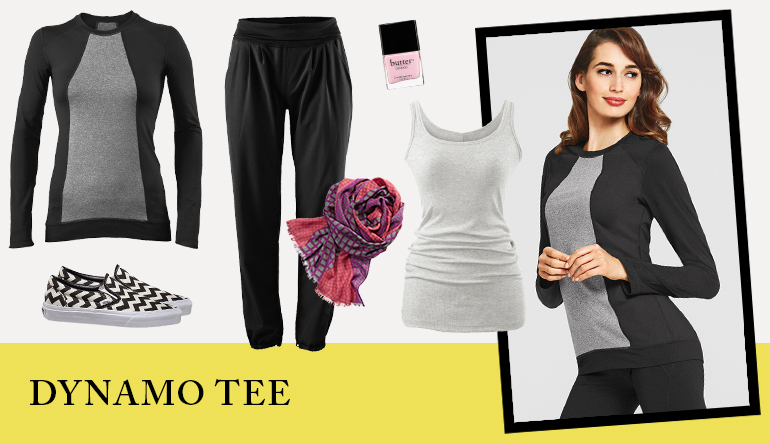 This takes comfort to a whole new level. We may need to pry you out of the Cool Down Pant. The flowing fabric sits loose through the hip and thigh, with a contrasting foldover waistband for added comfort. Throw on some funky slip-ons and you'll start your day with a smile.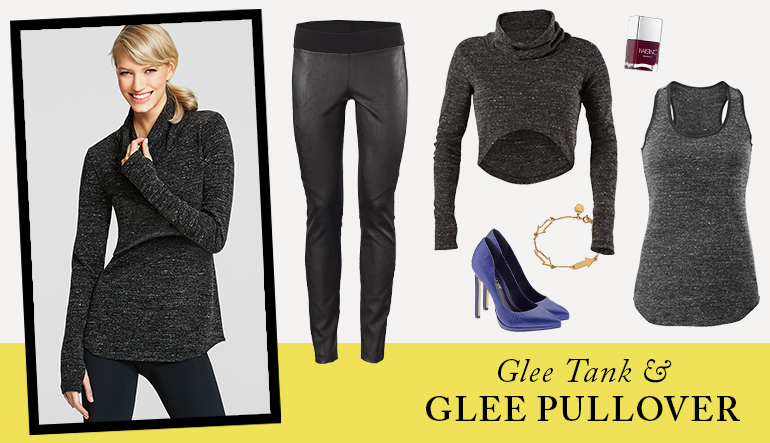 Va-va-voom. Sexy never felt so good in our Stevie Legging. This monochromatic black outfit can be stunning from head-to-toe, or throw on some colorful pumps for an unexpected pop.
Featured Pieces: Stevie Legging, Glee Pullover, Glee Tank, Aldo Pump, Marc by Marc Jacobs Bracelet, Nails Inc Nail Polish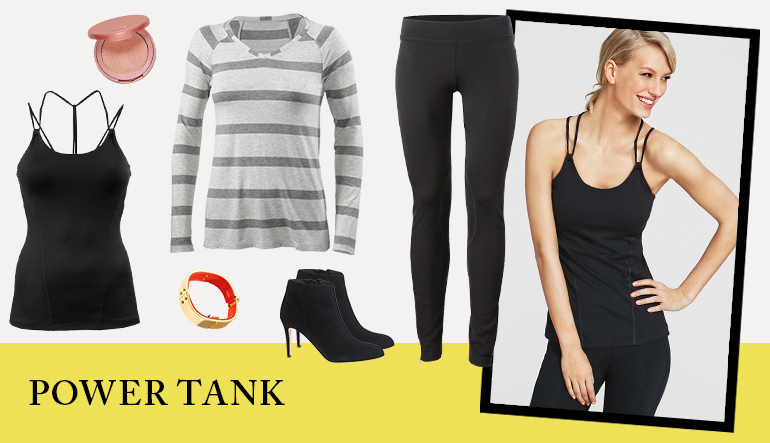 Let loose with the curve-skimming shape of our Striped Tee. Perfect for an after-yoga latte with your workout partner. Just throw on some black booties and you're good to go.
Featured Pieces: Power Tank, Striped Tee (tied around waist), Ponte Legging, Tarte Blush, CAbi Hardware Bangle, J.Crew Bootie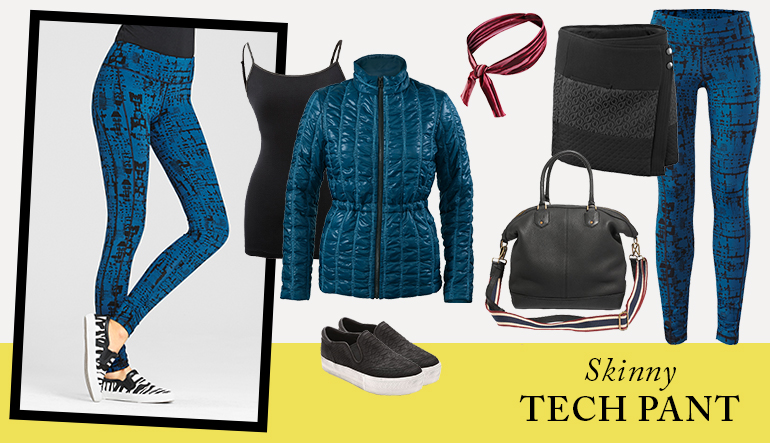 Cropped, layered, and textured … we've got every box checked here for a look that says, "Bring it!" Take your workout to another level with this combo. Throw on the Swathe Skirt after your cool-down and you're ready to take on the world.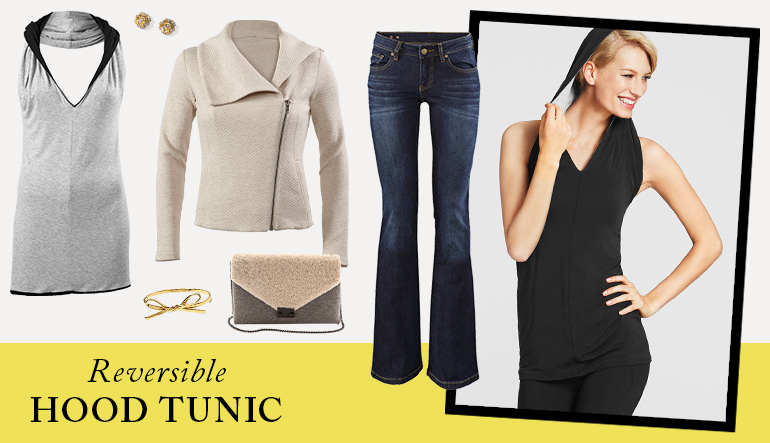 Keep it classic with denim and neutral tones. Wear the hood of the Reversible Tunic out for added interest. Casual comfort at it's finest.
How do you wear our Tech Gear? Do you have a favorite piece of activewear clothing that takes you beyond the gym? Share with us below or on Instagram using the hashtag #CAbiClothing.