With Rachel Hollis & CAbi
Summer days are perfect for outdoor gatherings and al fresco entertaining. Today, as a guest in the CAbi blog, I'm excited to share with you some of my favorite summer entertaining tips to prepare for a fun afternoon with the girls
As an event planner for over ten years, I planned my fair share of extravagant, over-the-top parties. But to be honest, my favorite place to be is home, or what I like to call my "nest," with the people I love the most. Whenever possible, I keep my parties close, and by close, I mean walking distance to my kitchen. Because entertaining at home is how I show my love, hosting a party is one of my favorite ways to love on my girlfriends. For something a little different, a backyard summer tea party is my go-to! Scroll down to find some of my favorite summer recipes and see how I get ready to welcome my guests.
Pear & Pecan Mint Tea Salad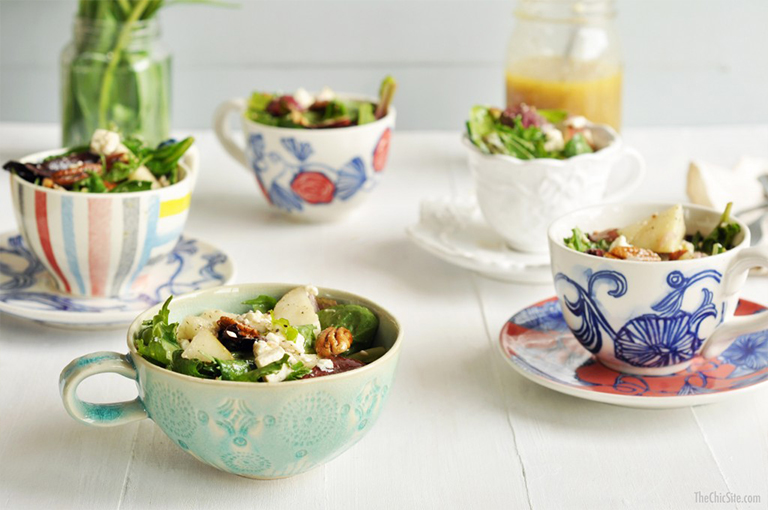 Summer is right around corner, and we'll take every excuse we can get to be outside. Sure, there are barbecues and, trust me, I love a large portion of fried chicken, but every once in a while, it's nice to plan something beautiful and dainty, just for the girls. That's when I came up with the idea for a backyard summer tea party. So grab an array of mismatched teacups and saucers, and maybe even your grandmother's handkerchiefs, because we're tossing up a salad that's as simple as it is beautiful. Get the recipe here.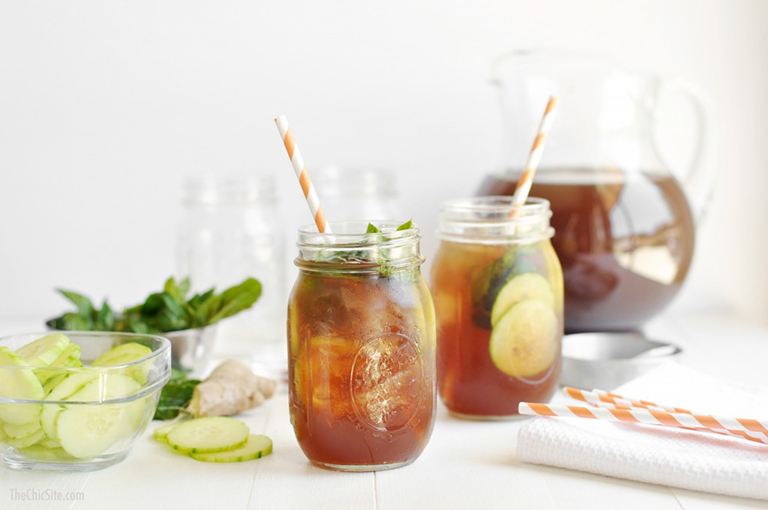 As a southern girl, I'd argue there's nothing more refreshing than an ice-cold glass of tea in the summer, that is, of course, unless we're drinking wine. This particular recipe is not only perfect for a tea party, but is sure to add a kick to your delicate lunch. I mix the tea with ginger, mint, and cucumber, and if you want to spice things up even more, add your favor liquor for an adults-only version. Get the recipe here.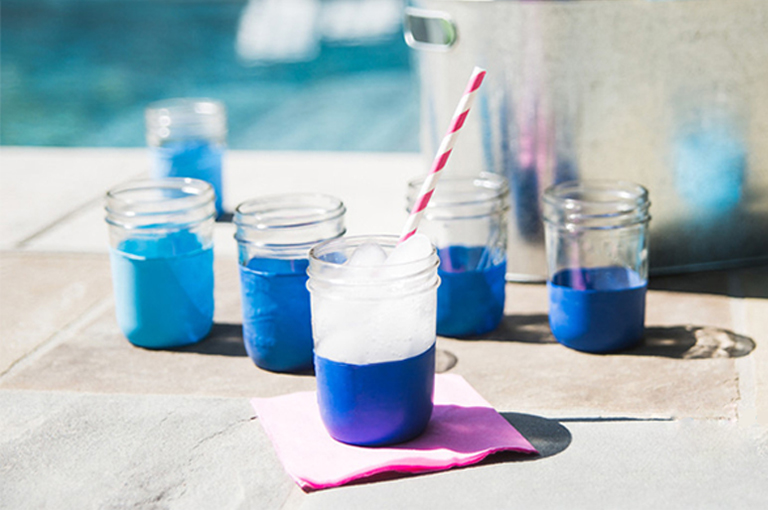 There's no hiding the fact I am a huge fan of mason jars and use them whenever possible. But it's also fun to add a pop of color to my table setting, whether it's with the napkins, straws, or glassware. With this simple DIY you can add color to your glassware for a few pennies. Pick a color and then get balloons in every shade for a fun ombre effect!
Bonus Styling Tip:
Need a little something extra to add to the table? Line the center of the table with those handkerchiefs I mentioned earlier, then grab a few more teacups and fill them with flowers from around your yard to make a beautiful floral table runner.
I hope you have a fabulous summer and these tips help you plan a perfect summer soirée! How do you get ready for summer entertaining? Share your comments below! For more tips and ideas, follow Rachel on Instagram or visit The Chic Site.