It's always exciting when you find a new piece of clothing or outfit to add to your wardrobe, but often we get stuck wearing the same pieces, the same way, with the same combination of accessories. Wouldn't it be great to break out of our style rut and find new and exciting ways to wear our favorite clothing? To create one look that's casual and then mix it up to transform it into a dressy ensemble? Read on to discover five pieces worn multiple ways—we take them from casual to dressy and from classic to modern with just a few styling tweaks.
And while we're at it, take a peek at some of Becky's favorite pieces in the video below. Then keep reading to see the fall staples that do double duty.
Do a modern update on classically structured coat by pairing it with a stylish cargo pant, or keep things in true classic form by wearing it with a LBD.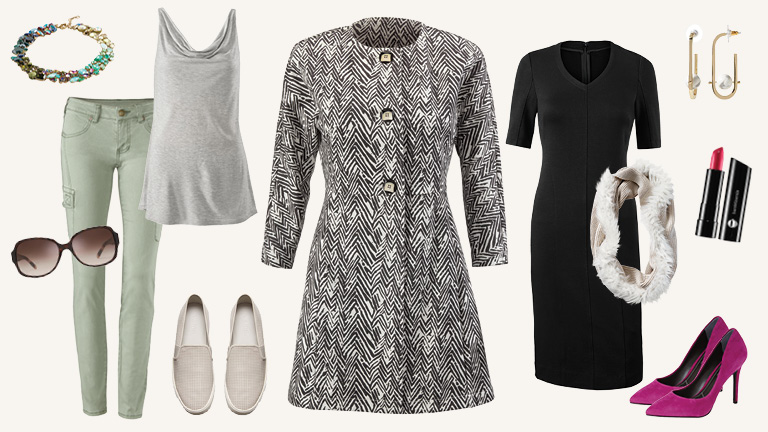 CASUAL: Zigzag Jacket, Drape Tank, Celadon Cargo, Jcrew Necklace, Vince Shoes, Tory Burch Sunglasses
DRESSY: Zigzag Jacket, Claire Dress, Twist Scarf, Banana Republic Earrings, Charles David Shoes, Bare Minerals Lipstick
Nothing captures your rebel spirit quite like a moto jacket. Don it for casual cool with a boyfriend jean, or turn an elegant ensemble into something edgy.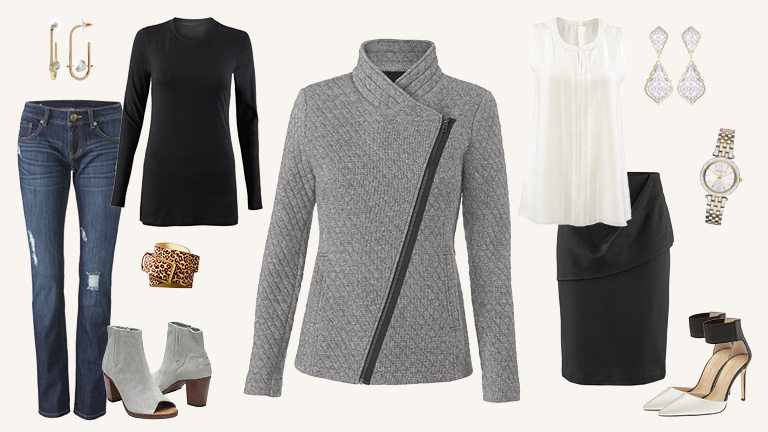 CASUAL: Quilted Moto, Layer Tee, Dark Destruction Slim Boyfriend, Kipling Belt, TOMS Booties, Banana Republic Earrings
DRESSY: Quilted Moto, Adore Blouse, Overlay Pencil Skirt (black), Banana Republic Shoes, Kendra Scott Earrings, Michael Kors Watch
Double up on prints for the perfect weekend look, or go with a stylish update of a traditional suit for that important presentation you're going to nail.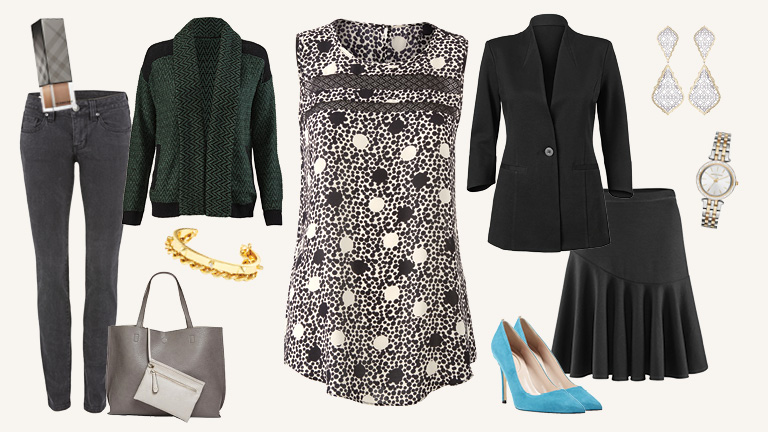 CASUAL: Fireside Sweater, Jot Top, Pitch Super Skinny Jean, Burberry Foundation, Baublebar Bracelet, Street Level Tote
DRESSY: Turner Jacket, Jot Top, Skater Skirt, Kendra Scott Earrings, Michael Kors Watch, SJP Shoes
Overlay Pencil Skirt (Turmeric)

The beauty of ponte twill is it can be dressed up or down. Pair it with slip-ons for a dressed-down look, or go with a blouse and jacket for an elegant lady-like style that can't be beat.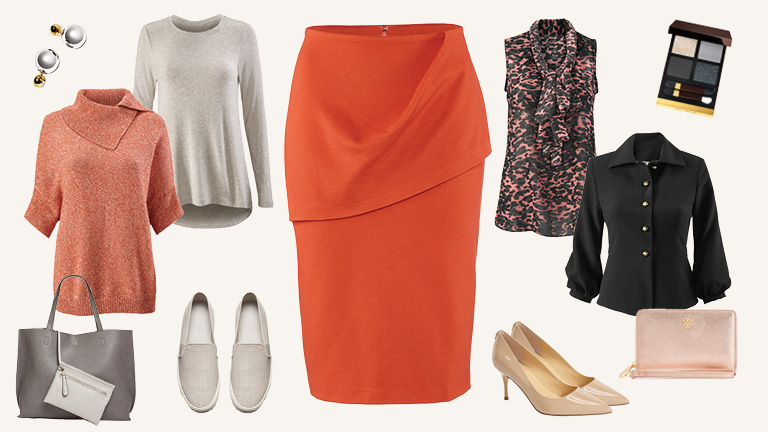 CASUAL: Foldover Pullover, Pamper Me Tee, Overlay Pencil Skirt (turmeric), Duo Earrings, Vince Shoes, Street Level Tote
DRESSY: Abbot Jacket, 9 to 5 Blouse (tucked in), Overlay Pencil Skirt (turmeric), Ivanka Trump Shoes, Tom Ford Eyeshadow, Tory Burch Wallet

Fur on or fur off…that is the question! A cardigan that can go modern or classic is a must-have for every wardrobe.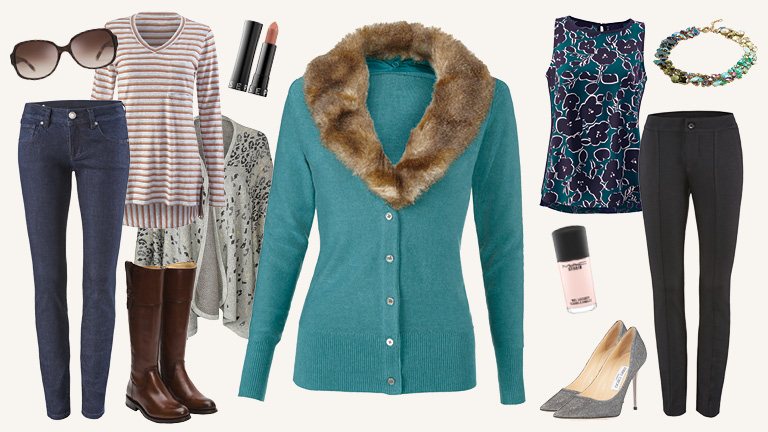 CASUAL: Gigi Cape, Tearoom Cardigan (fur removed), Skipper Tee, Knight Skinny Jean, Tory Burch Sunglasses, FRYE Boots, Sephora Lipstick
DRESSY: Tearoom Cardigan, Warhol Top, Capote Trouser, Jcrew Necklace, Jimmy Choo Shoes, MAC Nailpolish
So many different looks can be created with a simple shift in thinking. Don't get stuck in a rut—give your clothes a run for their money and take them from dressy to casual and beyond. Need some additional inspiration? We've got you covered with looks for any occasion, here.