On March 8, International Women's Day will be here again—and while this is a prompt to celebrate all the great things women are accomplishing around the world, this year, I cannot help but have a heavy heart around a sobering message. Last year, the World Economic Forum estimated that gender parity around the world would not be achieved until 2095—not within most of our lifetimes. But this year the report was updated, projecting that gender parity would not be achieved until 2133. Instead of providing more opportunity to women around the world, it appears opportunity is worsening. This is not only bad news for the well-being of women, it's also bad news for the health of the global economy.
Sometimes a clear problem can be met with a really clear solution—and I believe supporting women entrepreneurs in the developing world is a clear solution to a global economy with millions living in poverty. Here are some facts and figures that lead to this conclusion that have been pointed out by more and more economists in recent years.
– Over 900 million people are living on less than $2 a day and find themselves and their families stuck in an endless cycle of poverty.
– The UN estimates women and girls account for 6 out of 10 of the world's poorest and two-thirds of the world's illiterate people. They are highly vulnerable, often victims of violence and forced labor, with no opportunities to engage in the formal economy.
– Women don't lack knowledge, skills, and abilities—they lack the opportunity to launch or grow businesses that can support themselves and their families.
– When given access to capital and training, women develop the confidence to be highly effective and successful as entrepreneurs, as they are uniquely creative and gifted at developing businesses that work well for them, their families, and their communities.
– Studies show that women use about 90% of their incomes on their families, investing in their children's education and development in order to help them break the cycle of poverty.
– When women's businesses succeed, they employ local workers, increasing the opportunities for other women.
– In a recent study done by the Global Entrepreneurship Monitor, they saw that economies all over the world with greater participation by women in the job market have greater resilience in the economy and fewer slowdowns and dips.
– The 2012 Global Gender Gap report by the World Economic Forum shared that closing the gender gap can give a developing country's GDP a significant boost—up to 16%.
Bottom line? Give the poorest, most vulnerable women opportunity, and they can change not only their lives, but their families, communities, and countries; as this is duplicated in developing countries across the world, global change will ensue. This smart strategy has some key drivers committed to living out this solution in a practical, real way.

One of the companies leading this charge is Opportunity International, whose microfinance model has all the right underpinnings of sustainability—low-risk small business loans provided mainly to women (94%) with solid business plans, who are then integrated with a supportive Trust Group to ensure their loan is paid back at a 98% success rate. That paid-back loan is reinvested many times over, ensuring growth of impact over time.
We made a decision to partner with Opportunity very pointedly, because we wanted cabi to be an organization that not only impacted the lives of women entrepreneurs across the U.S. through a liberating opportunity, but we knew we wanted our impact to extend across the world. Our one-for-one small business loan partnership with Opportunity International allows us to do just that: as women join cabi as Stylists, cabi funds a small business loan for a woman in the developing world, providing both women with the unique liberation that comes through running one's own business.
Jackie VanderBrug says in the Harvard Business Review, "Entrepreneurial activity creates growth and prosperity—and solutions for social problems. And today's trends show that women will be a driving force of entrepreneurial growth in the future." This is an encouraging fact when contrasted with the gender parity projections. If we can escalate the rate at which women become entrepreneurs in the developing world, we just may be able to close that gap sooner than projected.
As we rally together around the concept of gender parity, we have found a unique and inspiring fervor within entrepreneurial women in the developing world that burns passionately for the opportunity to improve her circumstances—and there is also something entirely transformational for the rest of us, as we seek to help those who are without the resources we happen to have, but are every bit as deserving of a fair chance to move toward parity with the rest of the world. When women provide opportunity for women, the whole world can elevate.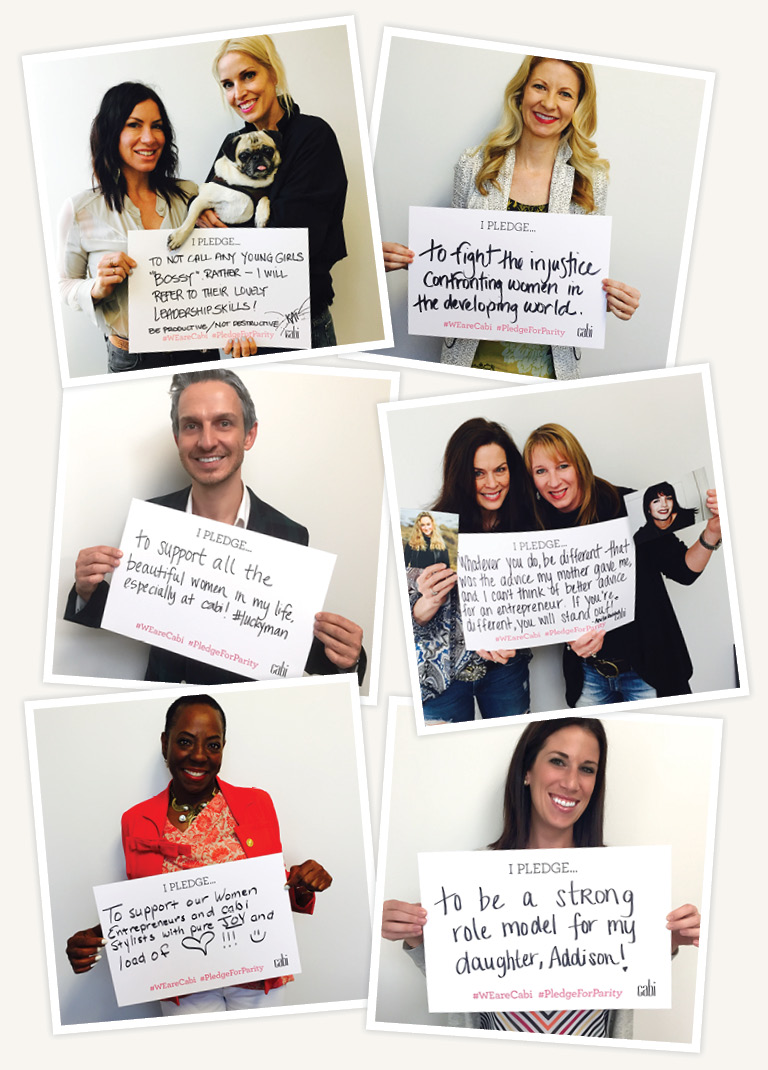 Have fun with us when cabi donates $1 for every social media post tagged with #PledgeForParity and #WEarecabi to fund even more one-for-one small business loans during the month of March. Just post a photo with a caption explaining a small (or big!) action you'll take to help combat gender parity. We can't wait to see what you share!