You're packed and ready to head out for an overdue weekend of sunbathing, piña coladas, and lounging by the pool. We can see it now: you, perusing back issues of Vogue in a to-die-for dot print bikini and oversized shades. But there's one nagging little detail about tropical getaways that we need to address first. Makeup. We've made time this winter for spinning, hitting the elliptical, and doing pliés in barre class in an effort to look our best, only to be thwarted by the inevitable heat, moisture, and humidity. Because let's face it: messy, runny makeup can ruin an otherwise perfect look. We've got you covered with tips for staying one step ahead of Mother Nature.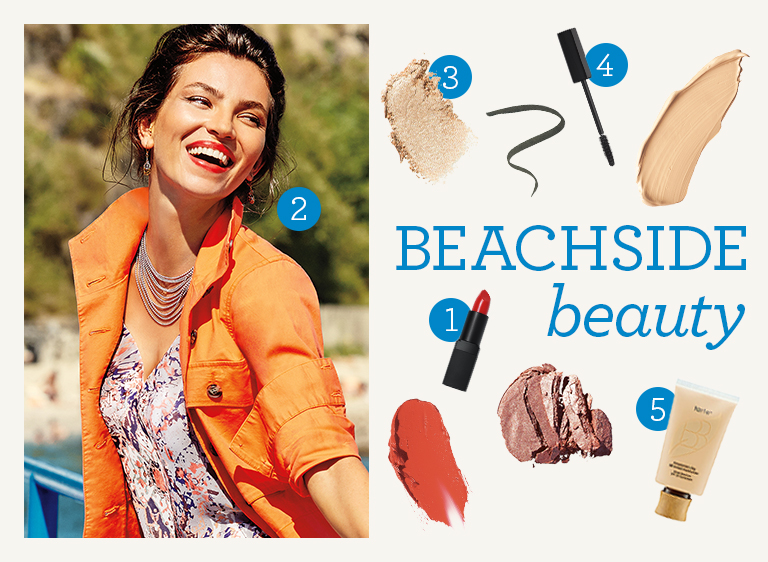 Just the Essentials
Pack multi-purpose products, and don't be afraid to think outside the box! Shimmery eye shadow can double as a skin highlighter; lipstick can add a little pop of color to your cheeks.
Ditch the Brushes
That's right. You have full permission to use your fingers, and besides, the heat from your skin actually makes blending easier—just ask the pros!
Skip the Powder
When it comes to eye shadow, we choose cream over powder, which won't look ruined after a cooling dip in the ocean.
Go Waterproof
We're talking mascara ladies. It's truly a godsend, and for many of us, it's what we already use in our daily lives. If you haven't got onboard yet, now's the perfect time.
SPF Yourself
We love keeping our skin healthy, and let's face it: no amount of makeup is going to save that sunburn! So if floppy hats are not your style, layer on some liquid SPF foundation.
If we left anything out, let us know! Who knows, we may even include your tips in our next edition of the cabi Travel Makeup Guide!