Your brilliant career has you running from meeting to meeting, taking charge of the city, and calling the shots. We've put together six whip-smart outfits to make sure your closet can keep up. Whether you're dressing for a more traditional office setting, traveling all the time (psst—we've got the answer to your packing woes!), or you have the luxury of complete creative freedom, this mini capsule has you covered.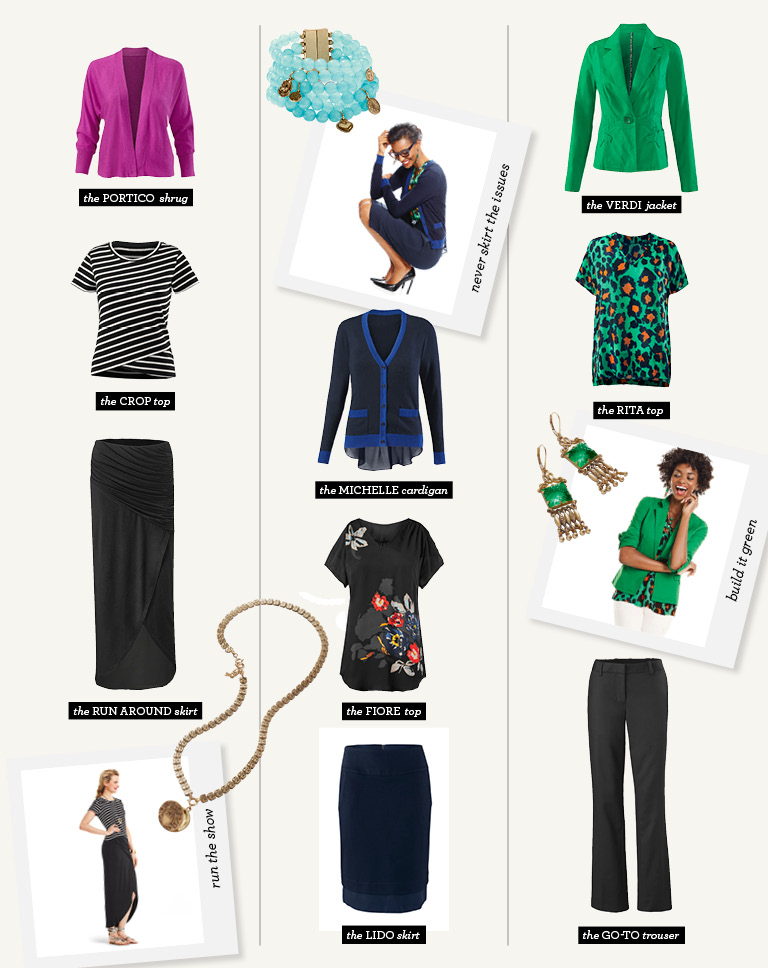 run the show
Let's say you're a budding entrepreneur whose day takes her from one meeting to the next…and then straight out on a date. Remember our Run About Pant from last season with that super soft Lenzing fabric you loved? You'll find that same all-day (and night) stretch and comfort, in the Run Around Skirt—plus it'll always hold its shape. Tuck in a top, pair it with heels, and hit the town!
never skirt the issues
Our big, bold career advice for 2016? Tackle problems head on! Sure, it's easy for us to say that, since you'll have to do all the hard work, but thankfully the Lido Skirt is ready to pull overtime and look stunning no matter what. Mix it up with a mixed media cardigan, and reach for bright accessories for that added pop.
build it green
You're pitching a new client on a creative campaign, and you need your ensemble to make as bold a statement as your big ideas. Start with a contemporary one button blazer in an envy-inducing-green, and then match it up with an eye-catching printed top and trousers with a little retro flare. So hip!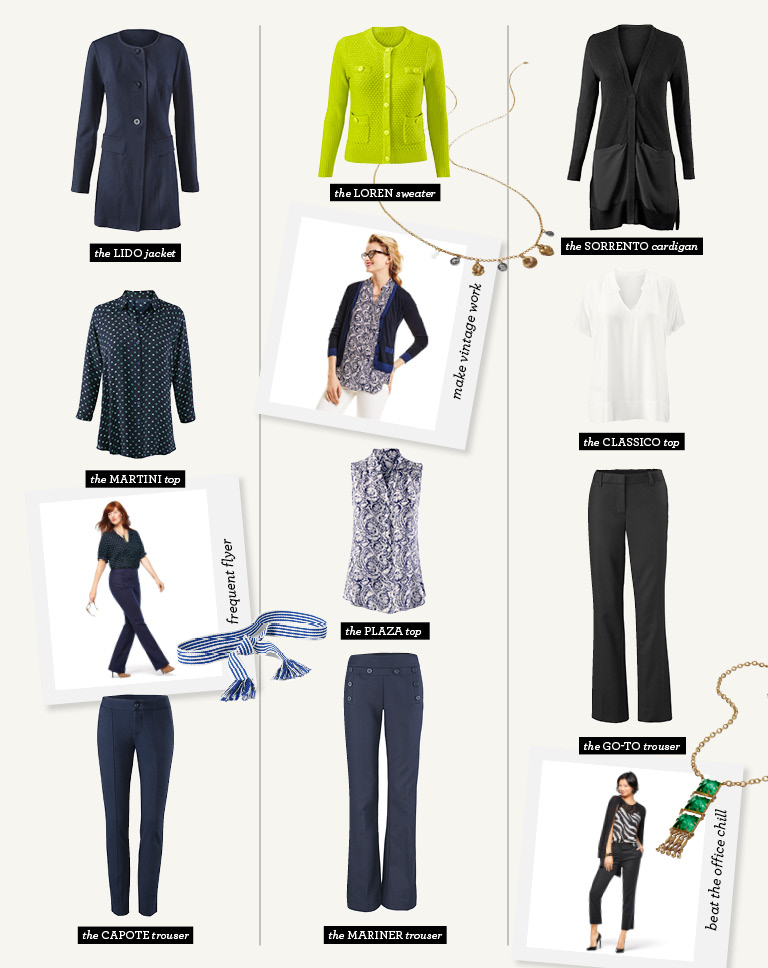 frequent flyer
Ladies, we're gonna let you in on a little secret: when it comes to the Capote Trouser, as long as you style it two totally different ways, nobody will know if you wear it two days in a row. Seriously! It's why we're dubbing it a travel must. Make sure it's in your carry-on, and bring neutral essentials like the Martini Top and La Belt for plenty of pairing options.
make vintage work
We love the vintage look of the Loren Sweater for turning drab to fab! Kick hump-day blues with a sassy printed top and a nautical-inspired high-waisted pant. Sure, you could just as easily rock this ensemble on vacation, but hey, the weekend's only two days away…
beat the office chill
Like us, you've probably found yourself more than once turning to a colleague and asking, with a growing tone of desperation, "Why is it always so freezing in here?" There's nothing like a long cardi for doing battl against industrial air conditioners. We love this effortless look for its simple monochrome palette and pop of color statement necklace.
One things we love about this new Collection is how versatile all the pieces are! In the words of our Style Director, Becky Jantzen, "The Lido Jacket, Capote Trouser, and Lido Skirt will work miles for you." As a fun fashion challenge, build an outfit around one of those three items and leave it in the comments section.