Mother's Day is both a time of celebration and a time of reflection, and this Sunday we're thinking back to that special style icon of our youth. She was the one we sought to emulate during those girlhood dress-up parties, when we'd strut across our living room in heels six sizes too big, dresses that dragged on the floor, pearl necklaces, clip-on earrings, lipstick, and eyeshadow that even covered our cheeks!
We're talking about Mom, of course, the original fashion benefactor, whose closet provided a near endless trove of inspiration. Some of us have little girls of our own now, running around in head-to-toe cabi that won't fit for years to come. Women around the country at all different stages in their lives have embraced cabi, discovering their true style along the way…and putting a very special, personal twist on every ensemble.
Mother's Day feels like the perfect time to celebrate this phenomenon, as it's something we're particularly proud of. So we invited all our cabi fans to share photos of themselves wearing their favorite outfits alongside the women in their families whom they cherish most. From the little girl in all of us, we love you mom! Thank you for your style, your love, and your support.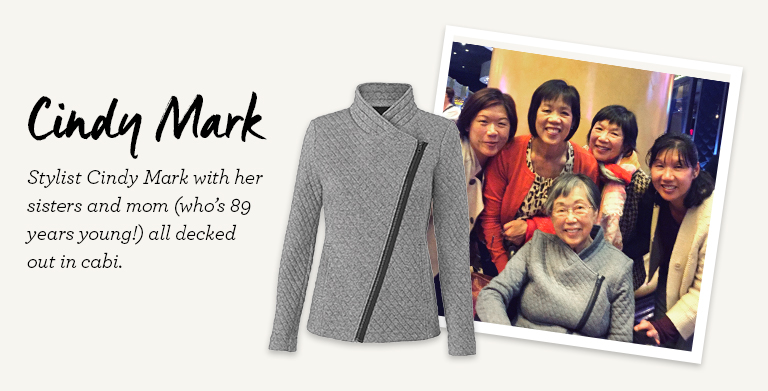 Featured: Fall '15 Charlie Jacket, Fall '15 Cut Out Cardigan and Ginger Top, Spring '14 Everyday Scarf, and Fall '12 Mixer Jacket, Fall '15 Quilted Moto