The holidays are finally behind us, and the cold snap is passing as we speak. Is it just us, or are the days getting longer? Fact: they are! No, it's not quite spring yet, but we simply can't wait to start wearing our Spring 2018 Collection, even if it's still a bit chilly out. So, here's a pro tip: keep wearing all your fall faves as you start mixing the new Collection into your wardrobe! As the weather heats up, simply shed some layers and you're good to go. True, it takes a bit of finesse, but luckily, we know just the right woman who can help us pull off this feat of mix-and-match mastery—meet Samantha Stewart of Style of Sam blog. We asked her to share three transitional outfit ideas for spring, and she delivered in high style.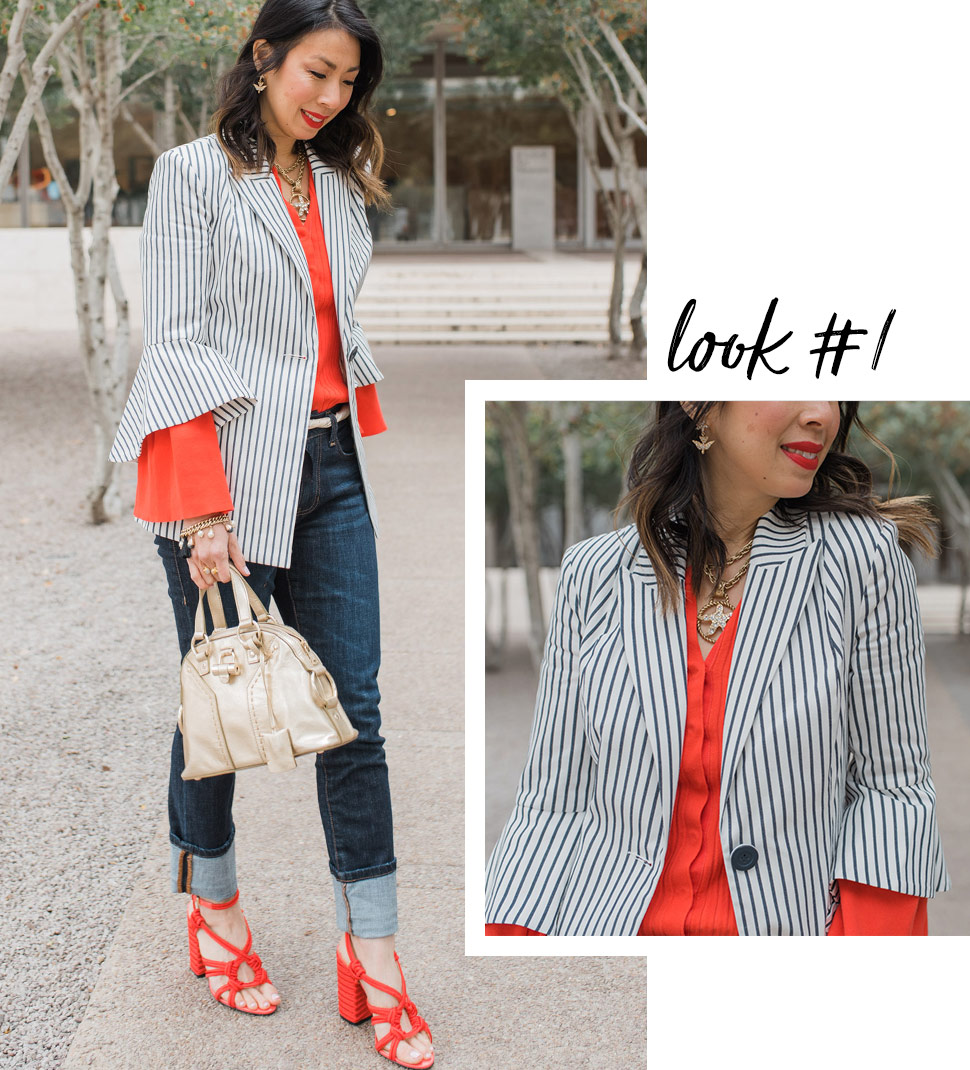 "Layering is essential during a weather transition. Why wear one bell sleeve piece when you can wear two AND make a statement while looking chic? The dark wash of the Fall '17 High Straight jeans play nicely with the stripes of the new Bell Jacket, and the Trumpet Cardigan gives a great pop of color for spring. Double the Starfish Medallion Necklace to make it a short necklace to finish the look."
Featured Products: Bell Jacket, Trumpet Cardi, High Straight, Tiptoe Sandal, Gallop Scarf, Starfish Medallion Necklace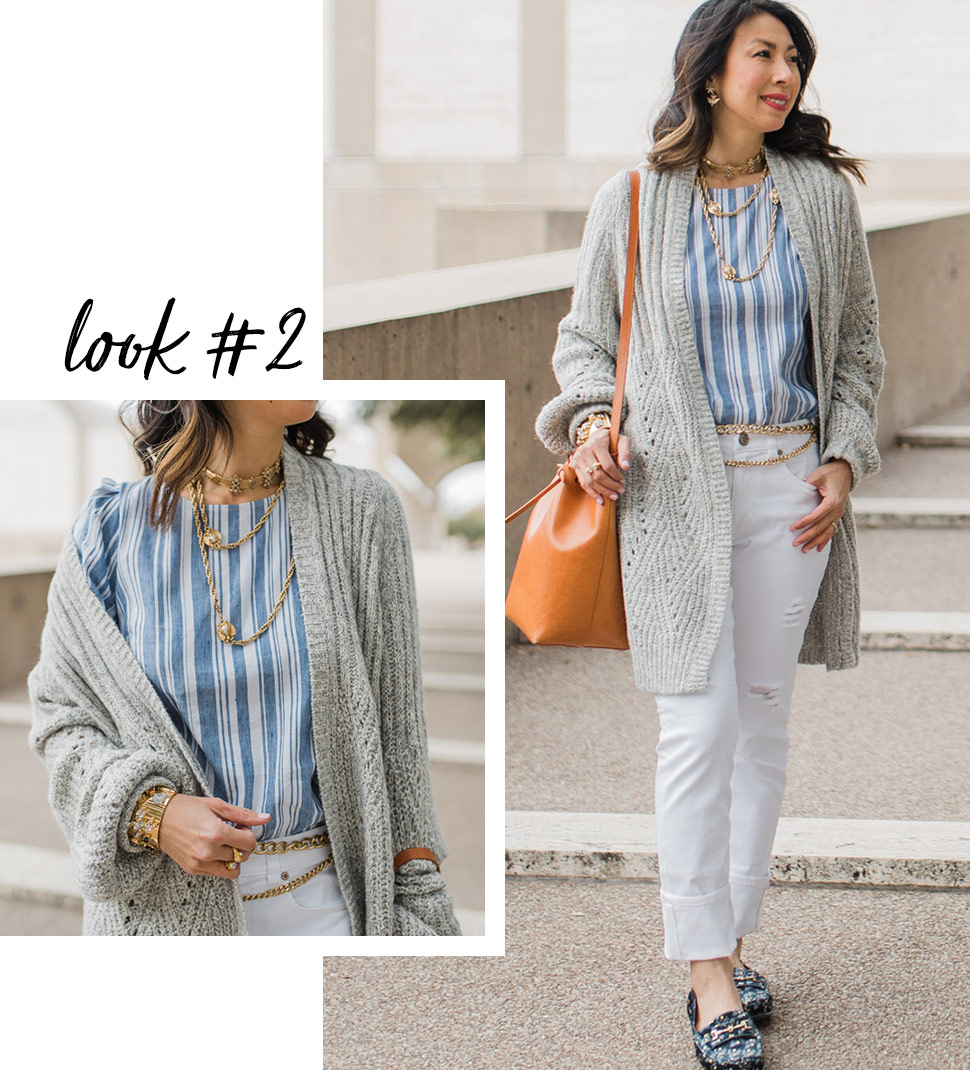 "Dress up a casual outfit by layering on gold accessories like the Bon Vivant Necklace (worn as a choker), double the Buzz Necklace, and throw on the Secret Garden Cuff. An oversized cardigan will keep you warm while running around during chilly spring mornings, and you can take it off as the temperature climbs throughout the day. Cuffing The High Slim instantly puts the focus on your cute shoes. (My shoes just happen to be the Fall '17 Carnaby Loafer!)"
Featured Products: Cathedral Cardigan, Wing Top, The High Slim, Carnaby Loafer, Lookout Earrings, Bon Vivant Necklace, Buzz Necklace, Secret Garden Cuff, Charm Belt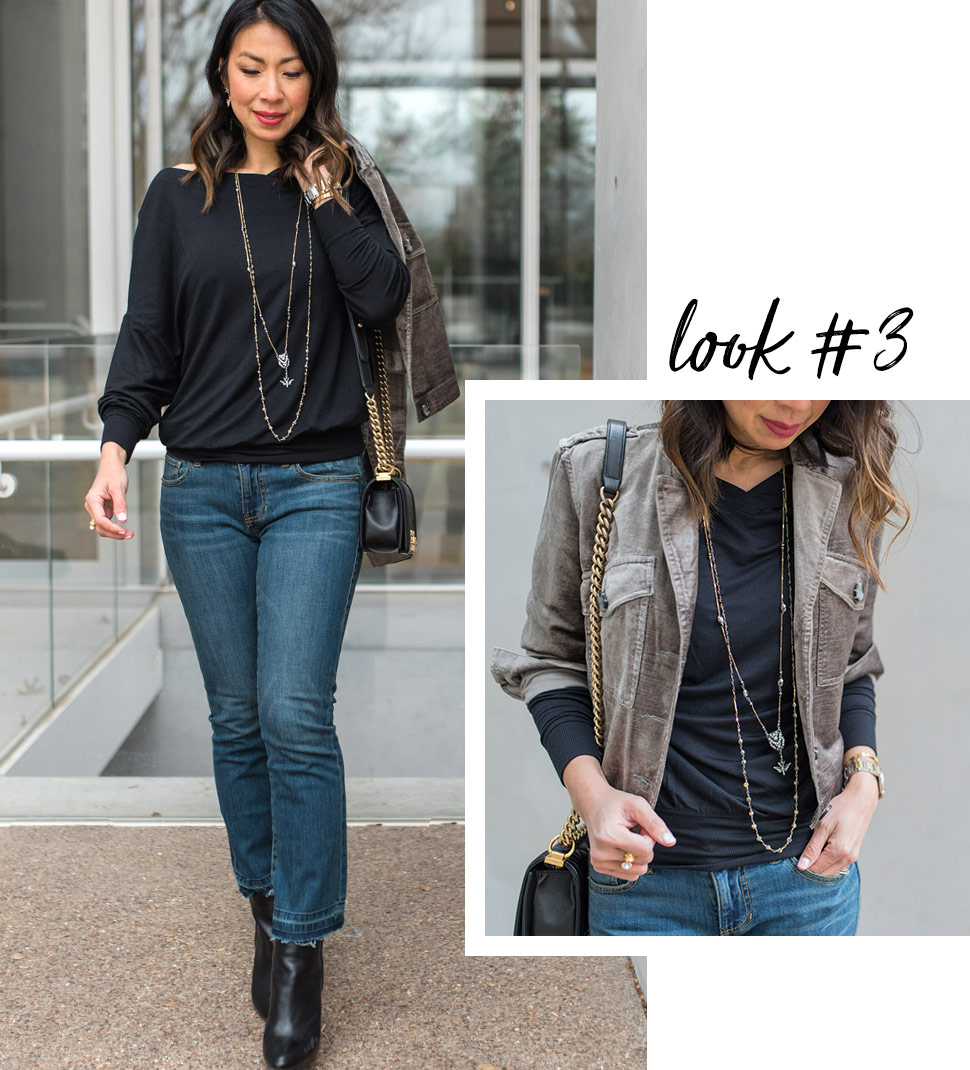 "The Beals Sweatshirt will be your new wardrobe staple. Black tops go with everything, and the asymmetrical neckline is perfect to wear with the Bralette or something lacy. Wear it with the Kick It Crop for a casual look and to show off the Bisset Bootie. Add another layer for warmth and elevate your look and with the Fall '17 Sunday Topper!"
Featured Products: Sunday Topper, Beals Sweatshirt, Kick It Crop, Bisset Bootie, Lookout Earrings, Drop Sparrow Necklace
Feeling inspired? We are, too! Share your favorite transitional outfit ideas for spring in the comments—bonus points if you've got on some Fall '17 duds and tag us @cabiclothing #styleandideas!