We tapped some of our favorite Internet fashionistas to bring you exclusive styling tips and their reasons why they reach for cabi time and time again. If they aren't already, these seven fierce women should be on your radar. Follow their blogs to stay in the know about the hottest seasonal trends, including what's coming in fall! In the meantime, check out what they have to say about our latest Collection.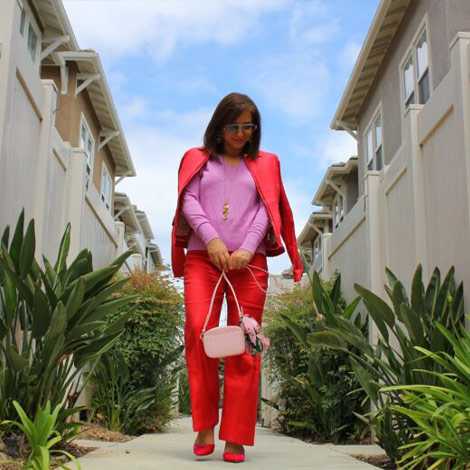 Rossana Vanoni Shows off all her Spring Faves
Rossana was excited about the vibrant reds and charming pinks that made up the Blooming Blush Collection. She can't get enough of the Kimono Jacket. Tie it up or wear it open, dress it up or wear it as a cover-up at a pool party—the styling options are endless. She went with a casually chic look, featuring denim and straw accessories. Her other Spring fave is the candy pink Shrunken V-Neck Sweater, which she styled with the Valentine Jacket and Trouser for a solid-on-solid color palette. Check out her blog for more styling inspiration.
Greivy Goes to Washington
The Shrunken V-Neck Sweater seems to be a hit among the bloggers this season! Greivy chose this candy pink topper and paired it with an even brighter companion on her family trip to D.C. Now that's how you stand out in front of the White House! We also loved the shoes she wore—platforms are the perfect way to get a little more height at no cost to your feet. Read her post to see how she spent the day with her family.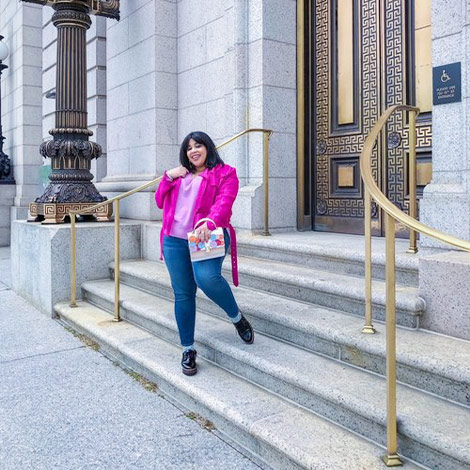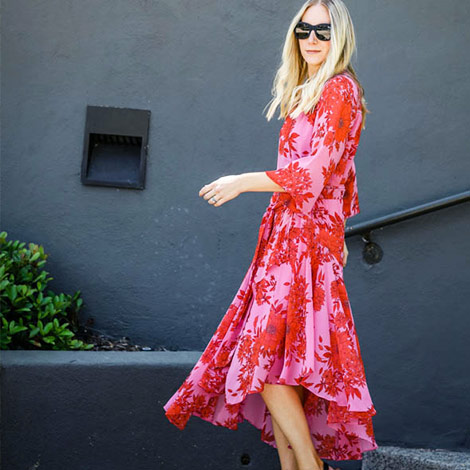 Cupcakes and Cutlery Goes with the Flow
Sharon of Cupcakes and Cutlery loves a flowy piece, and she found exactly that in our Drama Dress and Kimono Jacket. What she appreciates most about cabi's Collection is how versatile the pieces are. We love how she styled these two pieces. Check out her unconventional ideas—we're sure she wouldn't mind if you stole a few for your own wardrobe!
StushiGal Style shows off her Favorite Uniform
Johnnalynn of StushiGal Style took a step away from the pinks and reds to shine a light on some of our deeper-hued beauties. She went with our dark blue, ruffled sleeve Spring Blouse and paired it with our classic Rinse Skinny jeans for a midnight sky ensemble. Pair this look with camel tones to bring out the floral pattern in the top, and you're good to go! See what she loves most about these two pieces in her post.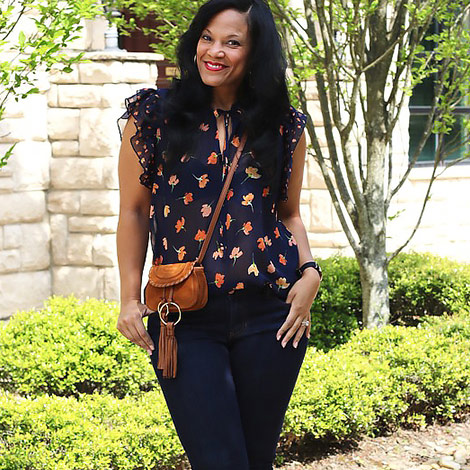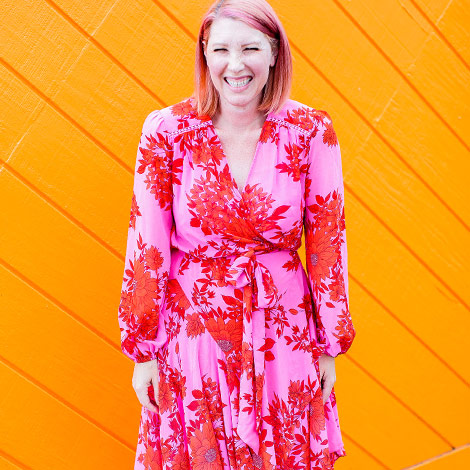 Lipgloss and Crayons Blushing Over Pinks
Alright, back to pink. We couldn't bear to step away from it for too long. Carly has a special place in her heart for this color—just check out her hair! It's no surprise she fell in love with the Drama Dress and the Kimono Jacket. You name the occasion, and Carly knows how to style it. From baby showers to vacation wear, she's got a cabi piece for it all. Check out what she recommends in her post!
The Lucky Little Mustardseed has The Winning Set
Jenna Pilant has some nifty ideas on how to blend cabi's Fall 2018 and Spring 2019 Collections. For her tennis themed photo shoot, she chose the bright yellow cami from our Sunny Set and paired it with a cobalt blue pant. Since she tends to air on the chilly side, she added the Dynasty Sweater, a black, faux-fur trimmed cardigan from the Fall 2018 Collection. Look closely, she's pulling from the blue and black color pairing in the cami…genius! Oh, and her frames match her heels—now that's how you finish off an outfit!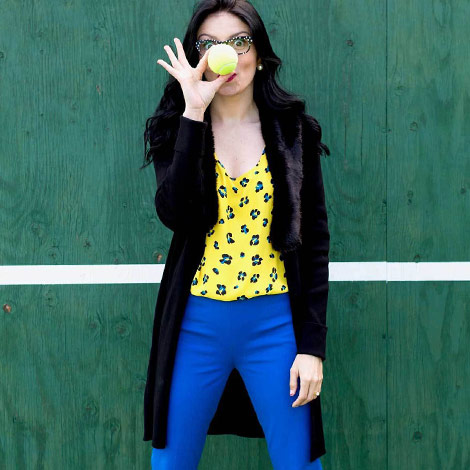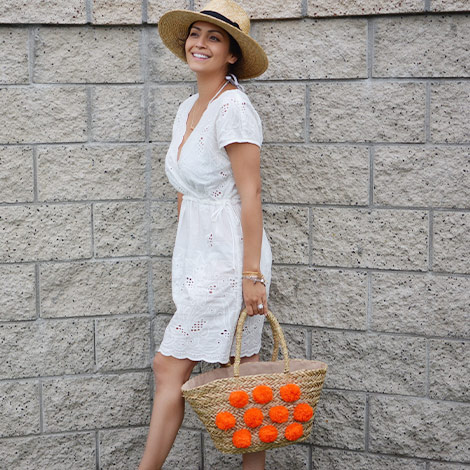 A Stand out Cover-Up Styled by Vanessa Balli
Vanessa has a lot to look forward to in the next few weeks; between her birthday, her daughter's birthday, and summer vacation plans, her schedule is about to get real busy, real quick! While it's been pretty gray in San Diego, she can't wait to put her new Eyelet Cover-Up to use once the sunshine hits. Wear it over a swimsuit, then transition it from day to night by wearing it over your fave pair of jeans. See for yourself how she styled this charming white dress…we're in awe of her accessories!
Feeling inspired by these creative fashion bloggers? Have at it! Treat yourself to a personal styling session in your closet, and then share your brilliant ideas with us! What is your favorite piece from the Spring 2019 Collection, and how would you style it? Let us know in the comments below; we can't wait to build our inventory of style tips!