Between the cool, crisp weather and the ephemeral beauty of nature during this time of year, autumn is the perfect season for a weekend getaway. Perhaps you've got some travel lined up for work, or maybe you're hitting the road for pleasure—either way, you'll need to make sure you're packing smartly. That's why we've created the ultimate Fall Travel Capsule. Whether your trip is scheduled with meetings, reading by the fire, apple picking, or all of the above, these fall outfits will have you covered.
The Fall Travel Capsule was created a character from our own imagination Clair Fillenpotter, an author and detective novelist whose fall is filled with travel. Between book signings and meetings with her fan clubs, she needs an arsenal of outfits to choose from. Check out the video to learn more about her itinerary, and see how these looks can work for you too!
We've got three topper options: the cheetah print Josephine Coat, the cropped Turn Back Cardigan, and the plaid Bond Blazer. Then, we're packing four tops: the black Swanky Tee, the red Tess Tee, the patterned Crossover Cami, and the chiffon Mosaic Blouse. Lastly, make sure to check these four bottoms off your list: the Chance Wide Leg, Bond Trouser, Button Fly Skinny, and High Legging. With these wardrobe staples, you'll be ready for anything. You've got your casual wear, professional wear, and a few toppers for whatever the weather may bring. Plus, all items are uber comfortable in case you've got a long drive ahead. Take a look at the outfits below, then get packing!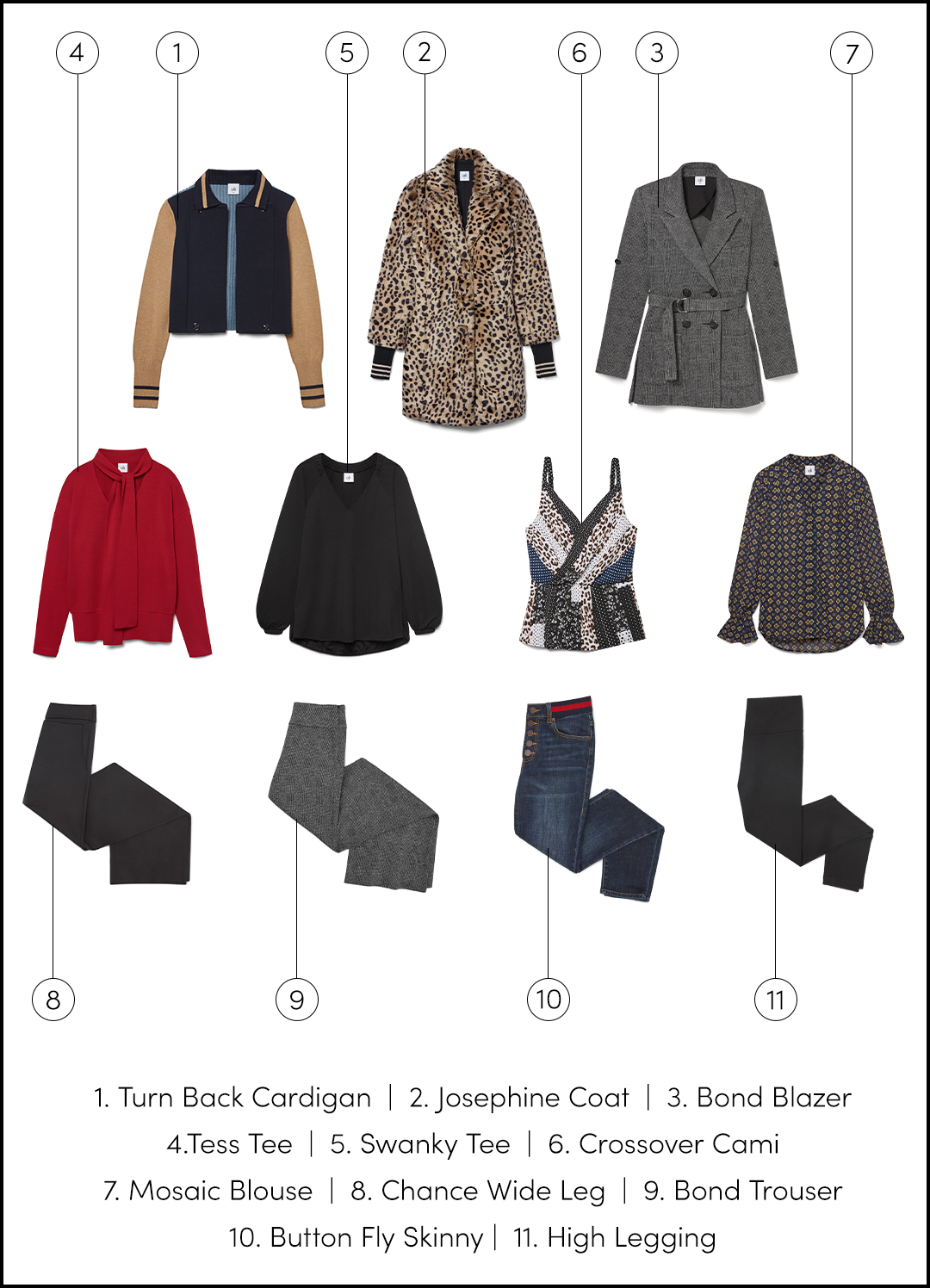 It's always a safe (and chic) bet to pack an all-black ensemble. Try tucking the sleek Swanky Tee into our high-waisted Chance Wide Leg trousers for an outfit that'll accentuate your legs. Throw on the Josephine Coat for a pop of cheetah print. (P.S. a looser fitting trouser is the perfect pick for a travel day.)
Featured Items: Josephine Coat, Swanky Tee, Chance Wide Leg
Every woman's fall wardrobe needs a pop of red. Try pairing this fully suited look with our Tess Tee for a refreshing burst of color. The glen plaid printed Bond suit is a great way to incorporate the Check Me Out trend into a professional look, and the slouchy fit gives this silhouette a unique twist.
Pro Tip: Tie the Tess Tee necktie in a loose bow.
Featured Items: Bond Blazer, Tess Tee, Bond Trouser
Let's mix things up for a more casual, night-out kind of vibe. We're sticking with the Tess Tee and changing out the bottoms for our Button Fly Skinny. Go for a full tuck to reveal the red detailing at the waistline of your jeans. You can also play with a different tie design at the neck. Grab the Josephine Coat and some red booties to tie it all together!
Featured Items: Josephine Coat, Tess Tee, Button Fly Skinny
Whoever said you can't dress up your leggings? Every weekend getaway must include a pair of classic black leggings—your stretchy go-to when travelling. Style the black Swanky Tee over our High Legging. This black ensemble is the perfect opportunity to show off some fun jewelry or a chic scarf.
Featured Items: Swanky Tee, High Legging
Fall is a great time to experiment with pattern mixing. Reach for our Crossover Cami that blends darling polka dots with on-trend animal prints. It pairs wonderfully with our Chance Wide Leg trousers and a cropped topper like our varsity-inspired Turn Back Cardigan.
Bonus: Go all out and drape the Josephine Coat over your shoulders for extra warmth and style!
Featured Items: Josephine Coat, Turn Back Cardigan, Mosaic Blouse, Button Fly Skinny
Last but not least, make sure to pack along the Mosaic Blouse for an additional pattern and texture option. We love pairing this chiffon medallion print with some classic denim. Keep with the navy theme and add the Turn Back Cardigan. Grab the Josephine Coat on your way out the door.
Featured Items: Josephine Coat, Turn Back Cardigan, Mosaic Blouse, Button Fly Skinny
Leggings, check. Suit, check. Fun prints, check. Packing is so easy when someone else does it for you! So, don't stand in front of your empty suitcase biting your nails! Instead, follow this guide for an idea of what to pack for your next fall getaway! Is there a combination of these items we didn't think of? Share your ideas in the comments below to let us know how you'd make use of this Fall Travel Capsule!