Sure…shoes go on your feet, but you should really think of them as the cherry on top of your outfit! The shoes you wear are what tie your whole ensemble together, and there are so many incredible styles to choose from: platforms, mules, slides, wedges—the list goes on. Take your look from day to night by swapping out your flats for heels or add some edge by playing with texture.
The Spring 2020 Collection features two shoes, the block-heeled Siren Sandal and the slip-on Bow Kitten Heel. Today, we're featuring these two styles along with three outfit ideas for each. Read below to learn more about the designs and how to pair them back to your spring wardrobe. We're sure you'll want to own them both, but hey, a woman can never have too many shoes!

Done in a red leopard print, the Siren Sandal is an open-toed sandal with an ankle strap and a 2-inch block heel. This shoe features the same print as our Siren Wrap Dress and is just the right height to give you an extra boost while saving your feet.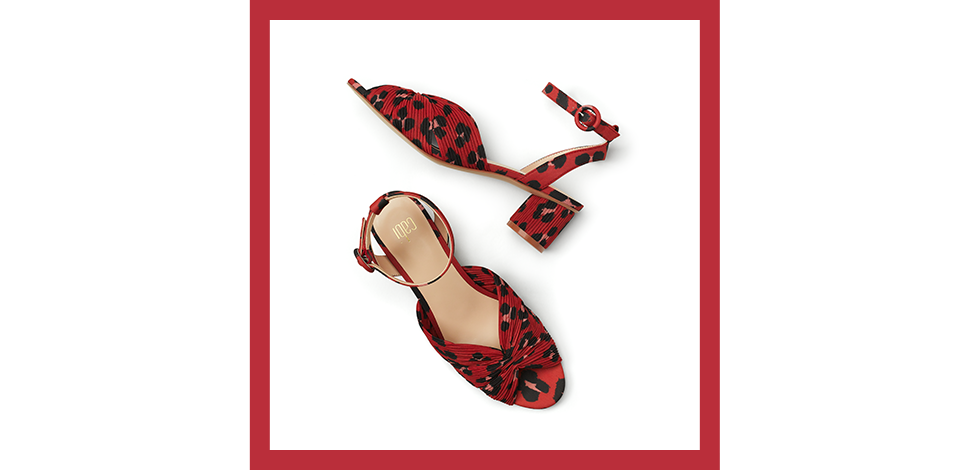 Forever in Love
Valentine's Day may have just passed, but that doesn't mean you can't sport those colors whenever you want. It's all about balance with a red, white, and pink ensemble. Pair the solid white Lido Crop bottoms with the all-red Cabaret Cardigan to match the Siren Sandal. (Crops are the best way to show off your shoes!) Then, layer the Bethany Blouse underneath for a peek of pink print along with a contrasting, printed scarf.
Fancy Feet
Try styling this shoe as the statement piece to a professional outfit. Wear the carnation pink Grace set with a matching cami underneath for a monochrome finish, then throw on these sandals for a show-stopping moment. It'll be just the right amount of pop to add a fun, fresh spin to your standard work attire.  
A Match Made in Heaven
As we mentioned, the Siren Sandal is done in the same print as the Siren Wrap Dress, so naturally you'll have to try a matchy outfit that pairs them together. Try wearing the dress open as a lightweight layer over a cami with some jeans. Lastly, show off your favorite accessories like a longer-length necklace and a chunky bracelet.

Finally, a chic heel that won't kill your feet! The mule-style Bow Kitten Heel features a navy, pointed-toe design with a contrasting yellow pencil heel. With a striped bow across the arch, this shoe is all-things-high fashion (only without the high heel!).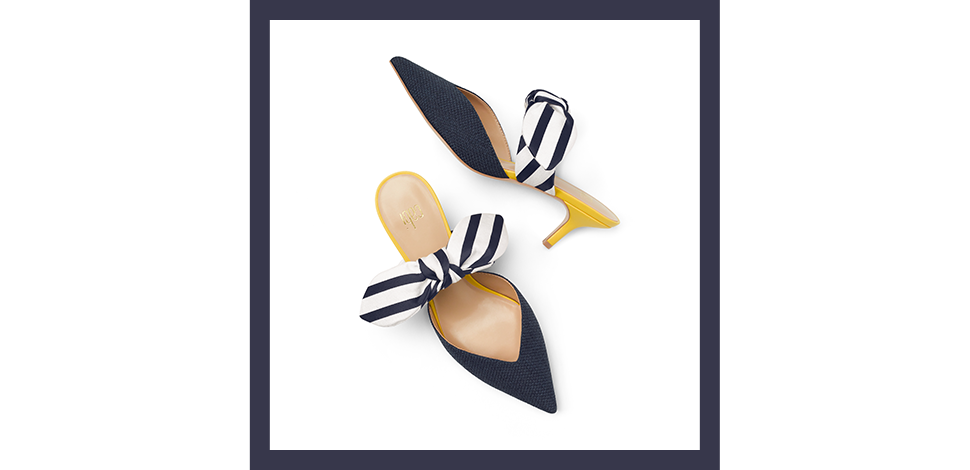 Front Page Material
Play off the colors in the heel by styling the yellow Reef Knot Blouse back to all white denim. Finish off this look with the Headline Topper and you're sure to make the news!
Pure Poetry
Mix and match your styles by pairing the bohemian Poet Jacket back to the glamourous Bow Kitten Heel. Tie in a pop of yellow with the Sunshine Cami and style the look with our slightly distressed Slim Boyfriend jeans for a relaxed yet put together finish.
Show Your True Stripes
Give a nod to the stripe detailing in the Bow Kitten Heel by pairing with the striped Harbor Jacket. Go for solid pairings like the High-Low Crop and the Frolic Top to keep the focus on the stripes. How's that for red, white, and new shoes?
How do you plan to put your best foot forward this spring? We want you to style an outfit around your favorite spring shoes. Snap a pic and post it to Instagram #BestFootForward and tag us @cabiclothing. Here's to making great strides in our spring shoes!