If you're like us, you probably wake up in the morning, feeling super excited to get dressed. For true fashionistas, it's like a shot of espresso: an instant pick-me-up—but instead of caffeine, it's the mixing, matching, and pairing that get us going. So, we're feeling double (no, triple!)-shot-espresso-excited with the launch of the first New Arrivals Collection of the season
Let's take a closer look at the first batch of New Arrivals and how we're styling them with a video for some extra inspiration so you can see the items in action. Keep reading to learn more about each piece in the Collection and get your wish list started so you can request these fabulous pieces from your Stylist today! 

So you're a rule breaker—own it! The Outlaw Jacket is a black leather, slim-fitting moto jacket with an asymmetrical zipper closure and a unique self-tie belt at the hips. We suspect everyone will be after you in this jacket.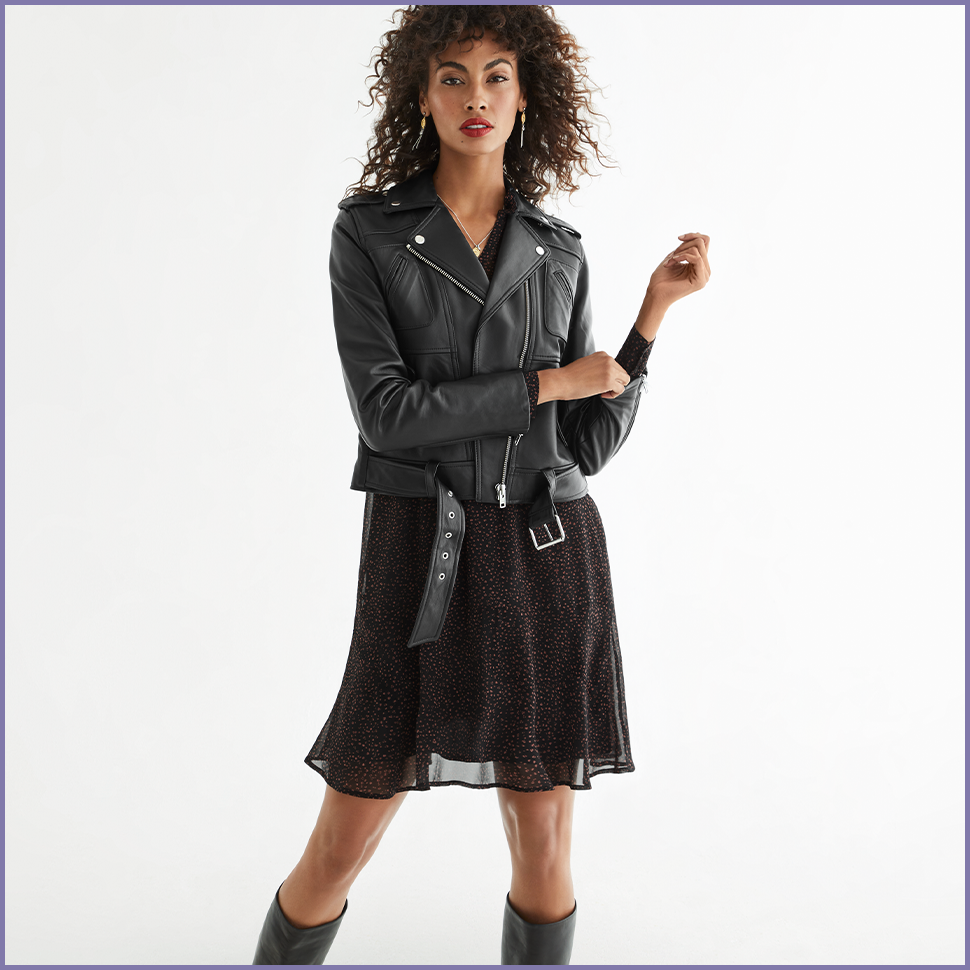 Roam the streets in the Prowl Dress, a micro-skin printed dress that comes with a removable slip and a self-tie belt. Wear the pieces together or separately, tied at the front or back, let your creativity run wild!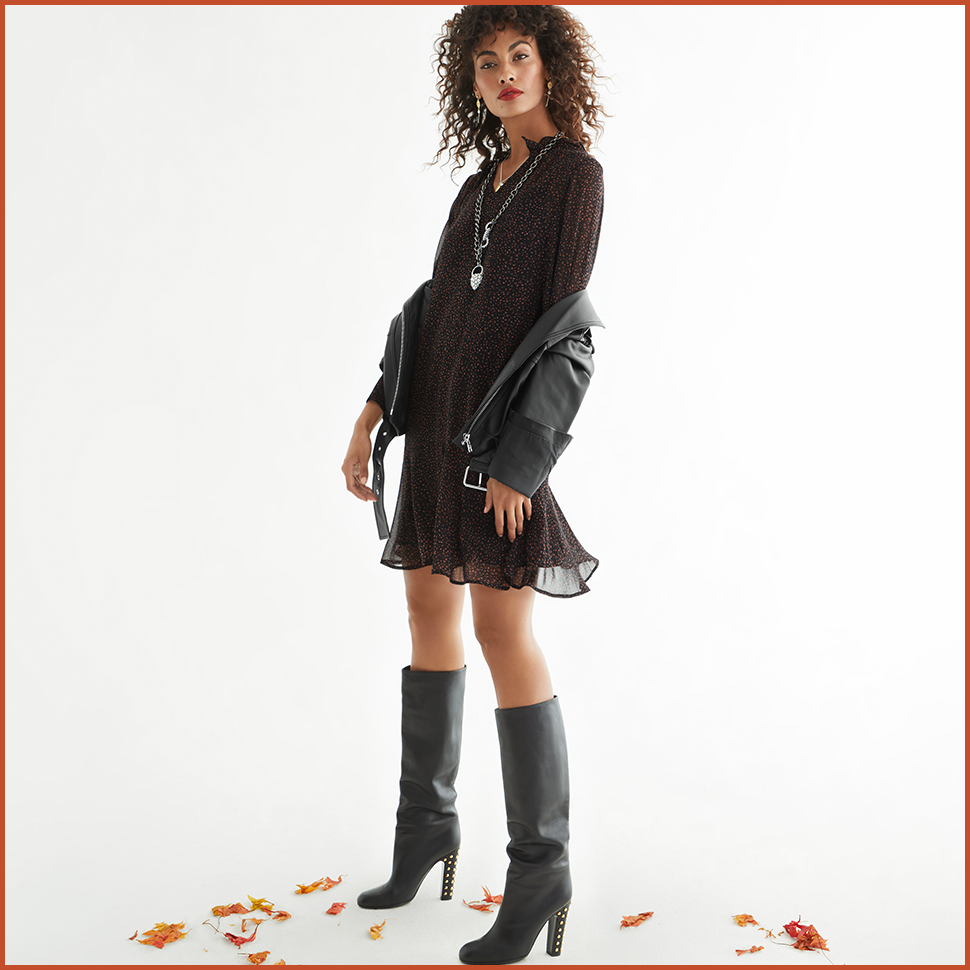 Perfect for styling within the Golden Rule trend, the bright yellow Stitch Mix Pullover has an oversized fit with a plaid-inspired cable knit design. This buttery soft sweater has skinny ribbed sleeves and side slits—the perfect balance between formfitting and flowy.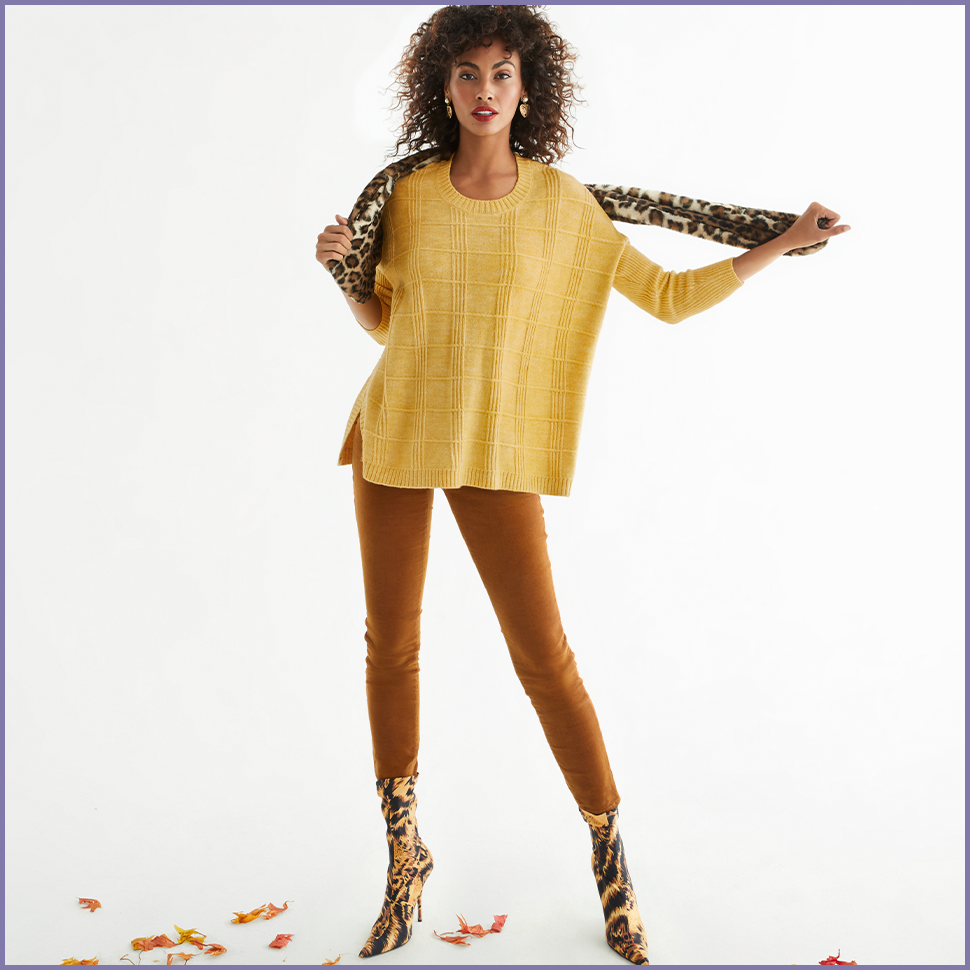 Ponchos are the hot new item this season, especially when styled over leggings with knee-high boots. The oversized, greyscale Dakota Poncho features a color-blocked stripe design and is crafted in our soft sweater knit. It's so cozy…you'll never want to take it off.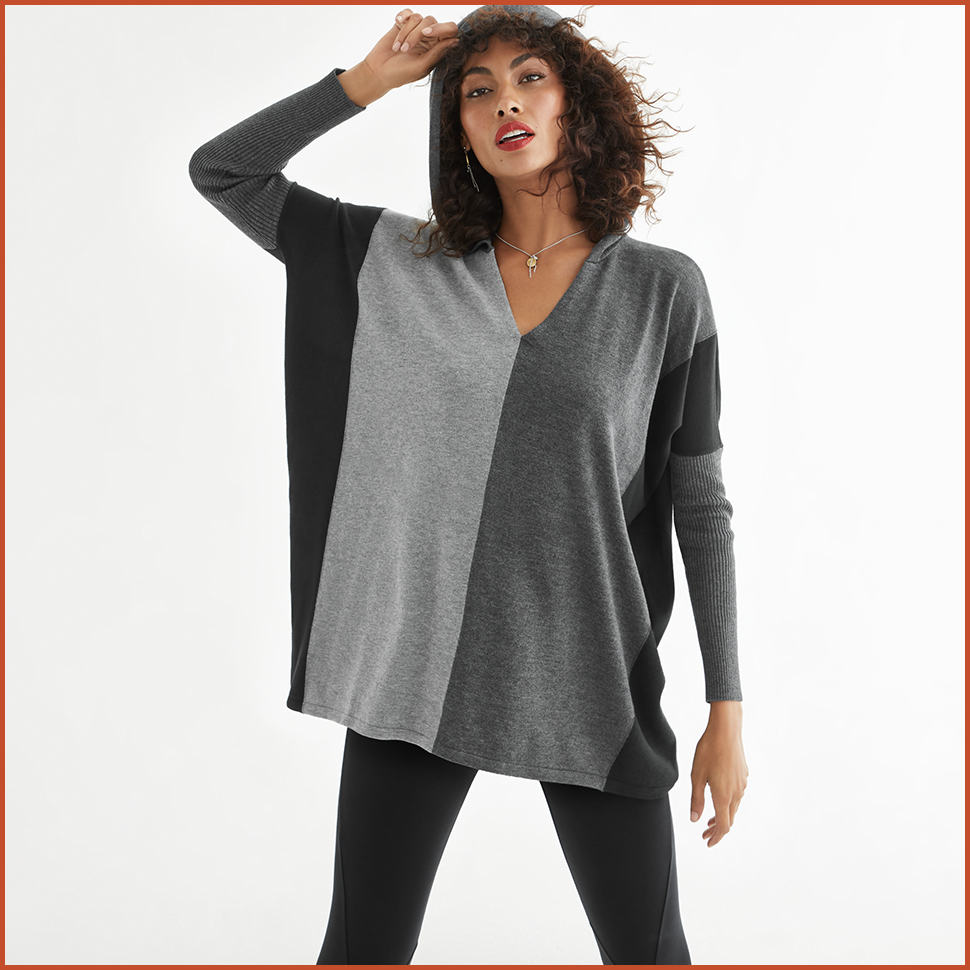 Life's a breeze in the Ease Turtleneck, a relaxed fitting, super cozy sweater. This long-sleeved turtleneck features a cowl neckline and is crafted in our ultra-soft French Terry knit for a dreamy, pajama-like feel. Sweater weather, we're ready for you.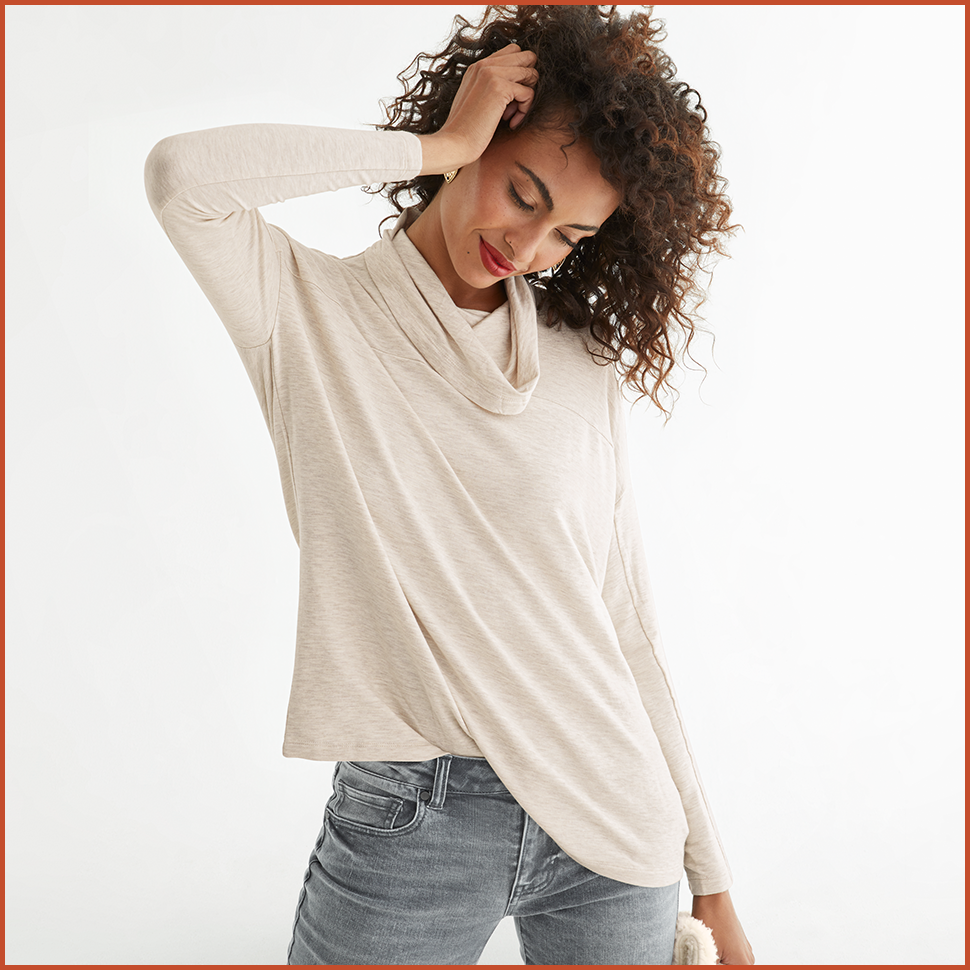 A sweatshirt that deserves a cult following—the Fanatic Sweatshirt features an asymmetrical, off-the-shoulder neckline with a striped strap. As one of the coolest (and comfiest) pieces in the Collection, you'll go crazy for it.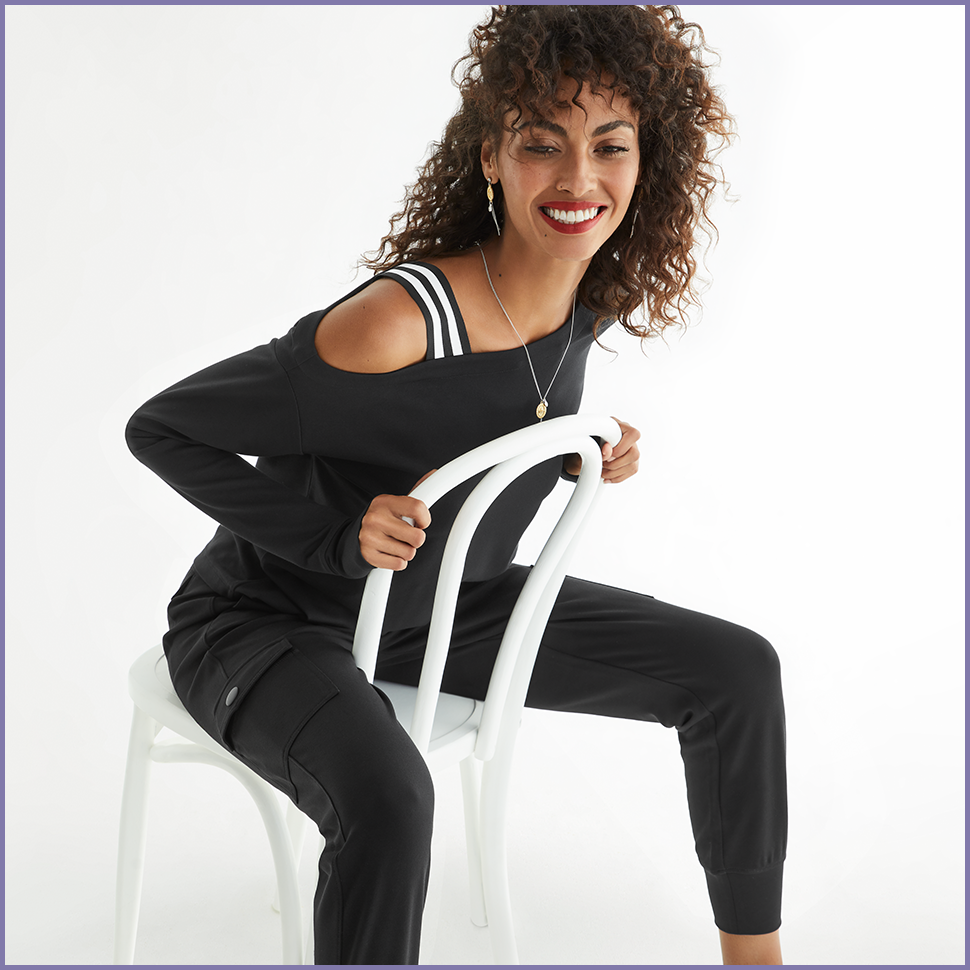 We admit it…we're obsessed with the Fanatic Jogger—a modern slouchy black jogger with trendy cargo pockets on the legs. These ultra-comfy, extra stylish bottoms match back to the Fanatic Sweatshirt for a coordinated look.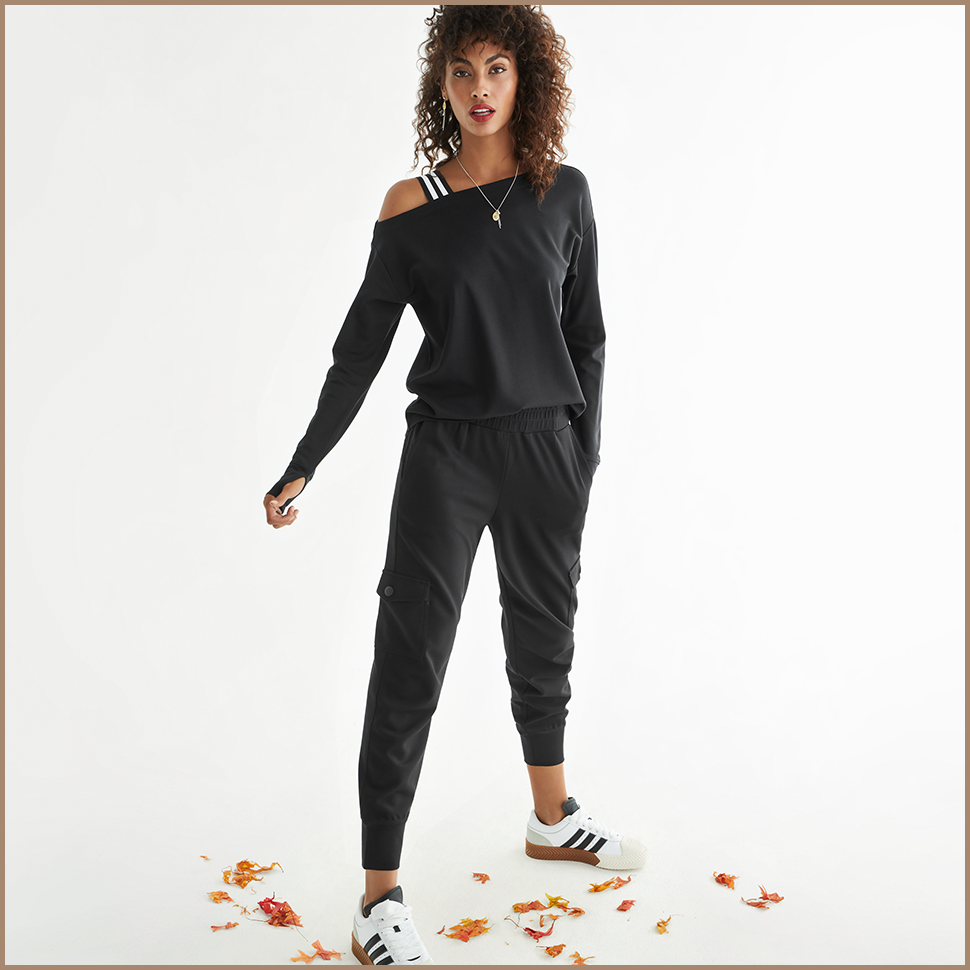 Black leggings are great, but have you tried a printed legging? The Plaid Legging is like an instant style booster with its Executive Plaid print, perfect for a She's a Boss look with an oversized sweater. These leggings feature a high-waist design with a wide waistband to hug you in all the right places.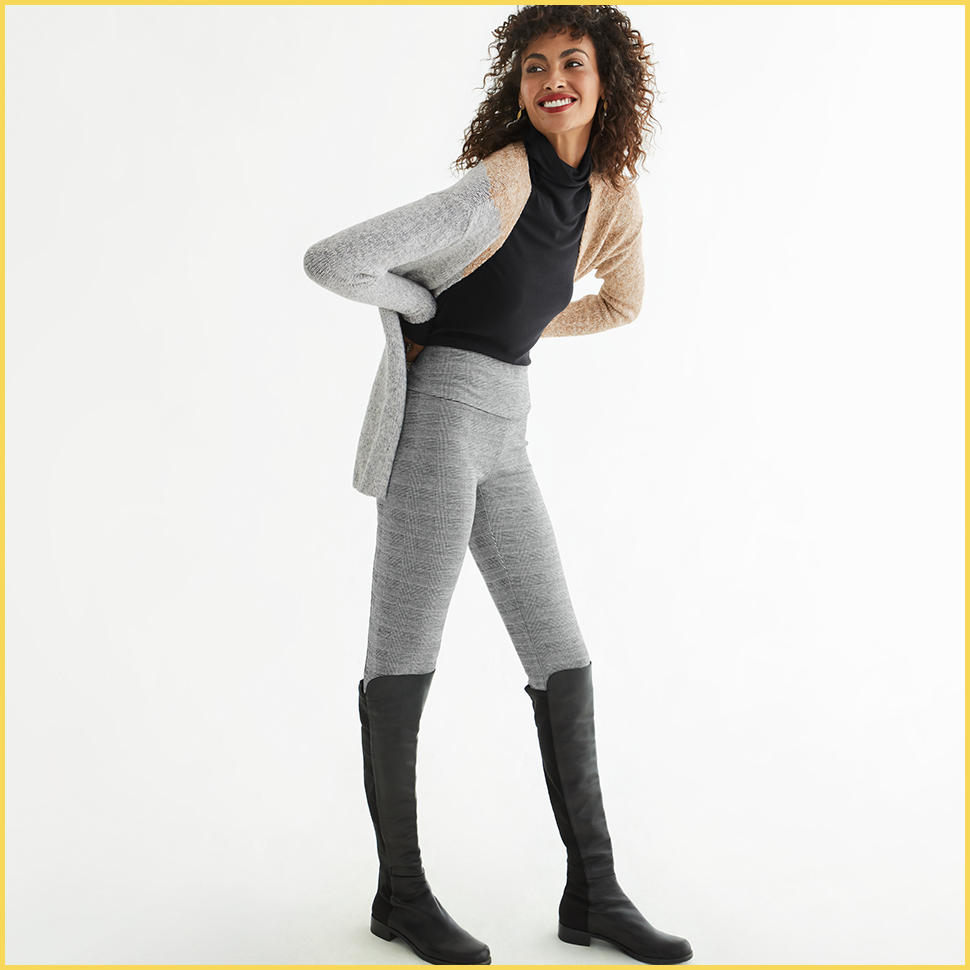 The golden-hued Radiant Top will light up your day and leave you beaming. This Golden Rule sleeveless blouse has an easy shape and features a multi-string closure at the neckline. The perfect rise-and-shine, get-up-and-go booster to any day.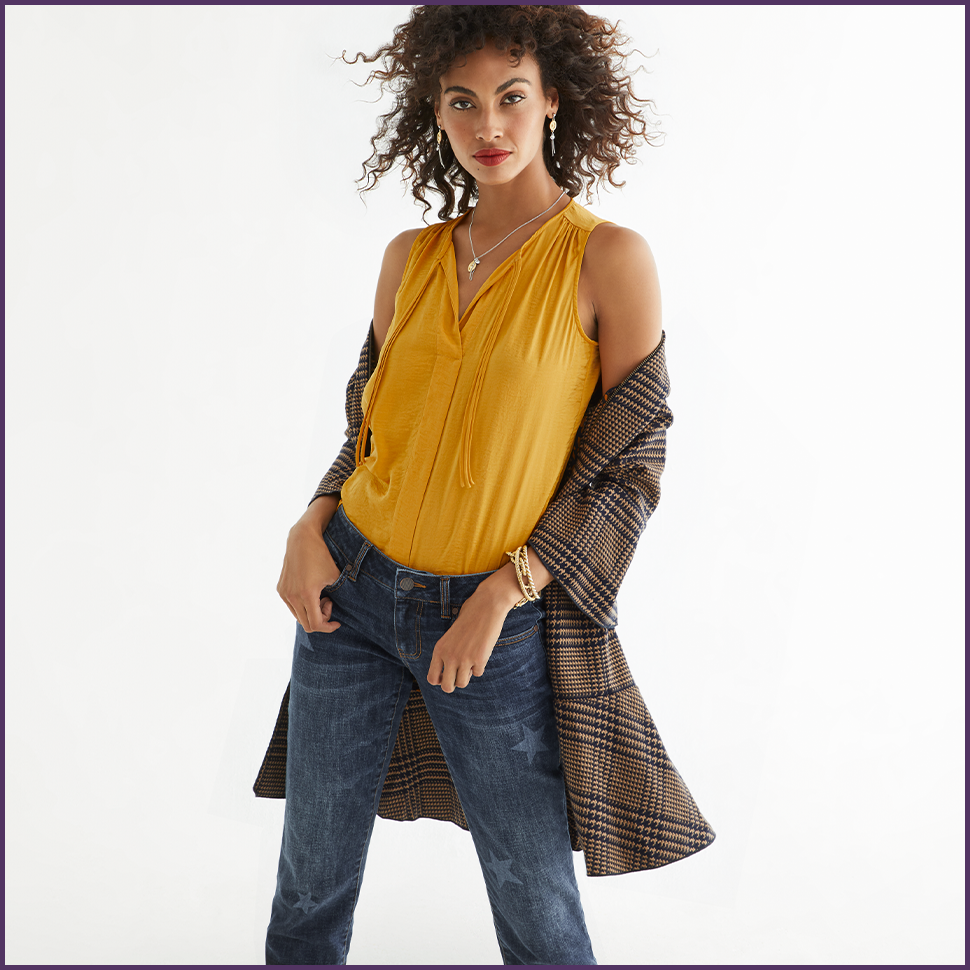 The name's Trench, 007 Trench. This zebra-striped trench coat is as sophisticated as it is stylish. It comes with a self-tie at the waist to cinch you in, with a tailored shape on top and a slight A-line bottom. There's no going undercover in this coat, all eyes will be on you.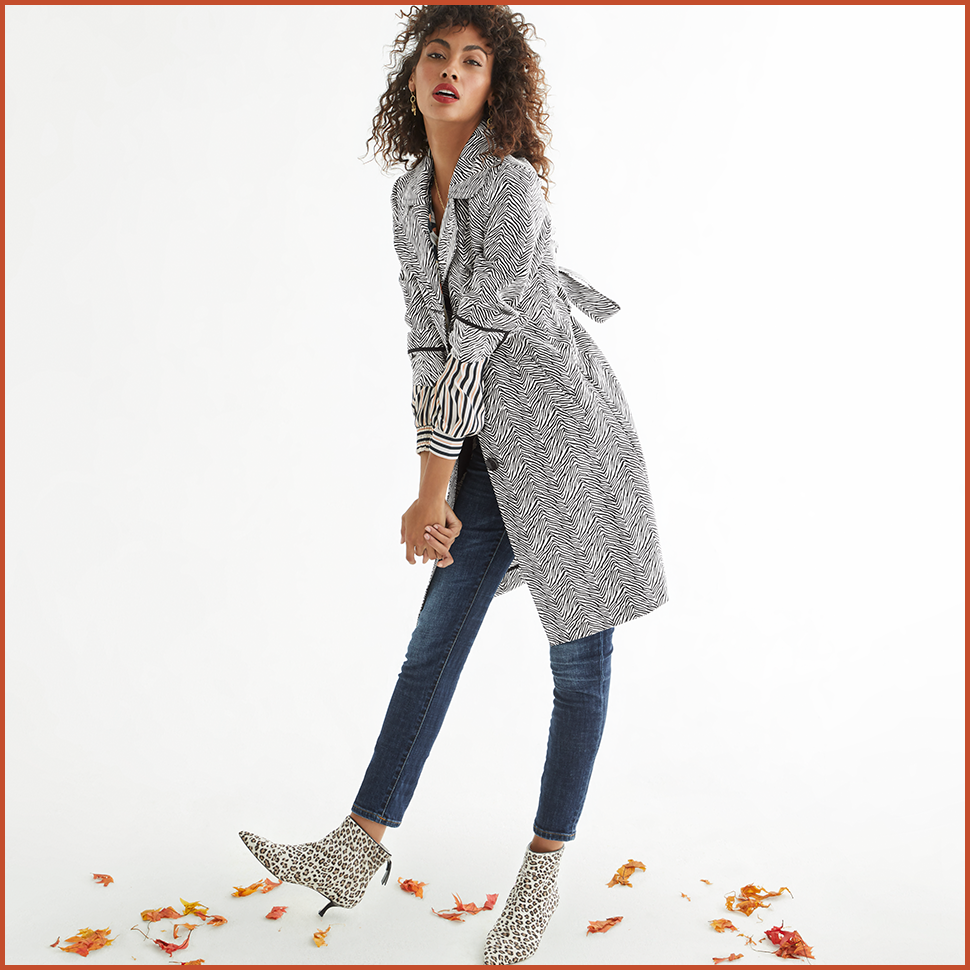 Work your magic in the Enchant Blouse, a dazzling, dark-ground floral blouse that fits right into the Fairytale Ending trend. This top features a V-neckline with long sleeves and smocked cuffs for a sophisticated feel with dramatic flair.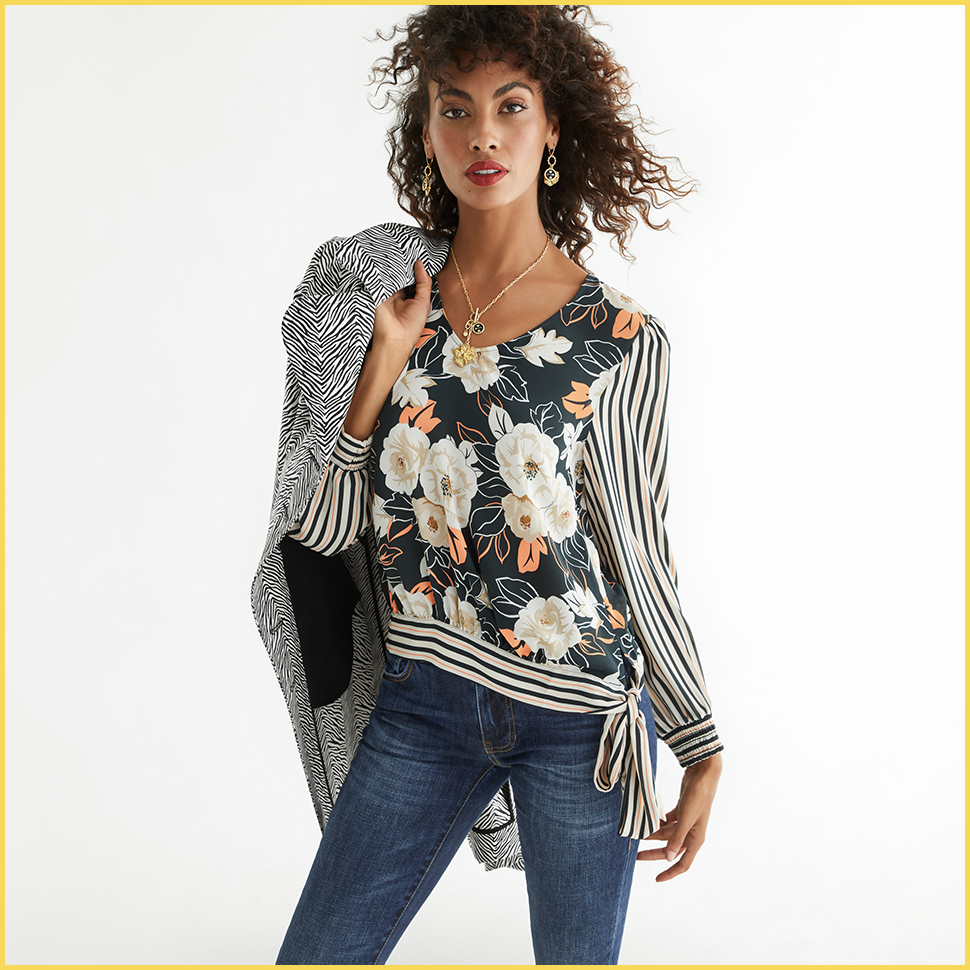 The Serenity Tee is making its comeback in Heather Violet, a rich, Fairytale Ending hue that'll pair effortlessly back to dark-ground florals and contrasting shades. This lightweight top has slim long sleeves with dropped shoulders and a subtle V-neckline, making it a great staple for effortless style.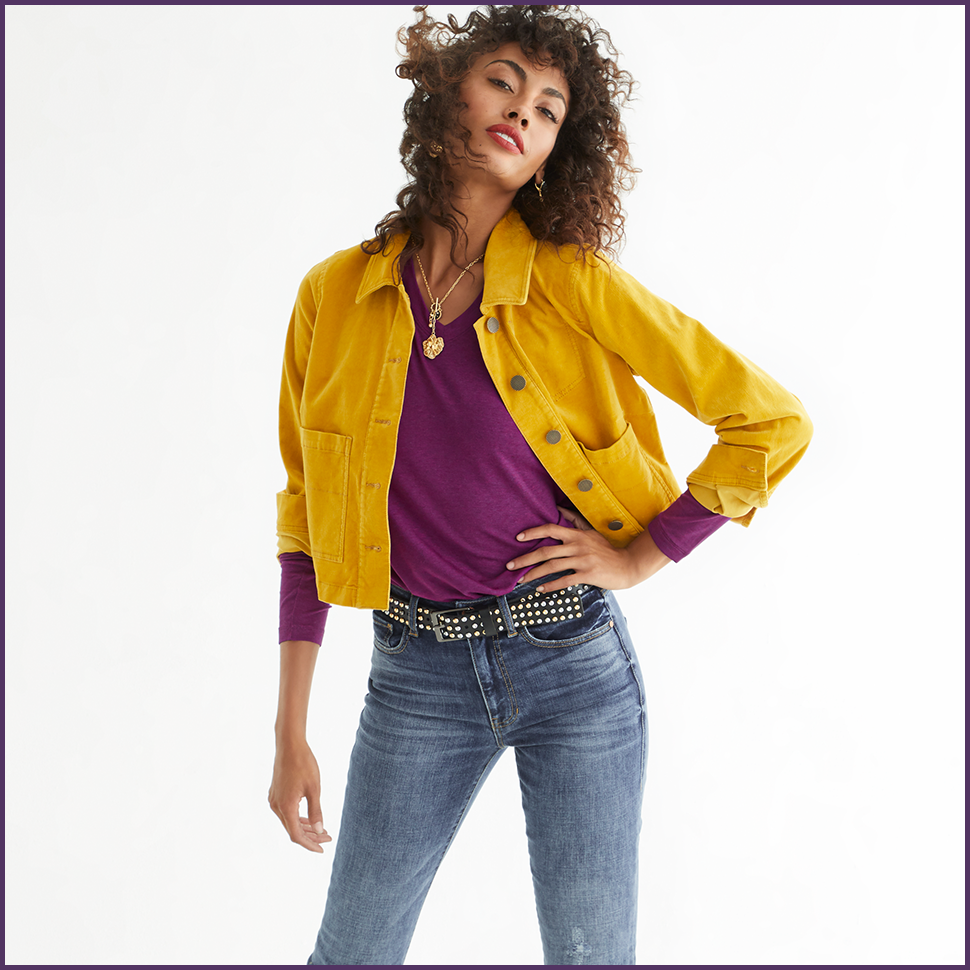 Achieve that Golden Rule glow in the Burnished Blouse, an easy-fitting blouse with a gold-ground floral print that pairs easily back to the Collection. This long-sleeved blouse features a V-neckline with an inverted box pleat at the back. Now, that's how you polish off a look.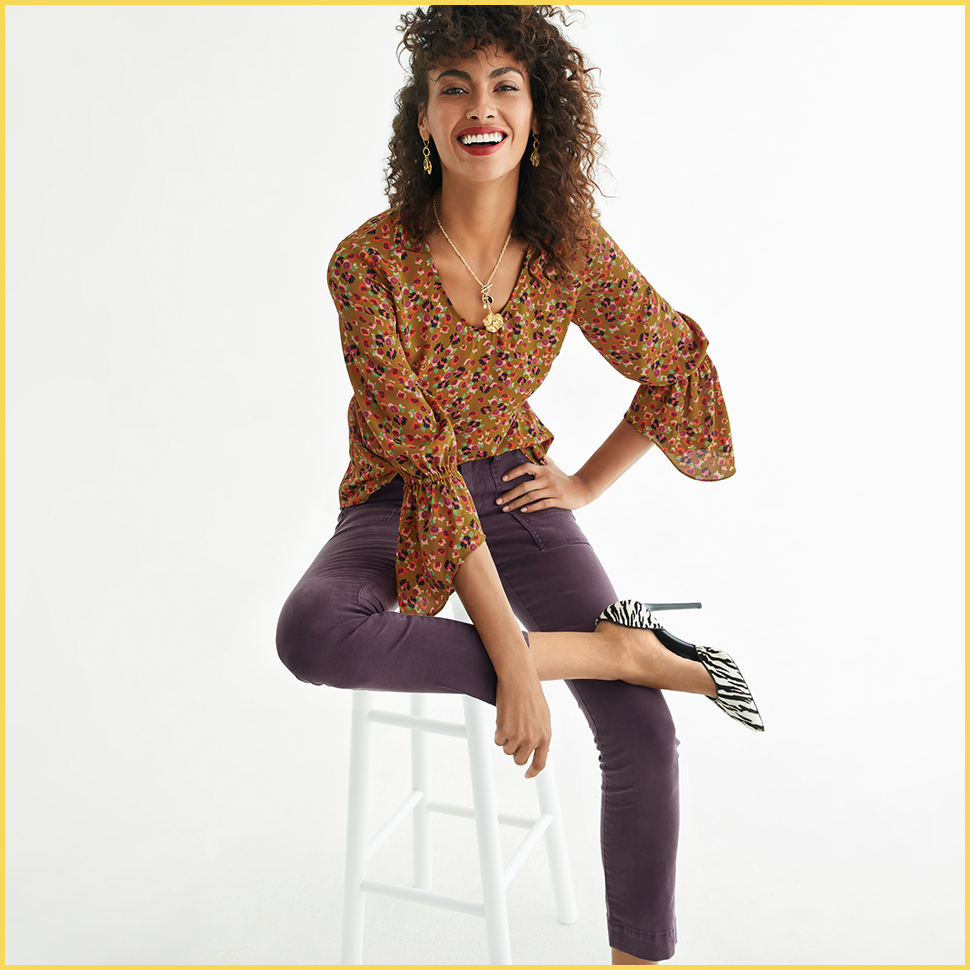 With a sweater this vibrant, you'll be the cream of the crop. The gorgeous, amber-hued Harvest Pullover has a cashmere-like softness and features a crew neckline with stylish sleeves and side slits for added movement.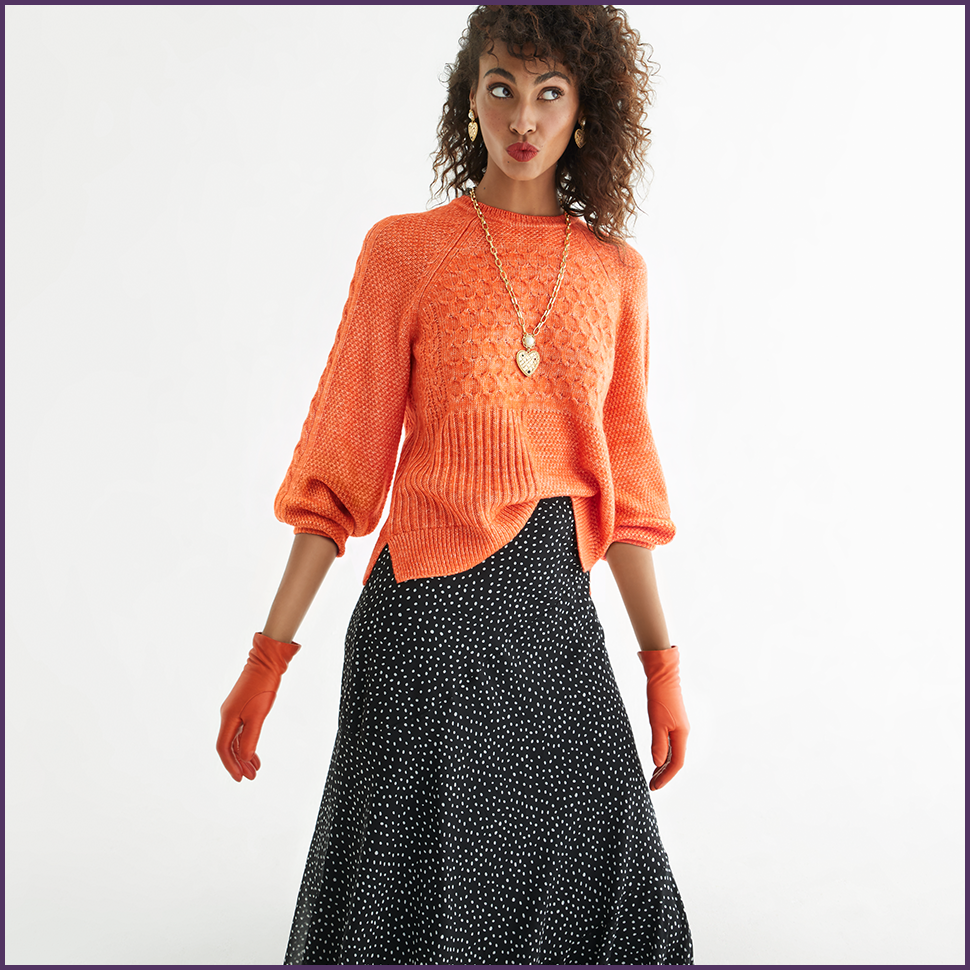 Struggling to contain your excitement? Us too! Leave your thoughts about this new Collection in the comments section below. Which top do you need to get your hands on? Which bottoms are you stoked to slip into? Be sure to tell all that to your Stylist too so she can make sure they end up in your closet!