If the words "New Arrivals" don't put an ear-to-ear smile on your face, then we don't know what will! We're so excited to launch our next New Arrivals batch, and we can't wait to share the styles with you. As of today, our latest Collection is officially available to pre-order through your Stylists, and the pieces will be available to purchase on our website on November 5, so no need to contain your excitement any longer!
If you thought winter styles couldn't be bright, think again! This New Arrivals Collection is the perfect pick-me-up for the colder months, featuring different hues of pink and eye-catching patterns galore. Plaids, stripes, and florals let you pair back to denim for a casual finish or with sleek trousers and skirts for a dressed-up vibe. And of course, would it be a winter Collection without a cozy sweater? These styles will satisfy all your winter needs and more!
We wanted to help you get to know these pieces a little bit better…let them wine and dine you and sweep you off your feet. Below, you'll find everything you need to know about the items that make up this Collection, including a video that showcases each one fully styled. So keep reading to discover the amazing styles, then get your orders in while the going's hot!

Play the part of a true fashionista in the Theater Dress, a dot mesh, long-sleeved dress with an empire waistline. This showstopper features a high-low hemline with delicate ruffle detailing. Nothing says drama like an all-black look with knee-high boots.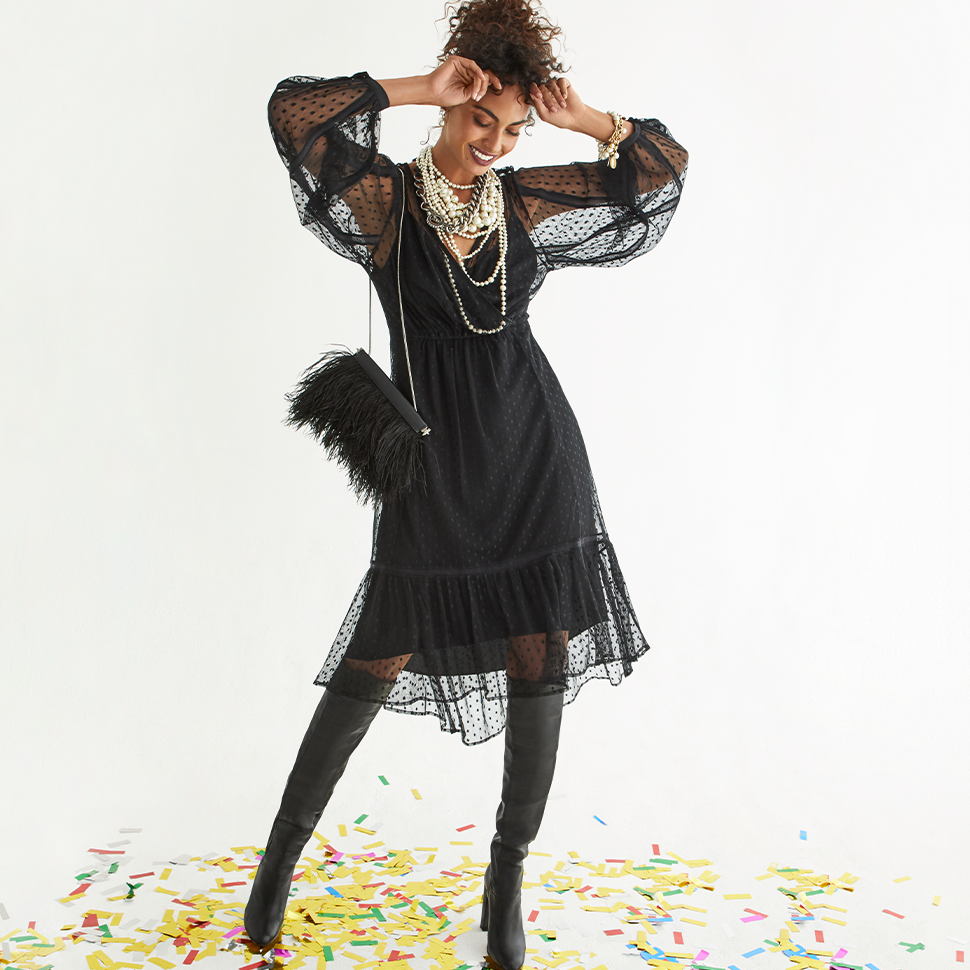 No need to sacrifice comfort for style this season. Reach for the Simple Tee, a soft and cozy long-sleeved pullover, made in a stunning heather berry hue that pairs effortlessly back to the Collection. Sometimes, keeping things simple is the way to go. Go for a casual front tuck to showcase a belt for added flair. We love the Fable Scarf styled as a belt with the Cinch Skinny jeans.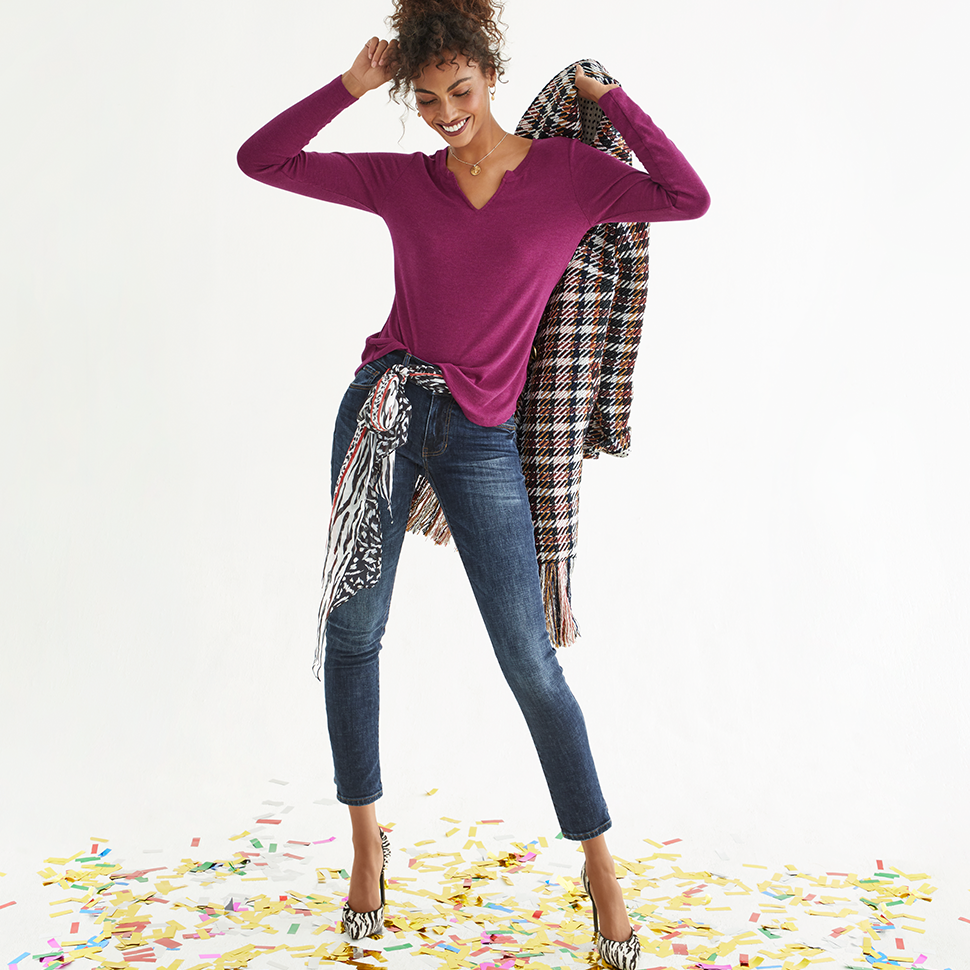 It's officially sweater weather, and the Chime Pullover is the perfect pick. This lattice and cable stitch sweater features a slim fit on top and an A-line shape at the bottom, all in a warm, heather mulberry hue that pairs beautifully with the Fall 2020 Collection (can't you just picture it paired with the vintage gray denim of the High Skinny?). Try tucking this sweater into one of your pockets for a unique styling option.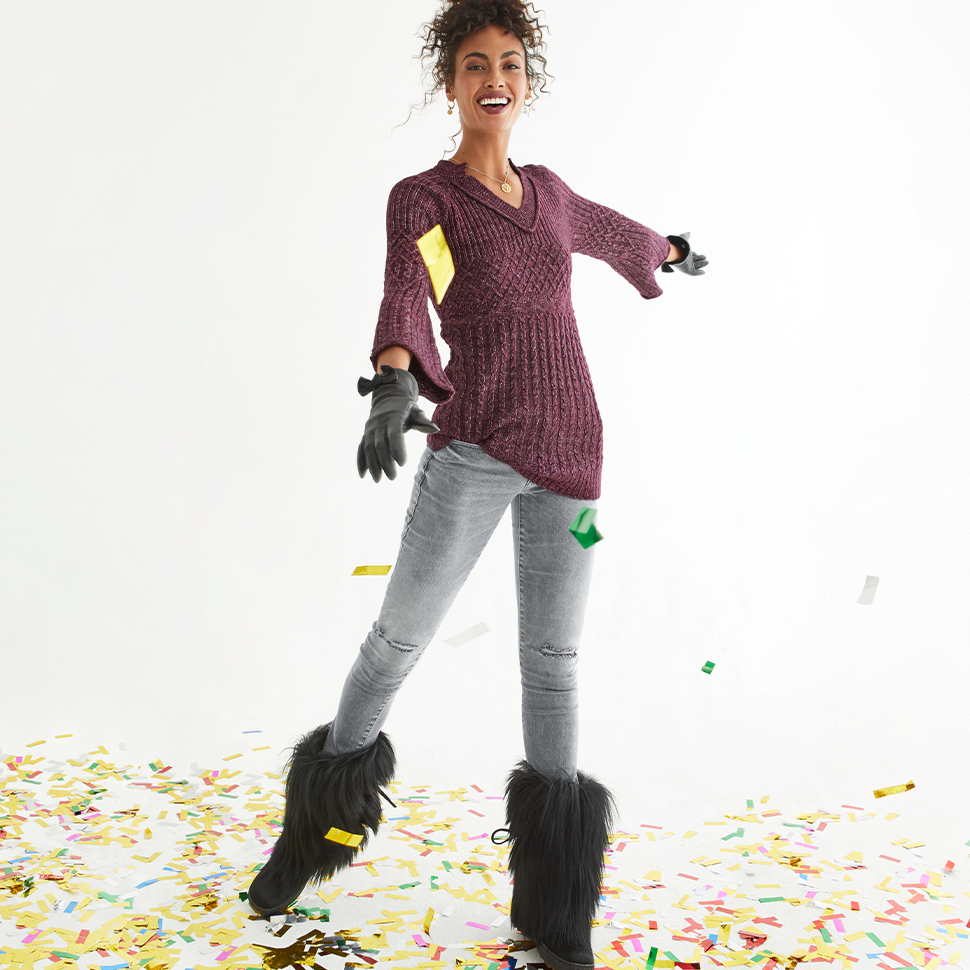 Every day is worth celebrating when wearing the Fête Dress. This festive striped dress features a keyhole closure and a flowy A-line shape. Wear this bright, festive print to your holiday parties or on a Monday for a little pick-me-up. This dress speaks for itself—all you need to complement this pattern is a pair of showstopping boots and your favorite necklace.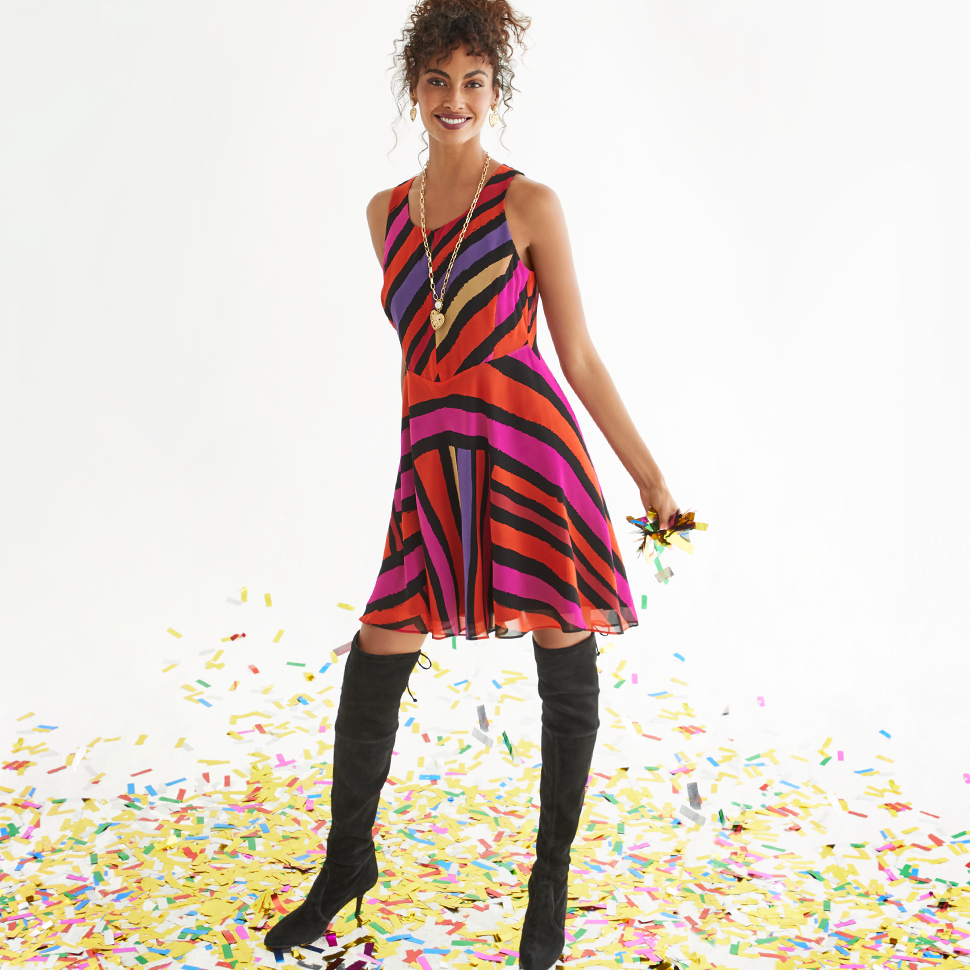 The Confection Cardigan is our sweetest cardi yet, designed in a light pink hue with a lovely cable knit pattern. This vintage-inspired topper is the perfect retro layer for fall, crafted in a cozy, wool-blend fabrication that'll keep you warm all season long. The soft hue of this sweater provides the perfect base for mixing contrasting patterns, like the checkered Houndstooth skirt and floral Cheerful Blouse!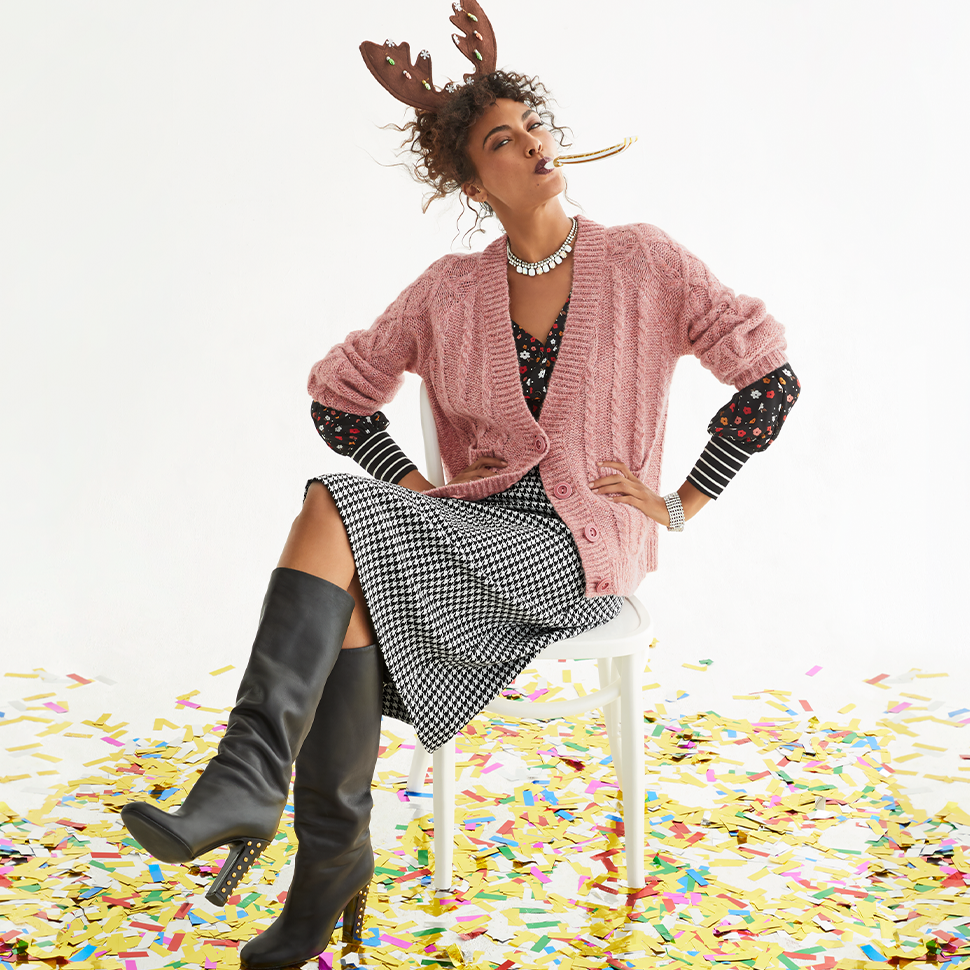 Every woman needs a tailored blazer, and the Gala Jacket is anything but your standard blazer. Crafted in our stretch velvet fabrication for all-day wear with an elegant shawl collar, this one-of-a-kind topper is perfect for those special occasions or for when you're simply looking to take your style up a notch. Blazers aren't reserved for professional occasions—try cuffing the sleeves for a laid-back look.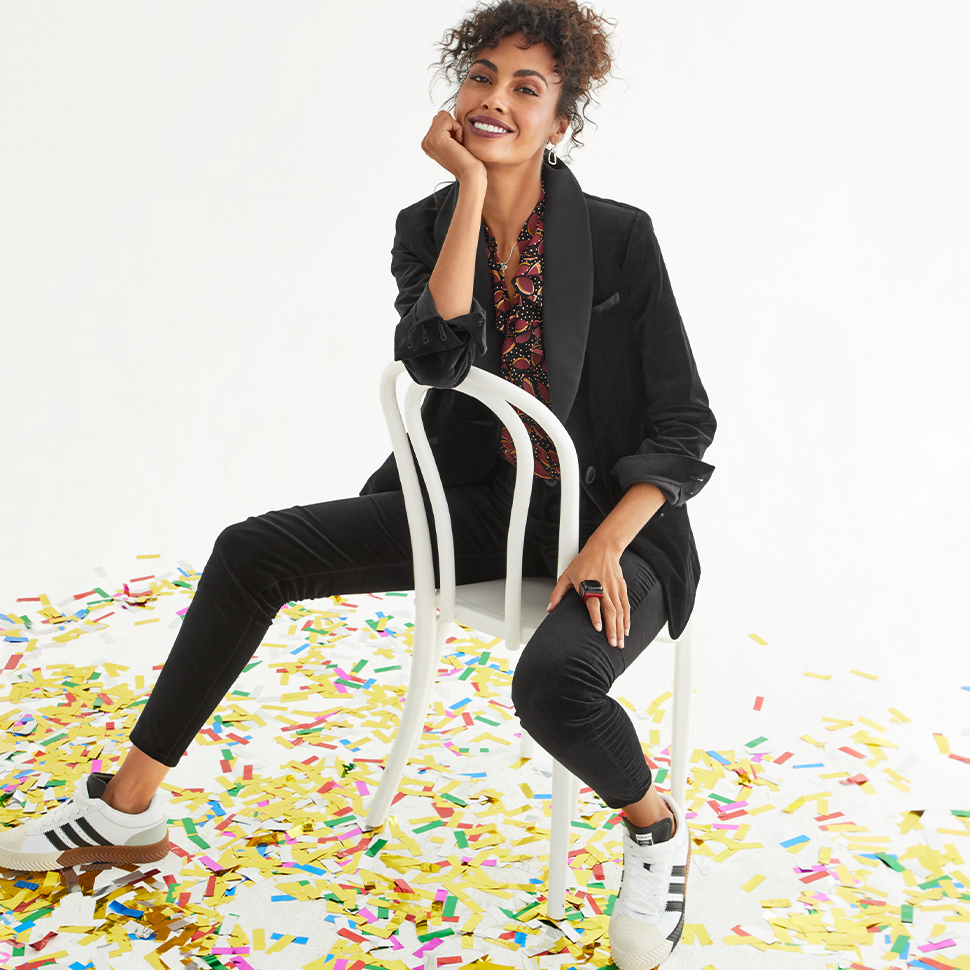 If you think the patterns in this Collection are gorgeous, just wait until you get to know the Study Top, a sleeveless top with delicate pink dots, deep violet leaves, and notes of dark citron green against a black ground. This blouse features ruffle detailing for a flirty touch. The dark background lends itself effortlessly to styling back to blacks, like the Gala suit.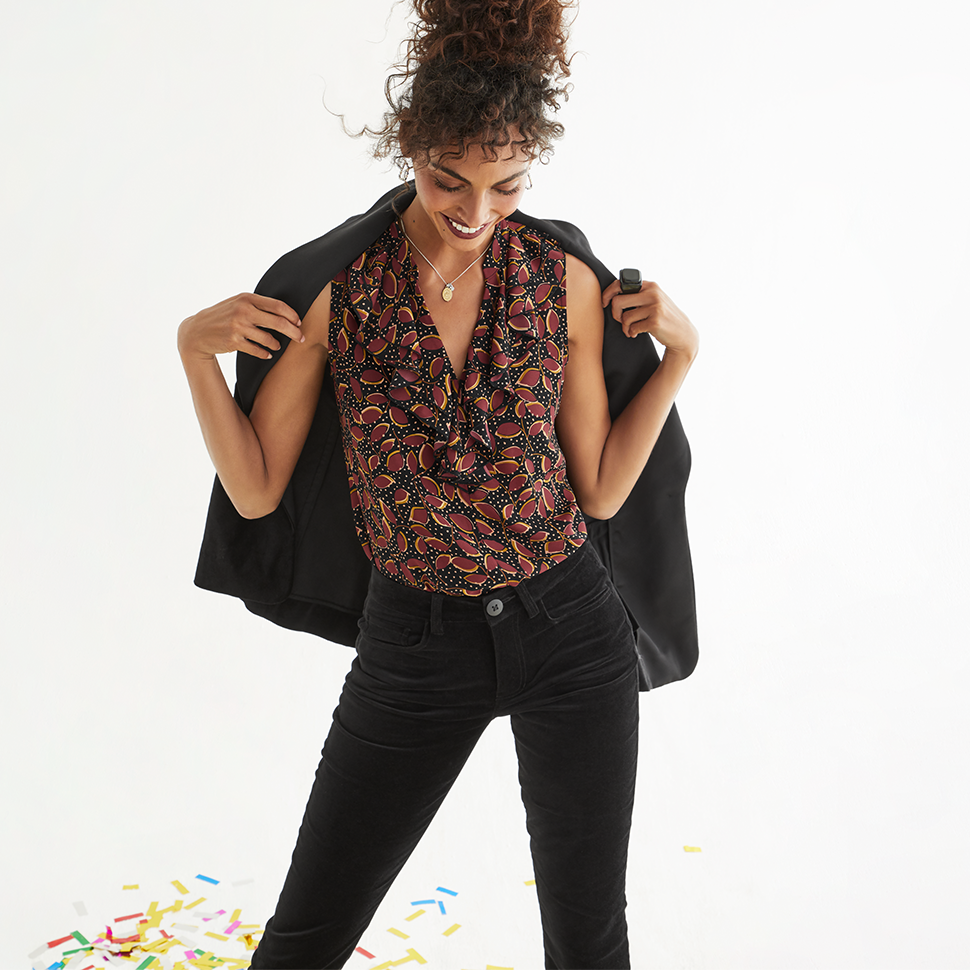 A perfect match for the Gala Jacket, the Gala Velvet Jean is crafted in the same stretch velvet fabrication. Try the set worn as a full suit or dress them down with your favorite sweater. No matter how you style these bottoms, you'll be the star of the show. Change out heels for sneakers to give these pants a casual finish.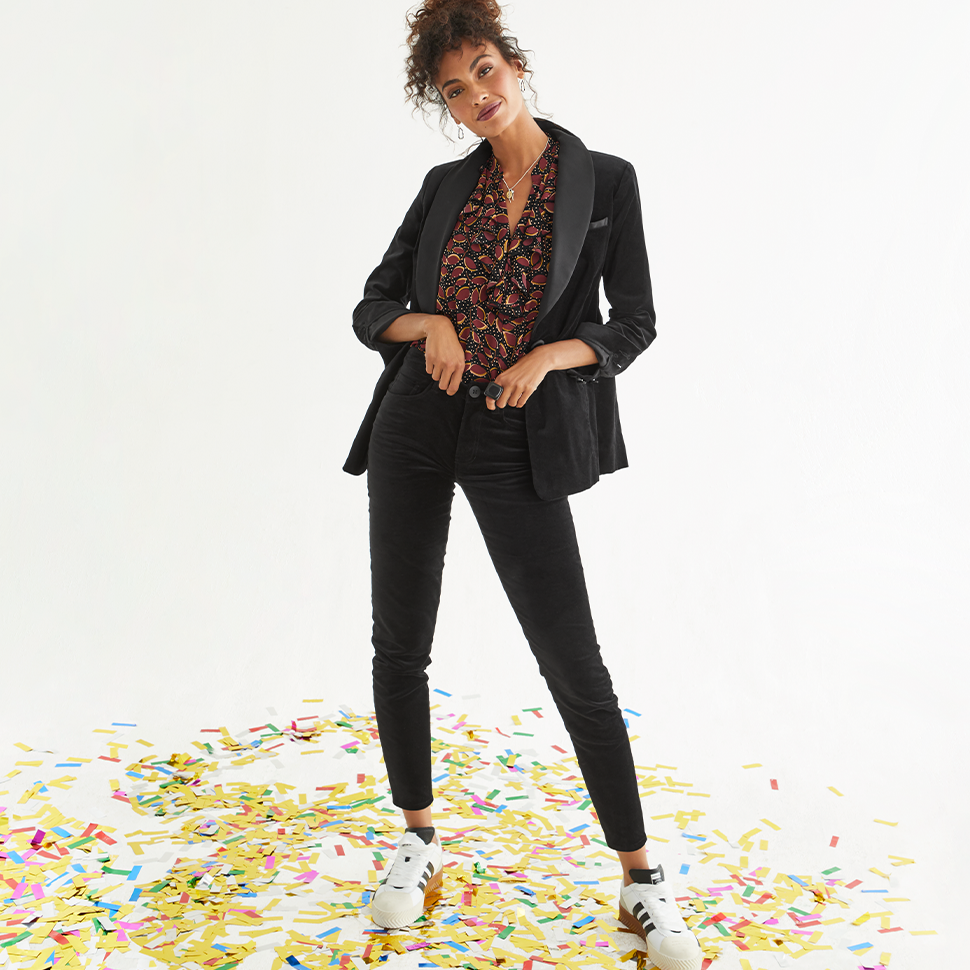 Your topper collection just got upgraded. Meet the Frontier Jacket, a yellow, pink, and fuchsia plaid patterned jacket with a longer-length design. This jacket is crafted with a relaxed fit and button-front closure, ticking all those fall flannel boxes. Try a belt at the waist for added definition!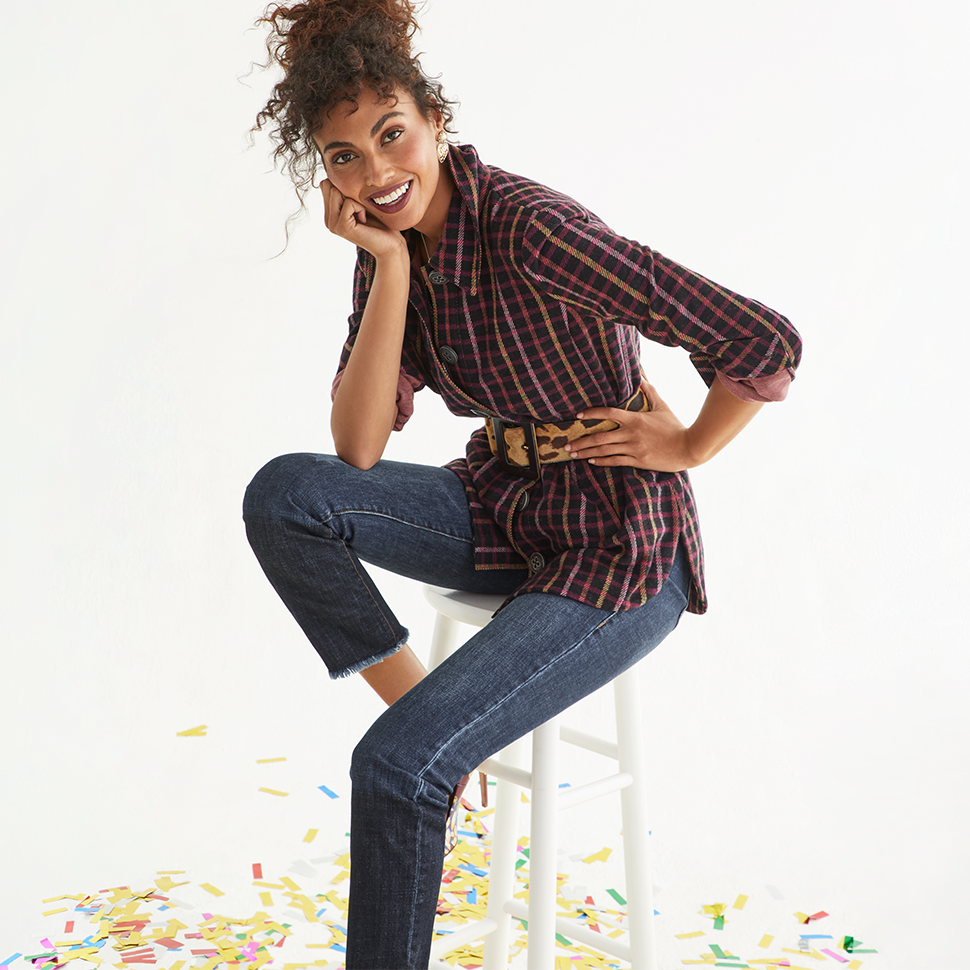 All you'll want for Christmas is…the Caroling Shirt! Heck, why wait until then when you can have it now? This cheerful plaid blouse has elegant bishop style sleeves and a button-front design. With hues of plum and raspberry, this top is the perfect pick for all those holiday festivities. Call back to the colors in the print with the Carpenter bottoms, then add a pop of color in your shoes for a fun surprise.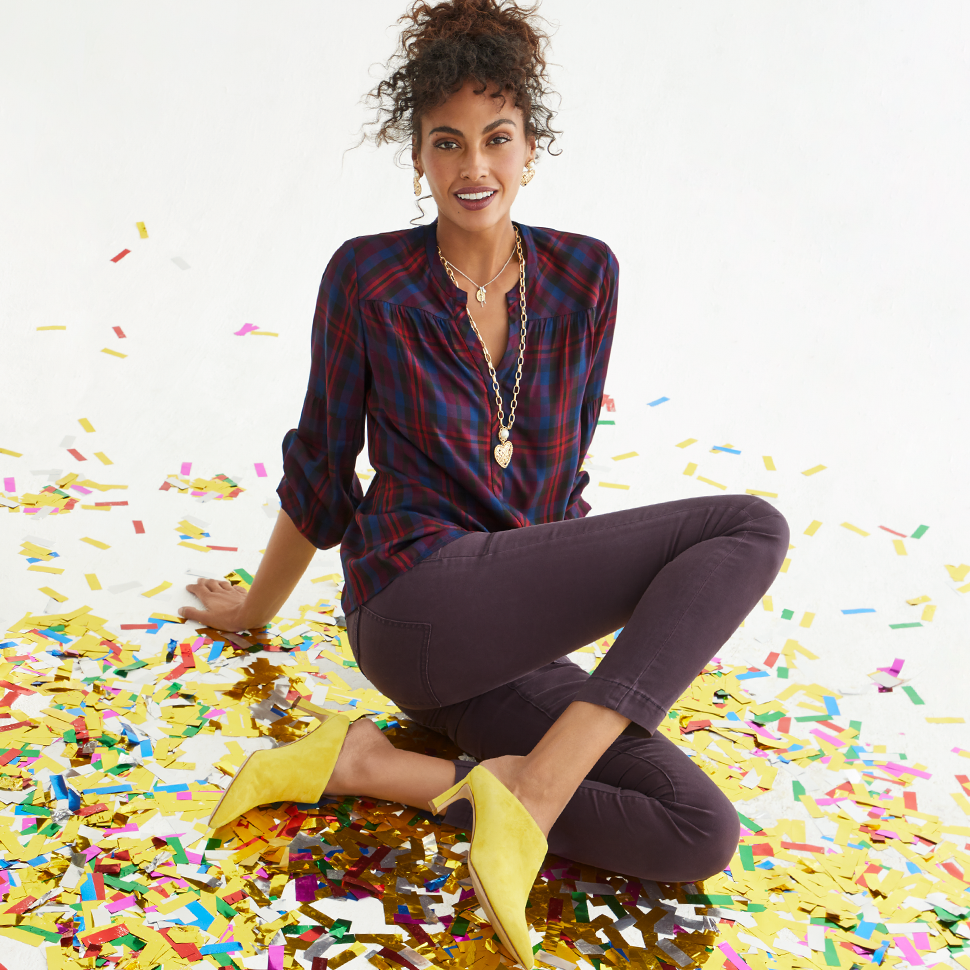 Winter is the perfect time to treat yourself. Indulge in the versatile Luxury Poncho, an oversized poncho that can also be styled as a wrap. This all-black knit topper is flecked with silver for added luxe. Functional side zippers transform this poncho into a wrap, maximizing your styling options. The charcoal coloration of this topper goes with anything—wear it to balance out an all-denim look and add texture.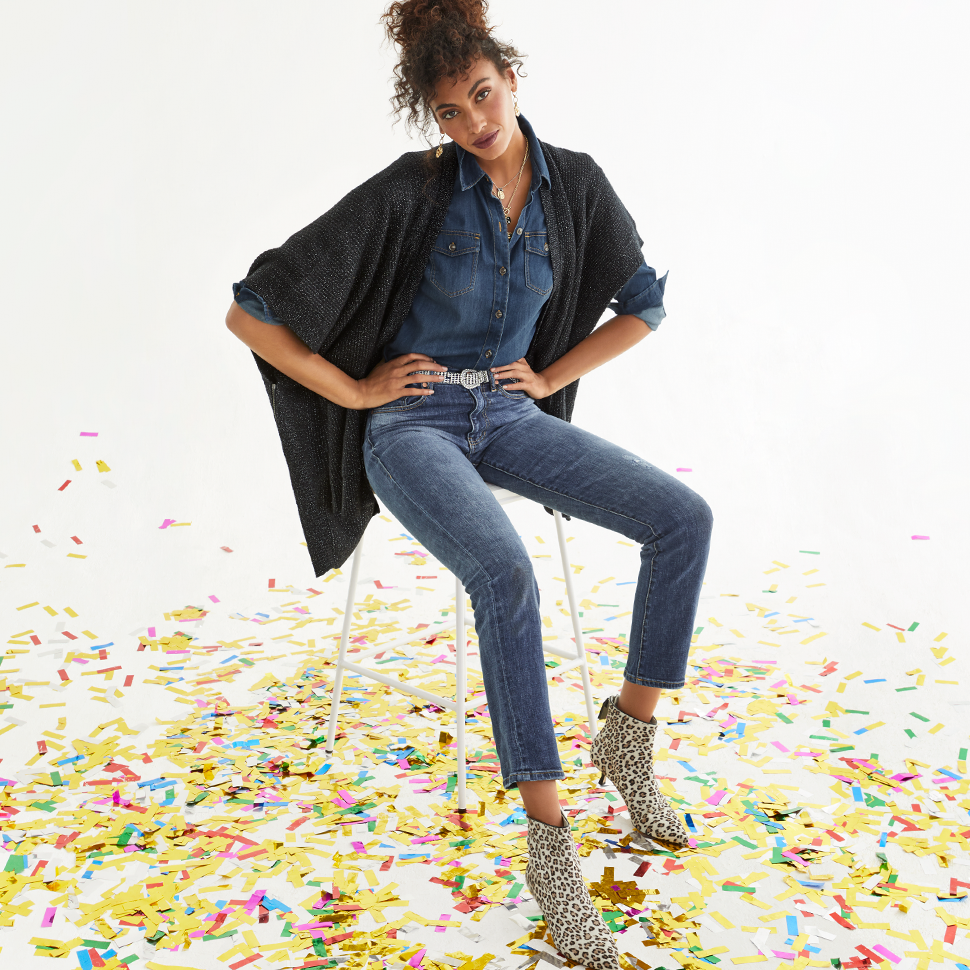 The more sparkle, the better. That's something to live by. Add the Sparkle Belt to your wardrobe, a crystal encrusted silver belt that's sure to brighten even the coldest of days. With a classic buckle closure, this accessory can be worn at the hips or waist when in need of a little extra glitz. Wear it with a denim-on-denim look to contrast this casual fabric. We love a little contradiction!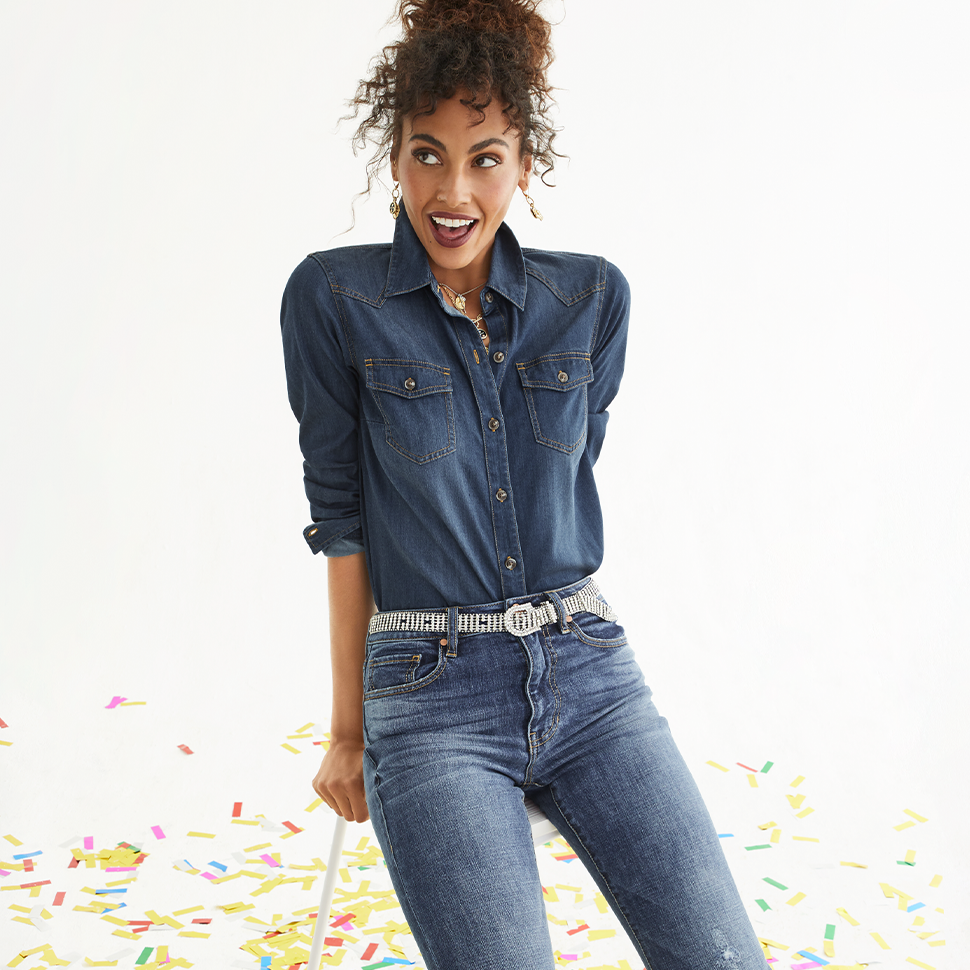 Bursting with excitement yet? We're right there with you! Which pieces are you dying to add to your wardrobe? Let us know in the comments below, and more importantly, let your Stylist know so she can make that wish come true!