It's official. The Fall 2021 Collection has launched, and all we can say is…yes! We're ready to hit the open road in style, roll the windows down, blast some tunes, and feel the wind in our hair. Adventure awaits, and we're welcoming it with open arms—fully ready to embrace positivity at every opportunity. Join us on this journey.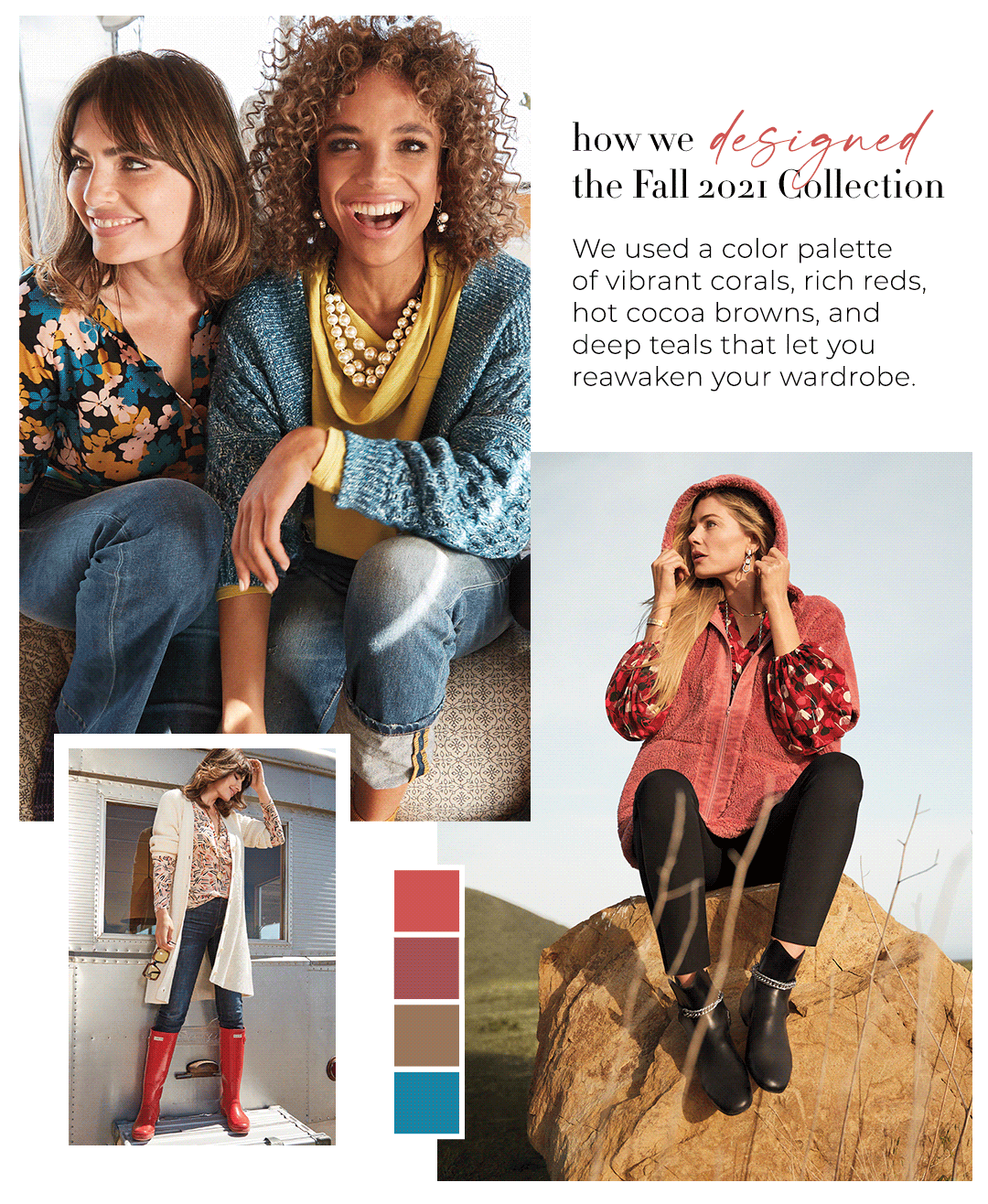 Thoughts from Chief Design Officer Kat Woodside
Looking ahead to autumn, get ready to heat things up as the weather cools down. We created a stunning, warm color palette of vibrant corals, rich reds, hot cocoa browns, and deep teals that let you saturate and revitalize your wardrobe. Try a head-to-toe look in rosy pinks for an eye-catching styling option, or embrace your inner royalty by coordinating regal silhouettes of contrasting hues. Alternatively, go for commanding patterns that demand attention, like fierce skin prints and abstract florals. Whether you're hitting the road or the coffee shop around the corner, treat every outing as a chance to flaunt your style and go all out.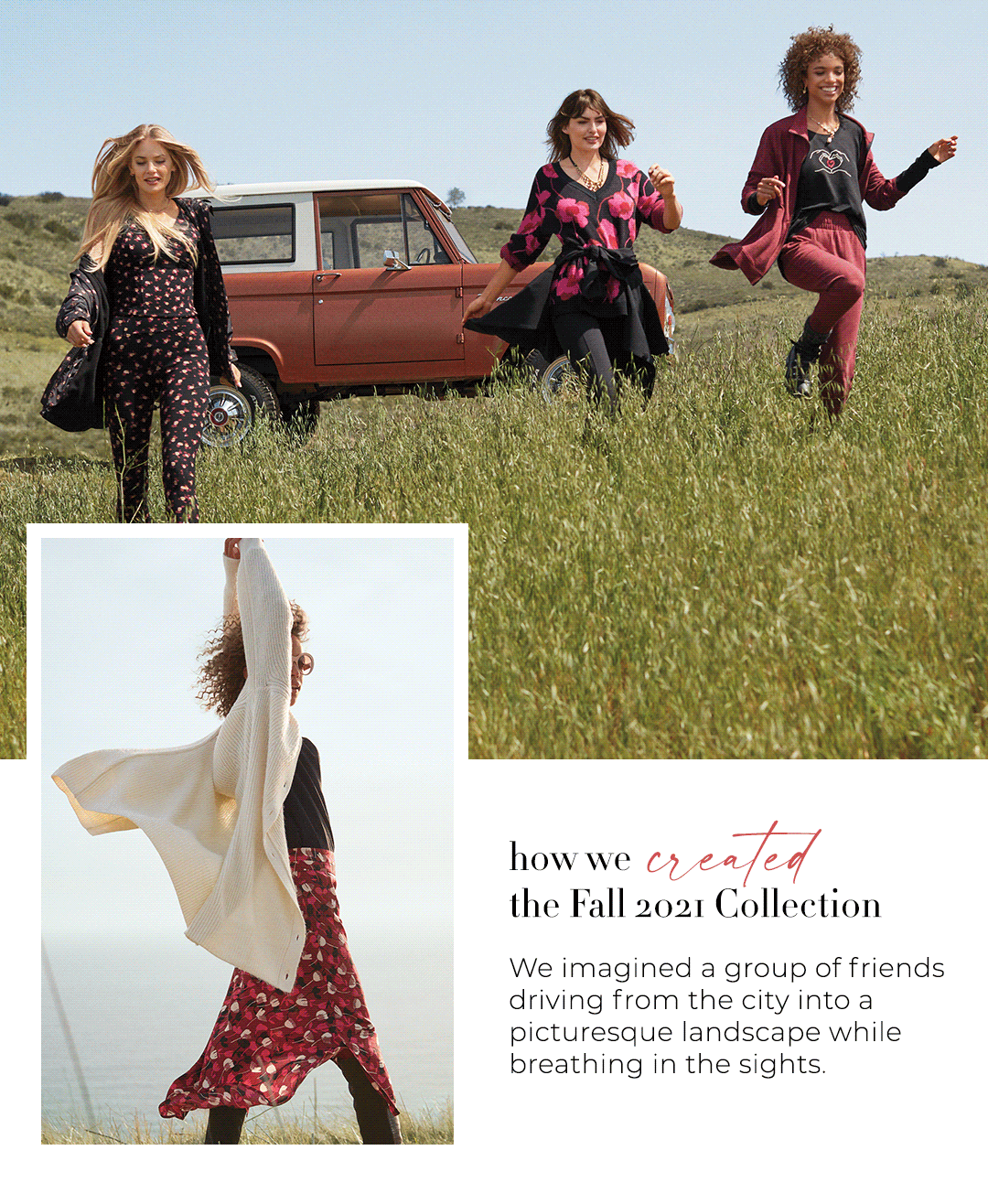 Thoughts from Vice President of Creative & Events Daniele Trussardi
We see this Collection coming to life on the ultimate road trip. We wanted to imagine a group of friends driving from the city into a picturesque landscape while breathing in the sights…relaxing with the windows down and blasting their favorite classic hits. There is nothing shy about these women. Like sisters. Completely unencumbered. Celebrating. Anyone who sees them is captivated by their magnetism. With their carefree spirits perfectly complementing the joy and boldness of the Fall 2021 Collection.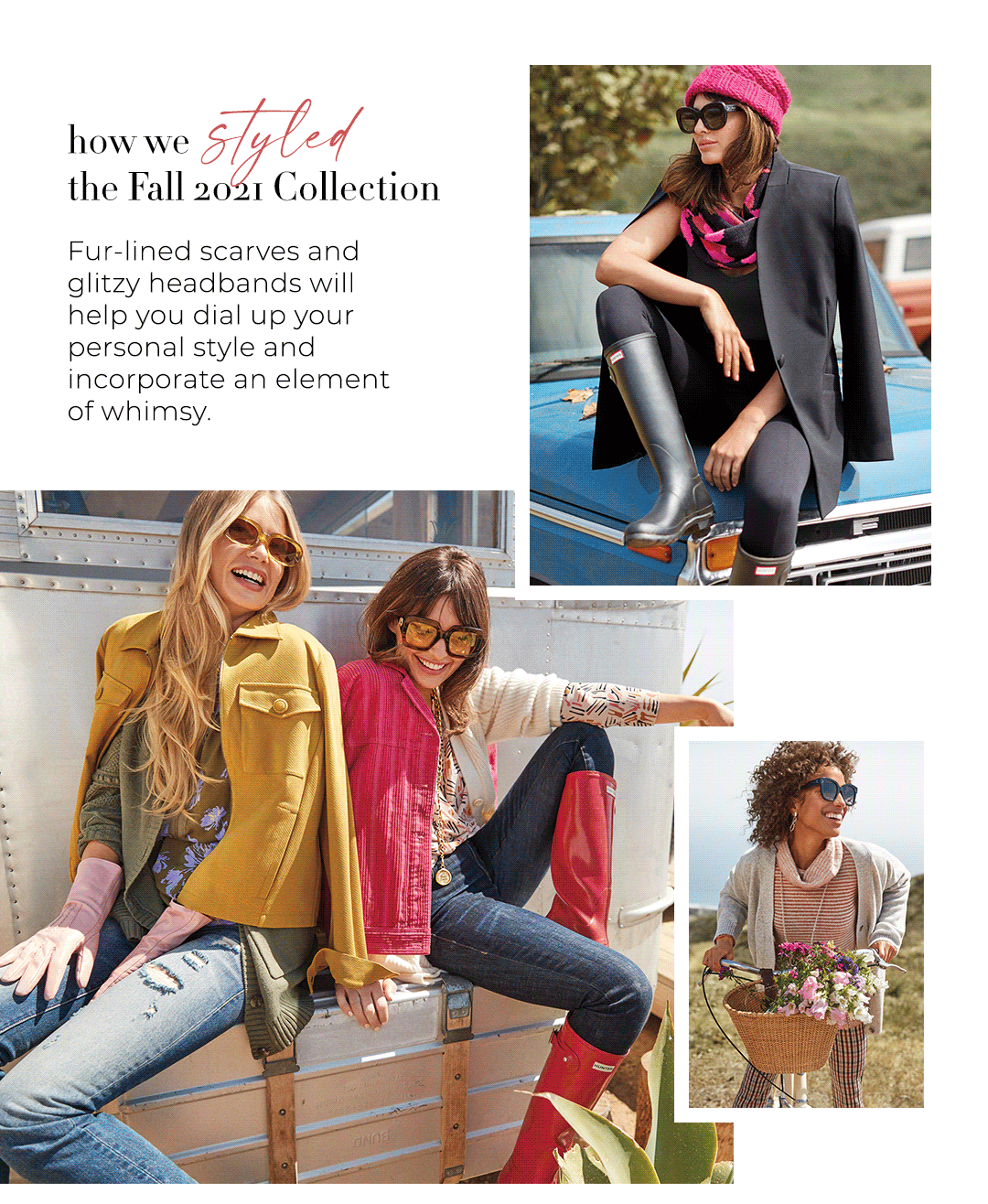 Thoughts from Executive Fashion Director Becky Jantzen
Reach for quirky accents like Wellington galoshes styled back to a mismatched plaid suit or a cardi tied diagonally at the chest. Fur-lined scarves and glitzy headbands will help you dial up your look and incorporate an element of whimsy into your personal style, something our wardrobes crave now more than ever. Most importantly, don't hold back. The fall season is full of possibilities, and you're ready to take the wheel, take control of this adventure called life, and emanate pure joy.
Watch the behind-the-scenes video to see how the campaign came together. If you're feeling overwhelmed by the plethora of styling possibilities the Fall 2021 Collection has to offer, turn to an expert for help. Connect with a cabi Stylist who will work with you to outline your personal style goals and offer a personalized shopping experience catered to your every need. We understand that devoting time to building your wardrobe can be a challenge, especially if you're busy reaching new heights, tackling deadlines, and going places. That's why you should leave it to us! Your Stylist will prioritize your style and do all the hard work for you so you can look stylish, minus the effort. If reading today's post inspired you to style the Fall 2021 Collection yourself, go ahead and give it a go! Head over to the Style and Ideas page on our site to discover exclusive styling tips and fashion advice.
The fall season is all about embracing positivity, and this mindset should absolutely work its way into your wardrobe! Say yes to deep and rich hues, royal silhouettes, cheeky styling ideas, and unexpected accessories. And don't stop there, add on that layer of confidence and be unapologetically you. How do you plan to say yes this fall? Share your ideas in the comments below and we're sure you'll inspire a fellow cabi-lover. The Fall 2020 Collection is officially available to purchase through your cabi Stylist, so get in touch and get those orders in! We can't wait to see where this next chapter will take you.