So you've sorted out your spring and summer ensembles, decided which colors are best for you, what prints to wear when, and how to mix in pure whites and neutrals for a wardrobe that works all season long for every occasion. Now let's talk nails! Mani-pedi combos are our favorite way to add a little extra pop when we don't want to be bogged down with heavy accessories in the sweltering heat. Like that perfect piece of jewelry, the right color on your fingers and toes can make an outfit pop, reveal a rich tan, or simply stand out.
Unless you plan to wear the same color on all twenty digits, it can be tough to know exactly which hues work well together (and that's even before you try and match it back to your ensemble!). Luckily, the Home Office is full of enough designers and color theorists to put together a veritable Pantone booklet of rich seasonal hues to pair back to our Spring 2018 Collection. Check out this handy guide featuring six stunning mani-pedi combos that'll have you turning heads all summer long.
West Coast Sunset
If you've ever had the pleasure of sitting dockside somewhere in California during the evening, then you know just how dazzling the sky can be. We love pairing the sunset-inspired fuchsia from Dior back to this seaside-inspired aquamarine by Butter London for a beautiful color combo drawn from nature that's still dazzlingly surreal.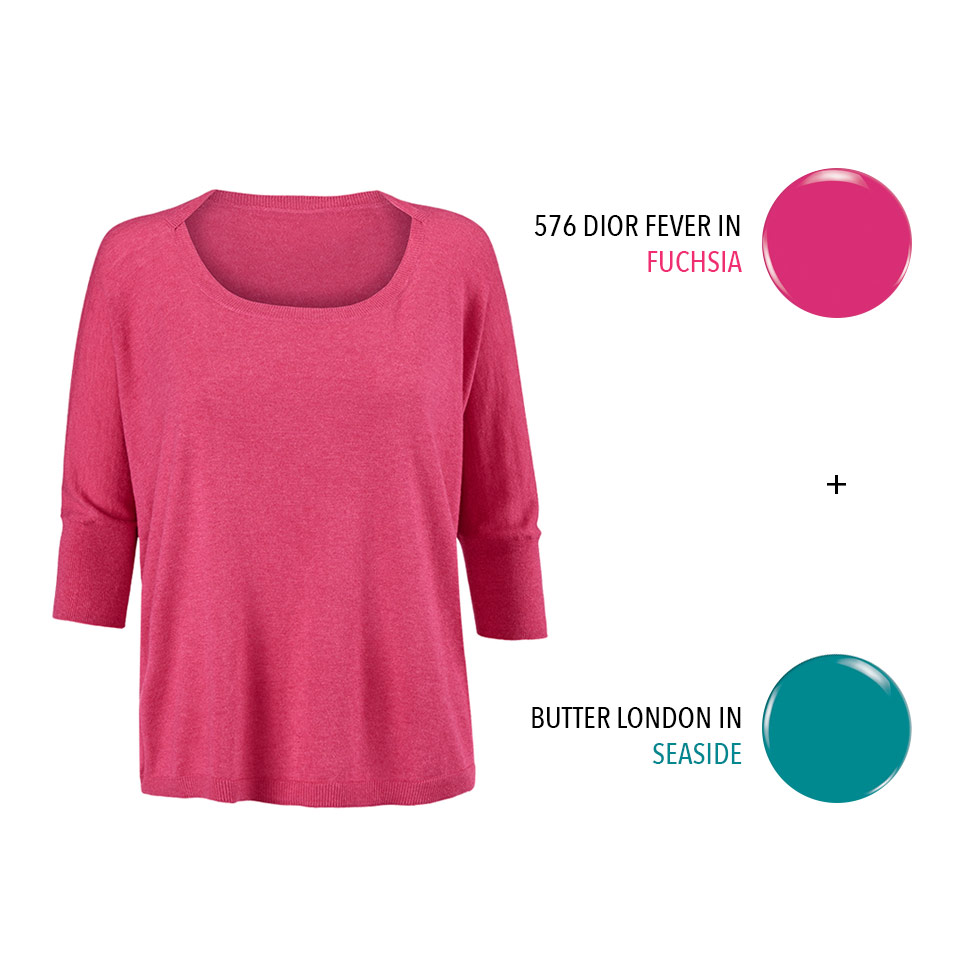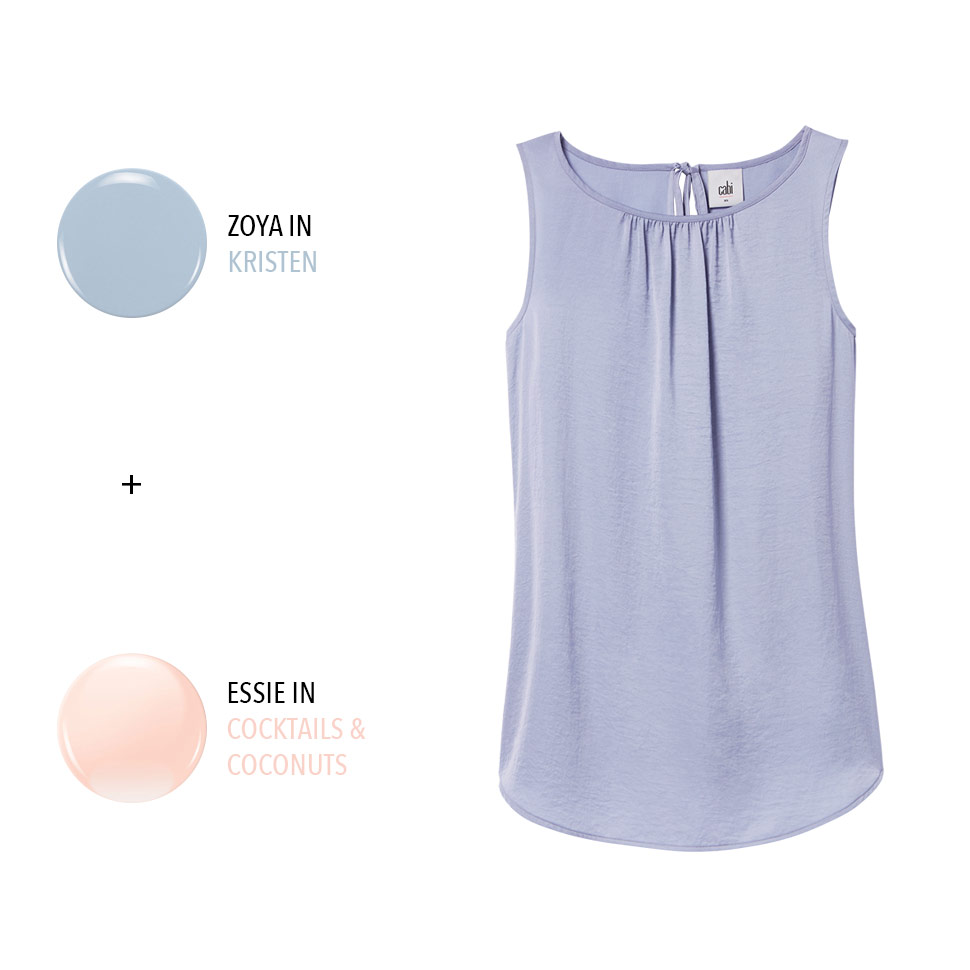 Café Chic
Picture this: you and your iced latte, sitting at an outdoor cafe somewhere fabulous (Paris? Why not!). You'll want the right top of course—body-skimming and elegant, yet casual. Reach for the easy blue of the Mist Top and pair it back to this matching hue from Zoya. Then, put a twist on the classic French manicure with this nude tone from Essie.
Orange Crush
Bright, fizzy, and sweet, we love the Pintuck Blouse for its delicious take on orange. Craft a look around fruity, floral hues with OPI's Freedom of Peach…a soft, warm peachy pink. Then top it off with this bold red from Julep—it's one shade darker than the reddish orange of the Pintuck Blouse we call coral, but that's what makes this look so fun!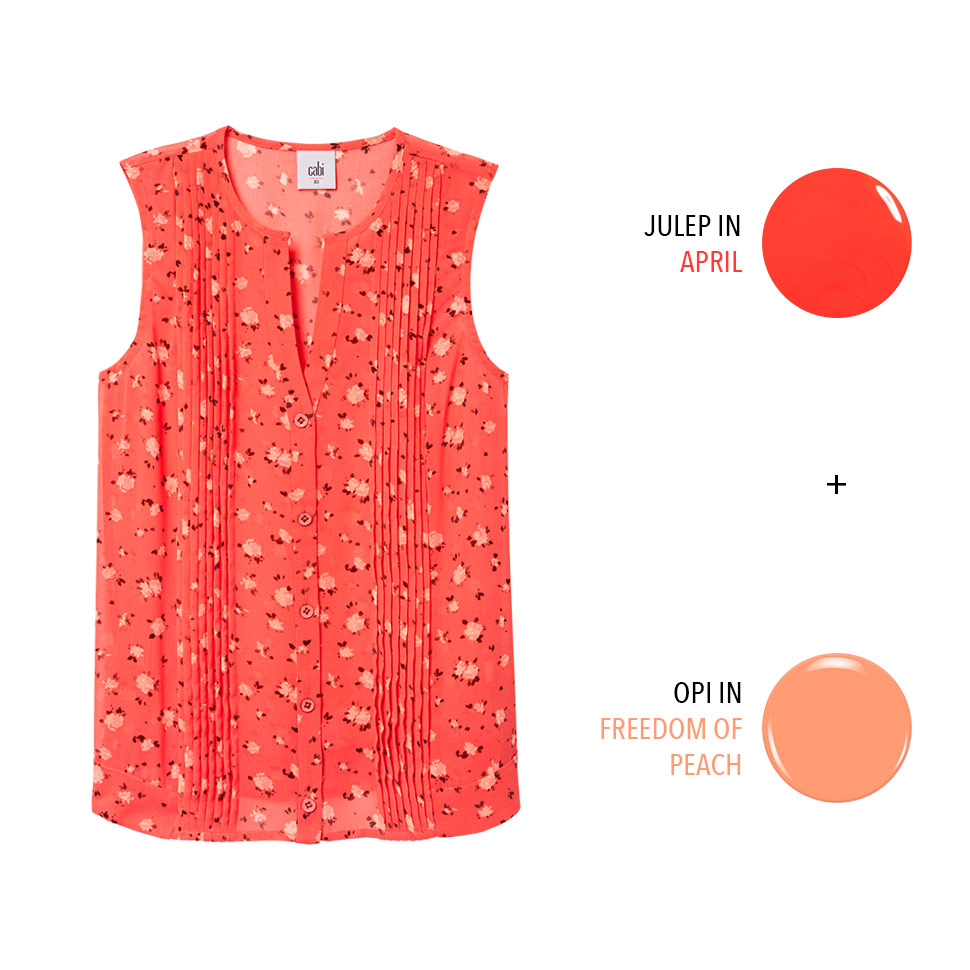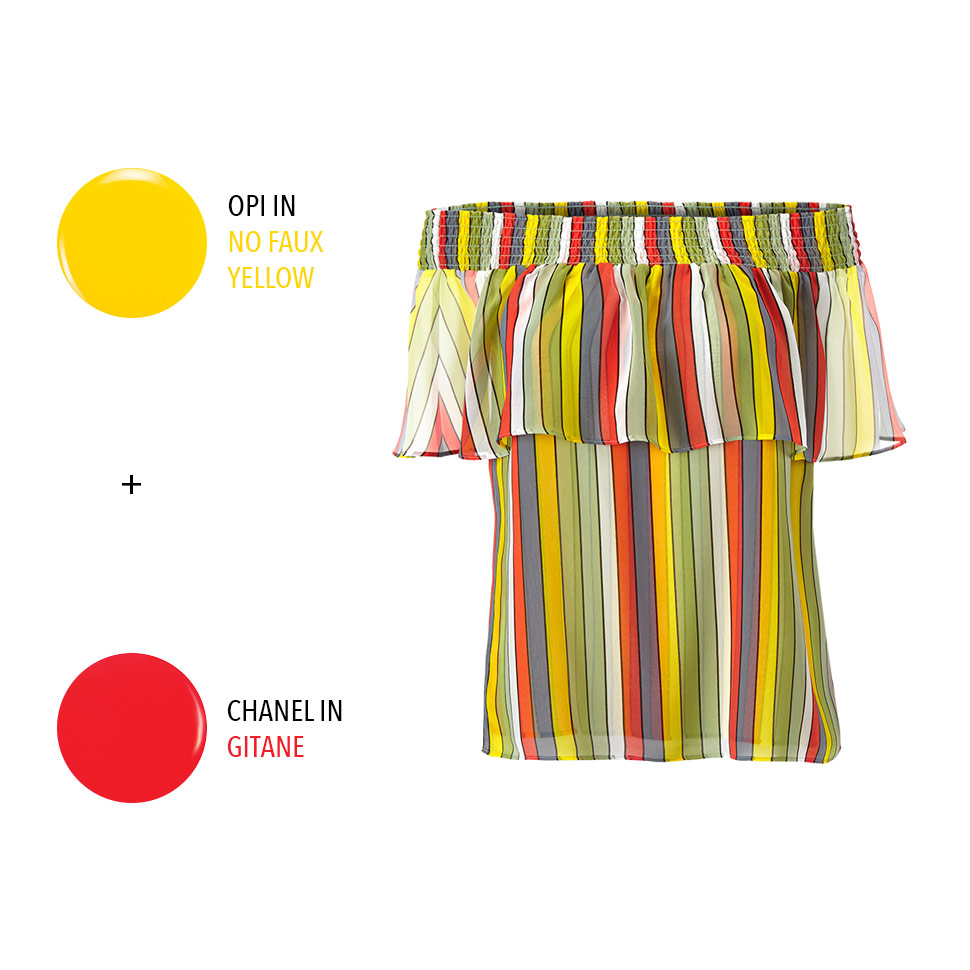 Sparkling Summer
When we think of summer we want bold, bright, primary colors; not the natural floral tones of spring, but rather the artsy acrylic palette of this playful season. When you rock the multi-colored Carnival Top, we want you to go over-the-top: nails in sensual red and shining yellow by OPI and Chanel Le Vernis—go ahead, get noticed.
Fiesta-val Fairy
Coachella may be behind us, but summer is high season for all manners of music festivals, outdoor dance parties, and Bohemian weekend retreats. Dress for it with a classic boho stunner like the Fiesta Dress: long, sheer, floral, and gorgeous. We love it with this red wine shade called Evan from Julep, paired back to a bright pop of seafoam shimmer from Essie.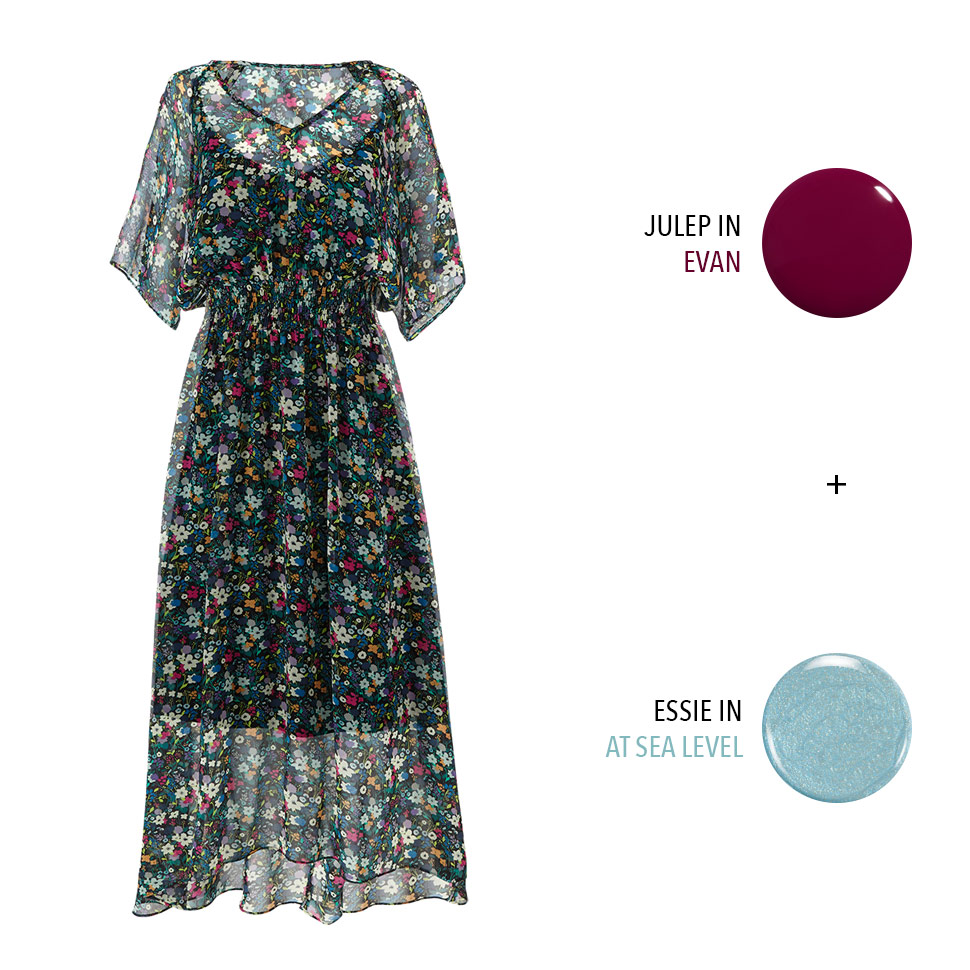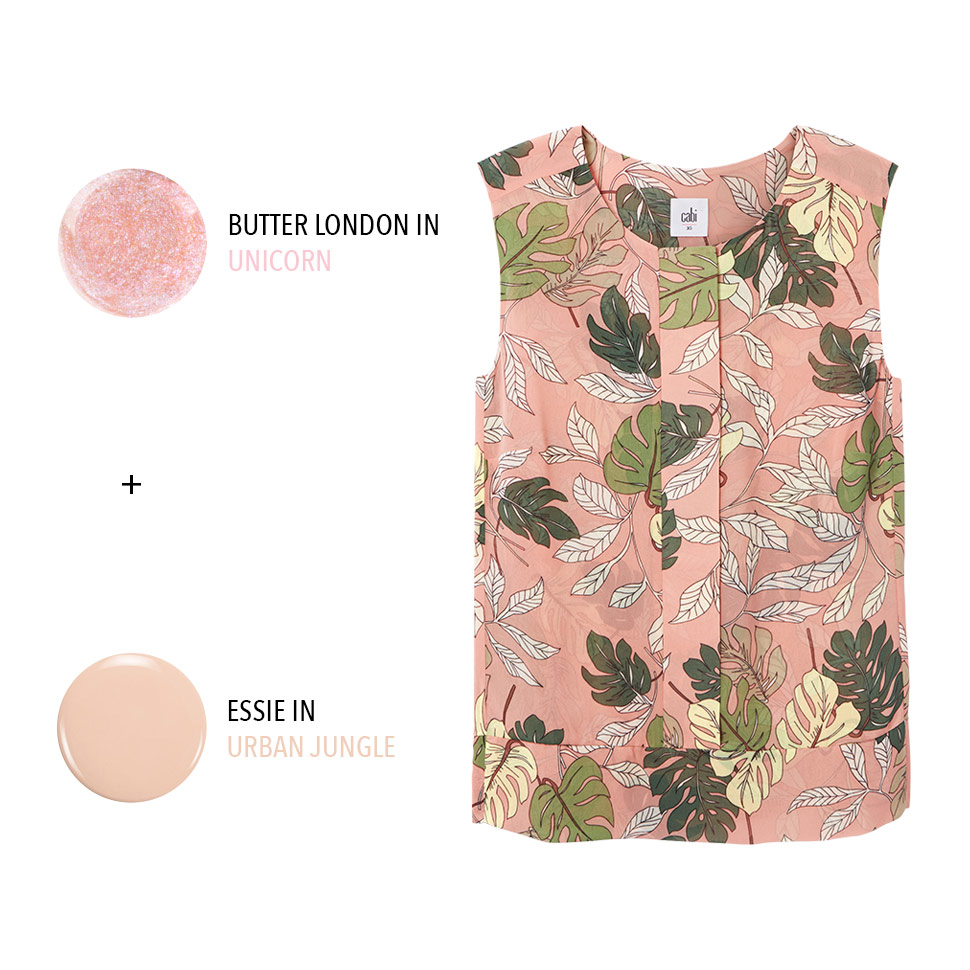 Tropical Cocktail
Think retro-chic Acapulco getaway circa 1960…with a contemporary twist! Put together a color combo like a tropical cocktail: start with the gorgeous palm frond print of the Tropical Blouse, then add a sweet touch with this sparkly opal pink shade from Butter London. Shake it up and serve it with Essie's Urban Jungle a warm off-white hue guaranteed to make the look a little more tropical.
There's only one question left: paint them yourself, or leave it to the pros? We want to know which is your go-to—DIY or pampered? Once we've settled that score, tell us what some of your favorite polishes are, and who knows…maybe they'll wind up in the next edition of our mani-pedi combo guide!