When we have a little extra time on our hands, we love surfing the blogosphere for fashion inspo. Each season, we turn to our beloved bloggers for bright ideas for how to style the Collection, and this spring is no different. Our wardrobes have the power to brighten our days and make us feel great from the outside in. Read below to hear why the experts love the Spring 2020 Collection, then be sure to bookmark their blogs to stay in the know about future styling trends, tips, and tricks!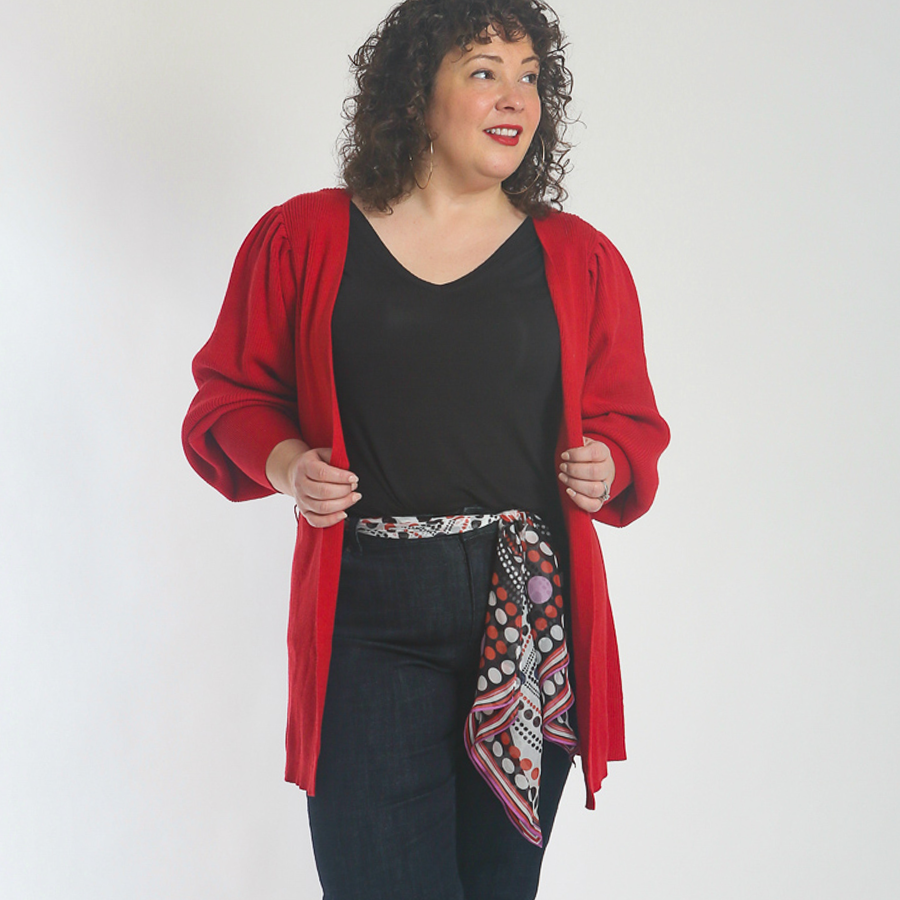 Spring Capsule Wardrobe with Wardrobe Oxygen
Alison Gary is the queen of maximizing the potential of her closet. She's the mastermind behind the famous "capsule wardrobes," where she takes a few pieces and creates many different outfits out of them. When it comes to fashion, Alison believes you can achieve big style with a small closet, and her theory is right on the money. For this capsule, she used seven of our Spring '20 pieces to create 18 different outfits. Yes, you read that right…18! Check out her postto see how she blended soft pinks, bold reds, and classic neutrals to create her different looks.
Getting Comfy with Jenna Pilant
For those of you who know Jenna Pilant, you know she doesn't normally go for leisurewear. She likes bold, statement pieces and color, color, color! However, while sheltering in place, she discovered a newfound love for comfy clothing, and it quickly became her go-to. She put together the perfect look that both satisfies her craving for adventurous prints and her urge to keep things casual and comfy during these trying times. She styled an all-leopard look by pairing the Knotty Tank with its matching Spotted Jogger, and the Comfort Cardigan on top. Read her post to see how it all turned out!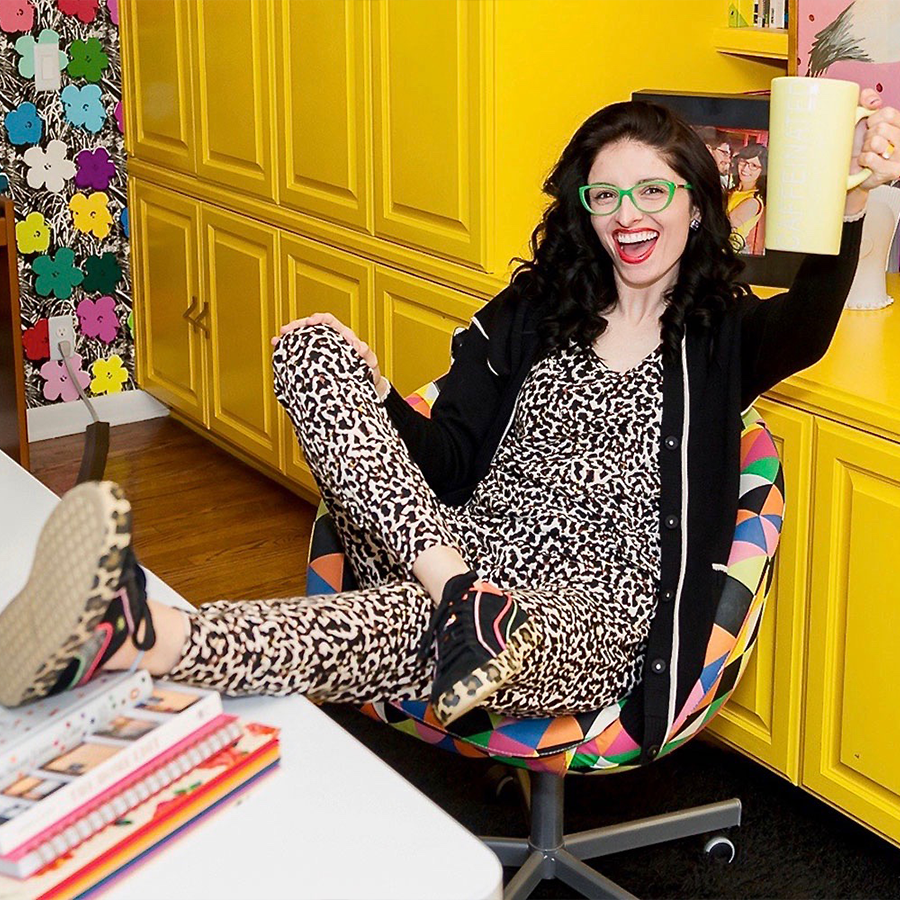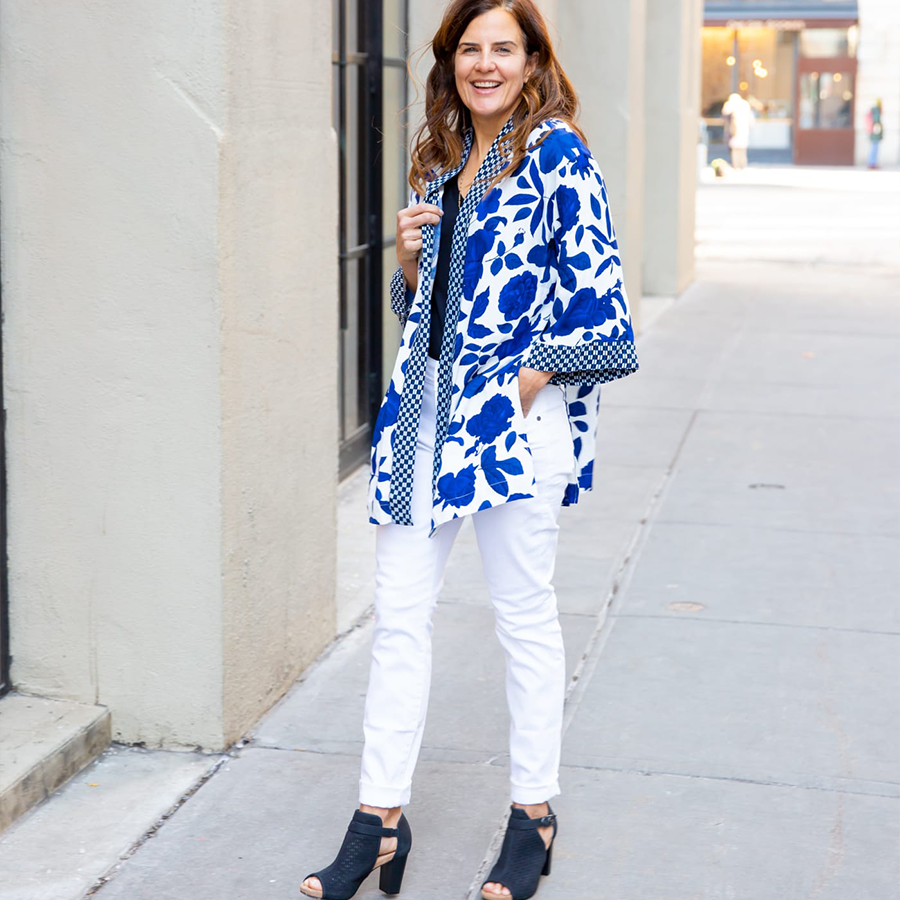 Momtrends and the Power of Fashion
Nicole Feliciano of fashion and lifestyle blog Momtrends is here to show us how to style the Botanical Kimono, her favorite layer from the Spring 2020 Collection. This piece is a great way to elevate your style without requiring any energy or effort from you. Now, that's what we like to hear! This flowy, open-design topper features wide sleeves and a playful, eye-catching print that pairs beautifully back to solids. While there may be a lot of uncertainty about the future right now, our closets have the ability to lift our spirits, inspire us, and as Nicole says, "make working from home seem a lot sunnier."
The Grace Suit with Crazy Blonde Life
Mother of three daughters, Suzanne Smith runs the lifestyle blog Crazy Blonde Life, teaching her viewers about the latest tips and trends for a stylish wardrobe…and so much more! In her post, she styled the carnation pink Grace Suit two different ways—dressed up and dressed down. She was never much of a suit gal, but since she'd been seeing this trend all over social media, she decided to give it a try and is never turning back! Read her post to discover her finishing touches on each outfit.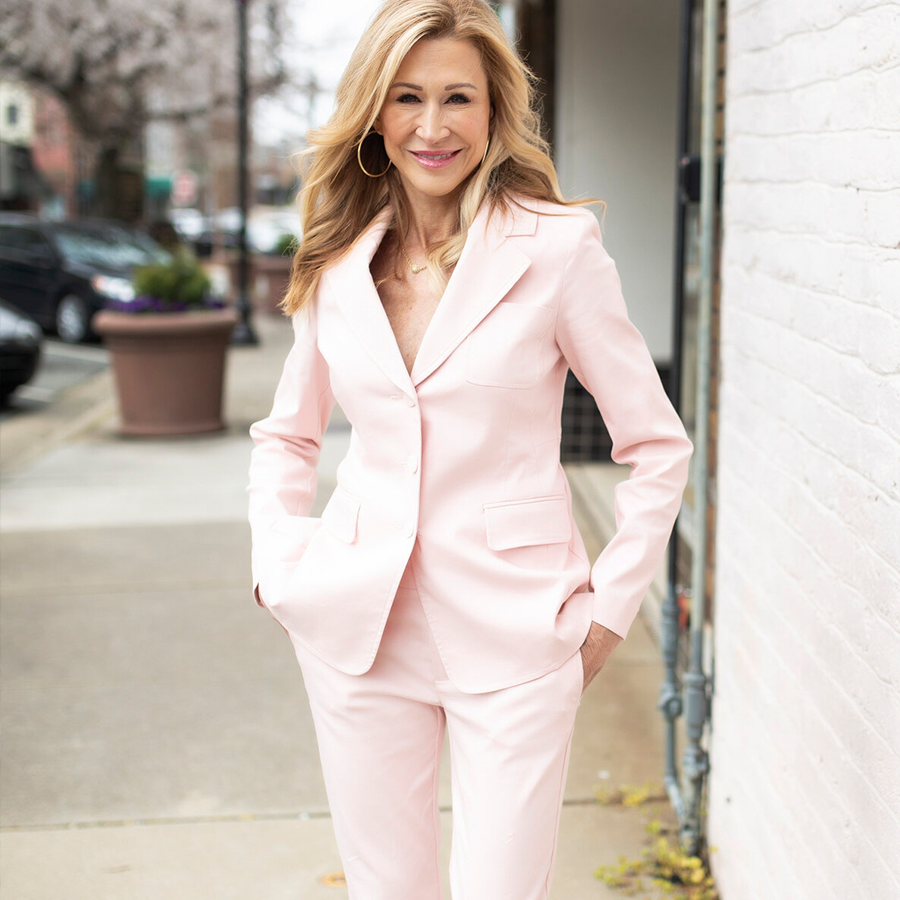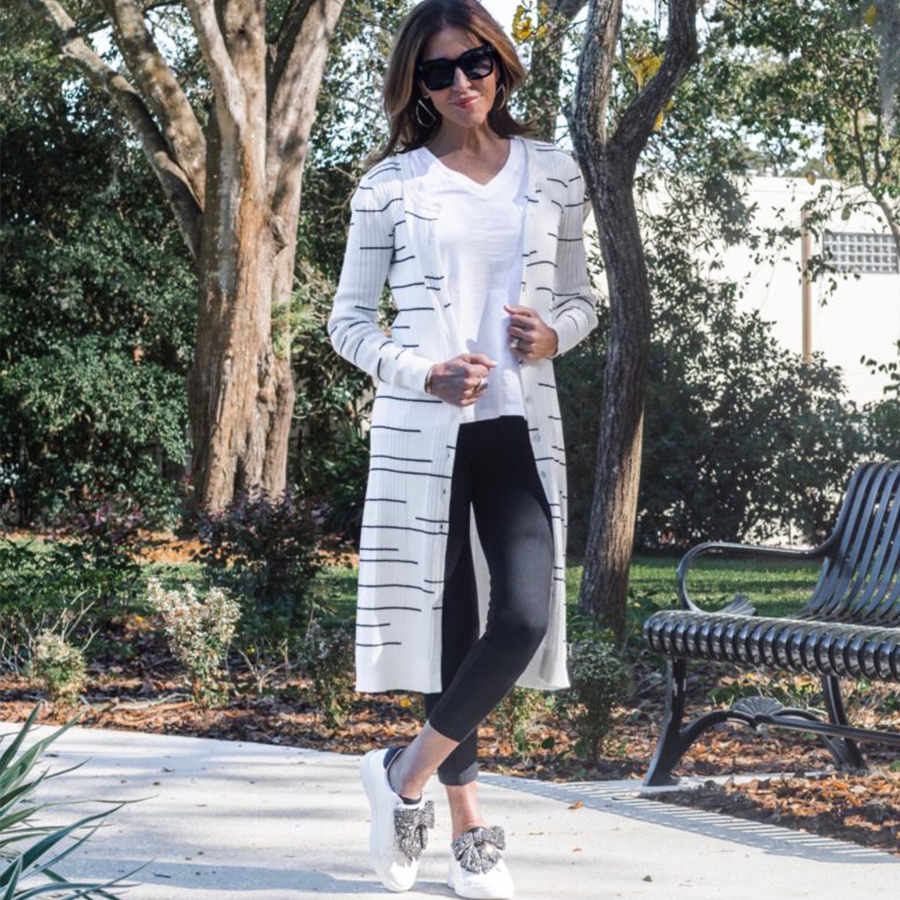 Black and White and 50 Shades of Style
In her post, Kelley McCoy tells us about the unique experience of shopping with cabi. Participating in a cabi Fashion Experience transforms the culture from one of selling to one of serving, an important distinction. Women are able to cultivate meaningful relationships with their Stylists and get a personalized shopping experience all while supporting and empowering women in need around the world. She decided to show off some athleisurewear, styling the black Relax Cropped Legging with the white Fold Pocket Tee and the Dashes Sweater on top. 
Gathering Prints with The Hunter Collector
Learn to unleash your adventurous side with Zia Domic, blogger behind The Hunter Collector. In her post, she really leans into the Agent Americana trend for the season, going with a '60s mod-inspired look. If you needed some good pattern-mixing inspiration, look no further. She styled the Headline Topper, a multi striped coat with a contrasting printed lining, back to the polka-dotted Volley Pullover. For some more dots, she finished her look with the Shrimpton Scarf worn in her hair for a vintage effect. Talk about expert level print mixing…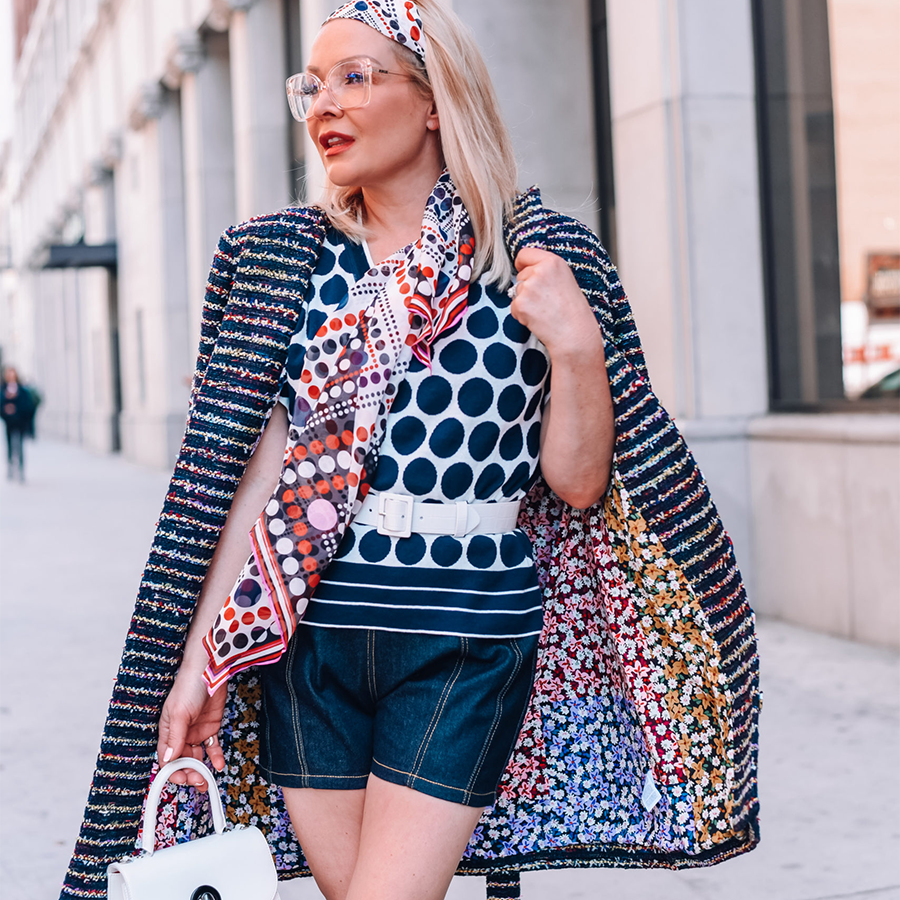 We're so grateful to these incredible women for continuing to share their fashion wisdom. Now, we want to hear from the rest of you cabi lovers. Just because you may not have a blog doesn't mean you don't have wonderful styling ideas of your own! We want to hear how you're styling your favorite cabi pieces. Leave your tips and tricks in the comments below. Maybe this might just inspire you to start your own blog…