The woman who inspired the Spring 2021 campaign takes each day by storm. While juggling the daily victories that make her a modern-day Wonder Woman, she manages to not only maintain, but infuse her positive outlook into everyone around her, building up her loved ones, and strengthening her community. In simply believing in herself and reaffirming her identity, she's an inspiration to all. She prides herself on being open-minded, never settling, always moving forward. Possibility is what keeps her going, and that's precisely what the Spring 2021 Collection offers…a chance to discover something new and surprise yourself.
Our Spring 2021 Collection
Timeless classics such as familiar florals and all-black staples hold things down while refreshing colors and surprising prints push the boundaries. Whether she's wearing destructed denim, a tailored blazer, or a cozy tee…she pulls it off. How? Merely by exuding confidence. Simultaneously inviting and edgy, her expertly curated wardrobe is a source of light in everyone's lives. Balancing highlighter pops of color against pristine whites puts her ahead of the curve—as does mixing and matching contrasting patterns and experimenting with layers. And lest we forget about the feel. These designs certainly catch the eye, but they also appeal to the touch. Now more than ever, we crave texture, and this Collection caters to exactly that with a selection of fabrications ranging from soft athleisure knits and sanded denim to light and airy toppers. Prepare to awaken your senses.

Our Spring 2021 Campaign
Let's turn our attention to the Spring 2021 Campaign. We brought this very same passion and energy to the set, photographing women from all walks of life against vibrant backgrounds, sharing the frame with those they love, admire, and respect. These women are strong and independent, while saving a soft spot in their hearts for the people they surround themselves with. In nourishing and cherishing these relationships, they too receive the love they give. If we all look after one another, we'll all be seen, we'll all be heard, and we'll all look better (waaaay better) for it!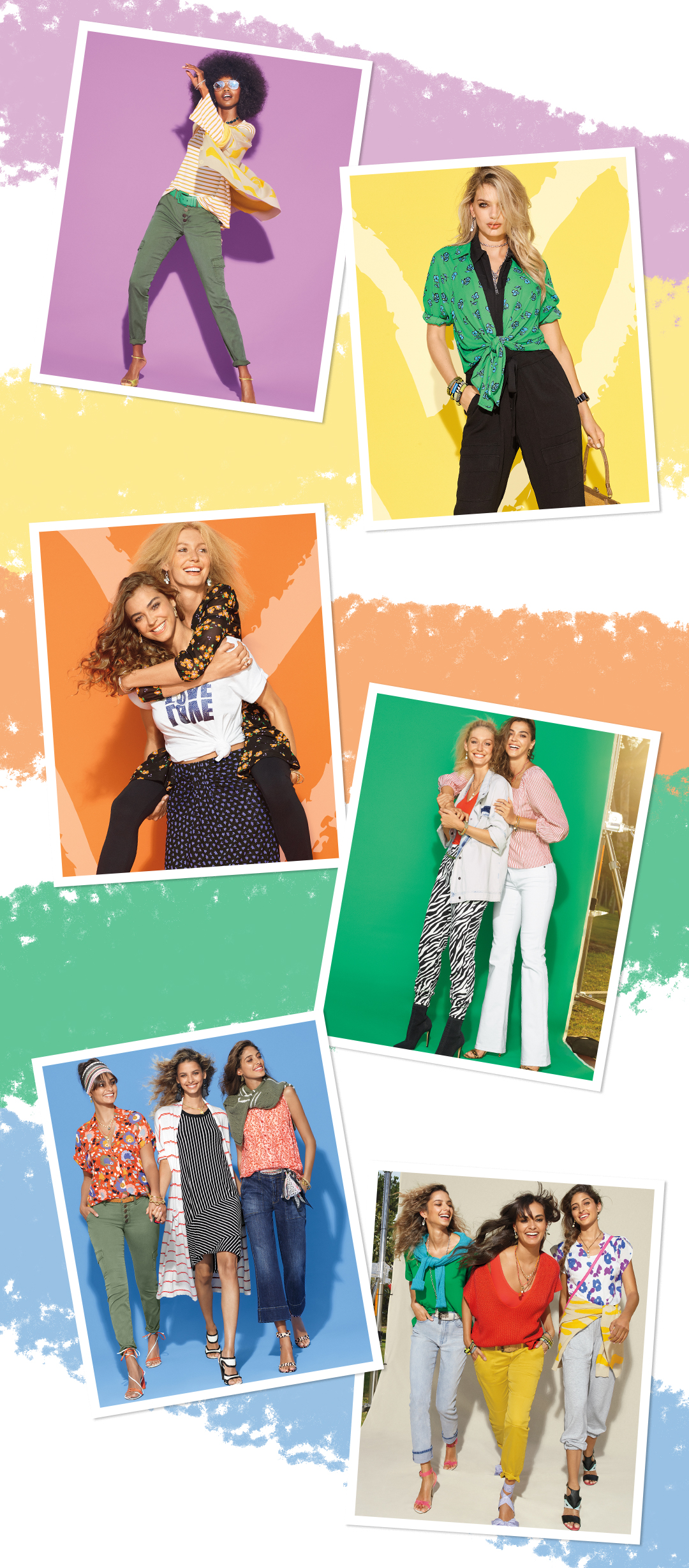 The Spring 2021 Collection has officially launched and is now available for purchase through your cabi Stylist. Don't have a Stylist? What are you waiting for! Discover a whole new, personalized way of shopping, catered to your every need. We're the first to understand life can get a little hectic, so let a professional style expert lend a helping hand so you can achieve your personal style goals and look your very best 24/7. Connect with your very own cabi Stylist today! In the meantime, go ahead and peruse our Style and Ideas page to learn our exclusive styling tips and tricks to take a crack at styling the new Collection yourself, like the go-getter you are.
This Collection was designed to support you through your busy life—lifting your spirits, brightening your day, and making you feel your absolute best. All we have is the present moment, and this season, we're choosing to love ourselves, wholeheartedly, for who we truly are. Let's live it and live it in style! How will